Here's Everything You Need To Know About a Hunting Lease Agreement
Do you want to lease your land for hunting activities? Or are you interested in hunting on private land? Draw up an adequate contract and take care of the legal matters!
DoNotPay can help you write a hunting lease agreement and guide you through everything you need to know about hunting lease arrangements!
What Is a Hunting Lease Agreement?
With a hunting lease agreement, the lessor (property owner) permits the lessee (the hunter) to hunt on their land for a specific period. Lessees pay per acre or person for the experience.
Hunting lease deals help cover some of the lessor's upkeep costs and can even become a profitable business. They contain strict rules and regulations to protect the landowner and the hunters.
The hunting lease arrangement is based on two conditions:
Type and quantity of huntable species—For popular species, the lessor can charge a higher price. If a lessor has multiple game species on their property, they can be available for more seasons
Property size—A larger plot usually means more hunting opportunities and a higher price
Essential Clauses of a Hunting Lease Agreement
There is no required pattern to follow when drafting a hunting lease agreement. You can look up a contract template and adjust it according to your requirements. It is advisable to consult an attorney before finalizing the document.
A few crucial clauses of hunting lease agreements are mentioned in the table below:
Clause
Brief explanation
Details of all parties

Names and contact information of the lessor and the lessees

Property details

Size and location of the property
Property description
Property map
Jurisdiction

Hunters

The maximum limit of hunters allowed
How many guests or family members can accompany each hunter

Hunting details

Game species
Weapons allowed
Whether hunters can hunt at night
All the activities the lessee intends to carry out on the land (hunting and non-hunting)

Payment

Payment due
Schedule of payment
Whether the amount is in installments or a lump sum
Consequences of delayed payment or a bounced check

Subleasing policy

Whether the hunter has subleasing options

Limitations and liabilities

Any prohibited activities
Responsibility for property damage
How to proceed if the hunter violates the contract
What happens if the lessor backs out without a reason
How to deal with accidents and injuries
Safety and compliance

Termination of contract

How to cancel the contract, with or without reason
Notice period, if required

Dates

The duration of the contract, including the start and end dates

Signatures

Signatures of all parties confirming they have read and agreed to the terms
All hunters need to sign the agreement, or they won't have the authorization to enter and use the property
Do You Require a Hunting License?
Whether you hunt on public or private property, you need to obtain a hunting license. You don't need a license if you're hunting on your land. For married couples, the deed should include both partners' names. If not, one of the partners will need to obtain a separate license to hunt.
Hunting license durations vary throughout the U.S. and can range from a year up to a lifetime, depending on the state you're hunting in. Licenses ensure that hunters can hunt a particular game species. Every hunter needs to carry their license with them when they're hunting. Licenses can be in electronic form.
Before getting a license, you need to take a Hunters Safety Education Course. Once you're certified, submit your request to your local Department of Fish and Wildlife along with the required payment.
What Happens if a Party Fails To Honor the Contract?
A hunting lease agreement is a legally binding document. If any party breaches the contract with or without intention, they risk facing legal consequences. Possible remedies for violation include:
Financial compensation
Termination of contract
Lawsuit
Draft Legal Documents Effortlessly Using DoNotPay
Do you need to draft a legal document but don't have the budget to hire a lawyer? Use DoNotPay! We can generate numerous agreements for you for a small monthly fee.
You only need to follow these straightforward instructions:
In the search box, type the name of your document
Provide information to our chatbot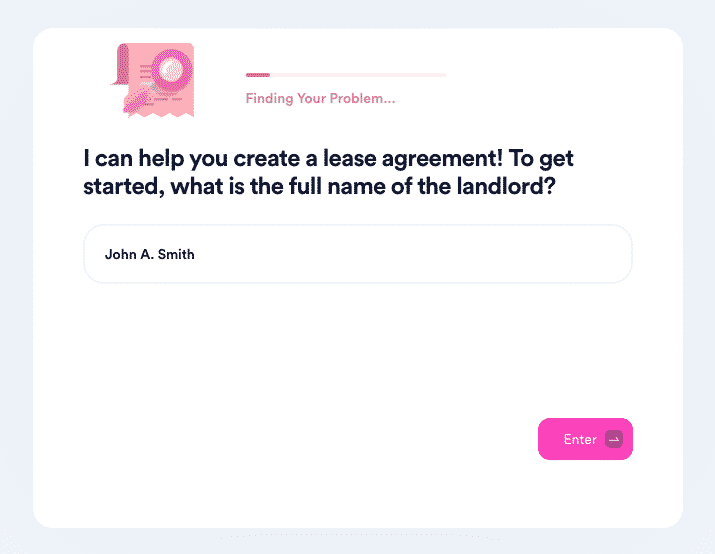 We will create a personalized contract you can download, print, and sign. In some cases, you will need to get your document notarized. If you need help finding a notary, we can have a practical solution!
Here's a list of some of the contracts we can make:
General Business Contract
Intent To Purchase Real Estate
Quitclaim Deed
General Affidavit
Promissory Note
Child Care Authorization Form
If you want information on other contracts, visit DoNotPay's learning center. We offer handy tips on various agreements, such as:
More Nifty Solutions to Annoying Problems
If you're dealing with problematic neighbors or coworkers, you're not alone—our app can help you handle these issues with our Neighbor Complaints and Fight Workplace Discrimination products.
No problem is too big or too small for DoNotPay! Check out the best time- and money-saving solutions to different nuisances:
An Array of Hacks To Help You Deal With Greedy Companies
Nobody likes to spend more money than they have to. DoNotPay is here to offer many penny-pinching hacks and also stop companies from taking advantage of you.
Almost every free trial nowadays isn't really free. Companies request your credit card info and auto-renew subscriptions. Fight this sneaky practice by using DoNotPay's virtual credit card next time you want to snatch a free trial. We'll also uncover any unwanted memberships you have mooching off of you and help you cancel them in a few clicks.
If you need to contact a company's customer service, avoid wasting your time and money on hold and count on our app to wait in your stead.
Do you need to get your money back, but you don't know how? Use DoNotPay to: