Human Resources Reports: An Explainer
One of the many resources that help upper management make strategic decisions are human resources reports. These reports let your company monitor staff performance, attendance, employee turnover, and other important metrics — painting a clear picture of how much (or little) your workforce contributes to your organization's success.
In this article, we will explain the HR reporting process and what types of HR reports you can make. We will also dive into the significant role employee complaints serve in the workplace and how employees can file their complaints easily with .
What Exactly Is HR Reporting?
HR reporting is the process of monitoring employees' key performance indexes (KPIs). In addition to tracking employee performance, reporting also helps you analyze data such as full-time vs part-time productivity, employee turnover, human resources complaints, and a lot more.
Here are some of the most common HR metrics that provide you with a comprehensive perspective of your organization's workforce:
Gender – This is measured to determine diversity and

equality

, and to better understand pay gaps and insurance costs.

Full-time equivalent (FTE) – This measures the hours worked by full-time employees and part-time employees

Cost of labor (COL) – This measures compensation costs including wages, benefits, and payroll taxes paid by the

employer

.
Importance of HR Reporting
One of the many benefits of a human resources report is getting in-depth insights into your company. Quantifiable data is used to improve business processes and strategies, or to eventually make changes to the workforce. Here are some of the reasons why HR reports are important:
HR metrics allow for accurate business projections and effective strategy development.

Employees are likely to be more engaged, feel informed, and develop a sense of inclusivity.

The HR department is a source of accountability and transparency where employees can turn to.
Different Types of HR Reports
Many employees are in different phases of the employment lifecycle and it gets complicated keeping tabs on everyone. Effective and organized HR reporting is essential in the workplace. Here are some of types of HR reports that can provide you with a deeper understanding of your workforce:
Type of Report
Purpose of Report

Headcount Report

Measure turnover and retention rates. Identifies departments that are lacking talent and those that are at full capacity.

Recruitment Report

Develop a more efficient recruitment process and track positions that are open, hiring, or already filled.

Performance Management Report

Shows

manager

feedback and rating. Identifies top performers and those who may need further training and coaching

Compensation Report

Keep track of earnings growth over time and ensure compliance with the

Affordable Care Act

(ACA).

Diversity Report

Collect information about the workforce's age, gender, and race and helps enforce an

anti-discrimination

policy.

Incident Report

Collect information on grievances and safety in the workplace. Justifies administrative actions in cases regarding

harassment

, violence, and other serious allegations.
How to Write an Incident Report
A written employee complaint form is necessary to properly document an incident. Complaints may be filed by an employee against a co-worker or supervisor, or about the work environment in general. When writing your report or filling out your HR's complaint form, take note that your submitted documents may potentially be used in a legal investigation. Here is a guideline to follow when writing an incident report:
Introduction – Provide a quick introduction on what the report is about, who the relevant parties are, the date and place where the incident happened, and what purpose the incident report serves.

Company procedure – State the company policies and procedures that were violated in the incident.

Incident – State facts and include any supporting evidence such as email exchanges, witness testimony, and a response from the accused (if the complaint is in regards to another colleague) to ensure that you are presenting both sides of the story.

Conclusion – Suggest a possible solution to the issue and make it clear that you would like to be notified when the investigation has concluded.
Make an Anonymous HR Complaint With DoNotPay
Sometimes, there are workplace issues that are so complicated and personal that employees hesitate to report them. If you're scared to report to HR, DoNotPay can help! Employees are entitled to work in a safe environment and should be protected from discrimination, harassment, and retaliation.
DoNotPay's Anonymous HR Complaints service provides a way for employees to file complaints without revealing their identity. If you're an employee looking to make a complaint to HR, all you have to do is:
1. Sign in to and click the Anonymous HR Complaints product.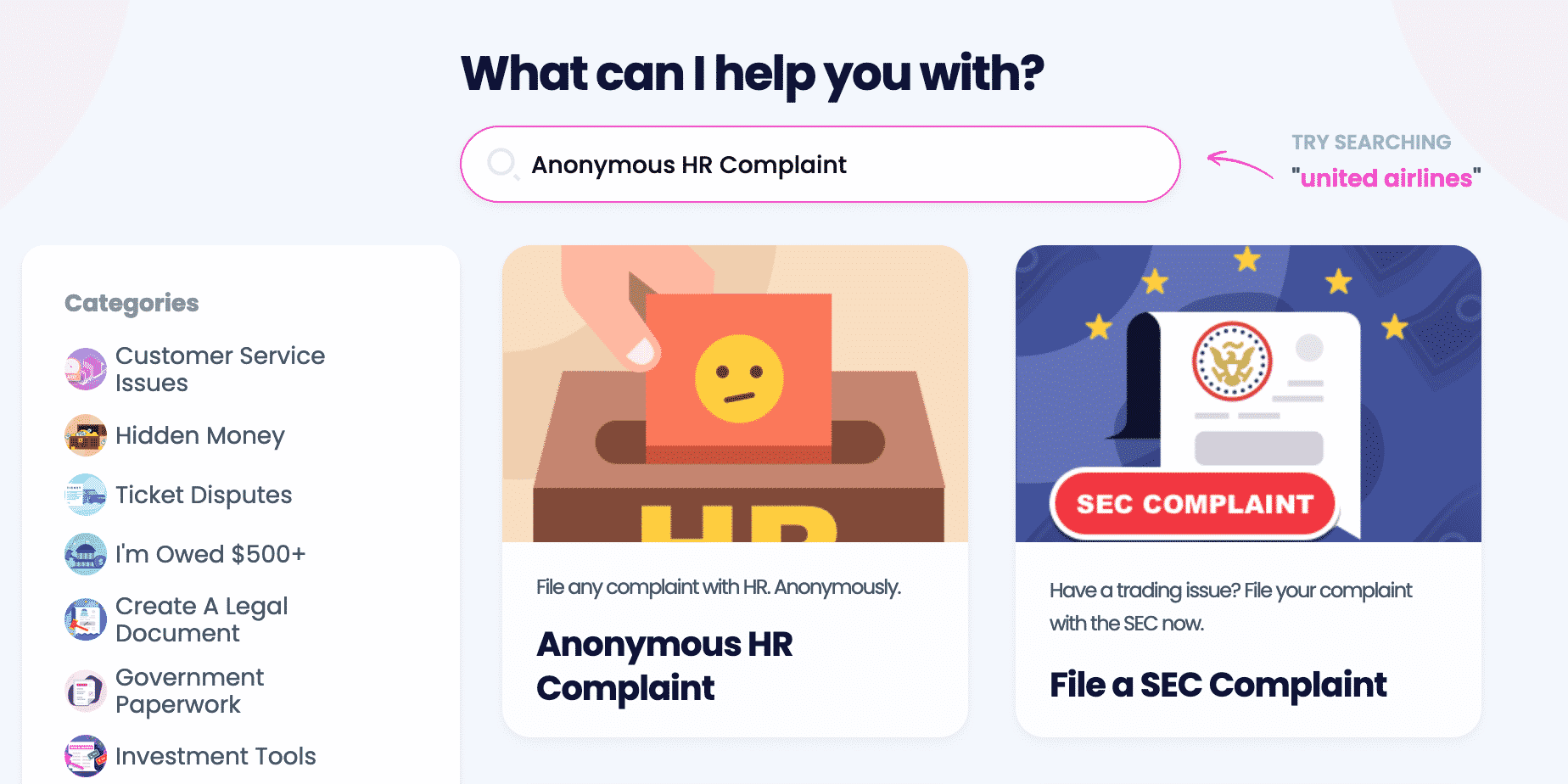 2. Enter your employer's name and your HR department's mailing address.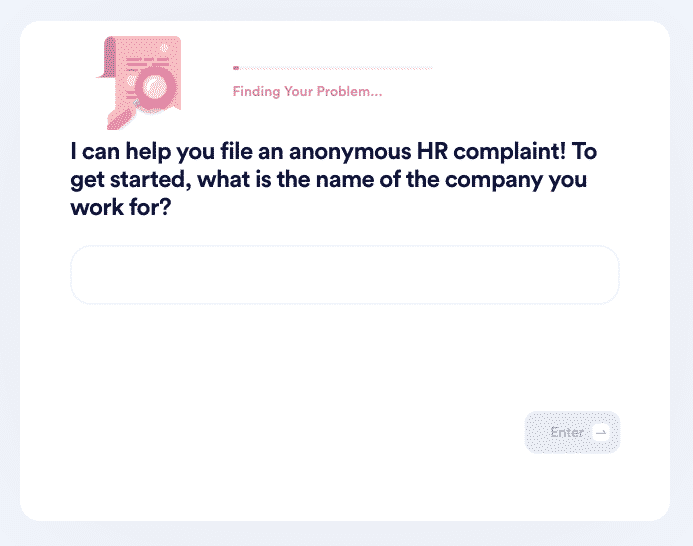 3. Describe your complaint and suggest a solution or action that you would like implemented.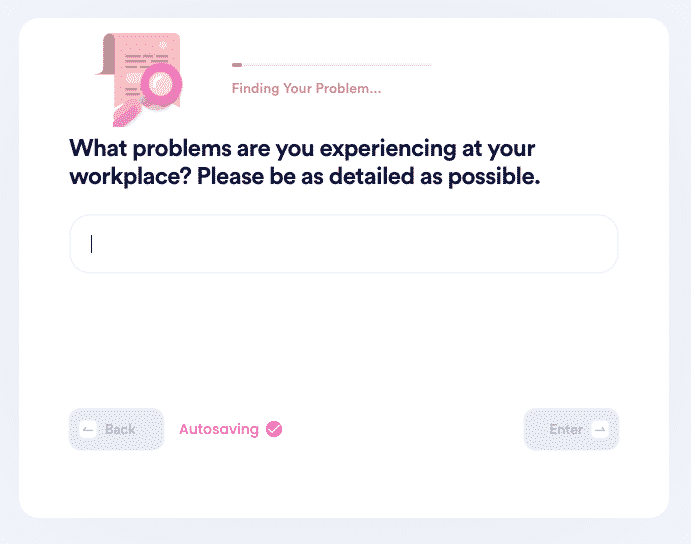 That's it! DoNotPay will automatically mail the report anonymously.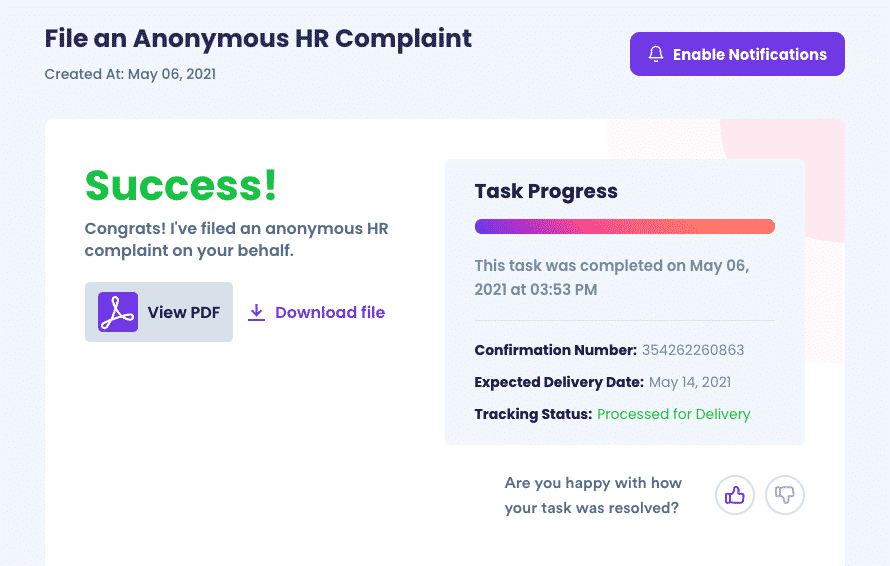 DoNotPay Can Do More Than Just HR Complaints!
Have another complaint in mind, but just don't know where to start? Here are some other types of complaints we support: