Human Resources Complaints: A Complete Guide
When things become uncomfortable or unsafe in the office, situations can become complicated fast — unless you file a human resources complaint. Going to your HR department can be awkward and scary. There may be a possibility of making things worse with co-workers and even facing retaliation from your boss.
This article will guide you on whether your situation warrants a trip to the HR department, how you can file a complaint properly, and what to do when it is ignored. If you don't want to handle it yourself, let file complaints for you anonymously instead.
Reasons for Filing a Complaint
HR departments deal with a fair amount of complaints, and most can easily be categorized. So what are the common reasons for filing an HR complaint? Here are some of the reasons that may require a visit to the HR department:
Lack of clear outline of responsibilities – One of the many reasons for dissatisfaction in the office is when roles and responsibilities are not defined clearly.

Boss playing favorites – This becomes serious when a boss favors one over another because of race, gender or sexual orientation, which becomes a

discrimination

issue.

Demanding managers – This can result from differences in working styles, personality clashes, or managers with poor EQ. Nonetheless, if you have a

complaint against your manager

, bring it up to the HR department.

Bullying and hostility at work – The terms "bully" and "hostile" come up all the time. Before you report a co-worker for bullying, make sure to check the company handbook if the situation applies.
How to File a Complaint
Filing a complaint form with HR can be a daunting process. Navigating this process depends on various factors: the company's policies and procedures, the nature of the complaint, the severity of the situation, and how it can potentially affect your job. Here are some guidelines that you can follow:
Follow the correct channel and chain of command – Read the employee handbook as it will contain the policies and procedure on filing complaints. If you do not have one, the best way is to consult with the HR department first.

Prepare complaints in a formal letter – A written record will hold more weight than a verbal complaint. In your letter, specify the misconduct or maltreatment you have experienced. If you believe there are legal grounds that apply — such as

discrimination

against age, race, gender, or disability, or sexual

harassment

— make sure to research and include the violated laws.

Identify witnesses – Include the names and positions of people present, and include the dates and places where the

incident

happened.

Keep a personal record – Send the letter according to the proper method of delivery and always keep a copy with you. A diary with your notes can serve as supporting evidence later, especially in terms of how the events affected you professionally and psychologically.

Stay calm and professional – Always conduct yourself in a well-mannered way. Do not slack off at work or display retaliative behavior against others. Continue to work in a dignified way i.e., showing up on time and performing your tasks.

Model good behavior as an employee – When filing your complaint, use polite words and avoid using rude or sarcastic language. Even if you have filed a

complaint against the boss

, continue to be respectful to management.
What Does HR Do When You File a Complaint?
When HR professionals receive reports, they are required to follow procedures as set out in the company handbook. Each company has a different process of handling complaints, but here's a list of steps on what commonly happens:
You will be assigned a case number, and your report will be entered into the database. This will include data such as your name, position, and department in the company, the respondent (i.e., person complained against), any witnesses, and a summary of allegations.

HR may share your complaint with key personnel. Based on your complaint, this list may include executives inside and outside of your department, personnel in the Legal and Compliance department, personnel in Audit, Finance, and IT.

Regardless of whether you filed a

complaint against a co-worker

, your manager, or the HR department, the report will be marked under a specific category such as physical assault, sexual harassment, discrimination, theft, etc.

Depending on the severity of your complaint, the HR department may escalate cases to federal agencies if they violate

labor laws

and compliance. This is especially true if your complaint violates

Equal Employment Opportunity Commission

(EEOC) laws.
What to Do if Your Complaint Was Ignored
As much as you would like to have HR resolve your complaint quickly and efficiently, you can't always expect them to come to your rescue. They may not be intentionally ignoring your complaint, but it can be frustrating when you feel like your reports fell on deaf ears. Maybe the HR department is overwhelmed with work, or they're simply deliberating how to respond to your case. If you feel like your complaint is being ignored, here's how you can proceed:
| | |
| --- | --- |
| Complaint Against a Co-worker | Complaint Against a Manager |
| Check back with HR about the agreed timeline. | Review the employee manual and pay close attention to details about retaliation, especially if you feel your manager's offensive behavior has worsened. |
| Recap your complaint and what HR has advised. | Draft a summary of the complaint, how it was still unresolved, and emphasize how it's affecting your productivity. |
| Describe what actions were taken and how your work is impacted. | Specify the company policy or labor law that you believe was violated and what action you seek. |
| Ask for direction and explore what other channels you can go through. | Send the follow-up letter via email to the HR department and the person who originally accepted your complaint to establish an electronic trail. |
When protecting yourself at work, you have another option instead of going to HR. When you feel like the HR department isn't on your side, do not despair — DoNotPay has your back!
How To File an Anonymous HR Complaint With DoNotPay
DoNotPay is your virtual lawyer that helps you resolve customer service issues, handle legal issues, and more! With our new Anonymous HR Complaints product, you can file an HR complaint without submitting your personal details. It's an easy and efficient way to submit concerns in the workplace or report on illegal actions. All you have to do is:
1. Log in to and open the Anonymous HR Complaints product.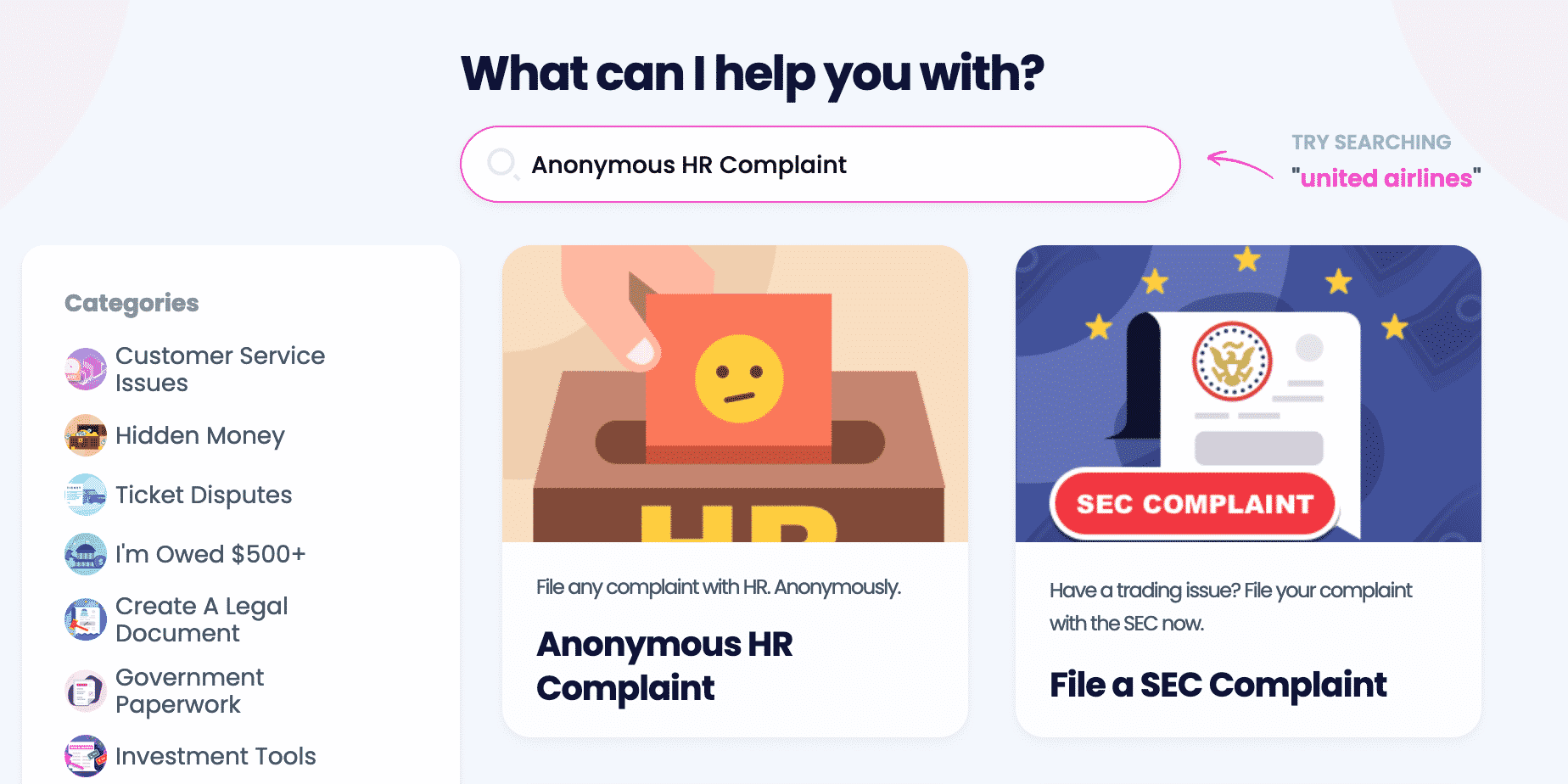 2. Fill in your employer's name and the HR department's mailing address.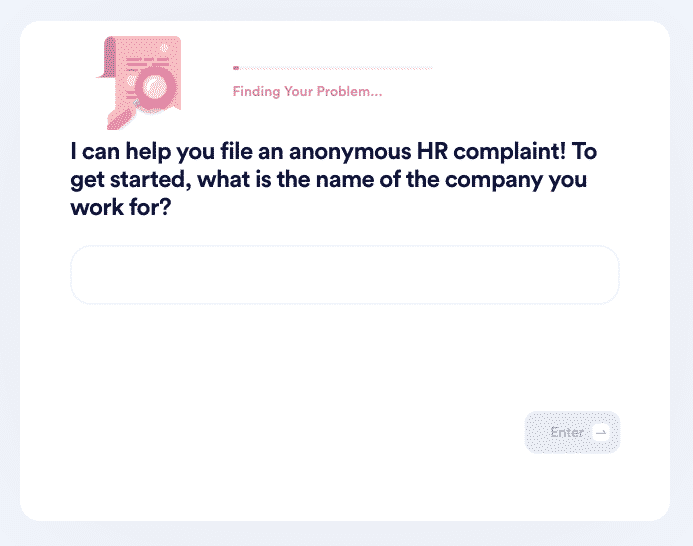 3. Explain the workplace issues you are experiencing and how you want them resolved.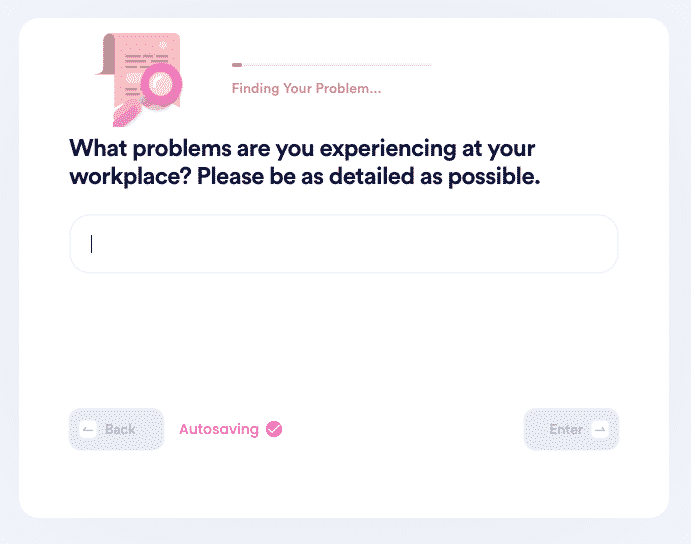 That's it! DoNotPay will mail the complaint anonymously!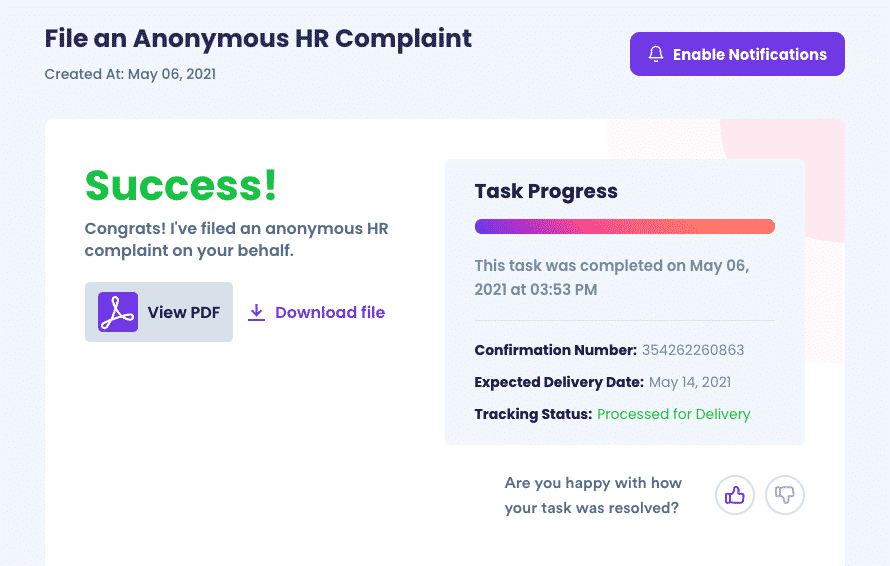 What Else Can DoNotPay Do?
We offer a safe and reliable way to send in your complaints to your HR Department without exposing your identity - but that's not all we can do.
Is a company refusing to give a refund for your purchase? We can obtain refunds for you! Having a hard time claiming your medical insurance? Claim your insurance or appeal a denied insurance claim using DoNotPay!
Not only can DoNotPay help with refunds and insurance claims, it can help you reduce recurring bills and get free trials on any subscription service!
Feel free to check out what has to offer!