How to Prepare and Submit an HR Incident Report
When incidents happen at your workplace, you are required, as a standard safety procedure, to report them to your boss or your HR department, even in tough situations, such as complaints against your boss. For some companies, this may mean strolling into your HR or employer's office on invitation, to give an oral narration of what you witnessed, while for others, you just have to prepare and submit a proper HR incident report to accompany your narration. 
Without a proper guide in the form of a template, writing these reports can be a confusing and extremely tedious task.
This article outlines some of the best approaches you can take to properly file an HR incident report.
Why Do You Need to File an HR Incident Report?
Now, an incident report could be anything from a hazard, a near-miss, a discrimination incident, verbal or physical harassment between you and your fellow employees, or some unpleasant workplace confrontation with your boss, whatever it is, it is important that you file a proper incident report. 
Filing an HR incident report is important for six reasons:
It is important for record-keeping: T

his means you would be doing a great deal of future benefits for yourself, by recording and reporting incidents as soon as they happen. 

It preserves the narration: S

ix months down the line and it all becomes a case of your word against theirs. This is usually the case when you fail to keep an officially documented account of what happened.

It forms a piece of valid legal evidence:

Should you decide to pursue legal action in the future, a comprehensive HR incident report helps make your case pretty solid.

It can be used to appraise performance over time:

In most cases when companies want to promote an employee or conduct performance appraisal, they look to the books to see their conduct over time. An incident report helps give a true picture of the performance of the employee in the workplace. 

It is essential for future decision-making:

A company will be able to make accurate and effective plans if it has a true glimpse of the present situation of things in the office. This includes improving work culture, re-training employees, promotion, hiring, or firing policies. 
When Should You File A HR Incident Report
Depending on your company's policies, you may be required to report an incident within 24 hours, 48 hours, or as soon as you are physically stable and fit enough to file a report.  As a general rule of thumb, the Society for Human Resources Management (SHRM) requires that all incident reports be submitted within five days of occurrence. 
For the Occupational Safety and Health Administration (OSHA), the duration you have to report an incident is seven days from occurrence. 
If there is a physical injury, death, or permanent body damage arising from the incident, then you should also include it as well.
What Makes Up a HR Incident Report?
The primary essence of reporting an incident is to get an insight into the circumstances that gave rise to it. This means your report needs to be as detailed as possible. Some of the details you should add to your report are:
Category

Details you should include

Section A:

Personal details

This includes your:

Name

Address

Department 

Time of incident 

Section B:

Incident details 

A detailed narration of the incident includes:

A clear narration of all that happened

The location of the incident

The name, contact, and department of  parties involved

The specific type of incident 

The type of injury or harm sustained

Section C:

Other details 

Other additional supporting evidence like a picture or video record of the incident. 

Additional accounts from witnesses
It is important to know that you should keep all evidence that helps lend credibility to your incident. This may include pieces of office equipment destroyed during the incident, phone call records, mail, or a camera recording of the ensuing dialogue
Also, you will have to repeat the process above, and submit it together in a case where multiple victims are all part of a complex case. 
Be sure to quantify properly by including accurate weights, measurements, temperature reading, distance, and all other measures that may be part of the case.
Clear HR Incident Reporting Pitfalls to Avoid
While it is necessary to report incidences, you should avoid doing these:
Victim-blaming

: Remember it is not an opportunity to blackmail or avenge your colleague. Report facts and figures in detail only.

Rush reporting

: Try not to treat it as an unpleasant routine and eventually rush the report. Take your time to do a thorough evidence gathering and reporting. 

Being Destructive Instead of Constructive:

Your report should be focused on how your work environment can be improved overall. Always keep that in mind. 
Reporting HR Incident With DoNotPay
DoNotPay helps you report any incident at your workplace,  fast and in a professional manner. With the AnonymousHR reporting feature, you can take advantage of DoNotPay's special reporting feature to file your report to your HR, SHRM or OSHA. Simply,
1. Log-in to DoNotPay and select the Anonymous HR Complaint service.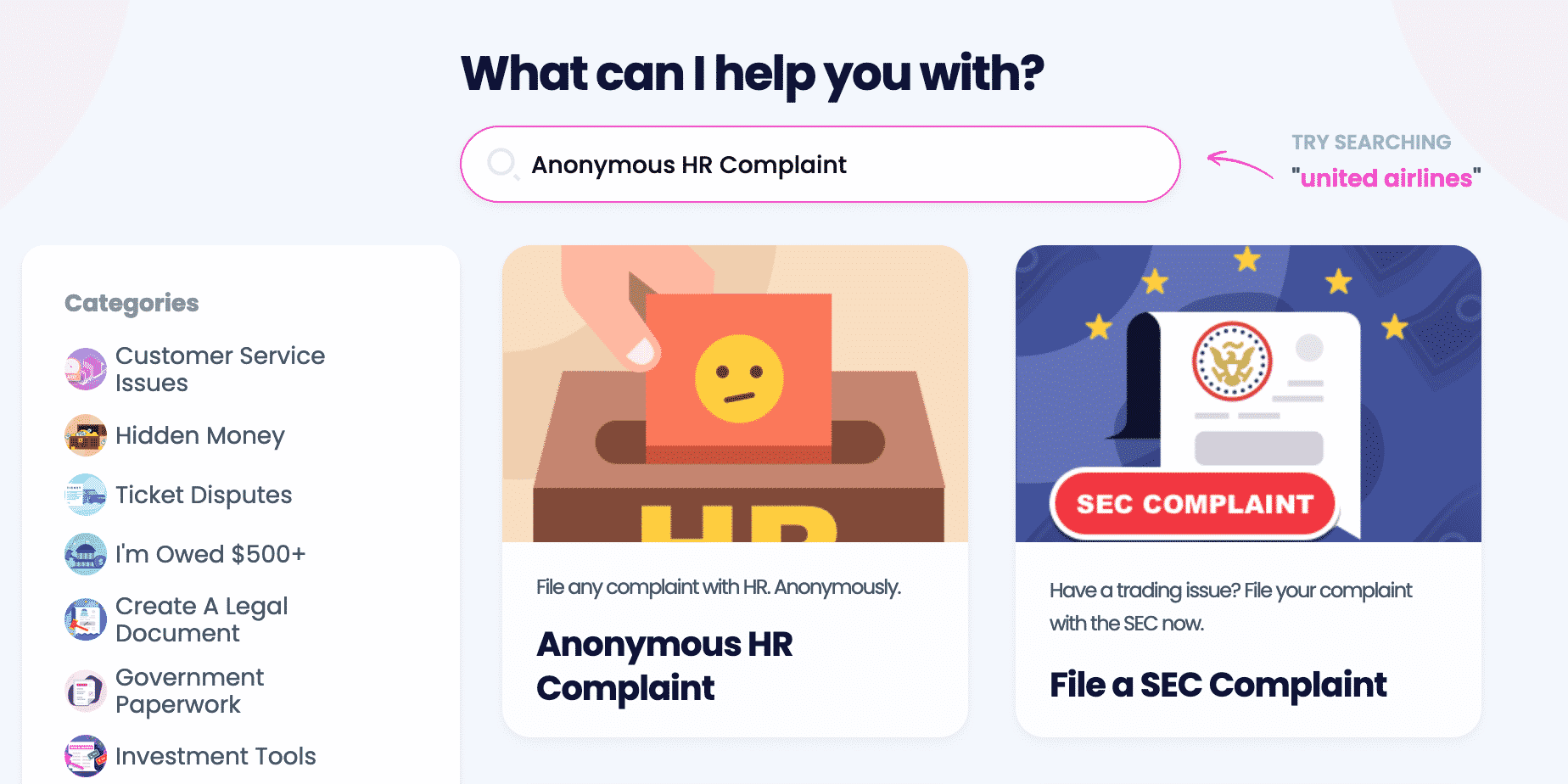 2. Provide the name of the company you work for.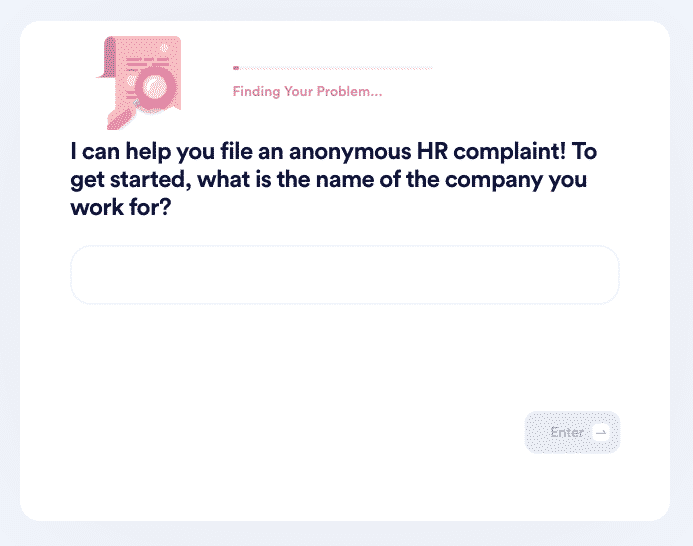 3. Provide details about the issues you have experienced in the workplace.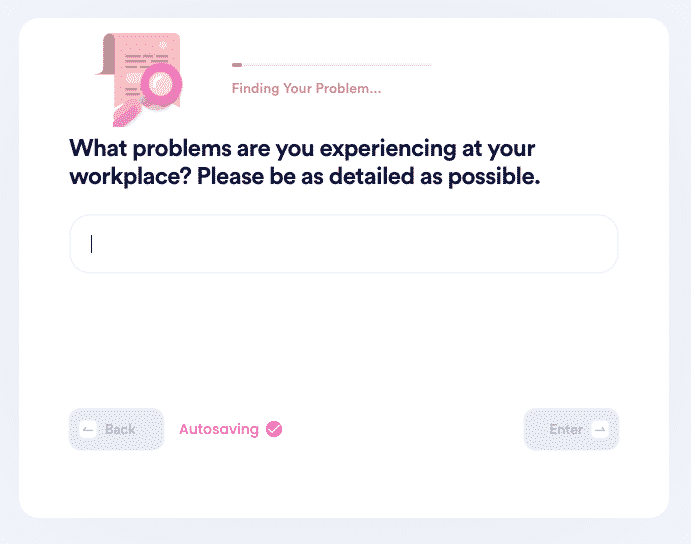 DoNotPay compiles your answers and sends your report to HR anonymously!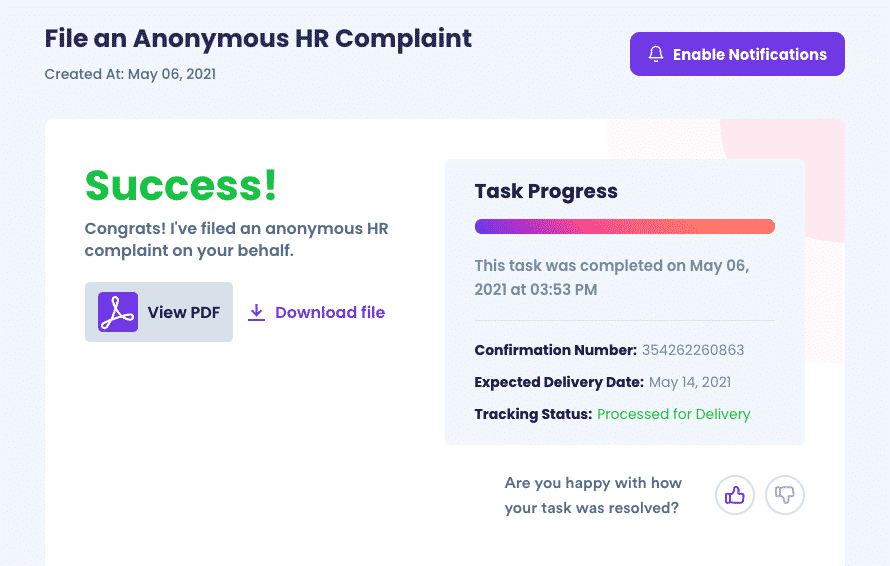 Check out how to write a complaint letter about your co-worker here and how to report your manager without getting fired here.
DoNotPay Helps With More