How To Write a Scholarship Essay Like a Pro—The Best Tips
Wondering how to write a scholarship essay that wins without creative blocks and mistakes? What elements should you include in it, and what is the best way to create a solid structure? How important is this part of the application? The answers to these questions are all you should consider when pursuing essay scholarships or other awards that require such a piece of writing.
By following the tips from our guide, you will discover the secret of creating a flawless scholarship essay and getting bigger chances of receiving the needed financial support!
Why Do You Need a Scholarship Essay?
While documents and forms represent a boring, bureaucratic part of your scholarship application, an essay gives it a personal touch. Its purpose is to:
Distinguish your scholarship request from the others since most applications are usually similar to each other
Represent you as a real person and show your way of thinking and perceiving different life events and endeavors
Explain your qualifications thoroughly, including your educational, professional, and personal achievements
Emphasize your attitude towards various issues connected with your spheres of interest
Persuade a selection committee that you are an ideal candidate for the scholarship in question
How To Write a Good Scholarship Essay Step by Step
The topic you should cover in your essay depends on the type of scholarship you are applying for. The awards may be dedicated to various groups of students—like women, African and other international students, military veterans, transgender applicants, or any other. While some topics require you to write about your life plans and qualifications in general, others can be more creative.
A well-written scholarship essay must also be well structured, which means it must contain:
Introduction
Essay body
Essay conclusion
Smooth transitions between parts of the essay
How To Begin a Scholarship Essay
The introduction of your scholarship essay should:
Be attention-grabbing
Present you in a few short sentences
Provide an explanation of the matter that will be discussed in the essay
You should make this part as creative as possible as this will be the first thing the selection board will read.
How To Write a Scholarship Essay Body
Once you introduce the reader to your story, proceed with creating the body of your essay. Each new idea or point should be presented by a new sentence or paragraph as this improves the readability and overall text flow.
If your essay has to be general, you should stick to describing your strengths, special abilities, and educational and career goals. What you write must convince the person reading the text that you deserve the scholarship more than other candidates and that you will use it right if you get it.
You can also:
Explain how you would benefit from the scholarship in question
Say why the specific skills you possess make you eligible for the award
Disclose more info about the financial difficulties you have, if applicable
If the topic is related to a specific field, the purpose of this part is to show your opinion on it. It should represent a personal attitude but also include some facts and objective pros and cons, if applicable.
How To End a Scholarship Essay
After finishing the most important part of your scholarship essay—its body—it's time to summarize everything you have already written in a couple of sentences. This section should highlight the main points once again and express gratitude and appreciation towards the reader for taking the time to consider your request.
Additional Scholarship Essay Writing Tips for a Better Effect
A good structure is significant but not enough. To make your essay even better and show that you are a solid candidate for the scholarship, you should polish it using a few tricks. Check out the table below for more details:
Do
Don't

Start writing on time
Create an outline first
Stick to the topic as much as you can
Write clear and concise sentences—they also shouldn't be too long
Check the entire text for spelling, grammatical, or contextual errors
Keep up with the proposed essay writing prompts, such as format, font, or word count
Sound professional and polite
Show some emotions, but don't get pathetic
Find some balance between self-awareness and humility when talking about your qualities
Include a letter of recommendation from a relevant person

Swear
Brag too much
Rely on cliche stories
Use slang or emoticons
Put down other candidates
Use famous inspirational quotes
Include too many exclamation points
Lie and tell untrue stories or anecdotes to seem more interesting
Mention controversial issues if the essay doesn't specifically require it
DoNotPay Can Personalize Your Scholarship Search
If you are having a hard time finding college, high school, or grad school scholarships based on your needs and eligibility, use DoNotPay and solve the matter easily!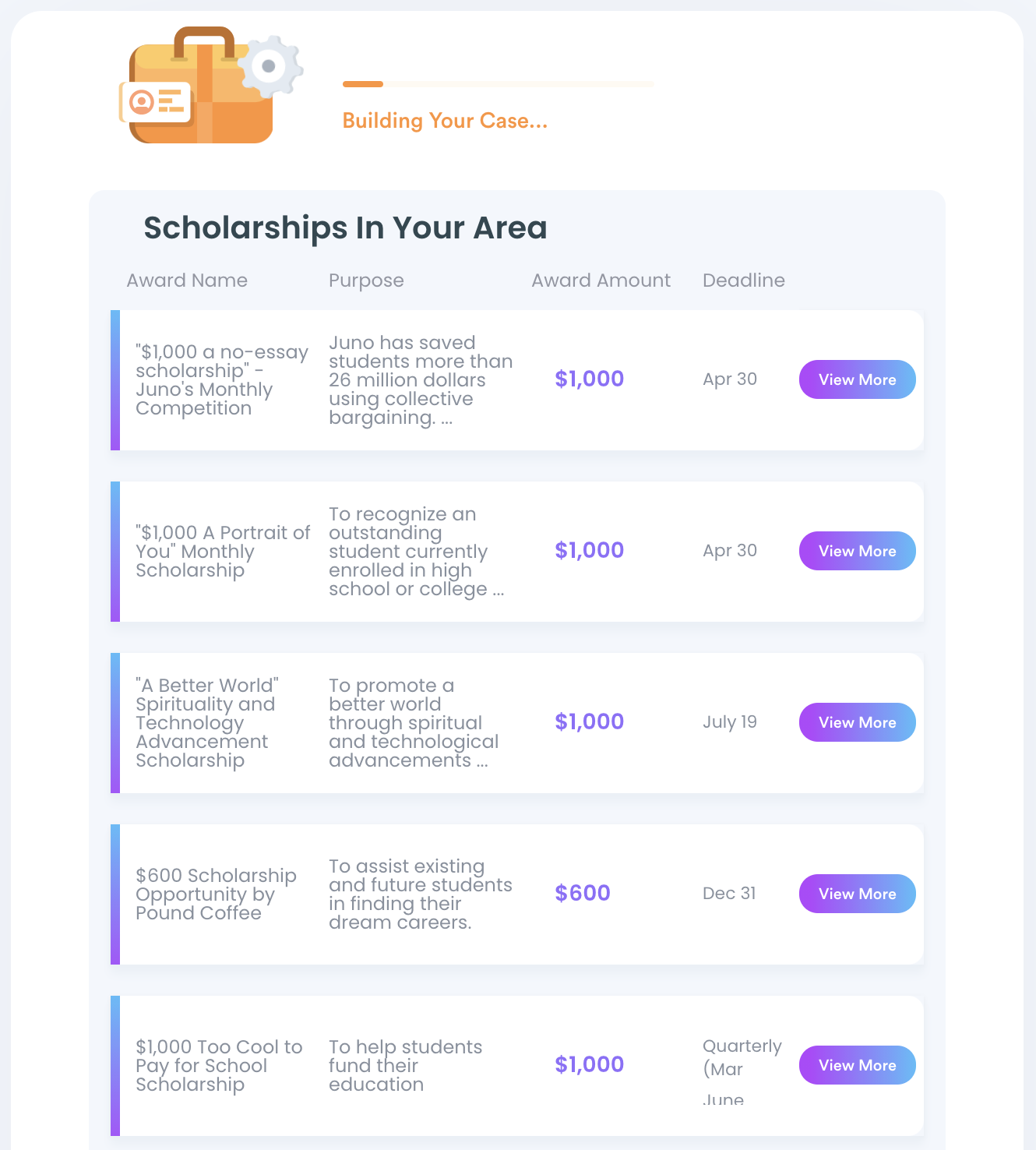 Our system can scan all available databases and find all scholarships and grants tailored to your needs before you know it! This means you can say goodbye to spending hours contacting scholarship providers or searching the internet for relevant results.
Another advantage of our app is that it can also apply for non-essay scholarships on your behalf, eliminating tiring procedures and administrative hassle. We will take care of everything in your name and send you an email confirmation once it's all done!
How To Search and Apply for Scholarships With Our App
To get our help with this matter, proceed as follows:
Go to Apply for Scholarships
Answer several questions related to your educational or other specific qualifications
Our knowledge base also includes various handy guides on scholarships for dancers, cheerleaders, police officers, male nurses, scientists, and many more professions. By providing practical tips for getting these awards, we help you win more money to finance your schooling in a quick and easy way!
Stuck in a Bureaucratic Mess? DoNotPay Is Here To Help!
Since handling dull administrative tasks is a burden and no one likes doing them, DoNotPay developed a variety of neat features to ease many processes! With our nifty app, you can:
Deal With Companies Like a Pro
We all love shopping, but it's no secret that companies sometimes turn a fun experience into a nightmare, especially when they refuse to cooperate. DoNotPay is here to help you reach customer support without the hour-long wait and sue an uncooperative merchant in small claims court if necessary!
Need a refund? We can show you how to get your money back from any company in a snap!
Should you need to file an insurance or warranty claim and request gift card cash back or an item return, you can count on our app to assist you! DoNotPay can also show you how to discover any unclaimed funds under your name so that you can continue shopping like a pro.