How To Write a Rental Agreement
That Is Airtight
If you are a landlord thinking about renting your property, you should know how to write a rental agreement. This legal document will ensure you keep your property safe and resolve any possible conflicts with your tenant with ease. 
Access DoNotPay to discover tips and tricks that can help you create a rock-solid rental agreement. We can also help you generate a vast number of other legal contracts.
What You Need To Know About a Rental Agreement Before Writing One
A rental agreement is a contract made between a landlord and a tenant. It is similar to a lease agreement, but there are some differences. A lease agreement usually lasts for a year, while a rental agreement is renewed on a month-to-month basis. 
This makes it more convenient for people who need to rent a property without the long-term commitment. You can also make a weekly rental agreement to ensure that even the short-term occupants respect certain rules. 
A rental agreement is important because it states the responsibilities of the tenant and the landlord clearly. This contract also protects them in case one of the parties breaks the rules. Having a rental agreement is a must, but what's more important is knowing how to write one properly.
How To Write a Rental Agreement and What To Include in It
When writing a rental agreement, you need to know how to make it rock-solid. This means knowing what must be included in your contract. Here are some of the tips:
Include the personal information on the landlord and the tenant

Define when the agreement starts and ends

Provide all the necessary information regarding payments, including the rent, utilities, and security deposit

Make it clear what happens if any of the payments are late

Explain the rules about owning pets, making noise, and other similar circumstances clearly

State what happens in case any damage is made to the property

Get the signatures of both parties after they read the contract and agree to the terms
These rules are quite broad. Any contract template you find online will likely include the above-mentioned info. Why is this not a good-enough idea? A bullet-proof rental agreement is a contract made just for you. The document needs to gather all the specifics that work for your case. This is where DoNotPay steps in!
Create a Rental Agreement With DoNotPay in No Time
You don't have to struggle with writing a rental agreement on your own and wondering whether you included all the necessary info. You also don't need to give a small fortune to a lawyer who will spend 15 minutes creating a document for you. 
DoNotPay will draw up a perfect rental agreement for you while saving you time and money! You only need to:
Type in the name of the document you need

Answer a few questions about yourself that will help us personalize the document
After a few minutes, you will have a rental agreement tailored to your needs in your hands. You should only check whether it is necessary to take it to the notary to make it official in your state.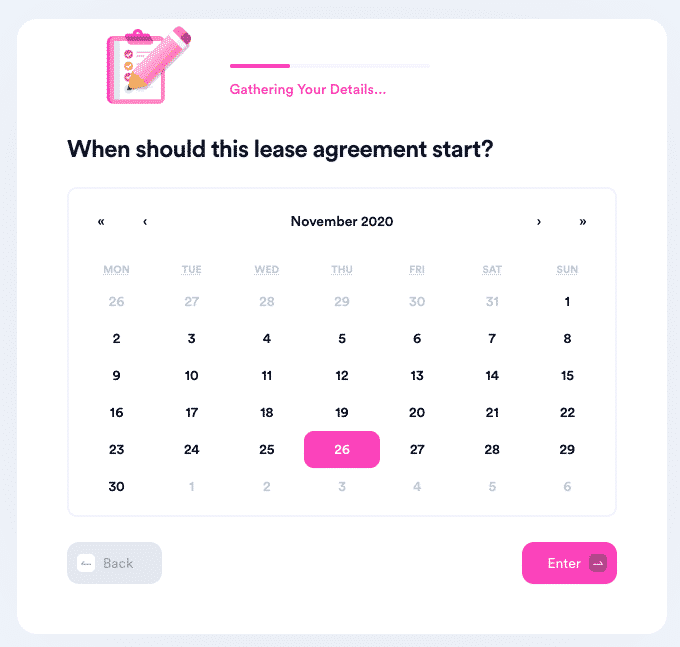 If you are interested in finding out more about legal documents of different sorts, you may count on DoNotPay for secure information. Inform yourself about the:
Use DoNotPay To Generate a Plethora of Other Documents
If you want to play it safe and ensure you always have the best possible version of a legal document, you should use DoNotPay.  Your virtual assistant has a lot of contracts on offer, and our database keeps growing. For now, you may use our app to create:
Quitclaim Deeds

Estoppel Certificates

Promissory Notes

Intent To Purchase Real Estate Letters

General Affidavits

General Business Contracts
What Happens if a Party Terminates a Contract Early?
A rental agreement exists to make the relationship between the landlord and a tenant run smoothly. This means following the rules or dealing with consequences if you break any of those rules. Sometimes a party may need to end the agreement ahead of time.
If you plan on terminating the agreement before it expires, you need to notify the other party about it on time. The contract should contain a clear statement about the number of days for providing written notice of the termination to the other party. This will let the tenant have time to find another property to move in and the landlord to find another tenant without losing rent money.
If the tenant leaves the agreement, they have to pay all the rent due and other leftover fees. Make sure to regulate the early termination procedure in your contract as well.
Keep Your Money in Your Pocket and Save Time
With our assistance, you can also appeal parking tickets in any city, get help with bills, make an appointment with the DMV, protect your copyright, and avoid phone number verification!
If you feel like you were wronged either by a faulty product or a delayed or canceled flight, DoNotPay will also help you request a refund from any company or airline hassle-free.
Being on a tight budget isn't easy—knowing that, we've developed features that will get you free trials, unclaimed money, extended warranties, college application fee waivers, and so much more!
Fend Off Scammers With DoNotPay's Help
Are you sick of having a cluttered inbox or getting robocalls? So are the majority of Americans. If you want to get rid of email spam, text message spam, or annoying robocalls, DoNotPay can help you put a stop to them once and for all.
Do you feel like serving justice to companies that wronged you or stalkers and harassers that won't give you a break? Use our AI-driven app to fight for your right!