How to Write a Formal Complaint Letter About a Coworker
In your corporate career, there is a chance that you may have to file a human resources complaint against a coworker. Filing a complaint at work is a very sensitive issue that needs to be handled carefully. The reason being is that any formal complaint goes into your permanent employee file and can affect or strain your relations with your coworkers. Therefore, it is important to know how to write an effective formal complaint letter.
Before you decide to write a formal complaint to Human Resources, walk yourself through this mental checklist:
Ask yourself whether the complaint you're about to make will impact your job in any way.

Have you tried resolving the problem directly with your coworker? Some problems cannot be resolved directly as they may be outright criminal like sexual assault or embezzlement. However, it can still be effective to speak directly to your coworker.
When Should You Make a Formal Complaint?
It may be tempting to report every annoying behavior of a coworker, but you should ensure that the complaint you're about to make is valid. These complaints are critical to HR reporting, which can help improve your workplace and most importantly your situation. The process of filing a complaint against a coworker is similar to filing a complaint about your boss. Here are some situations where you can write a valid complaint letter to your boss about your coworker.
Harassment:

All forms of harassment (sexual, physical, or verbal) warrants a complaint letter.

Intimidation:

Bullying, physical or verbal threats, and stalking are grounds for a formal complaint.

Discrimination:

If a coworker discriminates against you based on race, sex, age, ethnicity, or disability, you should immediately file a formal

employee incident report

or complaint to your boss.
How Should You Outline Your Complaint Letter?
When you have decided to send in an official complaint letter against a co-worker, it is best to follow a structured outline:
State the Purpose of your Letter
In the heading of your employee complaint letter, you should clearly state why you're writing the letter. The way you address your purpose in the letter makes your boss see it as much of a priority as you do.
The details in a complaint letter should be clear and accurate. Although it may be difficult, you should always present information factually without biases. Details that should be included in a complaint letter are:
Coworker's name and department

Witnesses (if any)

Evidence arranged chronologically (text messages, recordings, etc)
Explain Your Involvement In The Situation
Rather than jumping the gun, most bosses will like to know what you have done to mitigate or resolve the situation. You should carefully detail all instances where you have confronted your coworker and attempted to work things out.
Apart from just stating the problem, your letter should include a suggested call to action. This can include reassigning you to a new team or a suggestion to terminate your coworker's employment.
Sample Complaint Letter About Coworker
Here is an example to help you draft a complaint letter about a colleague that you can submit to HR or your manager:
Lucy Smith Business Analyst
25 May 2021
John Green Human Resources Manager
XYZ & Company
Re: Formal Complaint Against James Dean
Dear John,
I'm writing this letter to address a concern I have about James Dean. In spite of multiple unsuccessful attempts to resolve this issue directly with James, I want to bring this letter to your attention.
More specifically, James Dean has been harassing me (verbally and remotely) since February 24, 2021. On February 24, James sent a text message to my work phone saying that I am not fit to be in my role because of my gender. Here is a screenshot of that conversation.
To resolve the situation, I have asked kindly (verbally and in writing) for the harassment to stop. This includes me ignoring his biting remarks and also asking him to stop. Here is a text message exchange where I diplomatically have tried to mitigate the issue.
Thank you for taking the time to address my concern. From my perspective, a solution that would allow me to work effectively and be more productive would be reassignment to another team. As I have tried numerous times without avail to resolve this issue, my outlook on a successful resolution is bleak, and thus would be satisfied with a new team assignment.
Yours sincerely,
Lucy Smith
Business Analyst
What to Do When Your Boss Doesn't Take Action Towards a Complaint
If your boss can't seem to handle the situation or seems to be intentionally ignoring your complaint, then you can consider taking the complaint to a higher authority. You can also file a complaint letter about your manager's behavior if they do not acknowledge your concerns. As a last resort, you can take the complaint to the human resources department. In some unique cases, you should file a report directly with a government agency like the Equal Employment Opportunity Commission (EEOC) or contact an employment attorney.
Type of complaint
Action

Harassment complaint letter

(sexual, verbal, physical)

Escalate the case with the EEOC or file a police report. It may be recommended to also hire an employment lawyer.

Discrimination complaint letter

(based on race, sex, ethnicity, disability)

Contact and report the discrimination case directly to the EEOC.
DoNotPay Offers Everything You Need
Writing an employee complaint letter about a coworker can be overwhelming and even intimidating. However, when approached in the right way using DoNotPay, the process becomes very straightforward. DoNotPay's new Anonymous HR Complaints product lets you file a complaint without revealing your identity. Our service is easy to use and lets you report an issue with a co-worker or file a complaint without making it awkward for everybody. All you have to do is:
1. Log in to and choose the Anonymous HR Complaints product.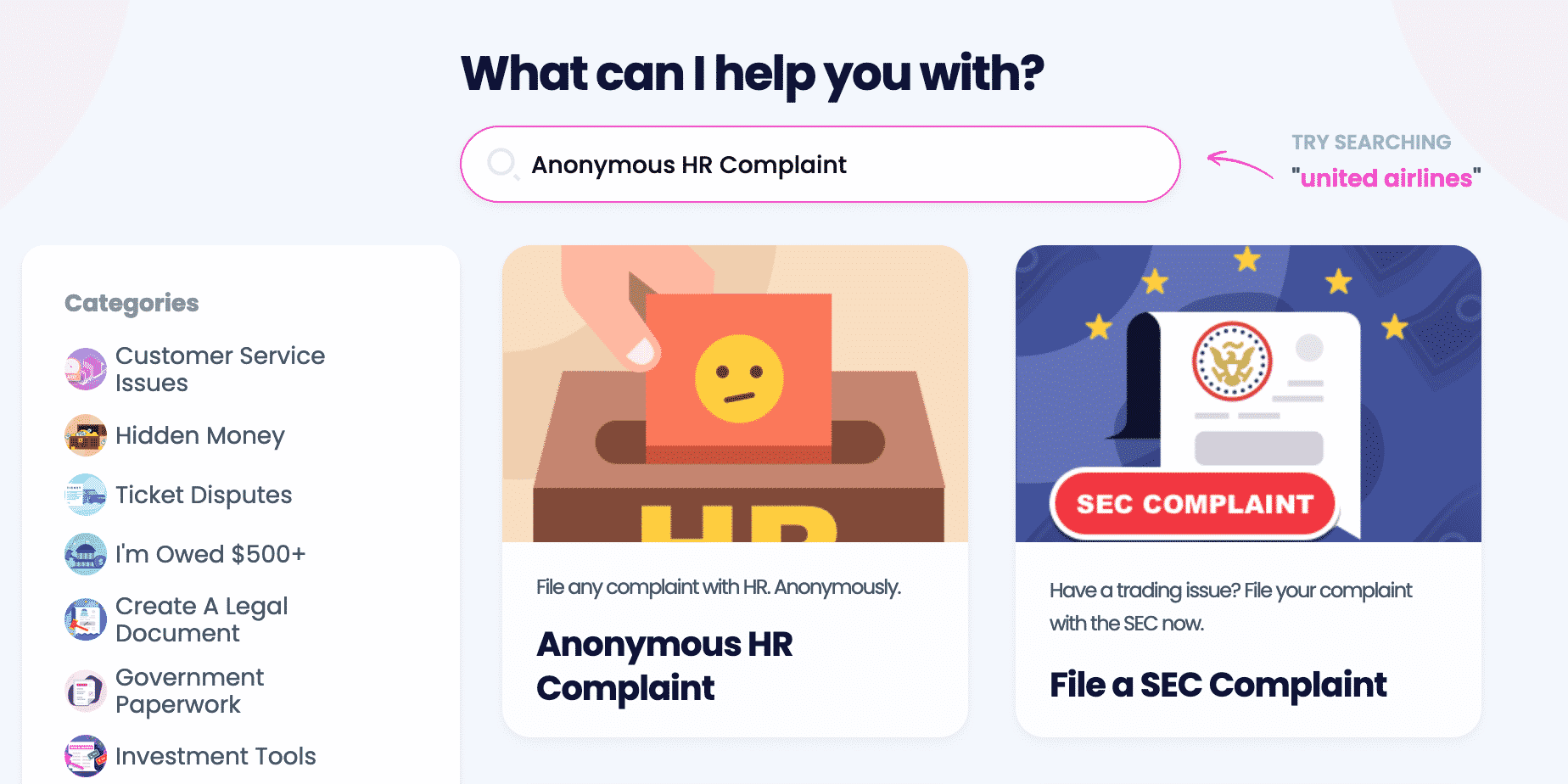 2. Enter the employer's name and the HR department's mailing address.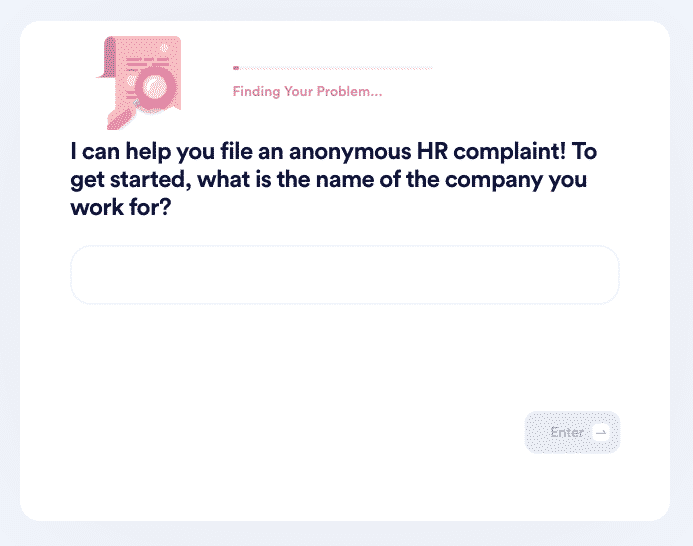 3. Explain the issues you are having and what action you need to be taken.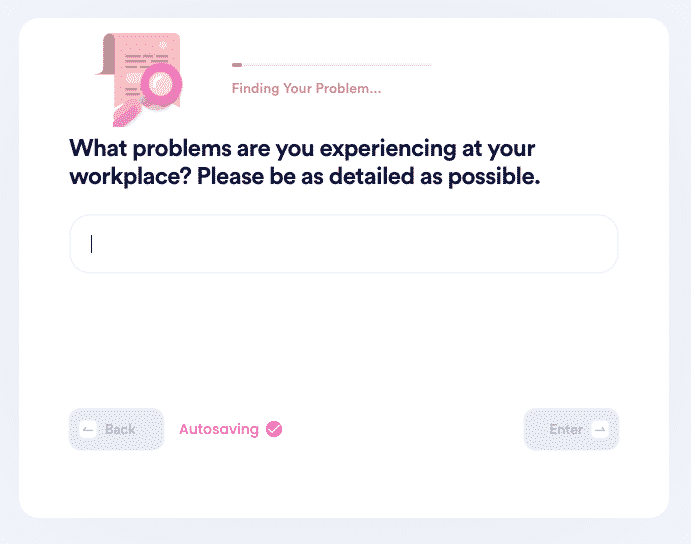 DoNotPay will automatically mail the report anonymously on your behalf!
DoNotPay Is Always by Your Side
Aside from filing a formal complaint letter about a coworker, DoNotPay can assist with canceling subscriptions, refunds, parking tickets, and so much more - all done by your AI-assistant! Take a look at what else we can offer: