Discover How To Transfer a Trademark to Another Owner Like a Pro
Transferring your business name, logo, or slogan is not a simple process. If you want to let other individuals or business entities use your ideas, you have to complete several crucial steps flawlessly.
If you already have a registered asset and are wondering how to transfer a trademark to a new owner, we have an answer! This article will focus on legal ways to do it and provide all the necessary instructions. As a bonus, you will get an easy-to-follow guide on how to file a trademark without hefty fees or paperwork by !
Why Do Trademarks Matter, and When Do I Need To Transfer Them?
Like copyrights and service marks, trademarks are made to protect the originality of your creations and prevent infringement. Once you meet the trademark requirements and register your mark, the law prevents others from appropriating your ideas without consent. As long as you renew it regularly, your trademark lasts as long as you need it.
Why Transfer a Trademark?
People usually decide to transfer trademarks when they sell a company or small business to another individual or business entity. By doing so, they give the new owner permission to use the trademark. Depending on the assignment type, the other party takes full or partial control over the use of the particular mark.
What Types of Trademark Assignments Exist?
You can transfer a trademark to another person or business entity in one of the following four ways:
Complete trademark assignment—the new owner gets all rights related to the registered trademark
Partial trademark assignment—only the rights related to specific products or services are transferred
Assignment with goodwill—the owner transfers both the rights and the trademark value to another business entity
Assignment without goodwill—the owner limits the trademark use to specific goods or services that are not related to their business
How To Transfer Trademark Ownership—Detailed Instructions
A successful trademark ownership transfer consists of two phases:
Signing a trademark transfer agreement
Updating the ownership information with the U.S. Patent and Trademark Office (USPTO)
You can find more details in the table below:
Phase
Explanation
Signing an agreement
The first step towards transferring your trademark ownership to someone else is drafting and signing a trademark transfer agreement. This document allows you and the other party to define transfer terms and conditions and should include:

Both parties' personal/company info
Level of transferred rights
Active registration warranties
USPTO registration code
Effective date of the ownership transfer
Documentation that proves the ownership of the person/company transferring the rights

Transferring the ownership with the USPTO
Once the agreement is ready and signed, it is time to update the ownership information with the USPTO. Here's how to do it:

Pay a requested trademark assignment fee—the current price is $40 per document
Visit the Electronic Trademark Assignment System (ETAS) app
Complete the required fields in the e-form and submit it

You will receive a confirmation receipt within seven days after completing the form. The primary purpose of the receipt is to help you notice potential mistakes and correct them on time
Can I Check the Status of My Trademark Ownership Change?
Yes, you can.
The best time to check if your ownership information has changed is seven days after receiving the Notice of Recordation. Here are the prompts you should follow:
Visit the Trademark Status and Document Retrieval (TSDR) app
Type in the serial/registration code
Click on the Status button
Find the Owner's Information and check if the changes have been made
If there are no status changes, you should navigate to the Prosecution History page and check for potential updates there.
You may come across an entry saying that ownership records are not automatically updated. If that happens, it is necessary to inform the USPTO about the issue using one of the following forms:
TEAS Voluntary Amendment—if your trademark has not been published in the Trademark Official Gazette
TEAS Post-Publication Amendment—if the trademark has been published but not registered
TEAS Section 7 Request—if the trademark has been registered
Use DoNotPay To Rock Your Trademark Application
Registering your trademark is essential for building the reputation of your business, which is why it must be done flawlessly. Unfortunately, the trademark application process can be challenging. Many business owners get rejected because they did not choose the correct class for their services or submitted inaccurate info. Consulting attorneys is a reliable choice but can result in jaw-dropping expenses.
DoNotPay offers you an easy way to file a trademark without complications or confusing steps. All you have to do is subscribe to our app and give us the info we need to fill out the application in your name. This way, you increase your chances of getting your request approved and protect your creations and ideas legally!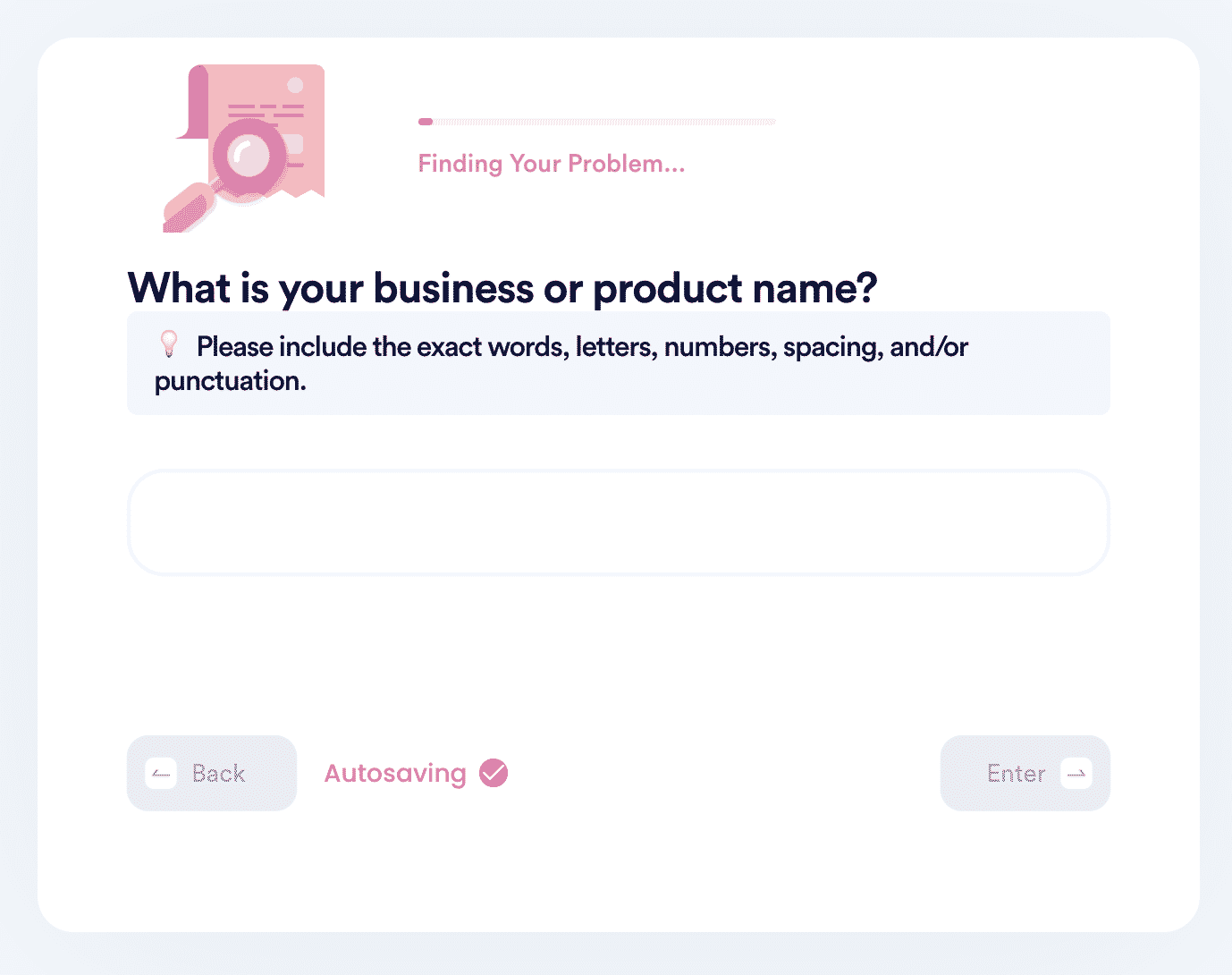 To start the process, proceed as follows:
and search for the Trademark Registration product
Tell us what type of trademark you want to register and choose the appropriate class
Give us more details about you and your business/company
Pay the application fee and confirm the payment
Once we run a USPTO trademark search and confirm your mark is eligible for registration, we will ask you to e-sign it. Our app will then forward your trademark application form to the USPTO and send you a tracking code so that you can check the status of your application anytime!
DoNotPay Helps You Raise the Bar in Business
Whether you are just getting started with your small business or are well into the game, DoNotPay can be your valuable assistant. We can help you manage various issues, such as:
Trademark infringement
Negative reviews
Suspicious chargebacks
You can focus on what is important while we take care of administrative tasks and problems.
Get More Done With Our Help
DoNotPay's features at your disposal are versatile. We can assist you in registering your DMCA agent with the U.S. Copyright Office so that you can avoid exorbitant copyright infringement fines. Thanks to our app, preparing and filing business loan applications will also be smooth sailing.
If you want to protect your slogan, logo, and company name, we will guide you through the trademark registration process. The Employer Identification Number (EIN) issuance is another procedure our app is able to assist you with.
Would you like to self-certify your business under the EU-U.S. Privacy Shield program? DoNotPay will complete and file the request in your stead. Our app can help take care of your employees, too. Use DoNotPay to create and submit 83(b) election forms to the IRS.
Is the pile of documents due to be sent getting bigger by the minute? Not to worry—your pocket assistant can mail and fax your documents with ease.