How To Trademark Artwork—An In-Depth Explanation
As a small business owner, you are always on the lookout for creative ways to solidify your brand. Having a compelling art piece as your trademark is one way to achieve instant recognizability. To avoid infringement and assert yourself in the marketplace, you need to complete the right paperwork. Learn how to trademark artwork and get started with the registration process using DoNotPay!
Can You Trademark Your Art?
A trademark or service mark is widely considered a necessity because it:
Provides legal protection from fraud and counterfeiting attempts
Enables customers to distinguish between products in the marketplace
Establishes the brand's integrity within the chosen industry
Identifies the source of goods or provider of services
Following the Trademark Act, any form of visual or textual signifier can serve as a trademark, as long as it is:
Original (as in not already in use)
Pertinent to the goods and services
If you want to use an original piece of art to label your products, you have the freedom to do so. Apart from artwork, other types of trademarks include:
Copyright vs. Trademark
Using art as a trademark can protect the particular piece from infringement within the context of commerce. If you are more interested in safeguarding your work against plagiarism, consider copyrighting it.
While both trademark and copyright are part of the intellectual property law, there are a few key differences between them:
Copyright
Trademark

Protects original work and establishes authorship
Establishes a connection with the work from the moment of creation
Says in effect while the author is alive and 70 years after their death (valid for pieces created after January 1, 1978)
Does not require renewal

Serves as a signifier for goods and services
Gets instituted through active use
Has an expiration date (ten years)
The Trademark Protection Law In Summary
As soon as you start using a trademark to reference your goods and service, you gain ownership over it, according to trademark protection laws. Your brand is henceforth protected in the local geographical area through common law rights.
While local trademark protection is sufficient for some enterprises, there are many compelling reasons why you should register. In case of litigation, your registration certificate can serve as proof of ownership. You can also forward the document to the United States Customs and Border Protection (CBP) and prevent the importation of infringing goods.
If you decide to use a registered trademark, here are your options:
State registration—Valid within a particular U.S. state
Federal registration—Implemented throughout the U.S. territory
International registration—Enforced in the 124 countries that are part of the Madrid System
Note that if you file for federal registration, your artwork will be included in the public database of registered trademarks.
How To Trademark Your Art With the USPTO by Yourself
The United States Patent and Trademark Office (USPTO) uses the Trademark Electronic Application System (TEAS) to streamline the registration process. Applicants must meet certain requirements for their petitions to be accepted.
Here is how to trademark your artwork according to the TEAS standards:
Conduct a USPTO search to determine trademark availability
Select a trademark application form
Classify your goods and services following the World Intellectual Property Organization (WIPO) guidelines
Confirm that you are already using the trademark or intend to use it in commerce
Provide a trademark specimen if necessary
Enclose proof of paid application fees
The two filing options (TEAS Plus and TEAS Standard) come with different pricing plans. You will need to pay a fee for each trademark class you list in the form, and the rates are:
TEAS Plus—$250 per class, paid upfront
TEAS Standard—$350 per class, paid in two installments
Keep in mind that with the TEAS Standard filing option, you can submit a description of your product rather than use the WIPO system.
If you have previously used the artwork to label your goods and services, you need to provide proof of use. Include an example of how the piece is applied to your product in practice.
DoNotPay Offers a Hassle-Free Way To Register a Trademark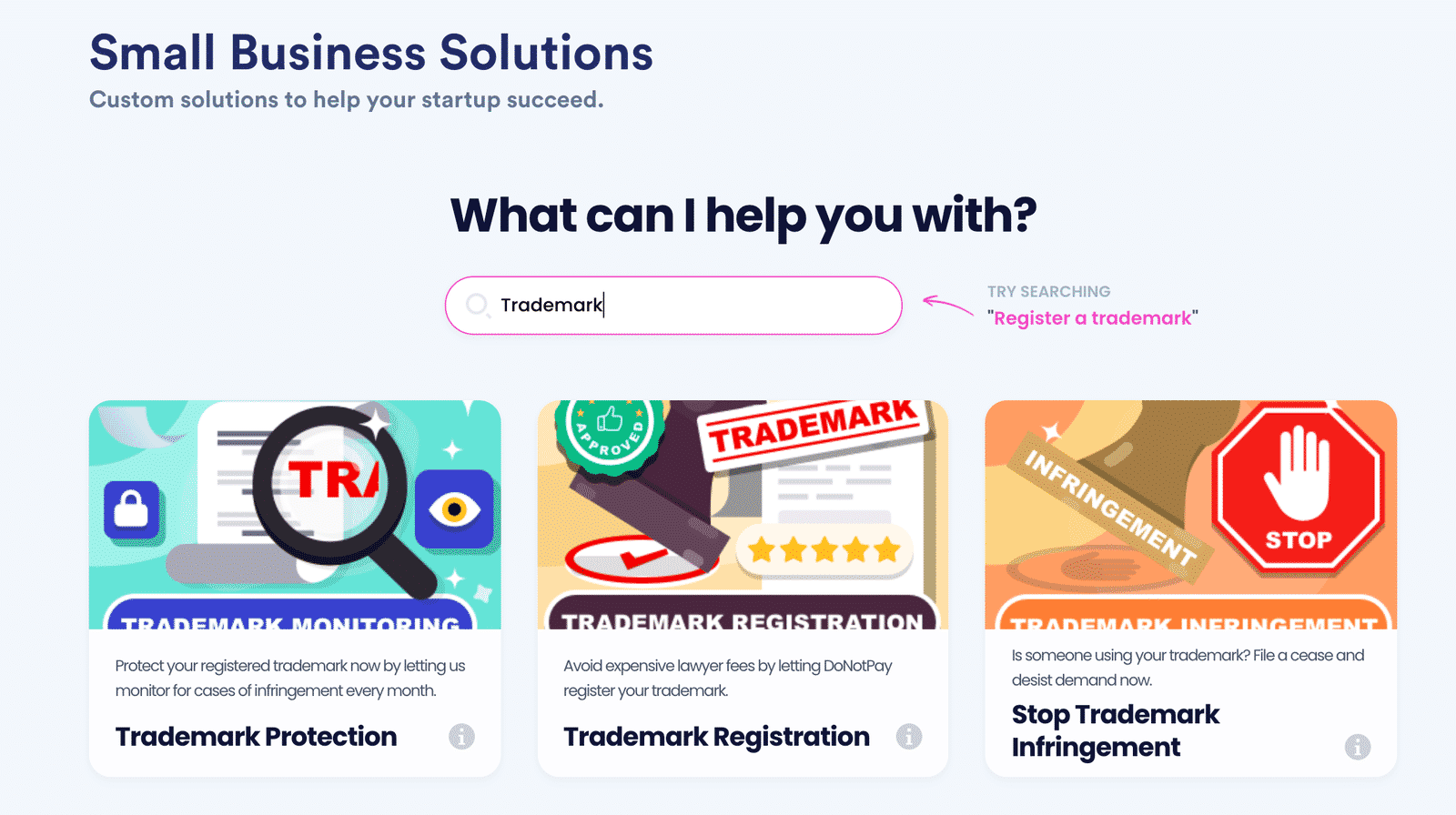 Much like other administrative procedures, applying for trademark registration can be tricky. You don't have to waste money on flat attorney fees to make sure the paperwork is properly filed, though.
DoNotPay offers an affordable and reliable solution for registering a trademark with the USPTO!
Our Trademark Registration product is streamlined by a powerful algorithm, leaving no room for mistakes. We designed the feature to be user-friendly, with only a few easy-to-follow steps:
Click on the Trademark Registration product
Answer questions from our chatbot regarding your brand and chosen trademark
Provide proof of paid fees
Our AI-powered app will generate a trademark application form and ask for your e-signature to complete the process. DoNotPay will then submit the documentation to the USPTO.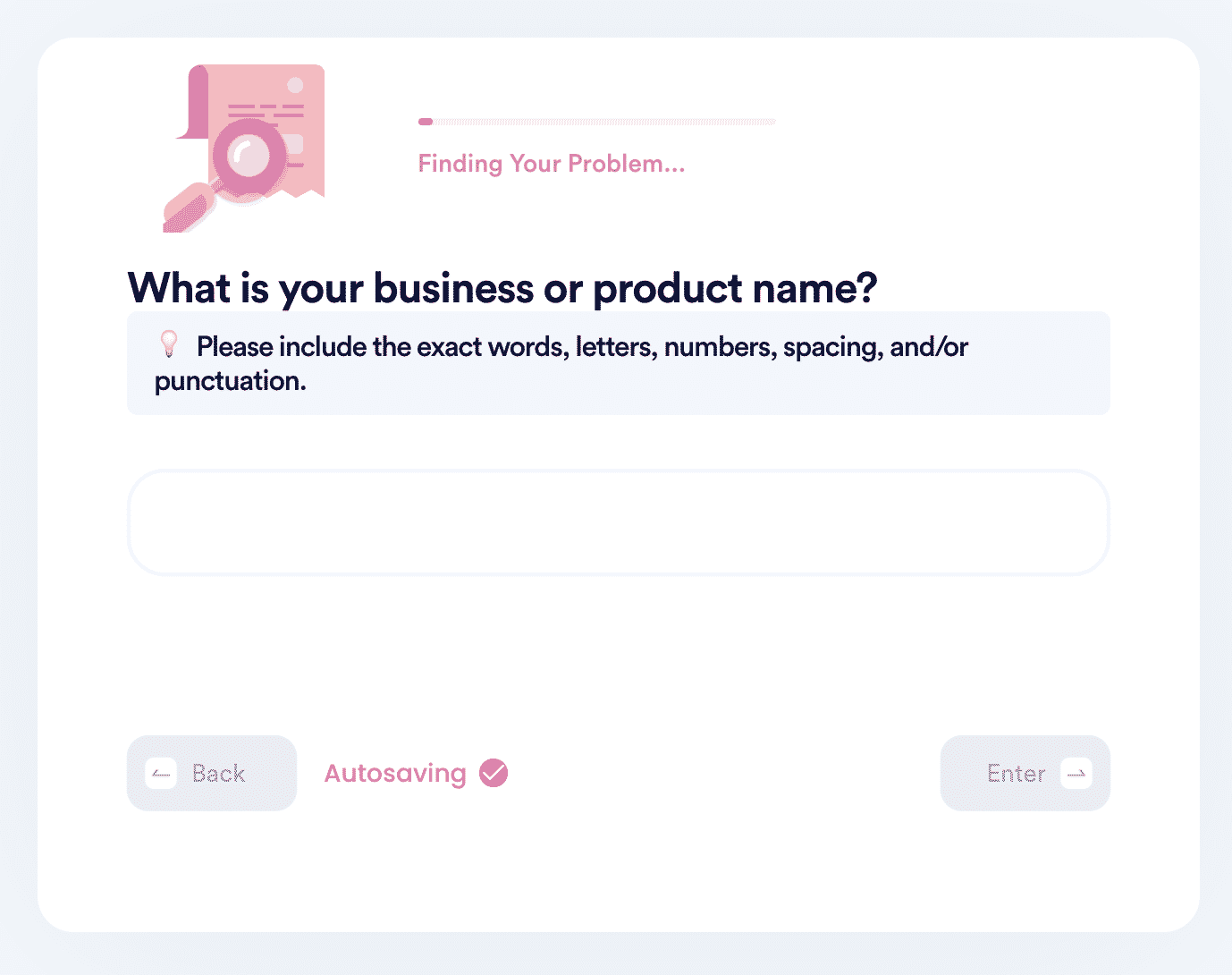 Run Your Business Worry-Free!
Every beginning is challenging, which is why DoNotPay has everything you need to start running your business stress-free! We have created numerous easy-to-use products that will make boring administrative tasks easier to manage.
To help you get started, DoNotPay will assist you in taking care of trademark, Employer Identification Number (EIN), and DMCA agent registration, Privacy Shield self-certification, and business loan requests.
We can even help you maintain a good business reputation by:
Monitoring your trademark and filing a cease and desist letter in case someone tries to use it
Reporting fake negative reviews that could harm your business
Disputing illegitimate chargeback requests in a matter of minutes
DoNotPay Helps You Create and File a Number of Legal Documents
Why waste time worrying about how to draw up and file various legal documents when you can have the world's first robot lawyer do that in your stead? You do not have to waste thousands of dollars on lawyer's fees—our extensive database has a myriad of documents on offer.
DoNotPay will help you automate the procedure of completing and filing 83(b) election forms, write a formal demand letter requesting payment from clients who try to avoid it, and deal with other important paperwork.