How To Trademark an Idea—Is It Possible?
Whether you own a small business or desire to start one, knowing how to trademark an idea can help you stop copycats. A trademark is a text or design that differentiates your products or services from those of your competitors, but does an idea qualify for trademarking?
This guide will answer your top questions and help you figure out how to protect your business.
Do You Need a Trademark?
If you have an idea, then you already have intellectual property. No protection exists for ideas at the concept stage under the intellectual property law. What you can protect is the expression of that idea—for instance, a logo, name, innovation, song, etc. Before your idea is materialized, you can draft a confidentiality agreement to keep your partners or collaborators in check.
Since you're dealing with intellectual property, you need to figure out whether you need a trademark, patent, copyright protection, or a combination. Here is the difference:
| Intellectual Property | What Is Protectable | Benefits of Federal Registration |
| --- | --- | --- |
| Trademark | A clear depiction of the mark—a phrase, word, design, or a combination | Prevents your competitors from using your mark or a similar one since it can confuse customers about the manufacturer of the products or services |
| Patent | Technical inventions—manufacturing processes, compositions, formulas, or products | Protects your inventions or processes from imitators by giving you monopoly rights (generally for 20 years) |
| Copyright | Artistic expressions and creativity—music, photographs, literary works, etc. | Prevents copycats from utilizing your work by reproducing, distributing, or displaying it without your permission |
What Can You Trademark?
For a trademark, you can register nearly anything that identifies your brand. Here are the types of marks that you can register:
Benefits of Federal Trademark Registration
Registering your mark is not required by the trademark protection law. You get ownership rights and protection under the common law by using your mark in commerce—but without a registered trademark, there is a risk of someone stealing or abusing it.
In such a case, it can be hard to defend your ownership of the mark in a trademark infringement lawsuit.
Registering your trademark on the federal level allows you to:
Use the registered mark symbol ®
File a lawsuit for trademark infringement in a federal court
Expand your registration internationally
Enforce your exclusive ownership rights nationwide
Inform the public of your ownership by listing with the USPTO
How Do You Trademark an Idea After You Make It Tangible?
Registering your trademark with the USPTO is a lengthy process. Here are the two main stages of the process you must go through:
Conduct a trademark search
File your application
Conduct a Trademark Search
You first need to make sure that no one has registered a similar mark. Search the USPTO databases thoroughly. It is a time-consuming but essential part of the trademark registration process. If you miss this step and file a conflicting mark, your application will be denied, and the fees you paid won't be refunded.
If the search results show no matches, you can proceed with your application.
File Your Application
The USPTO requires all applications to be submitted electronically. For the initial trademark application, you can use any of these forms:
TEAS Plus—It costs $250 for every class of goods or services that you list and has more requirements
TEAS Standard—It costs $350 for every class of goods or services and has fewer initial requirements
In your application, you must identify your mark clearly and specify the goods or services associated with it. The number of trademark classes that you list impacts your total application cost. For instance, if you use the TEAS Plus form and list your products under five classes of goods or services, you will pay $1,250.
If your application is approved, you will get the trademark registration certificate. Your registration can last forever, but you must keep using your trademark in commerce and file the required maintenance documents regularly.
Because the overall process takes a lot of time and effort, most people use trademark attorneys, but be warned—you might have to pay up to $2,000 for their services. Luckily, you can count on —a cost-effective and easy-to-use platform that will help you sail through the trademark registration.
Register Your Trademark Hassle-Free Using DoNotPay
Does the trademark registration process leave you confused? No worries—you can register your mark with the right help easily. DoNotPay can simplify the complicated legal process and help you submit your application to the USPTO in no time.
Give us the details about your mark, and we will:
Search the USPTO database to rule out the existence of similar registered marks
Inform you of the application requirements
Complete the necessary forms on your behalf
Send you the form for double-checking and e-signing
Submit your application to the USPTO for you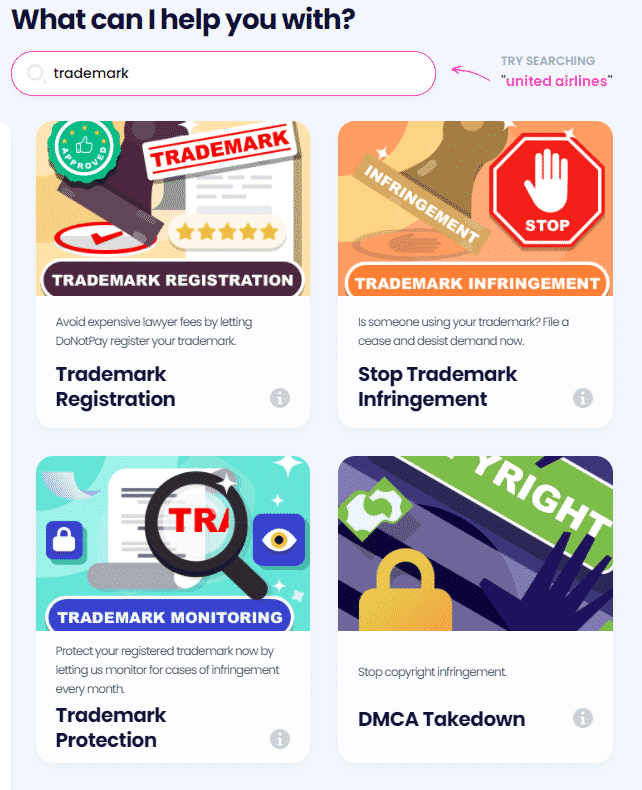 Are you ready to protect your trademark? Follow these steps to start your application:
Search for the Trademark Registration tool
Tell us more about your mark
Pay the USPTO application fees
Once we submit your application, we will send you the tracking number so you can check the status anytime.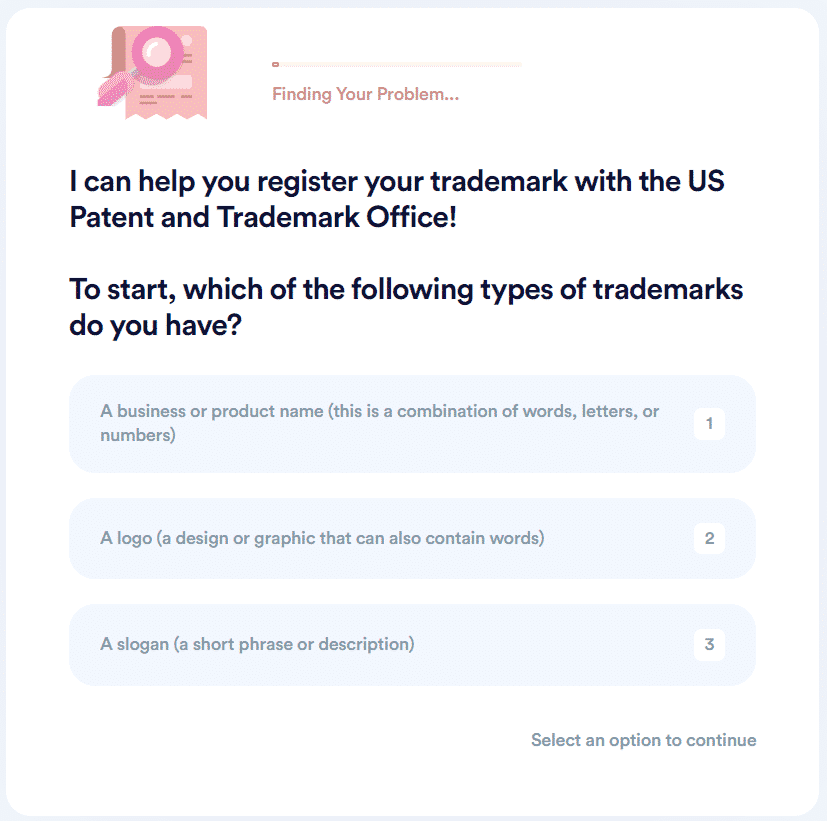 Small Business, Big Issues—Resolve Yours With DoNotPay
DoNotPay is here to offer a helping hand in your business endeavors. We can help you handle various procedures as effortlessly as possible. Want to make sure you get a small business loan for real estate purchases, job creation, debt repayment, and similar? DoNotPay is here to assist you in writing a convincing request letter! Want to make sure your employees and shareholders save money on taxes by filing 83(b) election forms? We can help with that too!
The world's first robot lawyer has a myriad of nifty features at your disposal. Use your precious time to work on your brand while we take care of most business-related issues for you. Our app can help you:
Fight unfair chargebacks
Deal with illegitimate online reviews
Send formal demand letters to clients who won't cover the cost of your services
File the self-certification request with the Privacy Shield program in a matter of clicks
Send documents to your customers or business associates from the comfort of your office with our faxing and mailing tools
DoNotPay Helps You Deal With Various Registration Processes!
One of the first tasks you should complete as a business owner is to obtain an Employer Identification Number (EIN). Applying for it is usually a tedious process unless you use DoNotPay! We can file your application on your behalf and notify you accordingly.
Does your business have a website that allows users to share or store content? An important aspect you should take care of is registering a DMCA agent, and DoNotPay is here to make the process easier!
If you wish to register your business name, slogan, or logo as a trademark but you're not sure how the process goes, rely on DoNotPay and finish your registration in no time! We can also help you protect your trademark by monitoring it every month and filing a cease and desist demand if anyone tries to steal it.