How To Trademark an Artist Name Like a Pro
Picking a unique and distinctive artist name is not as simple as it may seem—it takes a fair amount of effort and creativity. Another disadvantage is that, even if you come up with a nickname that feels natural and perfect for you, there is a chance someone else has already taken it.
What is the best way to protect the stage name you want to use for the rest of your career? How to trademark an artist name without losing your temper? Wonder no more—we are here to share the answers with you! Find out how can help you register any asset as a trademark without complications!
Artist Trademarks Explained
While copyrights serve to protect your songs, lyrics, and other artistic creations, trademarks safeguard other elements of your artistic identity from infringement.
Bands and individual performers usually register their names with the U.S. Patent and Trademark Office (USPTO). Registration is not mandatory, but it helps the artist get exclusive rights to use the chosen name locally or throughout the USA.
Registration can also prevent other artists or bands from registering the same or similar name as their trademark. The violation of the trademark protection law may lead to lawsuits and astronomical fines.
What Else Can Be Trademarked?
Besides artistic ideas, it is also possible to file the following types of trademarks:
How To Trademark Your Artist Name—A Simple Guide
The following table contains straightforward instructions on how to perform a trademark registration:
Step
Details
Think about the name choice

If you want to register a stage name similar to another individual's name, you must get permission from that person. The more unusual the chosen nickname is, the higher the chances of a smooth registration process are

Perform a trademark clearance search
Ensuring that your artist name has not already been occupied is the essential trademark requirement. You can check the eligibility of your mark by:

Setting the appropriate filters
Checking the USPTO database for the same or similar entries

Pick a description for your mark
Decide on the application format
You can apply for a trademark based on:

Use-in-commerce principle—if you already use the desired artist name
Intent-to-use principle—if you have not used the mark so far but want to use it in the future

Submit an electronic trademark application form with the USPTO
Keep in mind that you must renew your trademark registration once every ten years (to make the trademark last as long as you need it).
How Much Do You Have To Pay for Trademarking an Artist Name?
The total trademark registration fee for your stage name depends on the application method you choose. There are two options:
TEAS Plus—$250
TEAS Standard—$350
The registrations are usually processed more quickly with the first method. TEAS Plus also provides a simpler application form and has a lower refusal rate than TEAS Standard.
The main benefit of the TEAS Standard registration method is that it allows a custom description of your goods and services. This perk is available regardless of whether you want to register an artist name or trademarks and service marks for a small business.
Another expense that may emerge is legal fees—in case you hire an attorney to assist you with the application. Each professional proposes their rate, which may range from several hundreds to several thousands of dollars.
How To Trademark a Stage Name Using DoNotPay
Hiring a lawyer to help you perform a clearance check and file a trademark application is a costly option. You can use DoNotPay as an equally reliable but much more affordable solution. Our app ensures a smooth and stress-free trademark registration by completing an application form in your stead!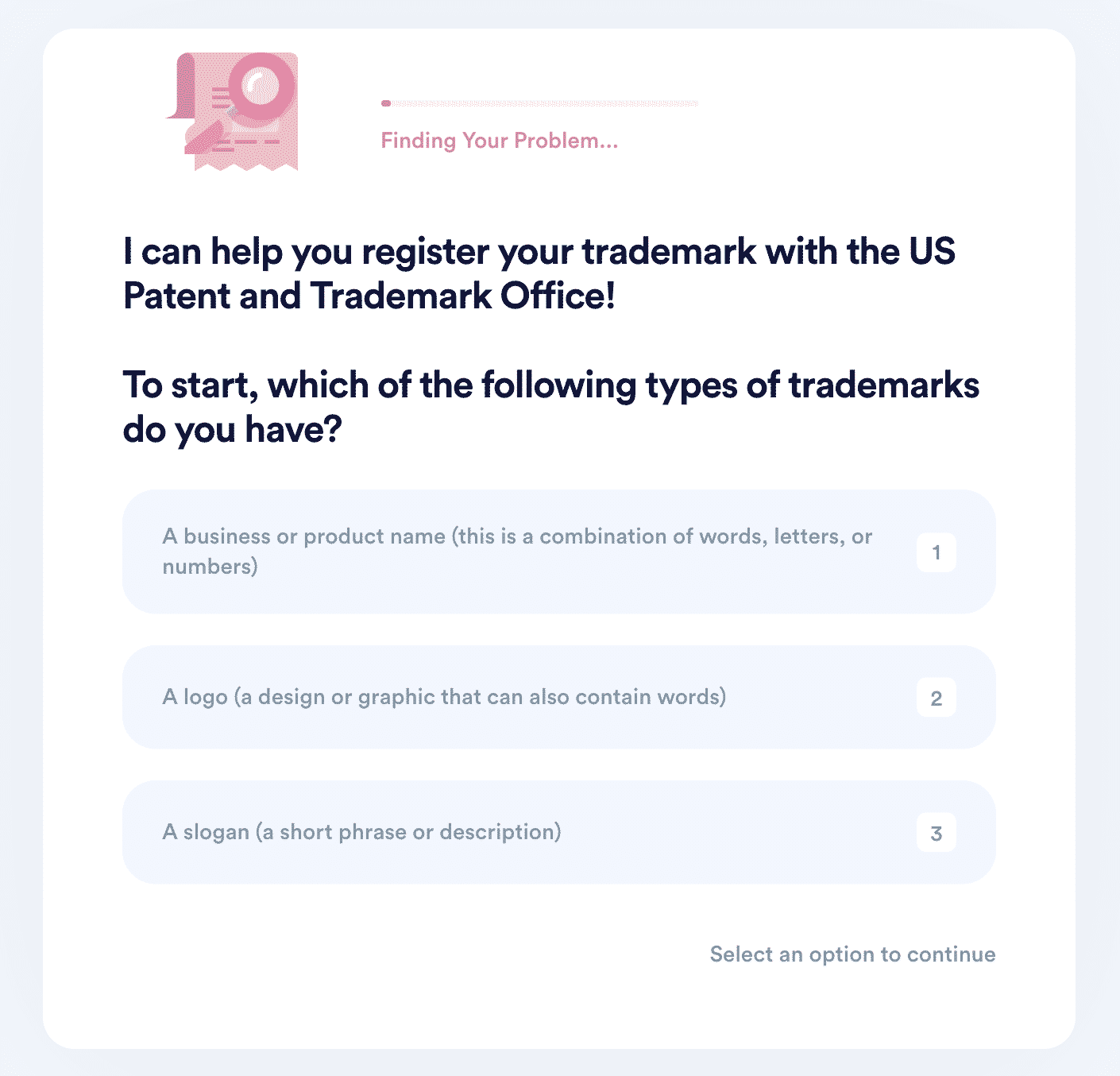 Follow these instructions to get our help with filing your trademark:
and pick the Trademark Registration tool
Pick the trademark class and type
Answer additional questions about your trademark and business
Provide proof of paying the application filing fees
In no time, DoNotPay will:
Search through the trademark database to prove your stage name uniqueness
Fill out the required fields in the application form with your information
Help you e-sign a completed form—or have it notarized if necessary—and send it to the USPTO
Generate an application serial code to help you track the registration updates
DoNotPay Goes the Extra Mile
Our app has much more to offer—products that will protect and elevate your business.
Count on DoNotPay when you want to:
Simplify Processes
Solve Issues

83(b) election form submission
Business loan application
Employer Identification Number (EIN) registration

Trademark infringement
Fraudulent chargebacks
Keep Your Company Safe
For your business to thrive, you need to be prepared for any problem that may come your way. This is where DoNotPay comes in! We can help you trademark your company name and even the logo or slogan. To avoid any copyright infringement issues in the future, you can use our app to register your DMCA agent. If you are worried about your clients' privacy, we will be glad to assist you in getting into the Privacy Shield program.
Are there any negative reviews online slandering your company? DoNotPay can help you get rid of fake comments potentially hurting your business.
As it all comes down to communication, we have developed a feature to help you reach your employees, associates, or clients the easy way. At no additional cost and no post office visit necessary, our AI-powered app can both fax and mail letters and documents.