How To Trademark a Podcast Name Without Losing Your Temper
Making a perfect podcast includes a lot of hard work. One of the most difficult parts of the creation process is thinking about an ideal name for your project. An even more challenging task is to protect the new title from other people who may appropriate it without authorization.
The best way to solve the matter is to register your podcast name as a trademark. How does this option save your idea from infringement? How to trademark a podcast name, and how much does it cost? The answers to all these questions are waiting for you in this straightforward guide! and register your mark without complications!
Why Do Trademarks Exist?
While you can protect your creative work—photos, songs, or books—with copyrights, trademarks protect the elements that make your small business memorable.
The company name, slogan, logo, and other assets used for commercial purposes identify your goods and separate them from other similar products. If you register them as trademarks, you become their rightful owner, prohibiting other businesses or individuals from using the same or even similar mark. This way, the representation of your goods or services on the market remains unique.
Other elements that can be filed as trademarks include:
Trademarks usually safeguard the goods, while the services you offer can be protected with service marks.
What Criteria Do You Have To Meet To Trademark a Podcast Title?
Before starting a trademark registration procedure, you must ensure you comply with the following requirements proposed by law:
Criteria
Details
The podcast name you want to trademark must be original
The best way to check whether someone else has already occupied the title is to run a trademark clearance check with the U.S. Patent and Trademark Office (USPTO). The agency's database contains details of all trademarks registered on a national level. If the desired podcast name matches another entry from the database, you must alter it before proceeding with the trademark application
You must choose the trademark filing basis
The basis you choose depends on whether or not you are already using the mark. Opt for:

Use-in-commerce basis if you have already started a podcast with the particular name
Intent-to-use basis if you are yet to use it

The mark must be categorized
All goods and services are sorted into 45 trademark classes. Choose one or more categories for your podcast title, and do it carefully. Selecting the wrong category may lead to application rejection
How To File a Trademark With the USPTO Yourself
Once you are positive that you meet the necessary criteria, it is time to initiate the registration process. You should:
Choose one of the following application forms:

TEAS Plus
TEAS Standard
The TEAS Plus application costs $250, and it is a simpler, faster, and less expensive option than TEAS Standard—which costs $350. TEAS Standard also enables you to provide a custom description of your mark and does not require an upfront filing fee payment
Fill out a trademark application form by:

Logging in to your TEAS account
Completing the required fields with correct information
Submitting the form digitally, as the USPTO currently allows electronic applications only

Pay the application fee based on the application type you choose
What Happens After Submitting Your Trademark Application
After filing your request with the USPTO, the agency forwards it to an examining attorney for review. If everything looks good, your trademark gets published in the Trademark Official Gazette along with other new trademarks. The primary purpose of the publication is to allow other podcast creators who may have come up with the same or similar names to oppose your trademark.
If no one reports infringement related to your podcast title, the USPTO will approve the registration. To make it last, you must renew your trademark at regular intervals by submitting supporting documentation and paying suitable post-registration fees.
DoNotPay Can Apply for a Trademark in Your Stead
Due to a confusing and complicated registration process, many people entrust their trademark applications to lawyers. Even though services can reduce your efforts, they are rather costly.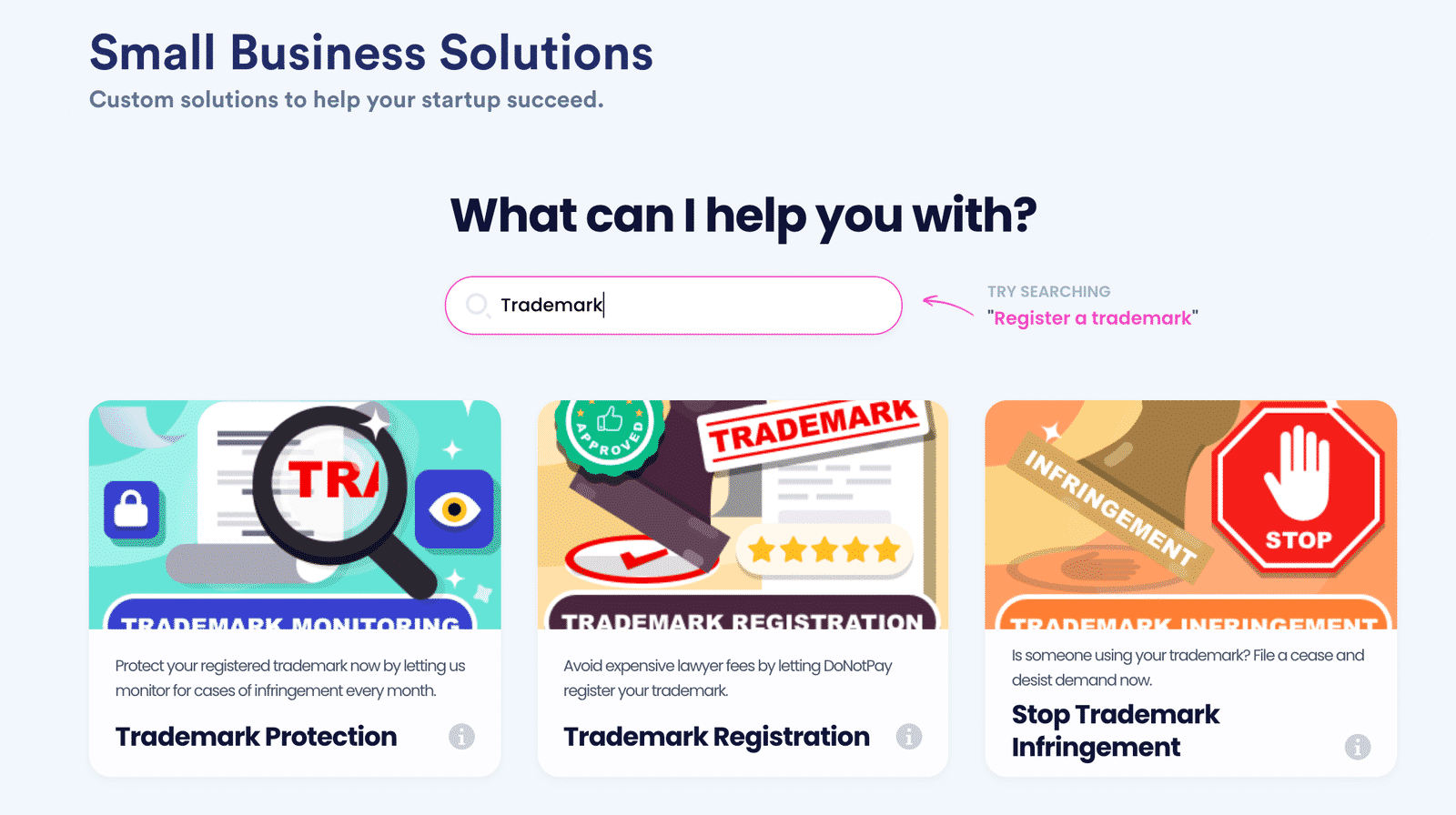 DoNotPay helps you file a trademark effortlessly and at an affordable price. All it takes is to complete our chatbot's brief questionnaire—we will check if your trademark is unique, complete the application form in your name, and direct it to the right hands! This way, you significantly reduce the chances of making clerical mistakes or getting rejected.
Here is what you need to do:
Click on the Trademark Registration product
Answer several questions about the trademark
Pay the trademark application fee
You will also receive a serial number that allows you to check the application status updates!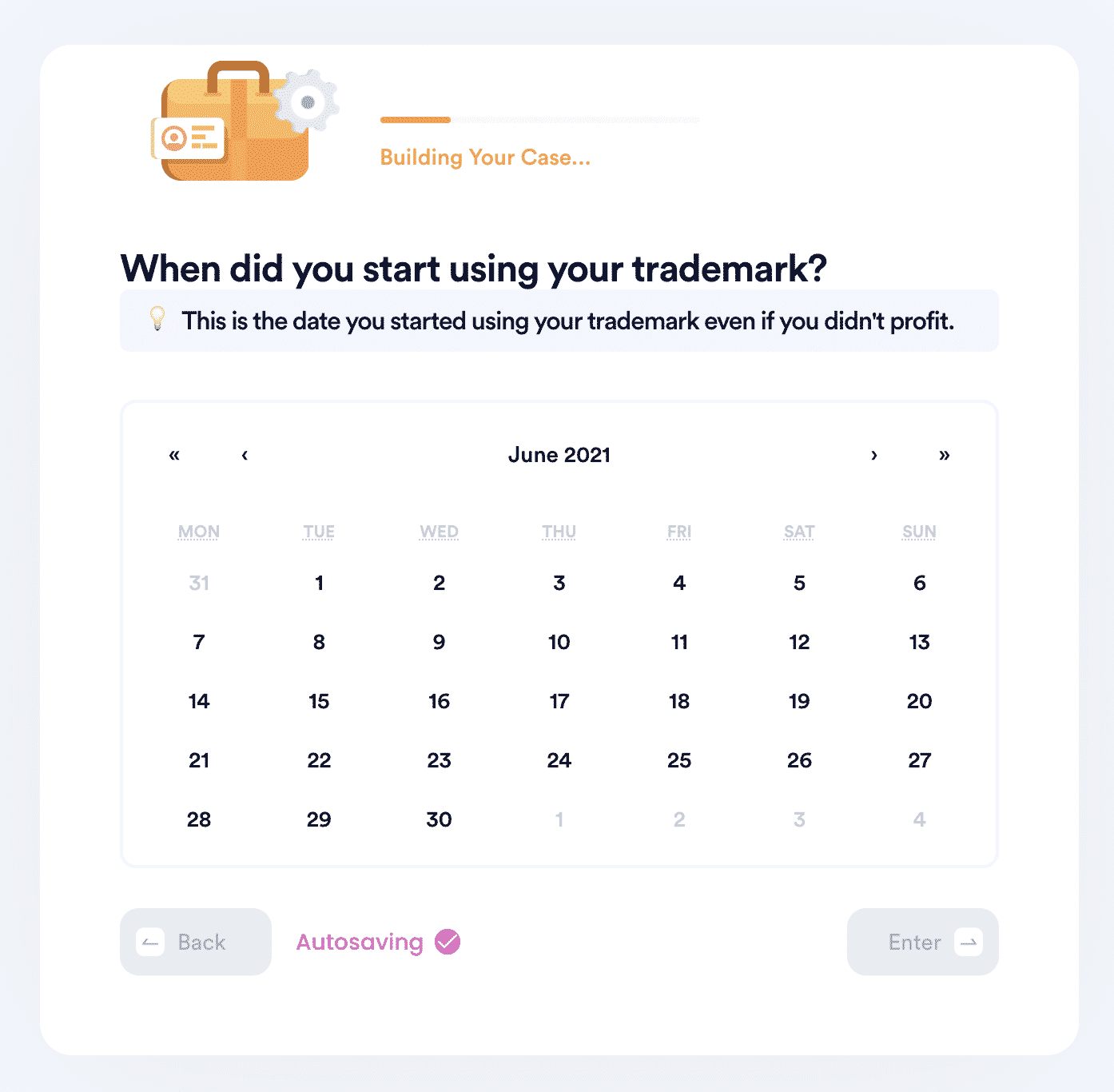 DoNotPay Goes the Extra Mile
Our app has much more to offer—products that will protect and elevate your business.
Count on DoNotPay when you want to:
Simplify Processes
Solve Issues

83(b) election form submission
Business loan application
Employer Identification Number (EIN) registration

Trademark infringement
Fraudulent chargebacks
Keep Your Company Safe
For your business to thrive, you need to be prepared for any problem that may come your way. This is where DoNotPay comes in! We can help you trademark your company name and even the logo or slogan. To avoid any copyright infringement issues in the future, you can use our app to register your DMCA agent. If you are worried about your clients' privacy, we will be glad to assist you in getting into the Privacy Shield program.
Are there any negative reviews online slandering your company? DoNotPay can help you get rid of fake comments potentially hurting your business.
As it all comes down to communication, we have developed a feature to help you reach your employees, associates, or clients the easy way. At no additional cost and no post office visit necessary, our AI-powered app can both fax and mail letters and documents.