How To Trademark a Picture and Protect Your Creation From Infringement
Trademark protection is a legal way to shield your intellectual property and other elements of your small business—such as your business name, slogan, or a particular image.
Is it always possible to register a photo as a trademark? How to trademark a picture, and is there a simple way to avoid complications and mistakes in your trademark application? Read our guide to find the answers to all these questions. Discover how to use DoNotPay for filing a trademark without hefty legal fees and difficulties!
Trademarks in Summary
Trademarks are elements that identify your business and make it stand out in the sea of other companies offering similar goods.
Registering your idea as a trademark serves to prevent other individuals or companies from appropriating your marks as their own. If anyone violates the trademark protection law and steals your idea, you can take them to court and get considerable compensation.
Besides your company's name or slogan, you can trademark:
What Should Not Be Trademarked?
While trademarks protect particular goods you sell, they do not safeguard services—service marks do it. You also cannot trademark artistic creations or literary works, such as:
Books (except book titles)
Manuscripts
Screenplays
Song lyrics
Movies
Stories and poems
Paintings and images
These assets need to be copyrighted—you should register them with the U.S. Copyright Office by:
Filling out a copyright application form
Submitting a copy of the content you want to register
Paying a copyright application fee
Is There Any Way To Trademark a Picture?
Trademarking a picture is not an option unless you want to use the image as your business logo. If you do, you have two options when it comes to registration, and they are listed in the following table:
Option
Details
Leaving your mark unregistered

You get a common law trademark ownership once you start using the mark
The protection applies only to your living area
People outside of your geographic area can still choose the same or similar image for their logo

Registering a state trademark

Such trademarks prevent infringement in your state only
The application procedure requires you to submit a request to the Secretary of State's office
Filing fees are usually lower than the ones required for the federal trademark application
State trademarks get approved and processed faster than federal ones

Filing a federal trademark
How To Trademark an Image You Want To Use as a Logo With the USPTO
Suppose you already have a picture you want to trademark as the logo of your business. What does the USPTO trademark application process look like?
Here are the requirements you should meet to perform a successful trademark registration:
Check the existing trademarks by conducting a thorough USPTO search—The image you want to use as your logo must be distinctive, which means you cannot register an idea similar to the already registered ones. The Trademark Electronic Search System (TESS) on the official USPTO website allows you to review all existing entries and ensure your trademark is unique
Prepare the supporting elements for your application—You should disclose:

Description of the picture you want to register as your business logo and the products you will place the logo on
Specimen showing the actual use of the logo

Specify the filing basis and class of your trademark—If you are already using the photo as your logo for business purposes, you should file a trademark on use-in-commerce basis. If your mark is yet to be used, choose an intent-to-use trademark basis. You must also assign one or more trademark classes to your goods to define their purpose more precisely
Complete a USPTO trademark application form via Trademark Electronic Application System (TEAS)—The institution currently allows digital applications only. Once you submit one, you will get a serial number that will help you check the status of your request at any time
Once you complete all the steps, your application will be assigned to an examining attorney. They will review your request, and you should expect a response in the next three or four months.
How To Trademark a Photo as a Logo the Easy Way With DoNotPay
Are you afraid of making a mistake when applying for a logo trademark? Entrust the entire application process to DoNotPay and avoid errors and complications!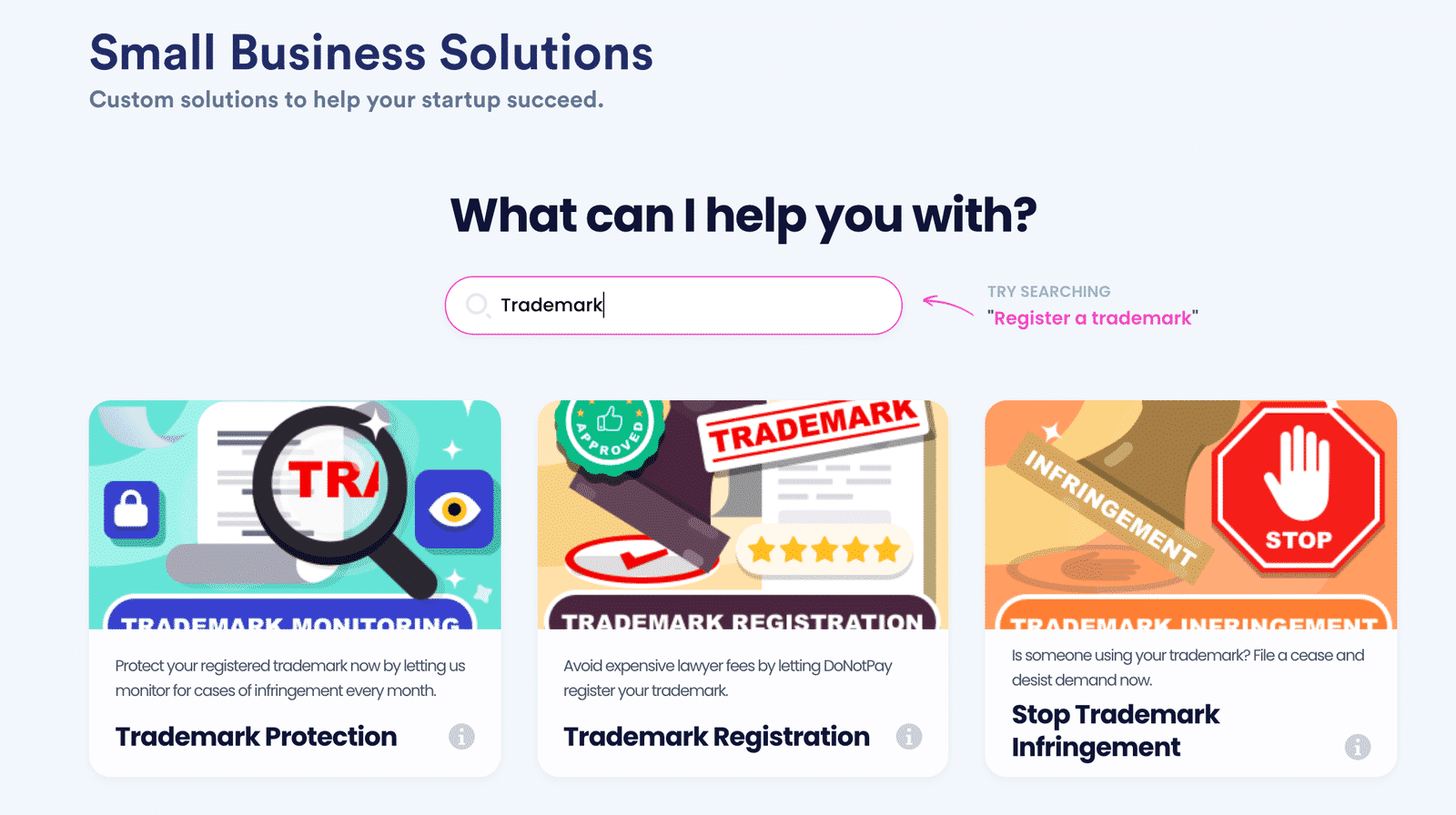 The tool we created can:
Run a USPTO clearance search and see if your logo image has already been registered
Gather all the required info for filling out a trademark application form
Fill out the form in your stead
Direct your request to the correct USPTO department
Provide you with a tracking number so you can follow the status of your application
Here is what you should do:
Open DoNotPay and find the Trademark Registration product
Specify the trademark type and class and describe the mark in more detail
Answer some additional questions provided by our chatbot
Pay the mandatory trademark filing fee
We will also forward your email address to the USPTO so that they can directly inform you about the outcome!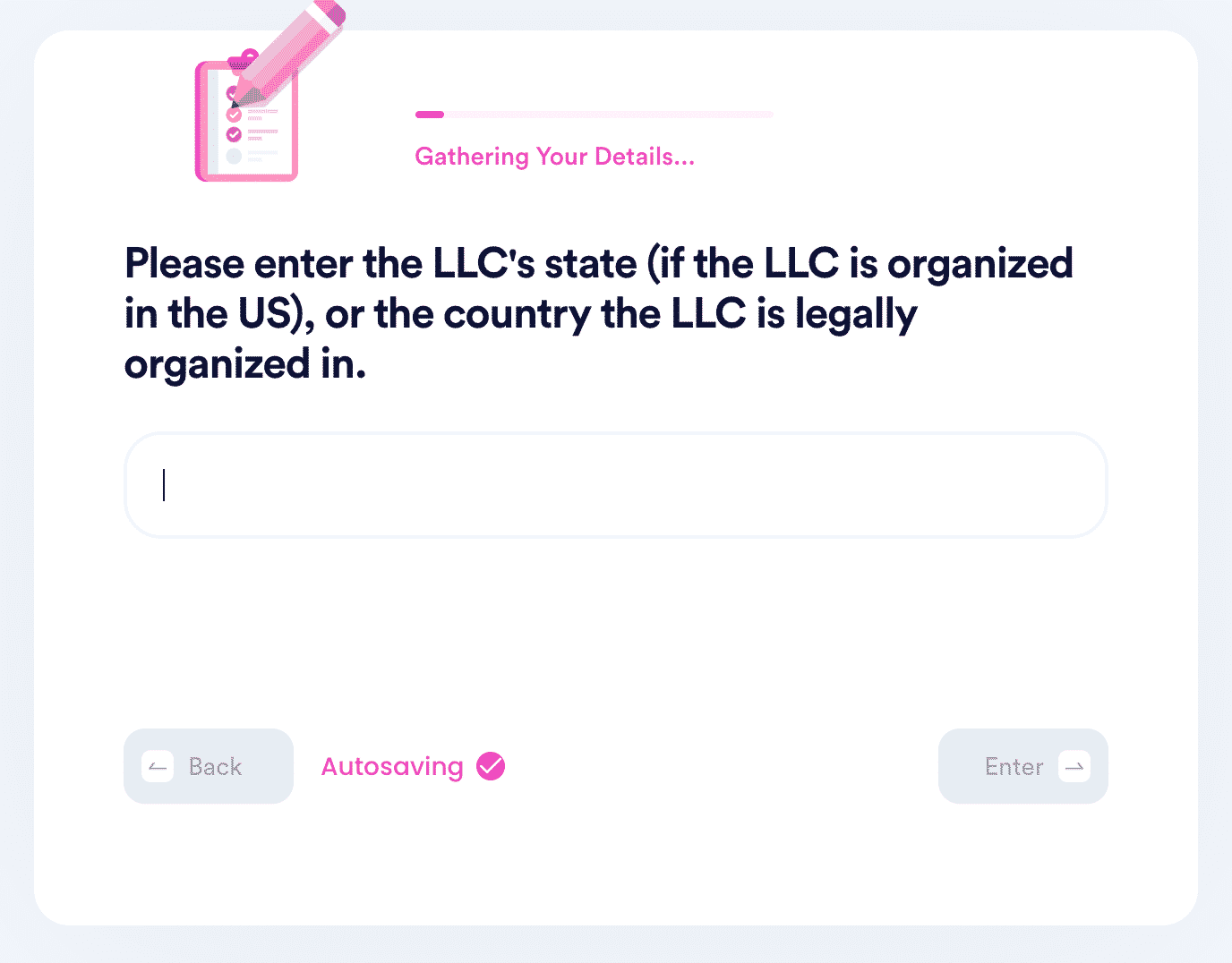 DoNotPay Helps You Raise the Bar in Business
Whether you are just getting started with your small business or are well into the game, DoNotPay can be your valuable assistant. We can help you manage various issues, such as:
Trademark infringement
Negative reviews
Suspicious chargebacks
You can focus on what is important while we take care of administrative tasks and problems.
Get More Done With Our Help
DoNotPay's features at your disposal are versatile. We can assist you in registering your DMCA agent with the U.S. Copyright Office so that you can avoid exorbitant copyright infringement fines. Thanks to our app, preparing and filing business loan applications will also be smooth sailing.
If you want to protect your slogan, logo, and company name, we will guide you through the trademark registration process. The Employer Identification Number (EIN) issuance is another procedure our app is able to assist you with.
Would you like to self-certify your business under the EU-U.S. Privacy Shield program? DoNotPay will complete and file the request in your stead. Our app can help take care of your employees, too. Use DoNotPay to create and submit 83(b) election forms to the IRS.
Is the pile of documents due to be sent getting bigger by the minute? Not to worry—your pocket assistant can mail and fax your documents with ease.