How To Trademark a Phrase—A Detailed Guide
By registering a phrase related to your small business as a trademark, you protect the specific words that characterize your brand from copycats. Whether you have a unique T-shirt phrase for your clothing brand or want to trademark a slogan along with a suitable logo, the process is the same. You must trademark your creation with the U.S. Patent and Trademark Office (USPTO) to get exclusive rights to use it and prevent others from stealing it.
What do you need to do to make your business phrase legally protected? This article solves the dilemma! Learn how to trademark a phrase quickly and with style and make your business solutions stand out from the sea of similar goods and services on the market.
can help you file a trademark application with zero bureaucracy and avoid expensive attorney services!
Why Are Trademarks Important?
If you are wondering whether you really need a registered mark that much, the answer is—yes, you do! Along with service marks and copyrights, trademarks make a huge difference when it comes to protecting the uniqueness of your brand.
Here are some benefits you get from registering your phrase with the USPTO:
You build trust and reputation—investors prefer businesses that have their name, logo, or slogan trademarked
Your mark becomes nationally valid, which means nobody from any part of the USA can choose the same or a similar solution for their businesses
A trademark serves as a recognition of the quality of your goods, as the customers will associate the quality with the name or image of your brand
If you renew your phrase trademark, it can last as long as your business operates
The trademark renewal costs are quite low having in mind that you pay the particular amount every ten years
You can start using the ® symbol and mark your products with it
A registered trademark can be licensed to another person or company, allowing them to use it for commercial purposes and even sue other people who try to copy it
How To Register a Phrase as a Trademark—A Complete Guide
Here is a step-by-step explanation of the trademark application procedure:
Phase
Details
Run a USPTO trademark search
One of the crucial trademark registration requirements is originality. You must check the USPTO database and see if the phrase you want to trademark has already been used by another person or entity. If it is, you must modify it to make it unique and be able to register it without difficulties
Determine the filing method you should choose
A phrase you have already started using for commercial purposes must be filed based on the use-in-commerce method. If you plan to start using a phrase in the future, you should file it under the intent-to-use method
Classify your goods
Choose appropriate trademark class (or classes) for your phrase. Additional categories entail higher trademark application fees
Complete the application form online
You will have to use the Trademark Electronic Application System (TEAS) and one of its two versions—TEAS Plus or TEAS Standard. Always double-check if all the information you provided is correct as mistakes are one of the most common reasons why trademark applications get rejected
Pay the processing fee
The application costs vary depending on the

method:

TEAS Plus—$250 per trademark class
TEAS Standard—$350 per trademark class

Respond to the Office actions on time
After receiving your application, the examining attorney will send you a summary of the information you provided in the form. Send them a response within six months of receiving the report
What Else Can Be Trademarked?
Besides phrases, names, logos, and slogans, you can trademark other elements that express the originality of your business ideas. These include:
Applying for a Trademark? Skip Lengthy Procedures and Complications With DoNotPay!
Are you afraid of making a mistake or missing relevant details when filing your trademark application? If you do not want to take risks or pay hefty attorney fees, DoNotPay will assist you in protecting your valuable assets and maximize your chances of successful trademark registration!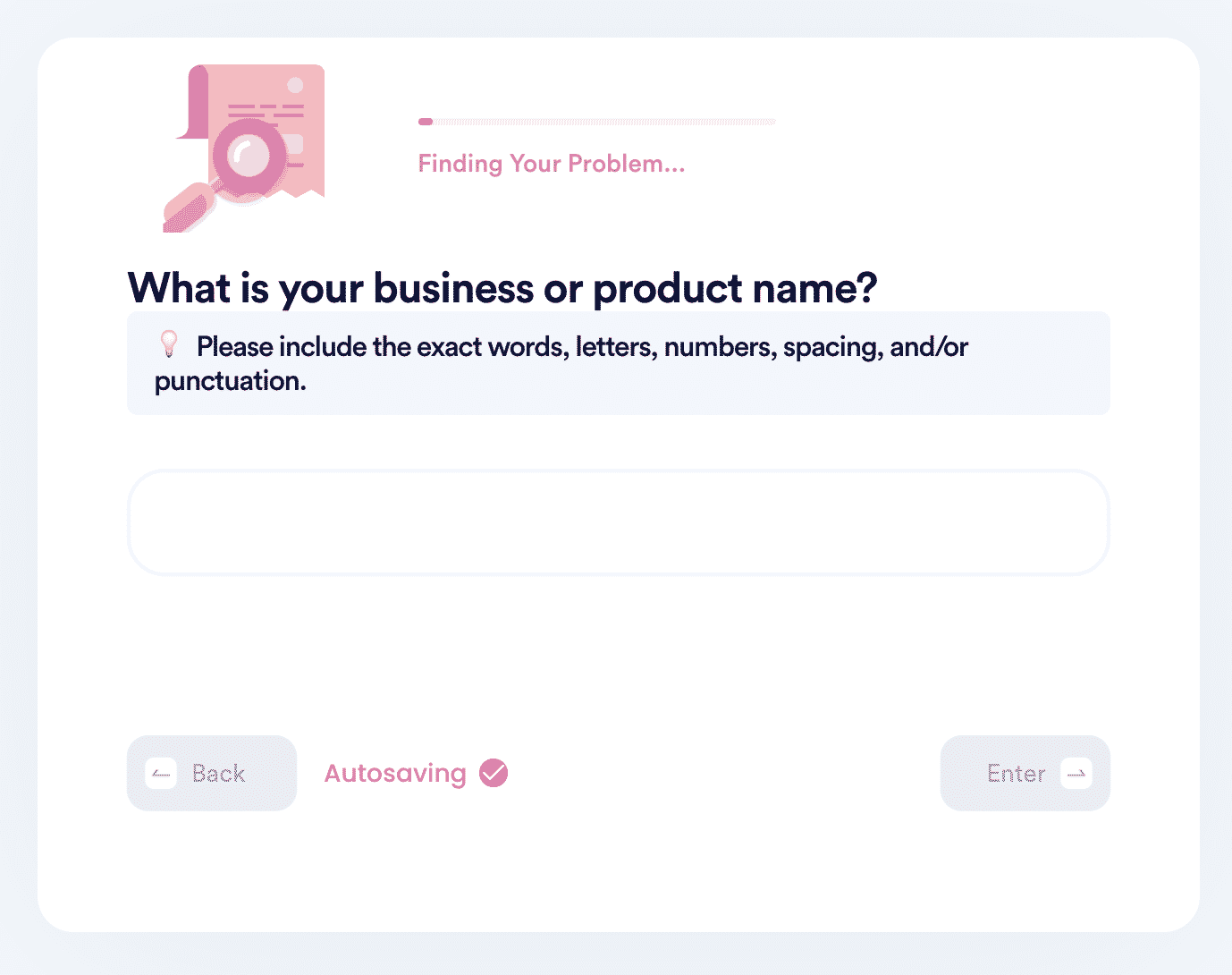 We can help you by:
Running the necessary clearance search with the USPTO in your stead
Filling out the trademark application form based on the info you provide
Directing the application to the correct USPTO department
Sending you a tracking number that helps you check whether your application has been accepted
Check out the prompts you should follow to start the process:
account using any web browser
Choose Trademark Registration
Describe the idea you want to register and choose an appropriate trademark category
Complete a simple questionnaire about you and your business
Pay the filing fees
In mere minutes, your application will be on its way to the USPTO, and you will be one huge step closer to trademarking your brand's catchphrase.
More Problems? We Offer More Solutions
Running a business also calls for various registration processes. Our app can show you the ropes on the following:
Employer Identification Number (EIN) registration
Privacy Shield program self-certification
DMCA agent registration
Do your employees need to submit 83(b) election forms to the IRS? We can help you:
Generate them
Distribute them
File them automatically
No Need To Tighten Your Belt With DoNotPay by Your Side
Handling finances in business can be a burden. There are many unforeseen costs, fees, and even fines. This is where the world's first robot lawyer swoops in!
Take a look at which DoNotPay's products can manage your issues:
| Problem | DoNotPay's Features |
| --- | --- |
| A client breached the contract and refused to pay | Client Breach of Contract |
| Another business copied your brand or used your slogan | Trademark Protection |
| A client initiated the chargeback process for no reason | Fight Chargebacks |
| You need more funds to keep your business afloat or grow it | Business Loan Request Letter |
| People posted bad reviews online that are fake, incorrect, or hateful | Remove Negative Reviews |
All the above-mentioned instances can make you lose money. Luckily, you can rely on our app to nip the issue in the bud.
We can also help you save money by providing you with free faxing and mailing services. No need to waste time or money on post office visits or fax machine purchases.