How To Trademark a Phrase for a T-Shirt? Find Out With DoNotPay
Is it possible to trademark a T-shirt design? Perhaps, if you fulfill the designated trademark requirements. In this article, we explain how to trademark a phrase for a T-Shirt and file for registration fast .
Can You Trademark a Phrase for a T-Shirt?
The short answer is—it depends. Trademarks, patents, service marks, and copyright are meant to:
Protect original ideas, and other forms of intellectual property
Identify the source of the goods and the provider of services
Ensure brand recognition in the marketplace
As a small business owner, you can use any kind of signifier as your trademark, including:
If you want to make promotional materials (e.g., a T-Shirt) containing your trademark, you are entitled to do so. Problems may arise if you only intend to apply the phrase to a single T-Shirt. The legal basis for these limitations are listed in the table below:
Grounds for Rejection
Explanation
Insufficient proof of use
When registering a trademark with the United States Patent and Trademark Office (USPTO), you must provide credible evidence of use. You need to specify:

The way you are currently using the registered trademark
How do you intend to use it in commerce

If you only want to trademark a single phrase on a specific T-shirt, your petition will be invalid

Ornamental refusal
If the USPTO concludes the phrase does not reference your brand but serves as mere decoration, they will reject your application
How To Trademark a Slogan for a T-Shirt—Alternative Solutions
It's not impossible to work past the USPTO limitations and prove a particular phrase or slogan can function as a trademark—even if you have not used it in that capacity before. You will have to convince the USPTO that the phrase is distinctive to your brand and demonstrate your intent to use it (i.e., how you plan on applying it to the T-Shirt).
Some possible solutions for trademarking a slogan for a T-Shirt include:
Writing the phrase on the labels and tags of the T-Shirt
Asking your clients and dealers to compose a statement claiming they associate it with your brand
Applying the slogan to your other goods
Including the phrase in advertisements, promotional material, etc.
How To Apply for a Trademark Registration
If you want to know how to trademark a phrase for a T-Shirt, start by researching the registration process. Think about why you want to register and what level of trademark protection you desire:
Once you have chosen the registration level, you can start the process with the USPTO. All registrations are filed online via the Trademark Electronic Application System (TEAS).
Finally, complete these steps to successfully register your trademark:
Search the USPTO database to make sure the phrase or slogan isn't already registered as someone else's trademark
Sort your goods and services in the designated trademark classes
Select a TEAS filing option
Complete the trademark application form and provide the following information:
Your name
Contact information
Trademark type
Trademark specimen
Proof of paid fees
What Is the Cost of Registration?
Keep in mind you will have to pay the registration fees upfront. The USPTO will charge you separately for each trademark class you have listed in the application form. Currently, the two pricing options are:
$350 per class for using the TEAS Standard form
$250 per class for applying with the TEAS Plus form
The prices are fixed, and how much you will pay depends on the number of classes you register your mark under..
Some additional expenses would include flat attorney fees if you hired a lawyer to handle the procedure. Apart from the initial cost, you will also have to prevent the trademark from expiring by applying for renewal every few years.
Register a Trademark Fast Using DoNotPay's Services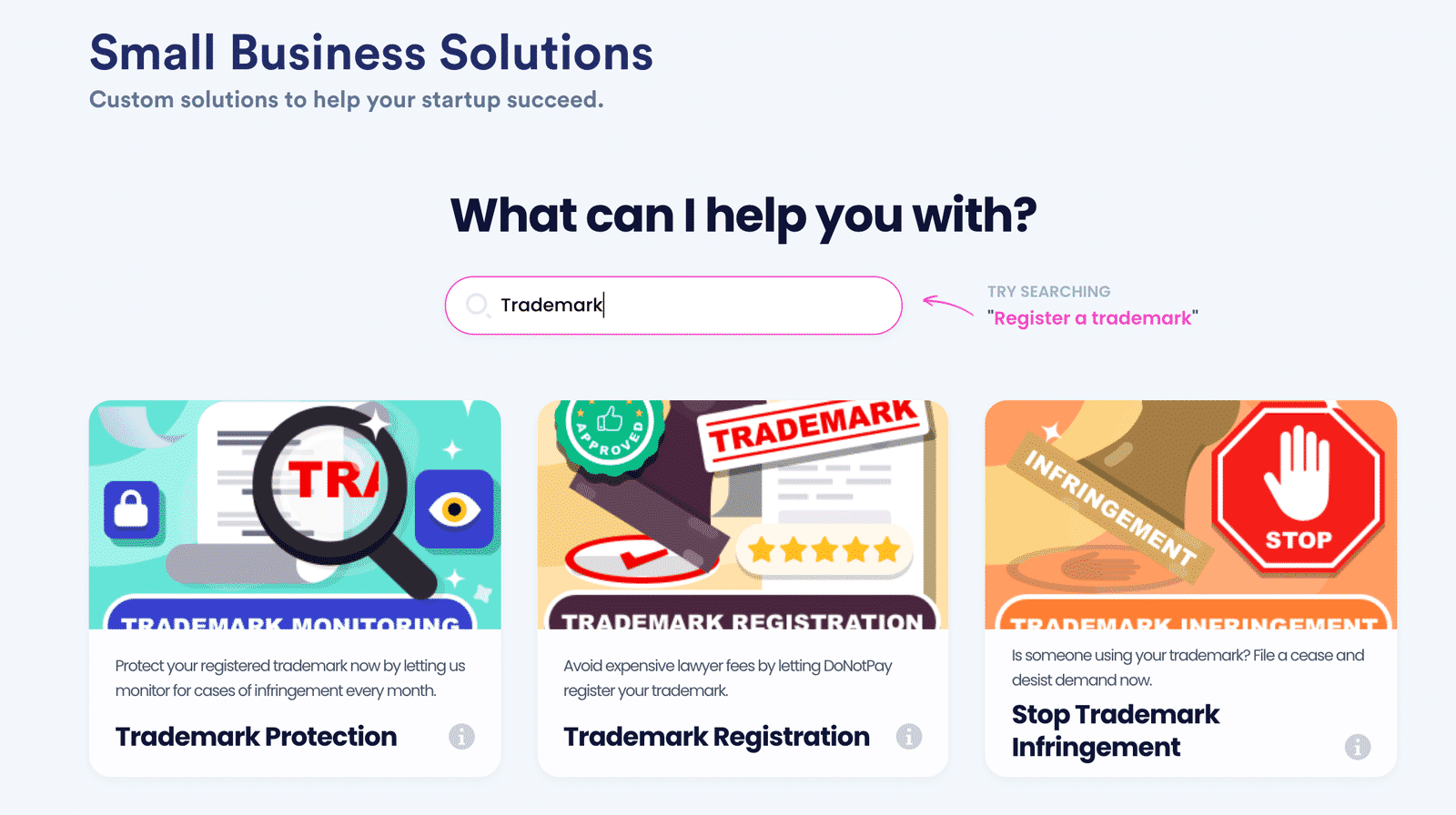 No matter the size of your business, having a trademark is a necessity. Whether you put it on a T-Shirt or print it on a calling card, you need to take the steps to protect it from infringement. With DoNotPay's Trademark Registration product, you can ensure the safety of your unique brand by completing a few easy-to-follow steps.
All you have to do is:
Choose the Trademark Registration product
Tell us about your brand and describe what type of trademark you are registering
Verify that you agree to pay the application fees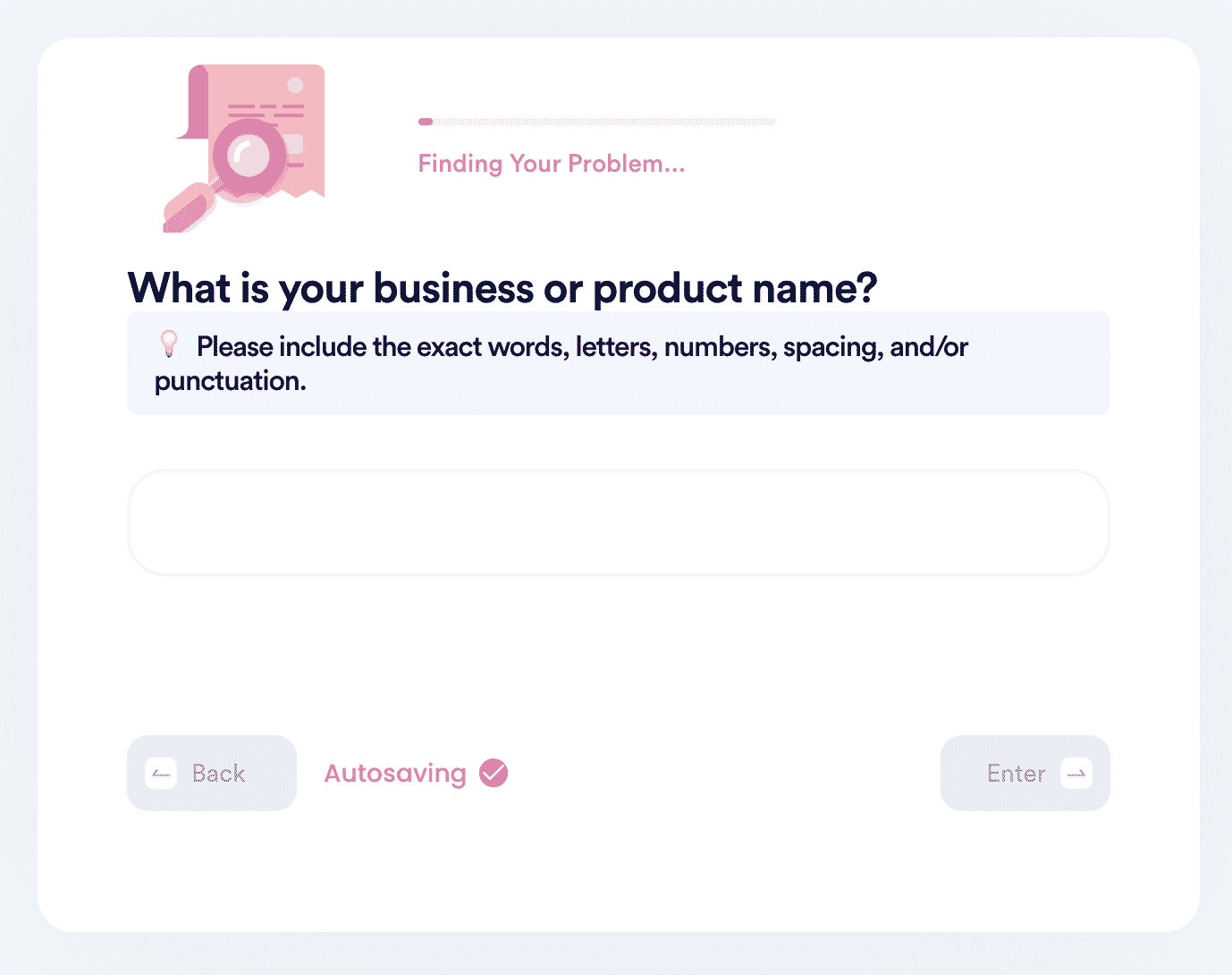 DoNotPay will proceed to generate the trademark registration form using the information you have provided. Once you have e-signed the document, we will refer it to the USPTO to initiate the registration.
Resolve Various Business Problems With the Help of DoNotPay
Handling annoying administrative issues is the last thing you want to worry about while trying to build a business empire. The good news is that you do not have to! DoNotPay has developed many nifty products that make various pesky tasks easy to complete.
Some of the small-business-related matters we can help you with are:
Taking out business loans
Obtaining an Employer Identification Number (EIN)
Automating the filing of 83(b) election forms
Requesting your money from customers who won't pay
Registering a DMCA agent
DoNotPay can also make communication with your clients or business partners easier as we enable you to fax and mail your letters, forms, and other important documents without leaving your office.
Maintain a Good Business Reputation
It is no secret that building a trusting relationship with clients takes time and effort, so why have all that hard work ruined by negative online reviews that are fake? DoNotPay is here to help you remove illegitimate, fake reviews in a matter of clicks!
Want to dispute unfair chargeback requests but are not sure how to go about it? By using our Fight Chargebacks feature, you can have DoNotPay create a customized chargeback rebuttal document in a few minutes.
With our app, you can also protect your trademark from people trying to use it, file the self-certification request with the Privacy Shield program, and handle many other aspects of your business hassle-free!