A Step-by-Step Guide on How to Trademark a Name
Coming up with a name for your new small business is fun. It lets you use your creativity to make your company stand out on the market.
Once you have a perfect idea, you need a registered trademark. This way, you prevent other people from appropriating your creations without consent and protect your brand uniqueness.
In this article, you will find some valuable insights that can help you discover how to trademark a name without difficulties. Besides teaching you how to protect a name trademark, we will explain how to for completing your trademark application form the easy way!
Trademarks in Brief
Trademarks are pieces of intellectual property—usually an original phrase, logo, symbol, or any other distinctive element. They add individuality to your business idea and grant you the right to define the goods you offer in a unique way.
Once you register the desired trademark, it remains yours as long as your brand or company exists, but you must renew the registration every ten years. The owner is the only person who can use the protected mark. Other people or businesses cannot implement it in their projects without prior authorization from the rights holder. If such an infringement happens, the trademark owner can take the breacher to court and request compensation.
Trademarks also:
Provide a solid basis for business registrations beyond your state/country borders
Enable U.S. Customs and Border Protection to cut imports that can compromise your mark or business reputation
Get the "incontestable" status five years after the registration
Do You Need To Trademark a Business Name?
Filing a trademark for your company name is desirable, but no laws in the USA require mandatory registration. You can choose to:
Skip applying for a trademark and keep common law ownership—Choosing this option means you can use the unregistered mark only in your geographic area.
The good news is that avoiding a trademark application can save you a significant amount of money. You do not need to pay lawyers to assist you with the procedure or pay several hundred of dollars for registration fees
The process usually costs around $150 unless you hire an attorney to help you. In such cases, the fees may increase significantly
Apply for a federal trademark with the USPTO—When registering your trademark on the federal level, you get a higher level of protection. Opting for this level will allow you to use the trademark out of your state and expand your business to other areas
How To Know if Someone Has Already Registered a Similar Name
The best method of checking trademark availability is using special software developed by the USPTO—Trademark Electronic Search System (TESS).
Here is what the trademark search with USPTO looks like:
Access the USPTO website
Click on Trademarks and choose Searching Trademarks from the drop-down menu
Select the gray Search Our Trademark Database (TESS) option
Pick the desired search option and set the advanced search filters
Enter the name you came up with
How To Trademark a Brand Name Yourself With the USPTO
After confirming that no one has used the desired business name before, it is time to file a trademark application. This way, you ask the USPTO to accept your idea as the official trademark and register you as its rightful owner.
Below is a table showing all the steps in the trademark registration process:
| Phase | Explanation |
| --- | --- |
| Select trademark classes for your goods | You can choose one or multiple categories to define the goods under the trademark. The USPTO offers 45 classes. Ensure you pick the ones that match the products' purpose best. It is impossible to change the classification later |
| Create a specimen that shows how the mark matches your business solution | Present a label or packaging that depicts the commercial use of your mark. This step isn't necessary if you have not already used the solution for business purposes but plan to do it later |
| Pay a processing fee | Depending on the class of your trademark and the chosen filing option, the prices start from $250 or $350. The paper filing option costs $750 |
| Submit a trademark application form | You can complete the form online or print it and fill it out manually. It should include the personal info of the trademark owner, the chosen name, and the class of the mark. Make sure you attach the prepared specimen to your application |
What Happens Next?
Once you send the application, an examining attorney must review it and check for potential errors. If they notice any mistakes or discrepancies, they will send you a summary of your application and give you a chance to correct it.
The deadline for responding to the USPTO actions is six months after receiving the report. Unanswered office actions will lead to application rejection.
Is There an Easier Way to Register—and Protect—Your Trademarks?
Does the USPTO trademark application process seem too drawn out and exhausting? Worry no more—DoNotPay has a quick and affordable solution!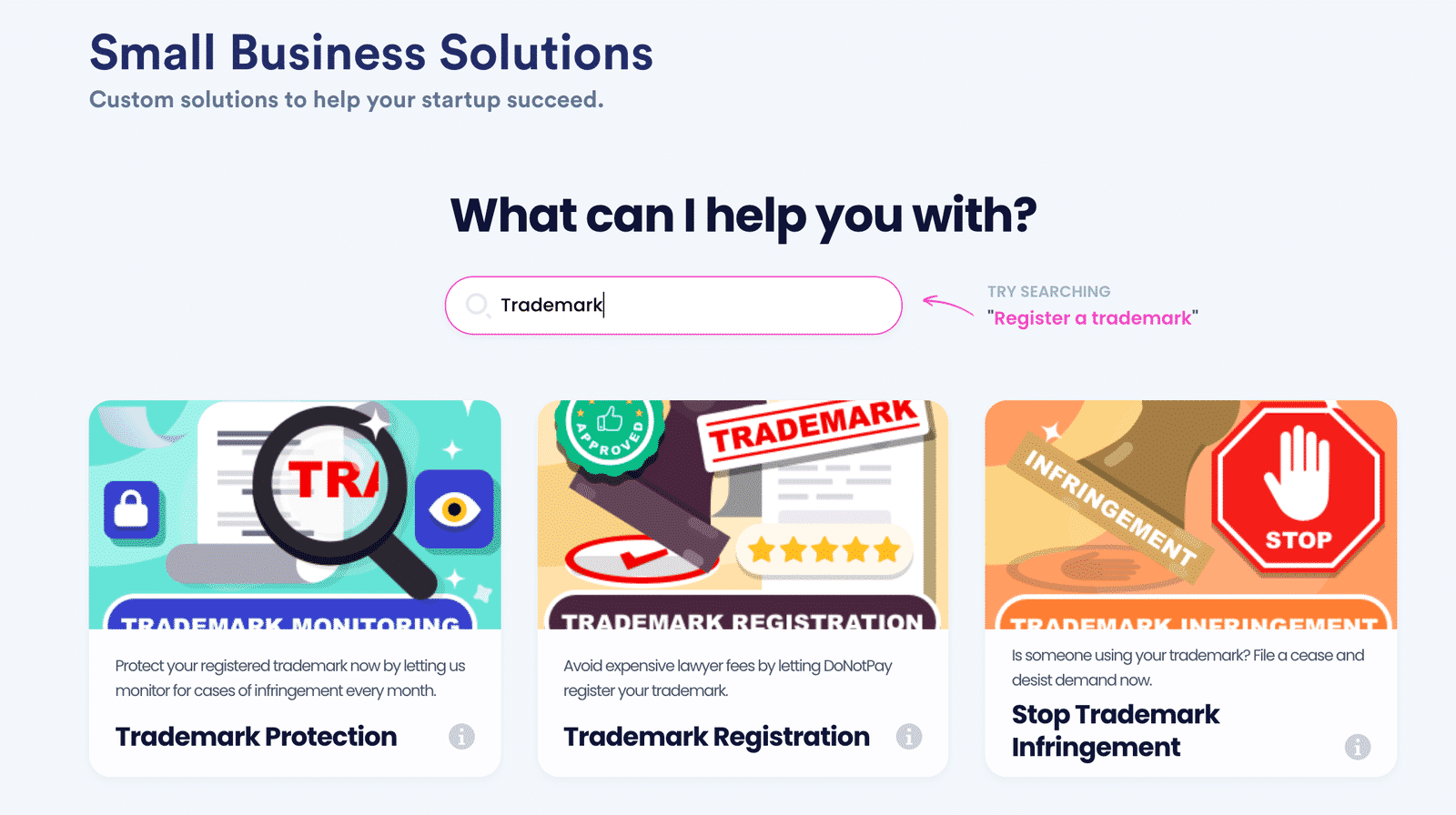 Say goodbye to setting aside a ton of money for services. Our app—the ultimate virtual lawyer—can help you trademark your business name smoothly and with no paperwork. Subscribe to our service and disclose a few crucial details about your solution—we fill out the form in your stead and send it to the right USPTO department.
Follow these prompts to get our help:
and go to Trademark Registration
Pick the trademark type and class you want to apply under
Tell us more about you and the trademark
Verify that you have paid the processing fee
All that remains is to sign the completed application digitally and get a tracking number once we submit the form!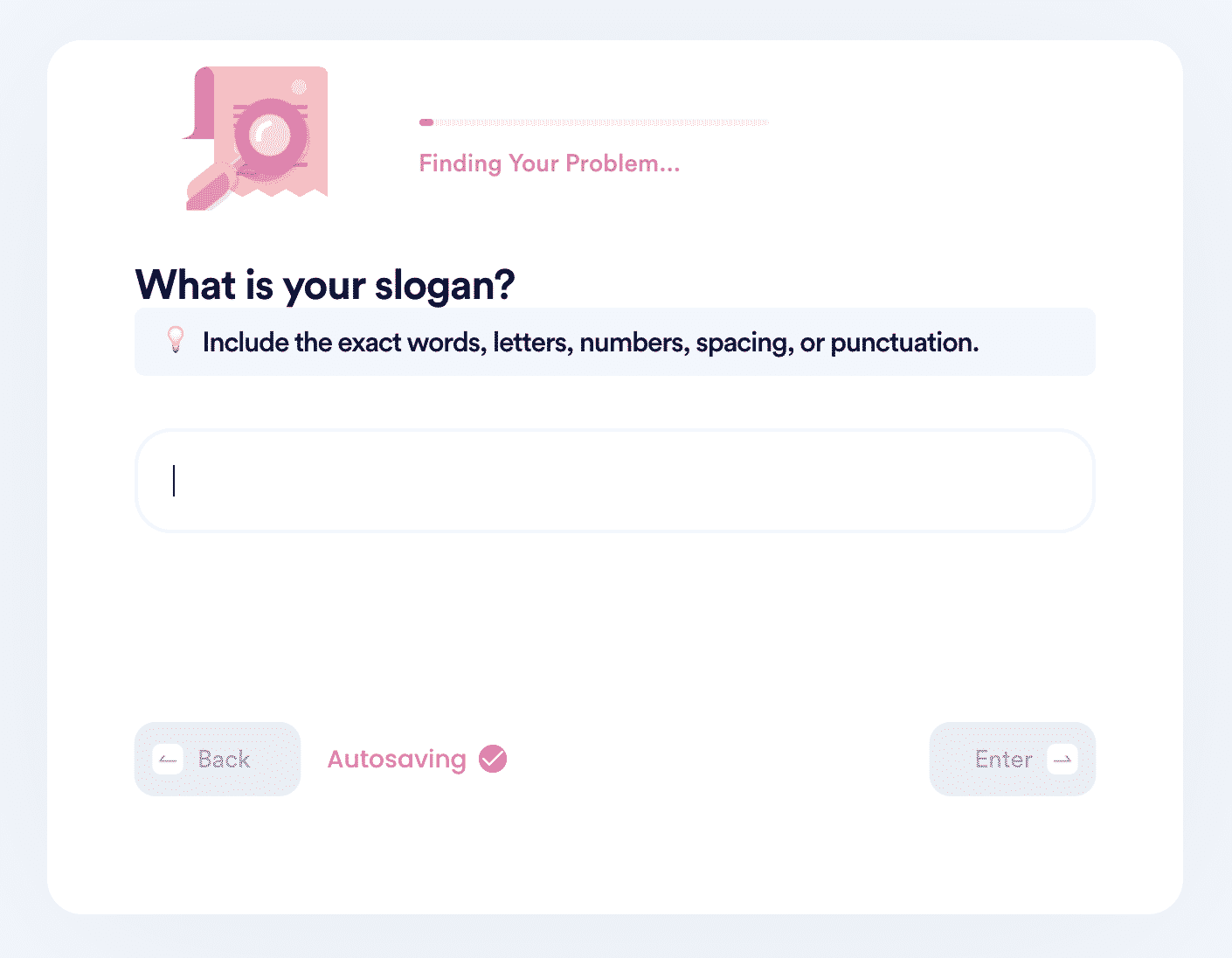 We can also teach you:
Why You Should Join Us to Grow Your Business
Whether you are just getting started with your small business or are well into the game, DoNotPay can be your valuable assistant. We can help you manage various issues, such as:
Trademark infringement
Negative reviews
Suspicious chargebacks
You can focus on what is important while we take care of administrative tasks and problems.
We Have All the Resources You Need
DoNotPay's features at your disposal are versatile. We can assist you in registering your DMCA agent with the U.S. Copyright Office so that you can avoid exorbitant copyright infringement fines. Thanks to our app, preparing and filing business loan applications will also be smooth sailing.
If you want to protect your slogan, logo, and company name, we will guide you through the trademark registration process. The Employer Identification Number (EIN) issuance is another procedure our app is able to assist you with.
Would you like to self-certify your business under the EU-U.S. Privacy Shield program? DoNotPay will complete and file the request in your stead. Our app can help take care of your employees, too. Use DoNotPay to create and submit 83(b) election forms to the IRS.
Is the pile of documents due to be sent getting bigger by the minute? Not to worry—your pocket assistant can mail and fax your documents with ease.