Understanding State Trademark Laws—How To Trademark a Name in Georgia
Want to find out how to trademark a name in Georgia? Our detailed guide will answer every question you have about the process.
While it is not a mandatory step for small businesses, it is highly advisable for organizations active at the state and national levels. Unfortunately, applying for a trademark independently can be stressful and expensive—the easier way is to .
Trademarks 101
A trademark is federally or state managed legal protection for brand components, including:
Trademarks fall under 45 classes determining which type of goods or services they protect. The United States Patent and Trademark Office (USPTO) governs federal laws that protect trademarks. By registering your name as a trademark, you can sue other companies that infringe on it.
Keep in mind that trademarks and service marks are different from copyright, which protects creative works, such as novels, songs, or paintings.
Are All Business Names Eligible for Trademark Registration in Georgia?
No—you cannot register a trademark if it overlaps with another in the same class. That is why your first step is to double-check that your brand does not conflict with any other registered trademark.
Can You Trademark Your Own Name in Georgia?
Yes—as long as your name is associated with a specific product or service, it is eligible for trademark registration. Doing so will protect it against unauthorized use by other entities.
Generally, performers and public figures trademark their names to ensure their high-profile status cannot be taken advantage of.
To trademark your name, you must meet the following requirements:
Your name must have a business use
The business use must align with a trademark class
Bear in mind that this trademark only offers legal protection against other entities operating under the same class as you. For example, Sarah Palin registered her name as a service mark in connection to educational and entertainment services. A different person with that name could also register for a trademark, provided it is under another class.
Tips for Trademarking Names
While you can apply for a trademark for any name, certain types are more likely to gain approval. The USPTO looks favorably on names that meet one of the following two criteria:
"Fanciful"—fabricated names that are not logically connected to the associated good or service (e.g., Pepsi)
"Arbitrary"—real words that have no logical connection to the product or service they represent (e.g., Camel cigarettes)
How To Register a Trademark in Georgia
The Georgia Secretary of State's office hosts an online portal to manage a range of tasks associated with trademark registration:
Applications
Database searches
Support contact
You must already be using your mark when you submit your application. Whereas the federal trademark process offers an Intent-To-Use form, for Georgia, you must be able to prove current and ongoing use of the mark.
You can apply for a trademark by following these steps:
Ensure you have Adobe Acrobat Reader installed on your device
Download and open the PDF of the form
Input the necessary information about your business
Include three specimens of your mark
Include a drawing page—a depiction of the mark on an 8 ½ x 11 white sheet of paper
Review and sign the form
Submit the form via the online portal
Applying for a Georgia trademark requires payment of a $15.00 fee per class.
A Step-by-Step Guide to Federal Trademark Registration
If you intend to operate outside of Georgia, you should also consider filing for a federal trademark. The USPTO offers only an online trademark registration method.
Once you have confirmed that your brand does not overlap with another entity's trademark, you can begin the application process by following these steps:
Visit the Trademark Electronic Application System (TEAS)
Log into or create an account for TEAS
Start a new application for your specific trademark class
Fill in the requisite information about your brand
Submit the application
Trademark Processing, Validity, and Renewal
After you have submitted your trademark application, keep the following timeframes in mind:
| Event | Timeline |
| --- | --- |
| Confirmation of receipt of application | Within 14 days of submission |
| Approval/denial of application | 9–12 months |
| Renewal of trademark | Within 5–6 years of registration |
| Expiration of trademark | Ten years from registration (if not renewed) |
Is the Trademark Registration Process Expensive?
Yes—between the nonrefundable government fees and necessary legal assistance, the procedure can be cost-prohibitive for small businesses.
The USPTO levies a filing fee for each trademark class. The two application types are:
TEAS Plus—$250/class
TEAS Standard—$350/class
TEAS Plus works for newer businesses with brands that fit into a predetermined description in the Trademark ID manual. TEAS Standard is suitable for companies that need to write a new definition for their services.
Beyond the USPTO filing fees, you may also need a trademark lawyer to facilitate the application procedure. Hiring a legal professional can be expensive for new businesses—that is why it's better to use DoNotPay.
DoNotPay Will Help You Trademark Your Name Throughout the U.S.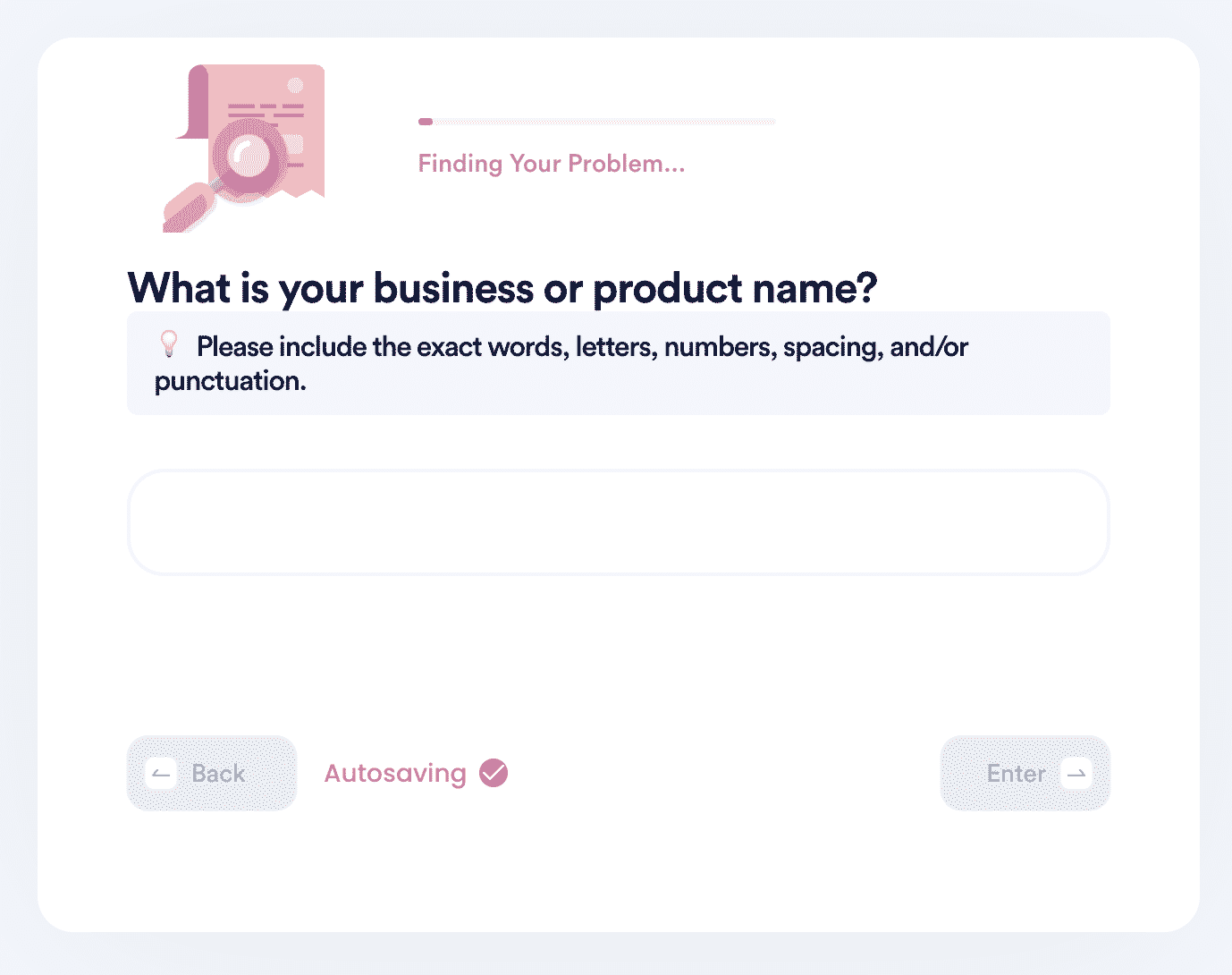 Managing a new and growing business involves so much paperwork already. Do you have time for more? Instead of adding more work to your plate, you can outsource the process to DoNotPay.
Our Trademark Registration tool streamlines the federal application process, including:
Gathering required information
Filling in and submitting the application
Ensuring you review and sign
Providing your application tracking number
All you need to do is:
Choose our Trademark Registration product
Describe your trademark and answer our questions
Cover the filing expenses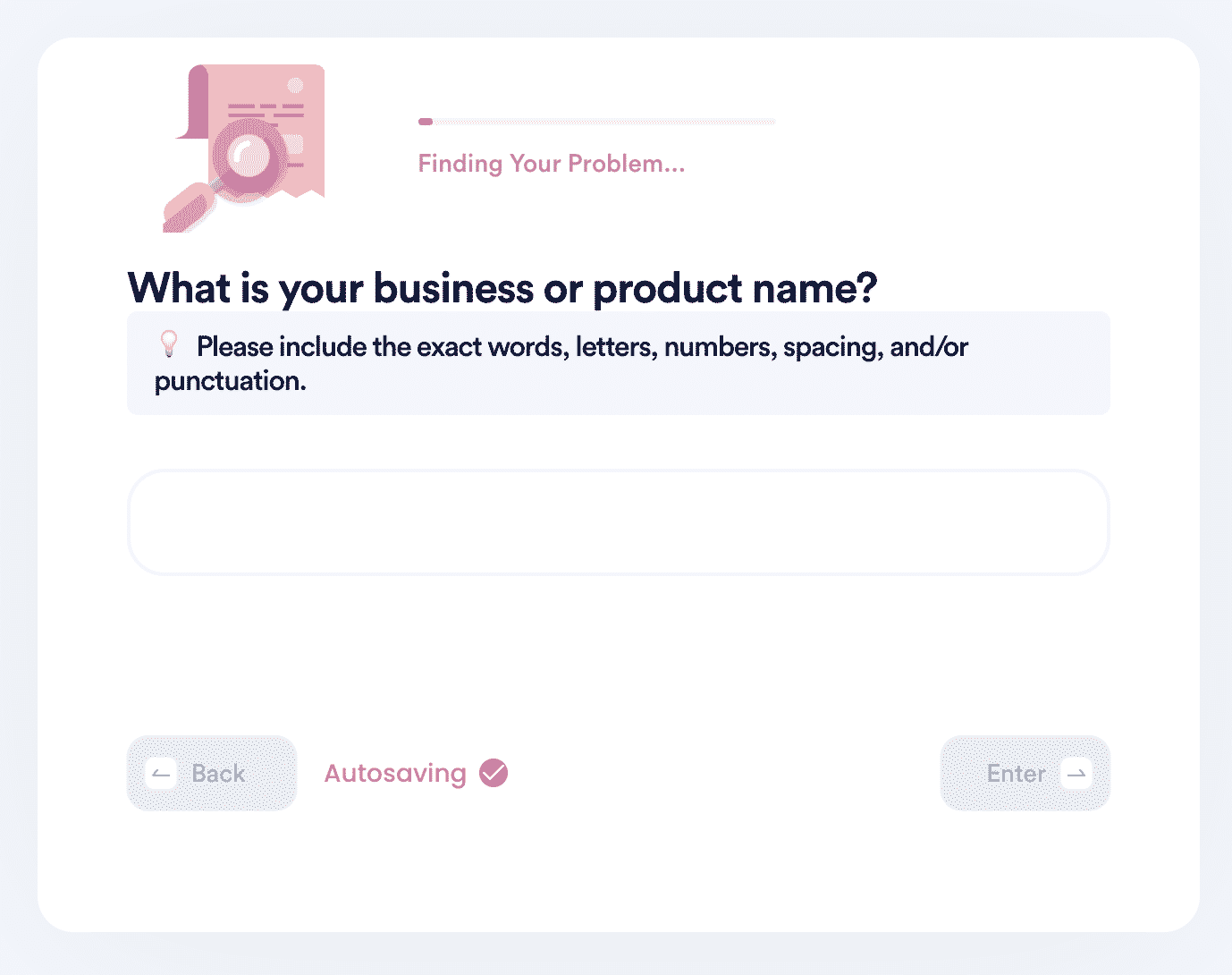 Use DoNotPay To Stay Ahead of the Curve
Why would you do things the old-fashioned way when we can help you pave the way? Use our mailing and faxing service to send letters and documents online without leaving your office or using an obsolete machine.
Do not sit on your hands when faced with complicated issues—DoNotPay offers easy solutions. Whether it's a breach of contract, fake review, or fraudulent chargeback, we know what to do. We will make sure every solution takes several clicks.
To keep growing and bettering your business, you may need additional funds. With DoNotPay's help, you will be able to submit small business loan applications swiftly.
There Is No Shortage of DoNotPay Products That Help Your Business
Running a business comes with numerous benefits but also with endless paperwork. Let us take some tasks off your plate by handling the following:
Employer Identification Number (EIN) registration
Privacy Shield Framework registration
83(b) election forms submission
If you want to have a designated DMCA agent, we can help you register them with ease. DoNotPay can also assist you in getting a trademark registration. You can rely on us to also provide monthly trademark infringement checks to keep your business safe.