How to Trademark a Logo
Designing a unique logo for your small business takes a lot of imagination and effort. Before you proudly show it to the world, you must protect it from the people who may steal and use your idea. Registering your logo will help you safeguard your rights legally and pursue justice in case of a trademark infringement.
Do you want to know how to trademark a logo with zero paperwork and difficulties? Check out the guide we created for you and learn all about:
The Essentials of Trademarks
A trademark is what makes your business idea stand out. It's different from copyrights since they protect artistic creations only. Trademarks can be specific logos, phrases, or any other elements that differentiate your goods from the goods of other companies and make your brand memorable.
This element also defines the nature of your business and establishes its identity. The essential purpose of trademarks is to prevent other people from copying or appropriating your pieces of work. Besides logos, you can register many types of creations as trademarks, including:
Trademarks safeguard goods and products only, while services are protected by service marks, but the term "trademark" covers both in practice.
Do I Need a Trademark for My Logo?
Yes, you do. Trademarking a logo design is not mandatory but is highly recommended since it brings many benefits.
Besides safeguarding your work from unauthorized copying, registering your logo design:
Gives you the exclusive right to use the creation
Allows you to sue people who use your idea without asking for permission
Enables you to trademark the logo in other parts of the world
Assists you in stopping the importation of foreign goods that can affect your trademark negatively or diminish your brand
Types of Logo Trademark Protection
The following table shows three levels of protecting your logo design:
| Level | Details |
| --- | --- |
| Federal trademarks | Registering your logo design on a federal level is the most expensive method but brings significant benefits. You can do it with the United States Patent and Trademark Office (USPTO). This way, it is possible to use your idea anywhere in the country |
| State trademarks | To establish a solid business reputation in your area, you need to apply for a state trademark. The application usually goes to the secretary of state's office and is much more affordable than a federal one. If the application gets accepted, it allows you to use the mark within the state limits only |
| Local trademarks | This option is available in your local area only. It becomes applicable as soon as you start using your trademark for business or commercial purposes. Registration is not necessary |
How Do I Trademark a Logo With the USPTO Myself?
To apply for a trademark with the USPTO, you must go through the following steps:
Conduct a USPTO trademark search—To register your mark, you must comply with the availability requirements. This federal agency has an entire database containing all federal-level trademarks. Use the Trademark Electronic Search System (TESS) to check if someone has already registered the same or similar logo. If your solution is not unique, you must change it before applying for a trademark
Choose the trademark class for your goods/services—You can choose between 45 different categories, depending on your business type. If you pick multiple classes for a single type of goods or services, the application costs may increase. Once you determine the categories, there is no way back—you cannot redo it or correct potential mistakes
Prepare a suitable specimen—You need an example of what your logo looks like on the items you sell. It can also be in the form of:

Photos showing tags and packaging with your logo
Pictures showing shop displays that sell the products with your logo design

Fill out a trademark application form—You will need the following pieces of info:

Personal details, such as full name, address, and contact details
Chosen trademark class
Specific goods or services your solution will represent
A final version of the logo in the JPEG form

Pay the trademark registration fees
The USPTO will need a few months to process your application and inform you about the outcome.
How Much Can a Logo Trademark Cost?
The trademark application expenses depend on many factors, including:
State where you live
Chosen trademark level
Electronic application method—if registering a trademark with the USPTO
Legal help costs
If you get a state trademark, the total cost should not exceed $150. Should you opt for registering your logo with the USPTO, you will pay:
$350 for applying via the TEAS Standard option for each trademark class
$250 for applying via the TEAS Plus option per class
Some people need lawyers to help them to go through the application process. This service is not free—most professionals will charge between $500 and $2,000. There are also costs for renewing your trademark.
How Can DoNotPay Help You Trademark Your Logo Effortlessly?
A single mistake in your trademark application, such as a wrong class or a missing piece of information, can lead to rejection. For this reason, most people usually opt for hiring lawyers. This option is everything but economical due to the astronomical legal fees it entails.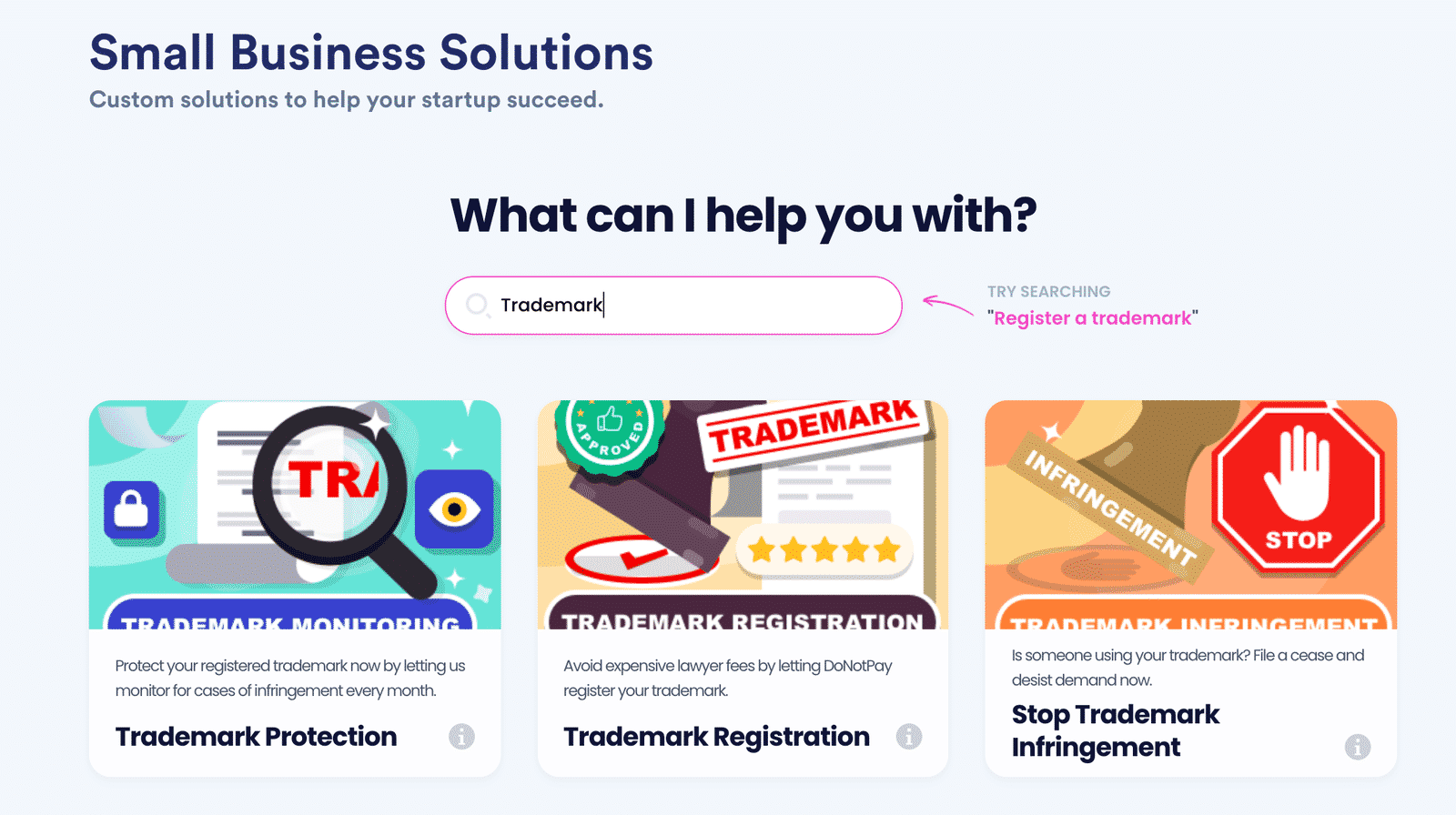 What if we told you that DoNotPay could help you go through the entire process more easily and affordably than an attorney would? If you give us the necessary info about your trademark, we will do a clearance check and see whether your logo is unique. Once we confirm it is, we will file an application in your stead in less than five minutes!
Here is what to do:
Pick Trademark Registration
Disclose a few details about yourself and your trademark, including the info about your company or the class of your goods
Specify that you have paid the required fees
Upon completing your application form, we will ask you to e-sign it before submitting it to the USPTO.
DoNotPay Helps You Raise the Bar in Business
Whether you are just getting started with your small business or are well into the game, DoNotPay can be your valuable assistant. We can help you manage various issues, such as:
Trademark infringement
Negative reviews
Suspicious chargebacks
You can focus on what is important while we take care of administrative tasks and problems.
Get More Done With Our Help
DoNotPay's features at your disposal are versatile. We can assist you in registering your DMCA agent with the U.S. Copyright Office so that you can avoid exorbitant copyright infringement fines. Thanks to our app, preparing and filing business loan applications will also be smooth sailing.
If you want to protect your slogan, logo, and company name, we will guide you through the trademark registration process. The Employer Identification Number (EIN) issuance is another procedure our app is able to assist you with.
Would you like to self-certify your business under the EU-U.S. Privacy Shield program? DoNotPay will complete and file the request in your stead. Our app can help take care of your employees, too. Use DoNotPay to create and submit 83(b) election forms to the IRS.
Is the pile of documents due to be sent getting bigger by the minute? Not to worry—your pocket assistant can mail and fax your documents with ease.