How To Trademark a Domain Name Using DoNotPay
With e-commerce on the rise, business owners were not the only ones that had to adapt to its popularity. U.S. trademarks laws have seen a new entry—domain names. As many companies—especially small businesses—conduct all of their business online, they need to trademark their websites as a part of their brands.
In this guide, we will show you how to trademark a domain name and see what makes you eligible for it. We will also explain how you can use DoNotPay to file a trademark effortlessly.
What Is a Trademark?
With a plethora of competitors, business owners need to have a way to protect what makes them stand out in the eyes of their customers. The main four protection types are copyright, trademark (and service mark), patents, and trade secrets.
A trademark is any part of your brand or product that helps customers identify your goods and differentiate them from other companies.
Specific parts of brand or product include:
Labeling
Sound
Packaging
Movements
Color scheme
Signature
As long as your trademark is active, you will have legal protection from the USPTO and will be able to sue anyone who infringes on your property.
While you may not have to register a trademark, without it, you will not be able to:
Seek legal justice if someone copies your products or steals your idea
Prove you have ownership rights
Get protection on a non-local level
Have an effect on infringing goods being shipped internationally
Trademark Protection for Domain Names
Domains fall under the name trademark category, but it's exclusively for online use, similar to usernames.
A domain consists of two parts—a secondary-level domain (SLD) and a top-level domain (TLD), with the former being the unique part ("donotpay") and the latter an identification string (".com"). When you trademark a domain, you will register both parts as a whole.
You can freely register any unrestricted TLDs, which exclude country code domains and sponsored TLDs. Check out the following table for all restrictions to domain trademarks:
Restriction Type
Description
Sponsored TLDs

.gov
.edu
.aero
.coop
.museum
.mil
.post

Generic SLDs
Your domain has to include your business name or be specific in a different way. You can't obtain a trademark for a generic website, like "shirts.com"
Similarity to an existing trademark
If you want to trademark a website, say "facebook.info," you will need to prove you have no correlation with Facebook and your business is about something completely different. Even then, it will be difficult to get it because of the "dilution of reputation" of an established brand
One of the main reasons companies choose to take out a trademark on their domain name is cybersquatting. Cybersquatters intentionally use misspelled domains to con customers into believing they are you and profit off of it. An example of cybersquatting would be "amazzon.com."
A trademark allows you to sue such website owners easily.
If You Own a Trademark, Can You Get the Domain?
No, getting a trademark doesn't automatically give you the ownership of a domain. Even if you have a trademark for it, you can't force someone to hand over their domain to you without proving they are copying your business or tarnishing your popularity.
How To Trademark a Domain Name
If you decide to register a trademark for your domain name, you will need to make sure you meet the United States Patent and Trademark Office (USPTO) requirements. Before you begin working towards completing your application form, you should check whether:
The domain is available
There is a similar trademark in the USPTO database
If you meet these criteria, you can move on to filling out the form. You will need to provide information about yourself and your company, the trademark class you will choose, and the way you will use the domain.
A website with a trademarked domain needs to offer exclusively the goods that it has the trademark for, not only provide general information about your company. If the domain you want to utilize does not already exist, you can sign a Statement to Use and create a website by the agreed-upon date.
The trademark application comes with a fee, but many companies have extra costs as they trademark several domain names at once.
Filling out the form accurately is a daunting task, which is why many opt to hire a trademark attorney. This also comes with exorbitant fees.
Instead of paying over the odds for help, you can and complete the entire form error-free in a matter of minutes.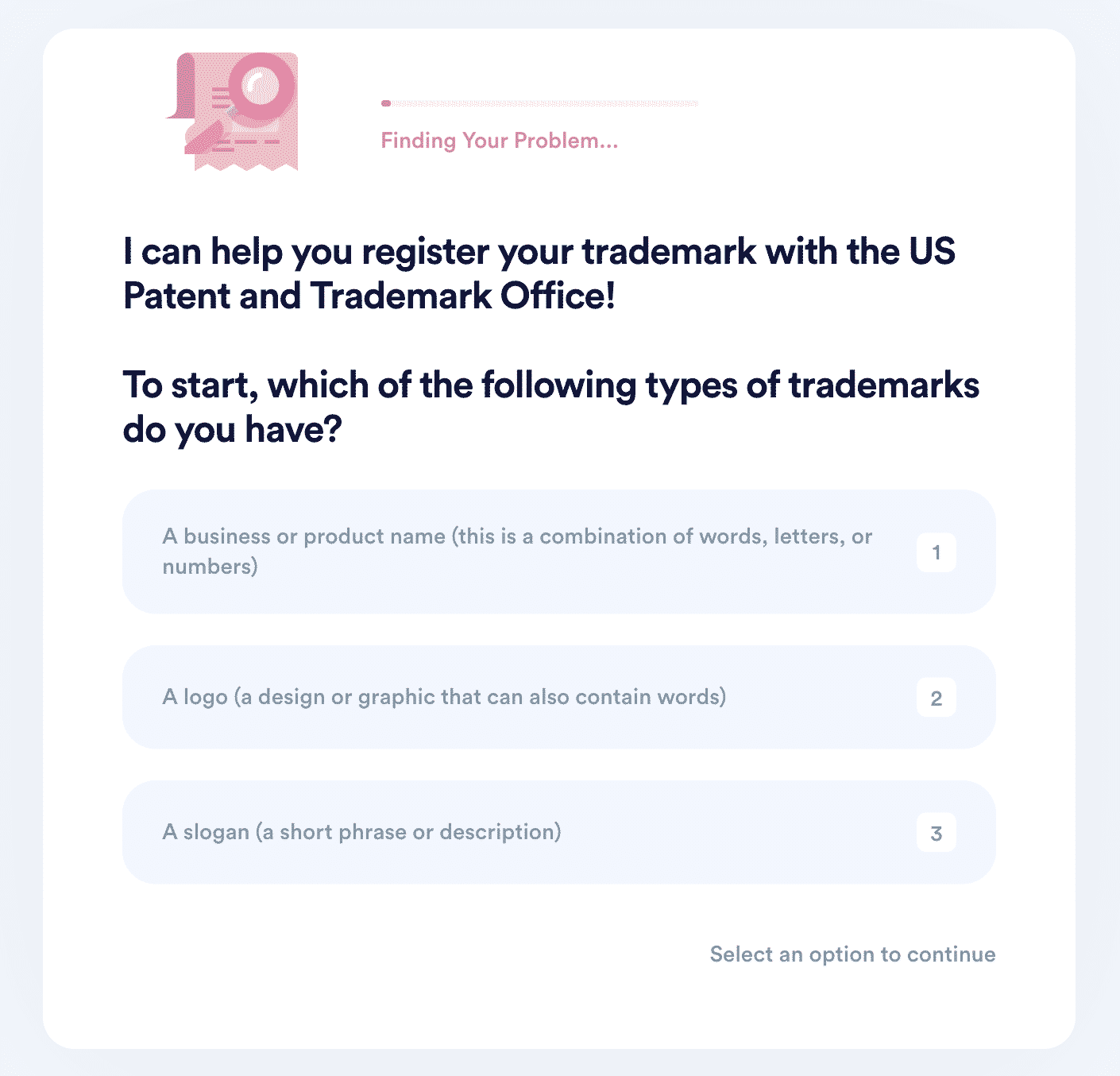 How To Trademark a Website With DoNotPay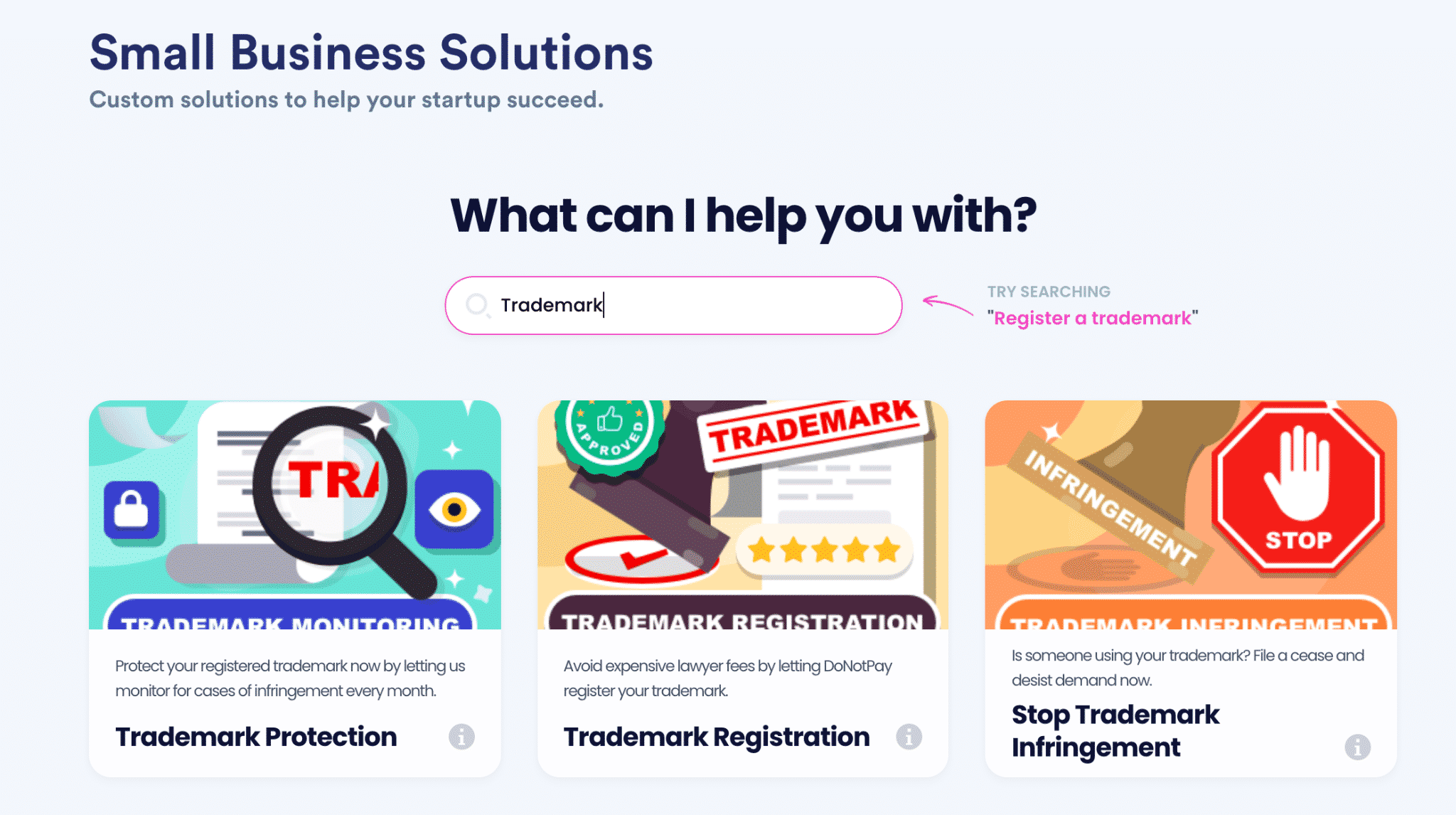 Getting ready to file for a trademark takes weeks of preparation, and you are still likely to hand in an incomplete form. Less than half of all applications end up being accepted, which is why professional help may be necessary.
Why pay thousands of dollars to an attorney when you can use DoNotPay? We will go through the USPTO database to check for your desired trademark's availability and ask you questions to get the essential information.
All you need to do is the following:
Select the Trademark Registration tool
Answer a few questions from our chatbot
Pay the necessary USPTO application fees
Once that's done, we will create the application and send it to you to review and e-sign.
Don't Waste Ages on Tedious Administrative Tasks—Rely on DoNotPay
Running a small business can be a challenging endeavor, but you can count on DoNotPay to make the situation easier! We have developed a number of handy features that you can use to deal with your business-related hurdles. With our help, you can:
Send mail to your customers, investors, or business associates without wasting time going to the post office
Register your business slogan, logo, or name as a trademark to prevent brand infringement
Avoid copyright violations on your website by registering a DMCA agent
Protect the privacy of your clients' data by filing the Privacy Shield program self-certification request
Contest unjust chargebacks and keep the revenue
Deal with clients who breach the contract without wasting money on collection agencies or lawyers
Worked Hard on Creating a Good Business Reputation? Don't Let It Go to Waste!
Has one of the angry clients or envious competitors decided to leave a mean online review that could have a negative impact on your business? DoNotPay is here to help you remove it! We will analyze the problematic review and report it until it is taken down.
Don't know how to protect your trademark and make sure no one else is using it? Our app can monitor the trademark on a monthly basis and send cease and desist letters if necessary.
Let our app take care of many other issues—such as filing 83(b) election forms, registering for an Employer Identification Number (EIN), taking out small business loans, and similar—while you concentrate on the creative side of your business.