How To Trademark a Clothing Brand Without Breaking a Sweat
Many popular designers use logos or initials to separate their items from competitor brands. If you want to establish yourself in the fashion industry even further, you need an eye-catching trademark. In this article, we show you how to trademark a clothing brand using DoNotPay and break down the trademark protection laws.
Why You Should Trademark Your Clothing Brand
The best way to prevent competing brands from stealing your ideas is to file a trademark. A trademark can benefit small businesses in many ways—from ensuring brand recognition to solidifying their position in the industry.
Take a look at the three main reasons for trademarking your clothing brand:
Legal recognition in the federal court—After you register a trademark, you will have the right to prosecute any individual or organization that tries to copy your brand. All you need to provide as evidence of ownership is the registration certificate. You will also be entitled to monetary compensation for the infringement
Confiscation of counterfeit goods at the border—You have the right to forward your trademark registration details to the U.S. Custom and Border Protection (CBP). It will allow them to intercept any clothing items that are unlawfully labeled with your trademark
The power to protect your brand outside U.S. borders—If you plan on tapping into the international market, a trademark registration can safeguard your brand outside the U.S. The so-called Madrid Protocol will protect your trademark in 124 countries worldwide
Choosing the Best Way To Protect Your Clothing Line—Trademark or Copyright
Trademarks, service marks, and copyright serve to protect your intellectual property from attempts at fraud and counterfeiting. The key differences are listed in the table below:
Copyright
Trademark and Service Mark

Protects the authorship over an original piece of art and other performative/creative endeavors legally
Applies to the artwork automatically in the moment of creation
Safeguards the intellectual property throughout the author's life and 70 years after their death
Instead of copyrighting each individual design, the better solution is to apply a trademark to all the labels and tags on your clothing items and ensure brand recognition and protection.
The most frequent types of trademarks you can use are:
If you are selling your clothes through social media platforms, you can also consider trademarking your username. Customers are probably already using it to reference your brand, so why not capitalize on it?
How To Trademark a Brand of Clothing
To get started with trademark registration, you must first decide what level of protection you are aiming for:
Local protection—If you only want to operate on a local level, you don't need to register at all. Common law rights protect trademark holders in the immediate area
State trademark protection—You can apply with the United States Patent and Trademark Office (USPTO) for state registration. Your clothing brand will be safe from fraudulent behavior within the state lines but no further
Federal trademark protection—The only way to ensure your brand is protected throughout the U.S. is to file for federal registration. The USPTO will add your trademark to the public database automatically
You need to prepare for the process. All applicants are required to meet certain preconditions. The mandatory steps to filing a trademark with the USPTO include:
Searching the USPTO database to make sure the trademark is available
Categorizing your clothing brand in one of the 45 classes created by the World Intellectual Property Organization (WIPO)
Selecting a Trademark Electronic Application System filing option (there are two)
Filling out the chosen trademark application form with the following information:
Legal name and contact information
Trademark type
Proof of use or statement of intent to use in commerce
Proof of paid registration fees
How Much Does It Cost To Register a Trademark?
Which USPTO application form you select will determine the initial trademark cost. You have two pricing options:
TEAS Plus—$250 per trademark class, and you must pay the full fee upfront
TEAS Standard—$350 per class, but you can make two payments—one as you register and another later in the process
Some people hire an IP lawyer to help them fill out the application since the USPTO is incredibly strict with the requirements. If you are considering this option, note that the flat attorney fees will increase your expenses.
Use DoNotPay To Trademark Your Clothing Logo Without Missing a Beat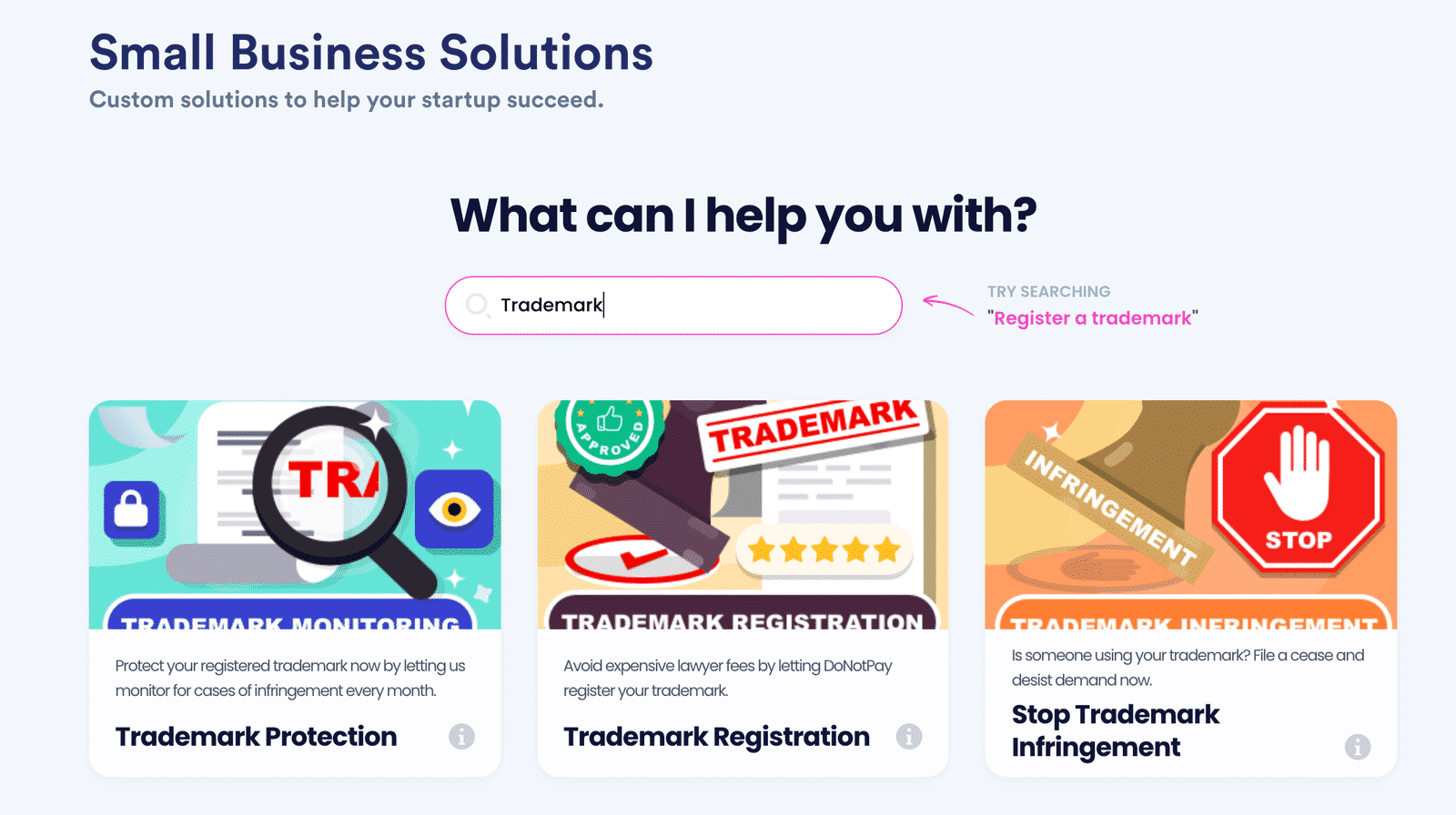 There is an affordable and reliable way to register your trademark—DoNotPay. With our Trademark Registration product, the entire process is streamlined by a powerful algorithm. You will be able to sail through the paperwork without any missteps.
Here's how to trademark a clothing company with DoNotPay:
Select the Trademark Registration product
Describe the trademark type and answer questions about your clothing brand
Verify that you have paid the required percentage of fees
After completing the steps, e-sign the document and have DoNotPay deliver it to the USPTO for evaluation.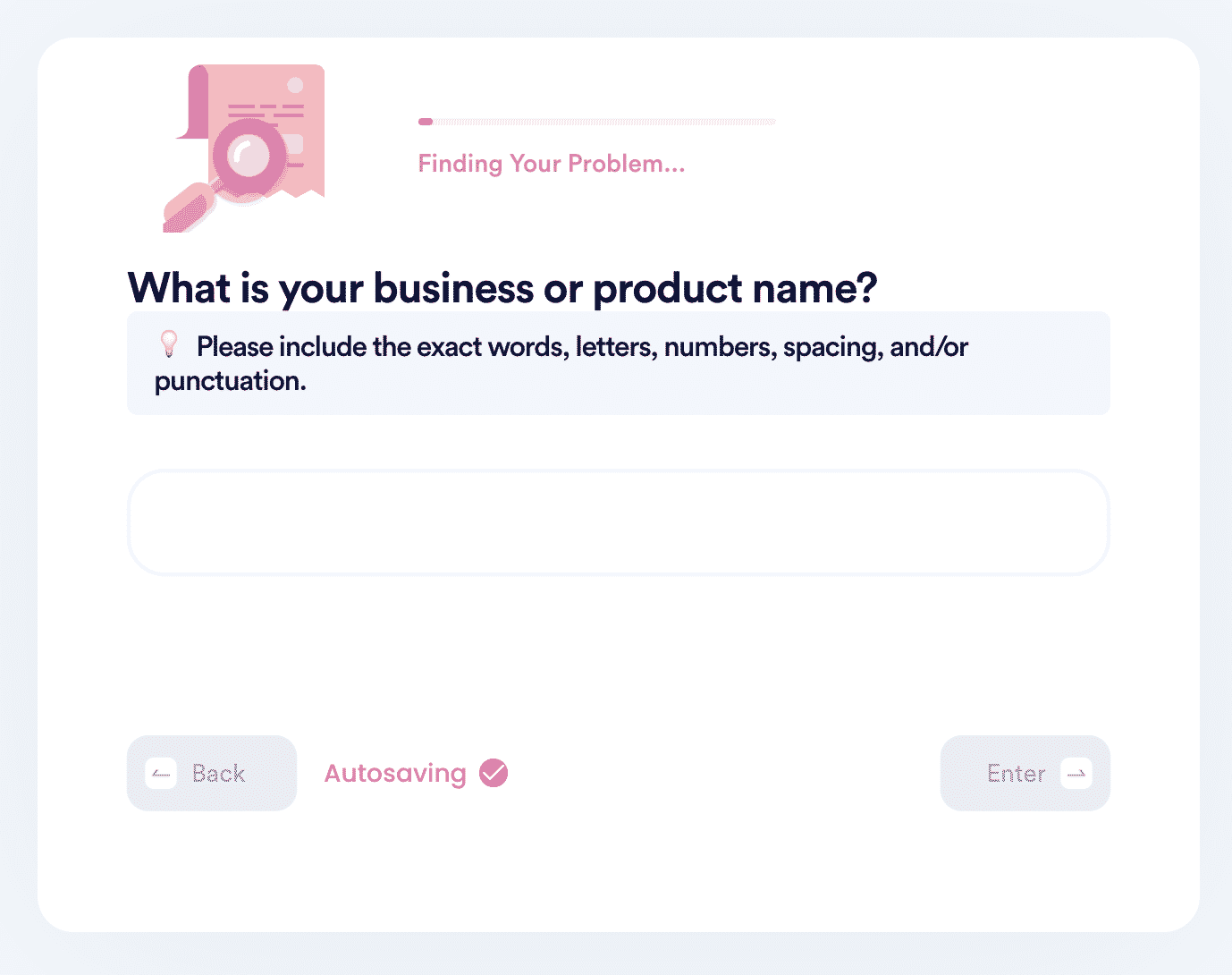 Don't Let the Complex Procedures Stress You Out! Rely on DoNotPay and Run Your Business Like a Pro!
DoNotPay has created a plethora of simple-to-use features that will help you run your business the best way possible. Here are some aspects we can help you take care of:
Registrations
Legal Documents

Get an Employer Identification Number (EIN)
Register a DMCA agent to avoid copyright violations

Send a cease and desist demand if someone is using your trademark
Draw up a watertight letter requesting a loan for your business
Draft a demand letter to send to a client who refuses to pay you
Get a customized chargeback rebuttal letter and fight unfair chargeback requests hassle-free
What Else Does DoNotPay Have in Store for Your Business?
You can use our app to resolve many other business-related issues. DoNotPay can help you deal with fake reviews that are ruining the reputation of your business by analyzing the harmful review and figuring out the best way to go about it.
Do you wish to protect the privacy of your clients and prevent their data from being collected while they are on your website? Use our app to file a self-certification request with the Privacy Shield program.
If you need help automating the filing of 83(b) election forms, DoNotPay has the right solution for you and your employees or shareholders! With our app, you will be able to finish the entire process with a few clicks.
Another perk of using our app is that we can help you fax and mail any documents or letters without having to leave your home or office.
DoNotPay will help you handle all your business tasks in the blink of an eye!