How To Trademark a Book Title Without a Hassle—The Ultimate Guide
Coming up with an original book title is important because it shows your creativity through your work and also allows you to distinguish yourself from other authors.
After deciding on the title, you may want to get a trademark to prevent other people from copying your work without your consent.
Can you trademark a book title? What are the requirements for registering one? Are there any laws to protect your trademark?
In this article, we provide valuable insights regarding how a trademark works and how to trademark a book title with ease.
How Does a Trademark Work?
A trademark is a specific logo, word, symbol, or design that assists customers in identifying your business. It also helps you stand out from your competitors by establishing your unique identity. A trademark protects against fraud and provides legal protection to your brand as well.
A trademark does not mean that you legally own a particular word or phrase, and no one else can use it. It only means that you own the rights to use that particular word or phrase specifically concerning your business.
There are many types of creations you can register as trademarks, such as:
Is It Possible To Trademark a Book Title?
The basic rule is that book titles cannot be registered as trademarks. Instead of trademarking a single book, you can trademark a book series title to serve as an identifiable brand. This brand can be used on websites, blogs, social media, and different types of merchandise.
If you want to protect the text and illustrations of your book, you can do so with copyright.
Examples of book series titles that are trademarked include:
How To File a Book Title Trademark on Your Own
To file a book series title trademark, here are the steps you need to take:
Choose the name of your series—The title needs to be unique, distinctive, and should stand out from other authors' series
Research the trademark—Since the trademark is used to set your series apart from others, you need to make sure that the title is not similar to other series and should not cause confusion for customers. You should carry out extensive research during the application process to prevent it from being rejected
Select the trademark—Choose from one of the 45 USPTO classes to define your trademark
File the application with the USPTO—Depending on your trademark class and filing option, you will need to pay an application processing fee. When filing your application, make sure that all information makes you legally entitled to the trademark you want. In case you do not provide sufficient information, you risk your application being rejected without a refund
Track your application's progress—After the USPTO receives your application, it will assign a serial number so that you can track the progress through the TSDR (Trademark Status and Document Retrieval) system. An examining attorney will review the application for any errors. You might need to submit additional information or correct existing documentation
After the inspection is complete, the USPTO will officially register your trademark within six months of receiving the application.
Does the process seem like a hassle? Skip it and turn to DoNotPay to start the process of registering your trademark in a few clicks.
Let DoNotPay Help You Apply for a Registered Trademark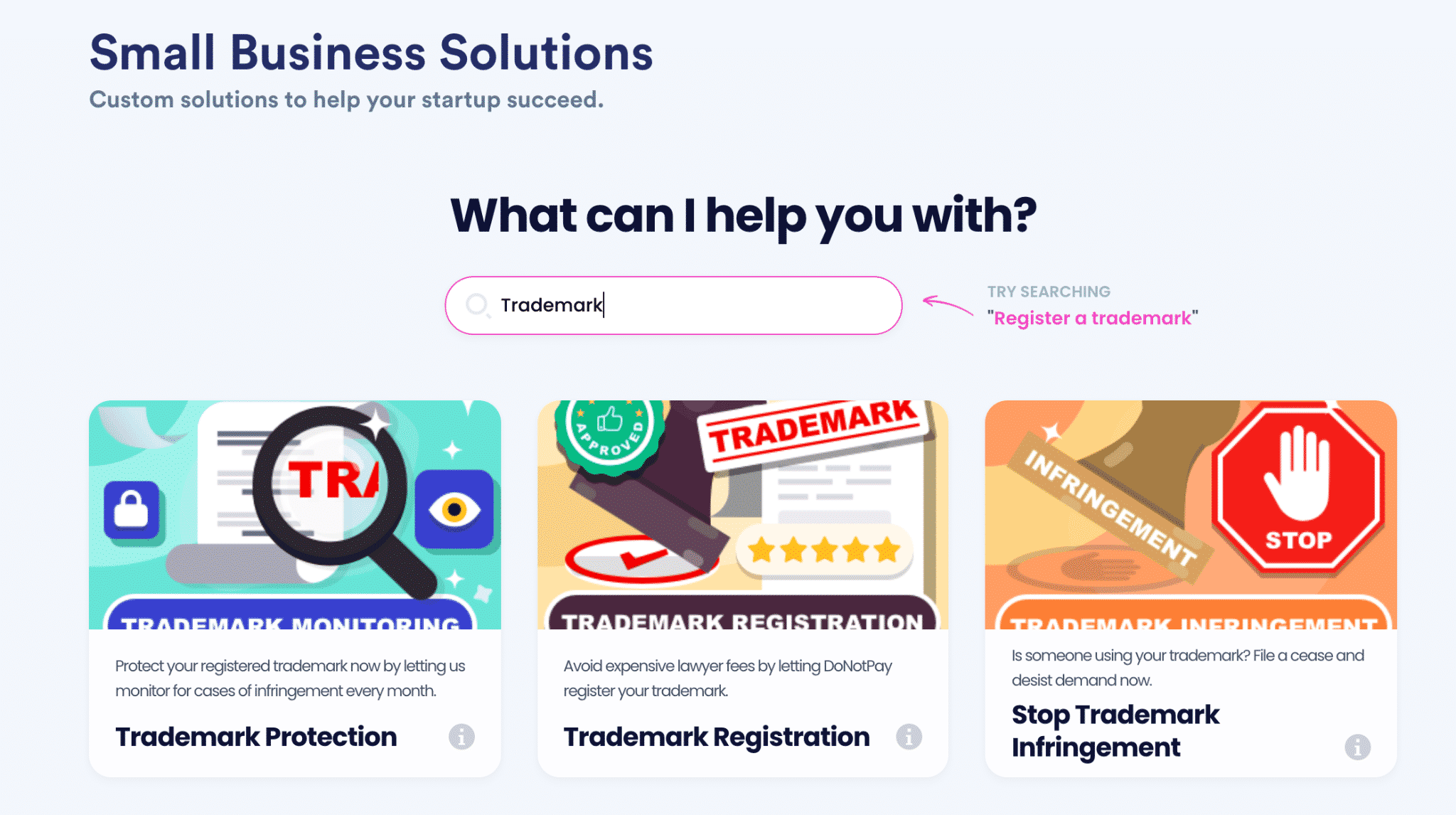 Does the trademark registration process seem too much to deal with? Worry no more because DoNotPay offers a more convenient solution! Our app can assist you in getting started with the trademark registration process.
Here's what you need to do:
Sign up for DoNotPay and search for Trademark Registration
Select the trademark and class type you want to apply for
Provide information about your business and the trademark
Pay the USPTO processing fee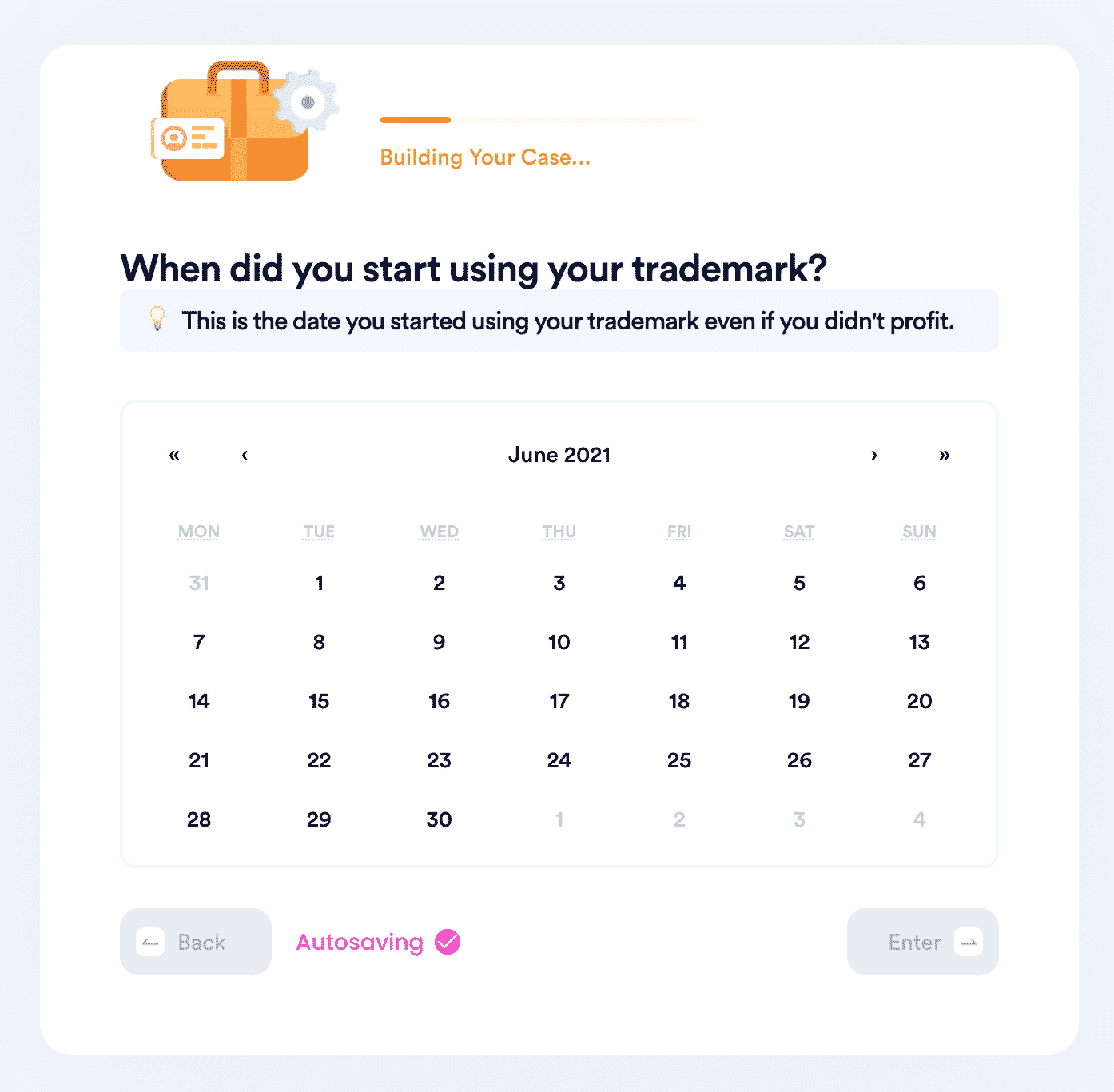 Once you are done, you can sign the application, and we will submit the form on your behalf.
If you want more information on trademarks, our learning center provides answers to many questions, such as:
How Much Does a Trademark Typically Cost?
Multiple factors determine the cost of a trademark, such as the following:
If you get a state trademark, your total cost will cap at $150. If you register your book title with the USPTO, the following fees are applicable:
| Type of Trademark | Cost |
| --- | --- |
| TEAS (Trademark Electronic Application System) Plus | $250 |
| TEAS Standard | $350 |
You can also hire a lawyer to help you handle trademarks, but this usually costs an exorbitant amount.
Deal With Any Small Business Matter With DoNotPay's Help!
Being a small business owner is not an easy task, and all the details that you need to pay attention to might seem overwhelming. From handling trademark registration and protection to dealing with crucial paperwork, such as the Employer Identification Number (EIN) SS-4 form and 83(b) election forms, you need to invest a lot of time and energy into each business-related aspect. That is why you should rely on DoNotPay and have us take care of everything in your stead!
If you need help handling copyright issues, you should consider registering a DMCA agent with the U.S. Copyright Office. Not sure how to do it? Use DoNotPay, and we will take care of it for you!
We can also help you dispute chargebacks and avoid losing your money to scams by generating a personalized chargeback rebuttal document based on the info you give us.
Run Your Business Stress-Free
DoNotPay strives to make your business endeavors free of unnecessary stress, which is why we created a variety of useful products to help you deal with complex issues hassle-free. With our assistance, you can: