How To Tell Your Kids You're Getting a Divorce—Everything You Need To Know
Probably the most difficult part about getting a divorce is breaking it to your children. Whether it's a friendly or non-friendly divorce, it's crucial to make it as easy for them as possible by explaining it openly and supporting them through the process.
In this article, DoNotPay explains how to tell your kids you're getting a divorce and how to help them through this difficult time. If you're filing for an uncontested divorce, sign up for our app to draft a divorce settlement agreement without a hassle! Want to learn about the process of filing for divorce and serving divorce papers? We can help with that too!
Why Do You Need To Tell Your Children You're Getting a Divorce?
It's better for your kids to find out about the divorce from you instead of hearing about it from someone else. You might have reasons for keeping your separation a secret, but your kids might develop trust issues if you do that. Keeping them in the loop would not only allow them to understand the situation properly, but it would also help them cope with it better.
Ground Rules To Follow When Telling Your Kids
Once you've decided to tell your children, the main question is how to do it. There are some ground rules that you should follow:
Ground Rules
Explanation
Be open and honest
If you don't communicate openly, your kids might feel distrust and betrayal. Based on their age and intelligence level, inform them about:

Why you are getting divorced
When the separation will take place
Which parent they will live with
How they will visit the other parent
How their life will change moving forward

Avoid the blame game
To prevent the kids from resenting your spouse or any third party, avoid accusing anyone in front of them
Put on a brave face
Put on a brave face when telling your kids. If you let your emotions get the best of you, your kids might end up comforting you instead of the other way round
Understand what your kids are going through
Try to understand your children's feelings and emotions as well and help them as much as possible
Avoid making them choose
Don't make your kids choose between you and your spouse. It is not fair to put them in the middle of this difficult situation
How To Tell Your Kids You're Getting a Divorce
The conversation you're going to have with your kids is going to be tough, regardless of what you say. Here is what you can do:
Plan your speech carefully
Keep your emotions in check—Don't make it more difficult than it already is
Approach it as a family—Make sure both you and your spouse are available when you talk to them. Try to use the word "we" as much as possible to show a united front
Develop a non-blaming narrative to prevent them from choosing sides
Let your kids know that both you and your spouse love them equally and assure them it is not their fault
Explain the next steps for you and them
Ask them to talk about their feelings and answer any questions that they might have
It is essential to reassure your kids that, even if you are separating, you are still their parents and will keep on caring for them emotionally and financially. Try to avoid making any promises that you or your spouse won't be able to keep, such as family holidays or vacations.
What Can You Do To Make the Divorce Easier for Your Kids?
Give your children time and space to deal with the situation. As hard as it may be for you, it can be even worse for them. They might place the blame on one parent or blame themselves for the separation.
Try to be as honest as possible while also giving them the room to express their emotions. Keep reassuring them to make the transition smooth and easy. Answer any questions that arise, but avoid getting into details that:
Don't concern them
May make them resent a parent
Are above their maturity level
In case you feel that your child is too traumatized by the event, consider taking them to a professional therapist to help them deal with the situation in a healthier manner.
DoNotPay Helps You Create a Divorce Settlement Agreement Without a Hassle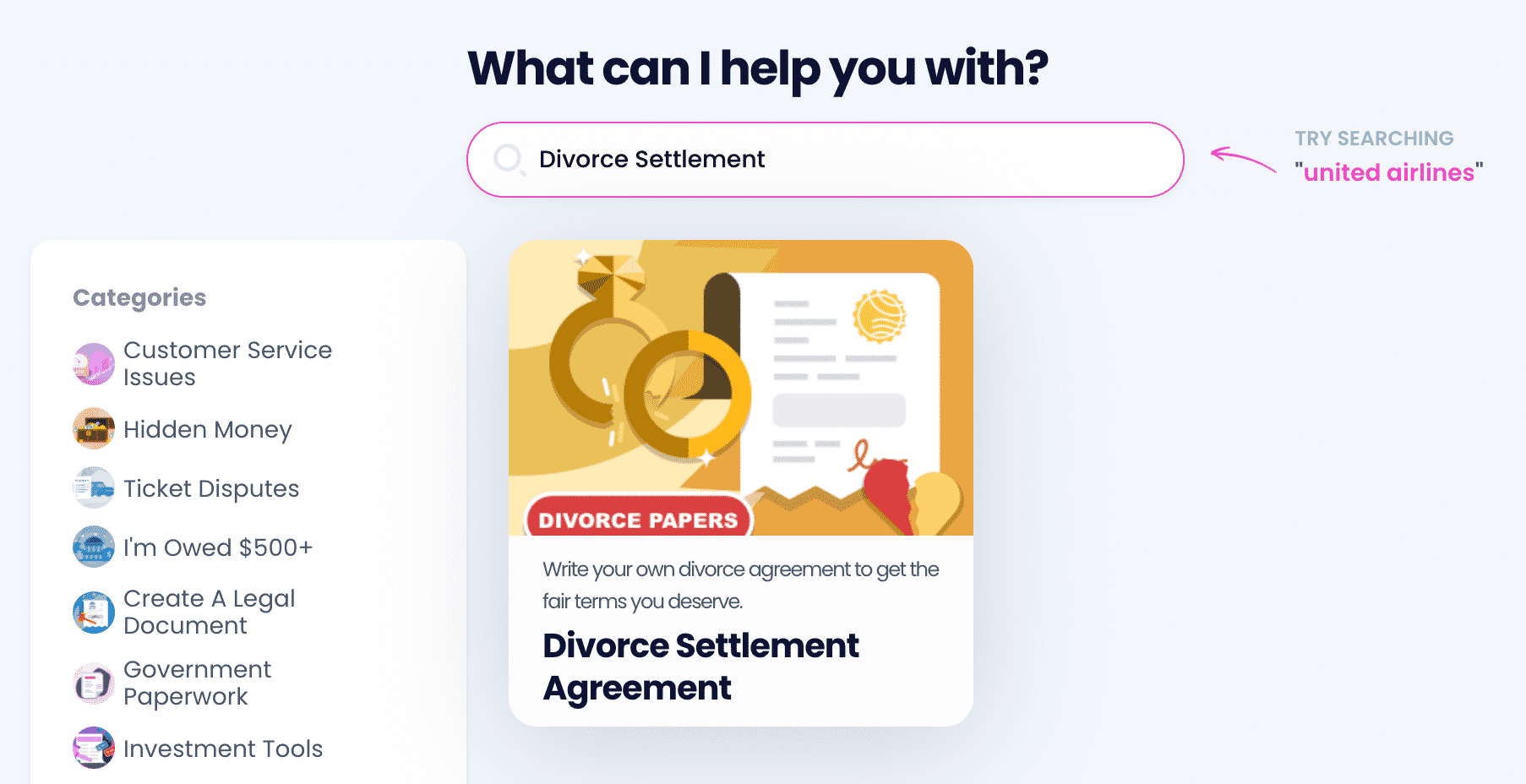 Do you need help in creating a divorce settlement agreement? DoNotPay can help you prepare divorce papers that fulfill your state's legal requirements. You don't have to spend hundreds of dollars on lawyer fees or waste hours going back and forth in negotiations—our app can draft an agreement without wasting your time or money.
To get a personalized divorce settlement document, here's what you need to do:
Access DoNotPay from your web browser
Type Divorce Settlement Agreement in the search box
Answer our chatbot's questions to customize the document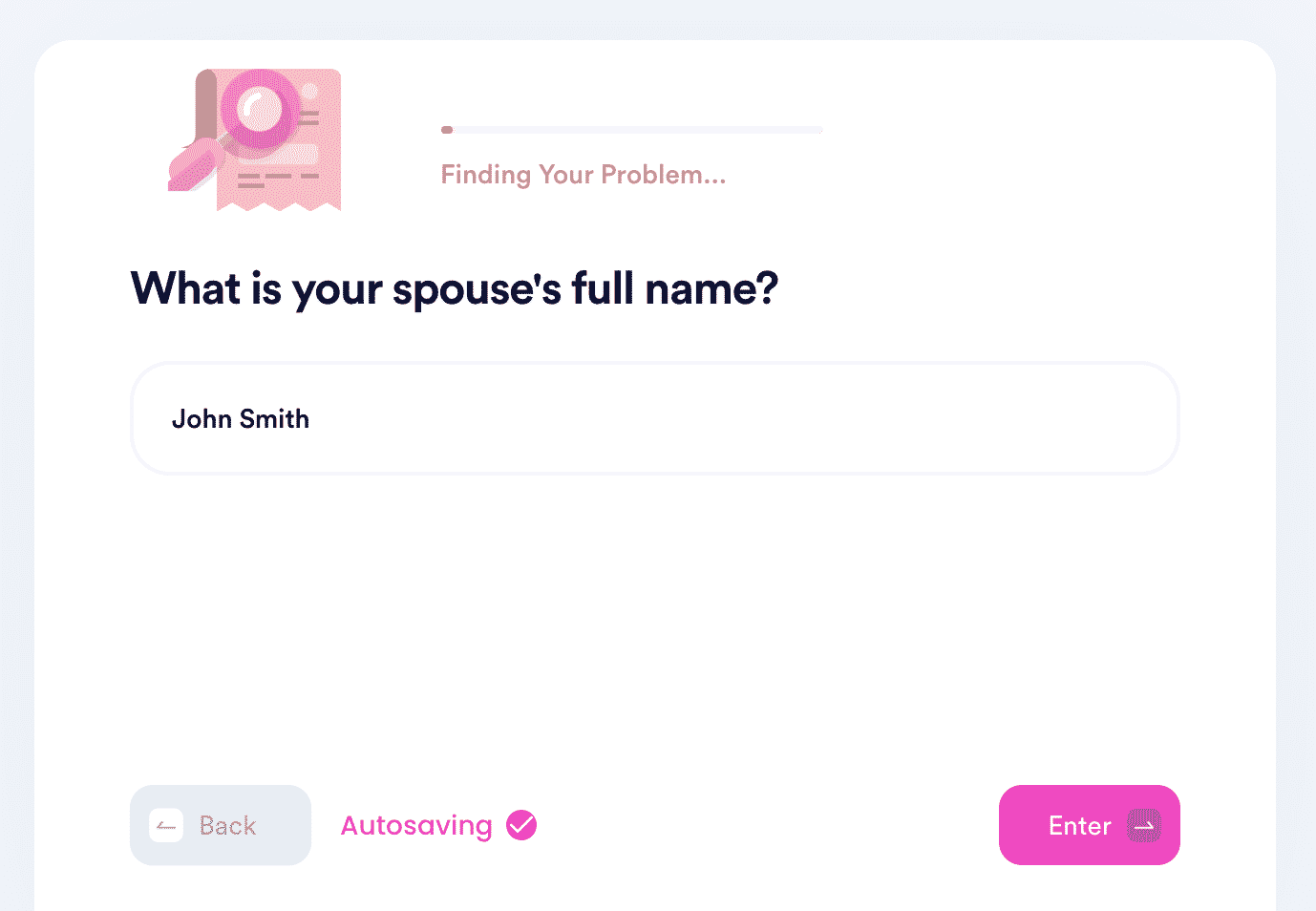 Our AI-powered app will generate the document within minutes. Once you and your spouse sign the document, use our app to get it notarized. With DoNotPay, you can get your document notarized during a live video call without a hassle!
DoNotPay can show you how to file for divorce in Utah, Wisconsin, Nevada, Arizona, Michigan, New Mexico, or any other state.
Get Answers to More Divorce-Related Questions
If you want to learn more about divorce procedures, we can answer questions, such as:
DoNotPay Resolves Both Bureaucratic and Legal Issues
One of our app's best qualities is its versatility. You can use your personal AI-powered assistant to overcome both legal and bureaucratic obstacles without breaking a sweat. No more waiting in lines or breaking the bank due to sky-high lawyer fees!
Take a look at what you get access to for a low monthly fee:
Can DoNotPay Do Anything Else?
The world's first robot lawyer is capable of so much more! No matter if you want to find your unclaimed money, apply for clinical trials, get rid of email or text spam, prepare for a government test, fight workplace discrimination, or get gift card cash back, DoNotPay can help!
What are you waiting for? Sign up for DoNotPay now to enjoy our nifty products!