How to Sue Someone in Texas in Small Claims Court
If you believe that a company or individual owes you money or has personal property that belongs to you, legal action may be the only way to get what you're owed. In Texas, if you want to pursue legal action and the amount owed, or property value, is $20,000 or less, you'll need to file a small claims case in justice court. Although the process is simplified, knowing on your own can be difficult if you're not well-versed in the law.
With DoNotPay, an AI-powered app that helps you bring your case to small claims court, you can get the money you deserve without being a legal expert. Getting started is easy. Just access the advanced DoNotPay chatbot via the web browser app and answer a series of questions regarding your case. Then, the app will assist you in filing in Texas small claims court by generating your demand letter, helping you fill out the required legal forms, and create a script for your court appearance.
Reasons to File a Lawsuit Against a Person or Business
If you have a claim that is within the justice court's jurisdiction, you can either file a claim on your own, with the help of an attorney, or with an app like DoNotPay. Some of the most common reasons that people file small claims cases in Texas include:
| | |
| --- | --- |
| Breach of Contract | This may sound like a complicated concept, but it's really quite simple. If someone doesn't honor a promise they've made and it caused you to lose money, they're guilty of breach of contract. Most times, this happens when one party doesn't honor a written agreement, although it can apply to verbal agreements. |
| Failure to Pay | If you're having a hard time collecting money that you're legally owed by a person or business, you may be able to file a suit in small claims court. As with other contracts, failure to pay can spring from either a written or oral agreement. |
| Injury or Property Damage | One of the most common reasons for filing a case in Texas small claims court is because someone has caused you injury or damaged your property. As long as the damages you seek are $20,000 or less, your case is likely to be appropriate for small claims court. |
| Possession of Property | If a business or individual is in possession of your personal property and won't return it, you may have no choice but to take them to court to get it back. You'll need to prove ownership and show that the other party is illegally holding your property. |
File a Lawsuit in Small Claims Court By Yourself
The procedure for filing a small claims lawsuit in Texas is the same, whether you opt to do it yourself or you hire a lawyer. The process is as follows:
File a Petition:

The first step is filing a petition with the court that details your intent to sue, the name of the individual or

company

and their contact information, and your reasons for the suit.

A Citation Is Issued:

Once you've filed the petition with the court, a notice is delivered to the defendant either by certified mail or in person. This is your demand letter and the official notice of legal action.

14-Day Waiting Period:

The defendant is allowed 14 days to respond to the citation. If there is a response, the court will set a pre-trial or hearing date. If not, you'll receive a default judgment in your favor.

Court Appearances:

If your case goes to court, you and the defendant will appear before the judge to present your case. You may have a lawyer present, or you may represent yourself if you wish.
Dangers of Filing a Lawsuit by Yourself
Perhaps the biggest danger when filing a small claims lawsuit on your own is that you may miss something important that could negatively impact the outcome of your case. The two biggest potential downfalls are as follows:
You may not have all the information you need to file an accurate legal claim.

You're not aware of the statute of limitations for a specific small court claim.
In other words, your lack of legal knowledge and experience could end up costing you the case.
How to Sue Someone in Small Claims Court in Texas With DoNotPay
If you're trying to enforce the terms of a contract, recover money or property that belongs to you, or you've been injured, you don't need to go it alone if you can't afford an attorney. With , you can start the process instantly when you complete four simple steps.
Create an account and log in to .

Choose the "Sue Now" product.
Enter the dollar amount of your dispute.

Choose whether you'd like to serve a demand letter or file a claim in court.

Complete the questionnaire about why you're filing the lawsuit and submit any applicable information and documents, including photographs.
That's it! DoNotPay, the world's first robot lawyer, will then generate a demand letter or court filing forms for you. We'll even mail a copy of your demand letter to the individual or business you are suing. No hassle, no stress, and no worries about whether you've done everything right. All you have to do is wait for the results!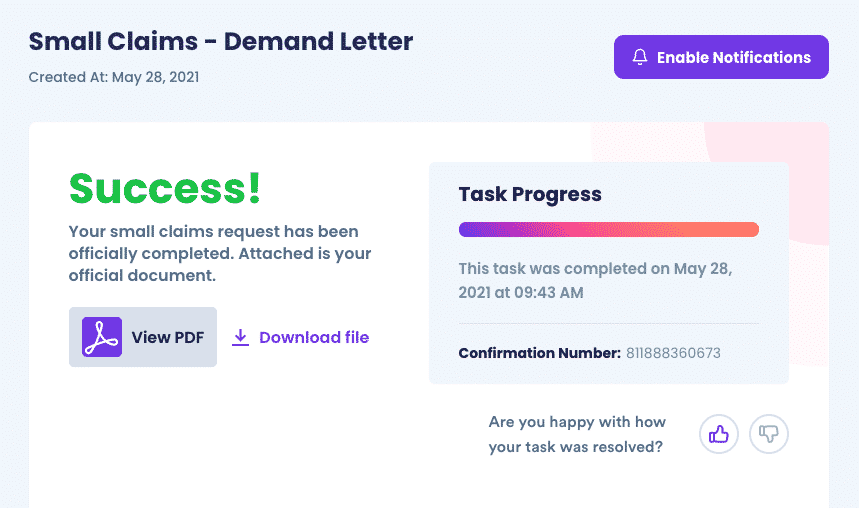 What Else Can DoNotPay Help With?
DoNotPay strives to create a simplified process that takes the stress out of taking a case to small claims court. Check out these other companies that DoNotPay has helped sue: