How to Sue MyLife in Small Claims Court
Originally founded in 2002, MyLife is a software program that gathers personal information via a multitude of online sources and public records in order to generate a phony digital background check in the form of a "MyLife Public Page" for any given person.
A public page publishes private information including someone's age, home address, contact information, employers, photos, relatives, political views, and educational background. Additionally, each public page includes a personal review section where MyLife users are encouraged to "review" and rate other individuals on a personal level. MyLife claims to have public pages for over 325 million individuals.
Additionally, MyLife claims that the premium version of an individual's "public page" may contain arrest, criminal, and sexual offender records. This claim is often unfounded and the public pages DO NOT contain such information. This is a sneaky and unethical ploy to persuade consumers to sign up for pricey auto-renewing subscriptions.
If you are dissatisfied with your dealings with MyLife, you are not alone. As of September 2021, MyLife is not accredited by the Better Business Bureau but has earned a BBB rating of "D-". The low BBB rating is likely a result of the 10,675 verified complaints closed in the last 3 years and the overall customer reviews of 2.34/5 stars.
If you have been personally victimized by MyLife, DoNotPay is here to help. Our AI-Powered robot lawyer will guide you through the process of in small claims court.
Reasons to File a Lawsuit Against MyLife
In May of 2019, the BBB initiated an investigation of MyLife's business practices after receiving a high volume of customer complaints alleging that they requested to have their personal information removed from the site but were either refused or asked that the user pay to have their information removed.
The impact of the BBB investigation may have significant business implications, but what are the legal implications? Here are some of the reasons someone may choose to sue MyLife in small claims court:
Violation of the Fair Credit Reporting Act

According to the FTC, a consumer report is defined under the law as:

A "communication of any information" by a consumer reporting agency (CRA) that bears on a person's "credit worthiness, credit standing, credit capacity, character, general reputation, personal characteristics, or mode of living" that is used (or expected to be used) as a factor in establishing their eligibility for credit, insurance, employment, or other reasons outlined in the law.

Under that definition, MyLife can be classified as a consumer reporting agency and is therefore subject to the FCRA guiding principles. Because the "MyLife public pages" may contain an individual's consumer report information (such as court or arrest records) and list it for sale to premium subscribers, MyLife is subject to civil liability.

Violation of the Restore Online Shoppers' Confidence Act (ROSCA)

Because MyLife sells subscriptions via auto-renewing, or negative option plans, it is therefore obligated to comply with ROSCA guidelines.

Mylife has failed to adhere to the most basic of ROSCA's compliance requirements.

According to the FTC

, The law mandates that businesses must clearly disclose all material terms of the deal before obtaining a consumer's billing information. Additionally, a business must provide a simple mechanism to discontinue recurring charges. Because MyLife's business practices do not meet these simple criteria, consumers are entitled to damages.

Violation of the Telemarketing Sales Rule (TSR)

At the most basic level, MyLife's business practices violate the TSR and must be held accountable.

A complaint filed by the Department of Justice on behalf of the FTC

states that, "

among other things, failing to truthfully and clearly disclose the terms of its refund or cancellation policies – including that MyLife "had a policy of not making refunds and of discouraging cancellations".
File a Lawsuit Against MyLife by Yourself
While MyLife has been subject to several large class action lawsuits, it is still possible to sue MyLife by yourself in small claims court. However, it is important to remember that MyLife is a large and well established company with top notch legal resources. With that said, you'll need to be as prepared as possible.
You'll want to be familiar with the process as well. While the exact process varies from state to state, generally you'll follow these steps:
Gather as much information and evidence as you can in order to present the strongest case.

Send a demand letter detailing the amount you believe to be owed.

Identify the appropriate court to bring your case forward in.

Complete any and all required paperwork.

Officially serve the defendant notice that you've filed a case against them.

Prepare to meet in front of a judge for your trial.
Dangers/Issues With Filing a Lawsuit by Yourself
Navigating small claims court can be an overwhelming and arduous process, and going up against a bully like MyLife is sure to make everything even more difficult. It is always recommended to consult a professional to ensure the best possible outcome.
With that said, you don't need to hire an expensive attorney. DoNotPay is a first-of-its-kind solution to make the process of suing anyone in small claims court as smooth as possible.
How to Sue MyLife With DoNotPay
Set yourself up for success in small claims court by utilizing DoNotPay's "Sue Now product" to pursue your case without a lawyer. Let us simplify the housekeeping items that can make or break your case. Just follow these steps:
Log-in to

and select the Sue Now product.
Enter the dollar amount you are owed.
Select whether you want a demand letter or court filing forms.
Describe the reason for the lawsuit and submit any applicable details, including photo proof.
That's it! DoNotPay will then generate a demand letter or court filing forms for you. We'll even mail a copy of your demand letter to the individual or business you are suing!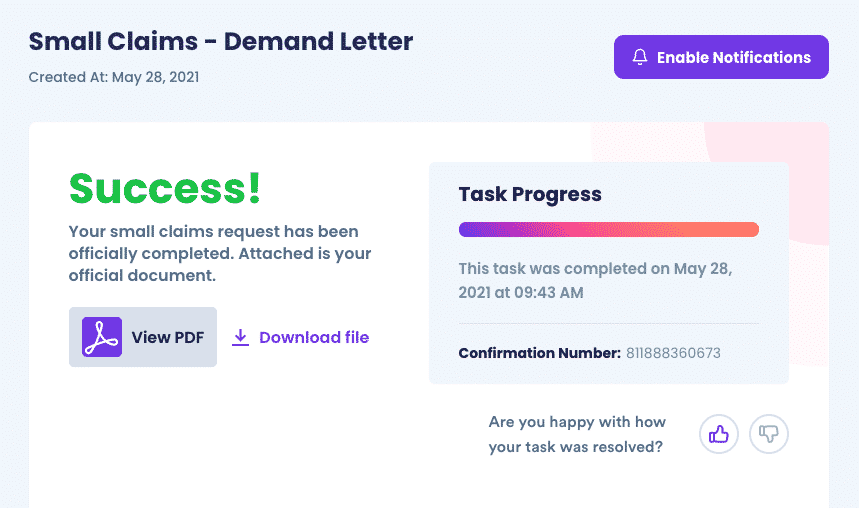 What Else Can You Do With DoNotPay?
DoNotPay helps people stand up to big business with ease. We've helped plaintiffs win cases against several other mega-corporations including:
DoNotPay is the perfect solution for anyone who is ready to stand up to a bully without a lawyer.