How To Sue My Landlord For Unsafe Living Conditions

If your landlord keeps saying "I'll fix it" but never does, there are a few ways you can get them to actually do something about your unsafe living conditions. You can:
Report to your local housing authority
Sue them in small claims court
Move out abruptly
Deduct the number of repairs from the next rent
But if you don't have the funds nor the time to fix the problem or go house-hunting, these may not be plausible options for you.
Read the rest of the article to see what qualifies as an unsafe living condition and how you can sue your landlord for negligence using .
What Constitutes Unsafe Living Conditions?
A peeled patch of paint by the stairway may be irritating, but it does not warrant immediate action from your landlord nor can it be held in court as an unsafe living condition.
You'll need to prove how the current state of the house makes it uninhabitable. This could mean the house has jeopardized your health and wellbeing. Landlord-Tenant laws differ by state, but some common examples of unsafe conditions are:
Leaking roofs
Overcrowded house
Inadequate lighting
Poor waste management system
Faulty Plumbing, Flooring or Electrical connections
Presence of toxic mold
Lack of proper fumigation
Gas and central heating malfunction
Elevator malfunction
Use of hazardous asbestos
No safety guard on doors and windows, or compromised lock systems
Steps To Take Before Suing Your Landlord
Before you decide to sue, it's important to make your landlord aware of issues regarding the home. Your landlord may take immediate remedial action to fix the problem if they are notified of the issue. Go through this checklist before suing your landlord:
Notify your landlord or property manager about the issues and request action to be taken. This can be done in writing or through a phone call.
Keep track of the next steps. Once the landlord or property manager is notified, they should follow up with you and give you a timeline of what to expect. They may dispatch a contractor to your home for inspection and/or send a repairman to fix the problem.
Make a decision based on your landlord's actions. If the landlord took care of the issue in a timely manner, you probably won't need to escalate the situation any further. If they failed to respond immediately and/or did not do anything to fix the problem, you may need to take matters into your own hands.
Sue A Landlord For Unsafe Living Conditions
Again, before you sue your landlord, make sure:
You have brought the problem to the landlord's notice and given them a minimum of 30 days to respond.
Your place qualifies as unsafe (you can get an expert or a third party to assess the severity of the damage)
You are not responsible for the unsafe living conditions
You were not aware of the damage before you moved in
Find the steps to sue your landlord in the table below:
Steps to take
Explanation
Review your lease policy
This document may expose other obligations your landlord may have towards you. You can add them to your lawsuit to make a case of negligence.
Read about the tenant laws in your state
This will help you find out if you are able to sue your landlord for the situation. It will also outline the legal timeframe and the grievance procedures.
Gather all evidence
Your evidence will include:

Your certificate of occupancy
A picture or video of the damage
Any proof of its negative impact on your living
Proof that you notified the landlord

Determine your claim
You should be able to determine a dollar value of whatever economic or non-economic losses the unsafe condition of the house has caused you.

Do you want a rent waiver, a reimbursement, or a claim for damages? You'll have to pre-determine it before you file your claim.

Serve a demand notice
Send your landlord a letter explaining:

The unsafe conditions you experienced/are experiencing
How they affected your wellbeing
What landlord-tenant laws the landlord broke
Your demand for action
Your intention to sue

Give them at least 30 days (depending on state law) to respond and take action.

File your claim
If they do not offer a favorable response, you can pursue a case against them in a small claims court. You'll need to file your lawsuit with your county court clerk, serve court papers to your landlord, and finally, prepare for your appearance in court.
Risks Involved in Suing Your Landlord
When you take your landlord to small claims court, the repercussions can range from a strained relationship to an abrupt eviction.
Though most states prevent your landlord from evicting you because you sued them, you may have your security deposit forfeited or find the rest of your stay unpleasant. Ultimately, if you decide to sue your landlord, be prepared for a long and complicated process.
Sue Your Landlord With DoNotPay
DoNotPay is an excellent service that helps you through the legal process, including determining your claim. With DoNotPay all you need to do is:
Go to and select the Sue Now product
Enter the value of compensation you seek
Select whether you want a demand letter or court filing forms
Describe the reason for the lawsuit and submit any applicable evidence
That's it! DoNotPay will generate a demand letter or court filing forms for you, whichever you prefer. The robot lawyer can also mail a copy of your demand letter to your landlord's address on your behalf!
DoNotPay Helps You Sue Companies Too!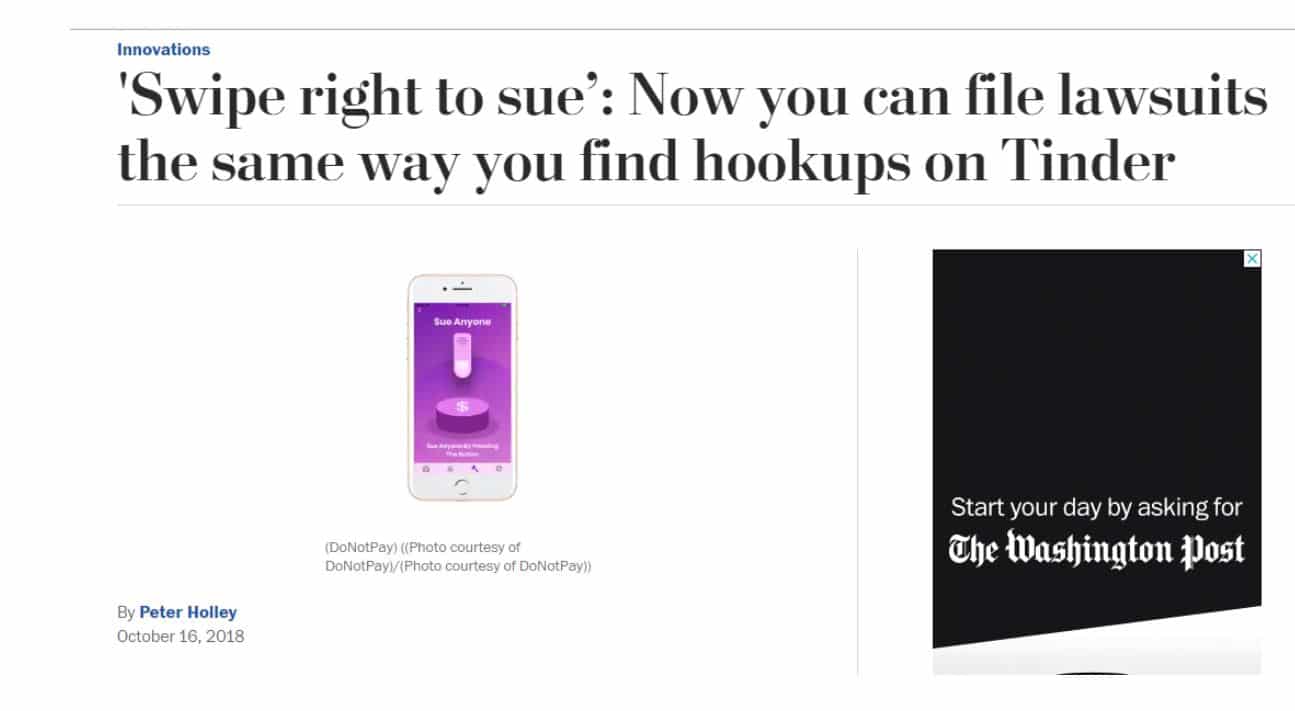 Have a claim against a company? Let DoNotPay fight for your rights as a consumer. Here are some companies thousands of users have sued using the Sue Now product: