How To Stop Water Runoff from a Neighbor's Yard Into Yours—A Few Easy Steps
Does water drainage from your next-door neighbor create significant water damage in your own yard? The obvious question is how to stop water runoff from the neighbor's yard. Are they liable for the damage?
DoNotPay will answer all your questions and offer a solution in the form of a demand letter.
You can use DoNotPay to legally solve other neighbor problems like noise, neighbor harassment, and more. We can show you how to file a complaint against your neighbor as well.
How To Block Water Draining From Neighbor's Yard
There are a few ways you can block water runoff from your neighbor's property:
Build a berm—A berm is a hill covered with grass that can divert the drainage around the area of your land that you want to protect. Think about where that water will go because you might make some changes in a landscape that can create water damage for others
Direct water into a dry well—Dig a hole in the ground, which will serve as a dry well. You can put dry wells wherever there are downpipes, and the water will flow into your dry well directly from the roof or any other surface that causes water runoff
Replace impermeable surfaces—You can replace concrete with gravel or permeable pavers. This option might prove to be expensive, but if you're replacing ruined concrete, this is a good idea because gravel can soak up water, unlike concrete
Intercept the water—You can intercept the water using a swale or a ditch with sloping sides. Even though it might prove costly, you can build a gravel-filled trench with a perforated pipe at the bottom. This is called a French drain
All of these methods can be costly, so it's not a bad idea to seek compensation from your neighbor if they are liable for the water damage.
Talk to Your Neighbor About the Water Runoff From Their Property
You need to determine if the water runoff from your neighbor's property is their fault. Water runoff is the neighbor's fault in case they changed their landscape in a way that redirects water into your yard. It's also your neighbor's fault if they act carelessly with water on their property.
The first and best option is to talk to your neighbor before doing anything drastic. Maybe they will offer a solution or a compromise. Follow these few steps to talk to your neighbor in a friendly manner:
Visit your neighbor at a suitable time
Be polite and patient while you're talking about the issue
Take them to your property to show them what the water drainage did to it
Try to think of a solution together if they're open to it
Can Your Neighbor Be Liable for the Damage?
If your neighbor caused the damage, then they can be held responsible. The law in most states has three rules about water damage that a neighbor caused. Find details in the table below:
The Rule
Details
Reasonable use
If your neighbor changed the landscape on their property in some way and this damaged your property, they are liable. You'll need to prove at court that the change made by your neighbor is what caused water damage.

The three sections that the court will consider are:

How important was the alteration?
Was your neighbor able to foresee that the alteration could cause damage?
How does the value of your property and damage compare to your neighbor's?

Common enemy
Your neighbor can't be liable if the court decides to follow this rule because every landowner needs to protect their property. Some states made modifications to this rule, so check if your state is one of them—you can still make your neighbor pay for the water damage
Civil law
This rule is also called the natural flow rule. It's similar to the reasonable use rule because it holds accountable anyone who changes their property in a way that disrupts the natural flow of water.

If your neighbor changed their property in a way that disrupted the natural flow of water, they are liable
DoNotPay Can Solve Your Issue
If you are certain that your neighbor is responsible for water damage on your property, DoNotPay has a solution for you. We created a Neighbor Complaints product that you can use immediately after you .
This product will create a demand letter containing:
The details of your issue
Arbitration notice
The damages or compensation you seek
The warning of further legal steps you might take if the neighbor doesn't comply
How To Use DoNotPay's Product
To use the Neighbor Complaints product, sign up for DoNotPay and follow the steps below:
Type in Neighbor Complaints into the search bar
Click on the type of problems you're experiencing
Add the details about your issue—date of the incident, whether you talked to your neighbor, proof of the damage, etc.
DoNotPay will generate the demand letter automatically and mail it to your neighbor on your behalf.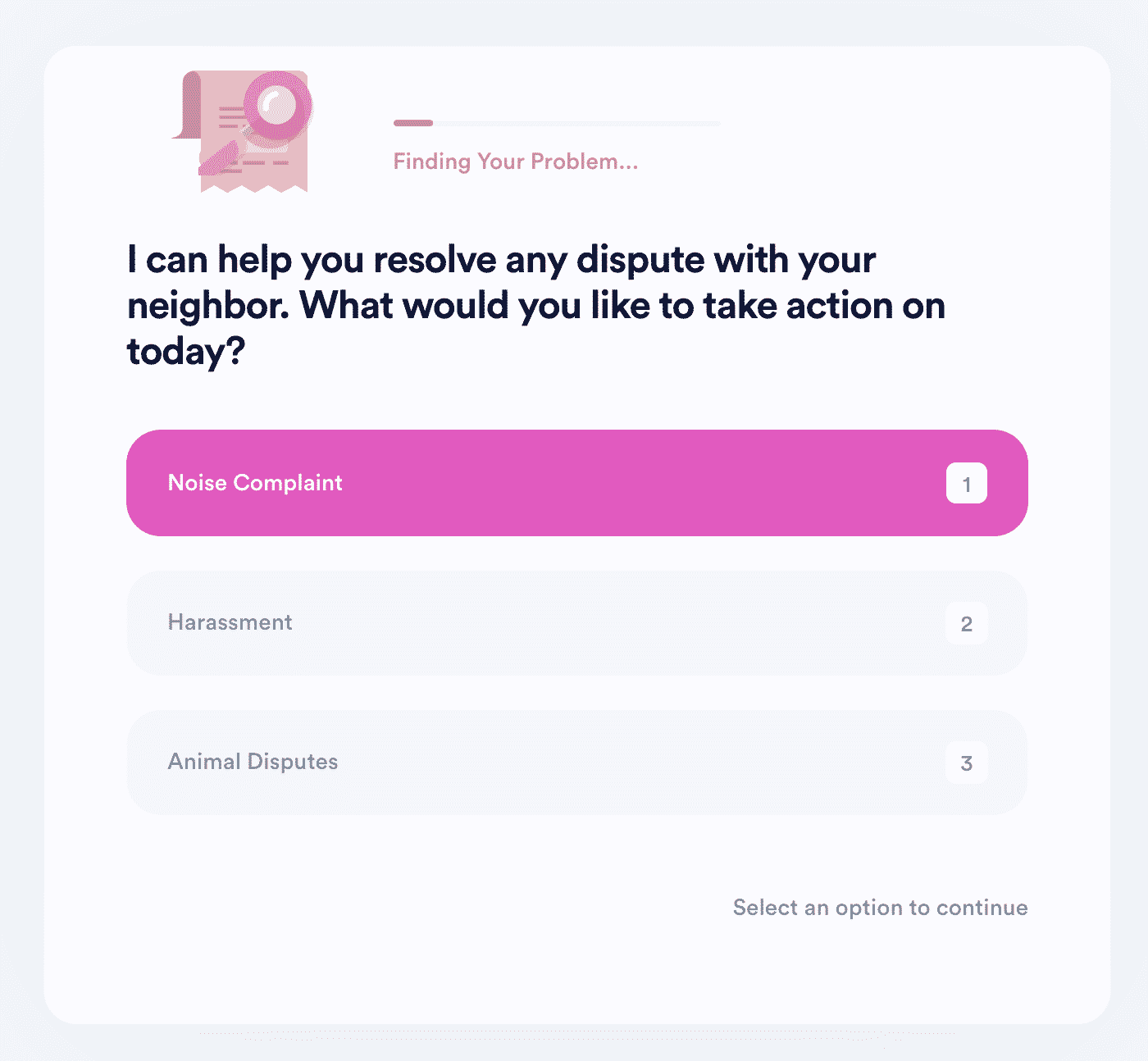 Which Other Neighbor Related Issues Can We Help With?
DoNotPay has a learning center that covers most of the questions you might have about neighbor problems. Some of the questions we have answers to are:
Use DoNotPay's Features to Your Advantage!
DoNotPay offers a myriad of helpful services you can use to resolve your everyday hurdles.
Do you need help paying bills or finding and claiming missing money? Are you interested in applying for clinical trials in your area? We can help you solve these and many more issues in no time!
Here are some other problems you can handle effortlessly with our help:
Hiring a Lawyer Can Cost a Small Fortune—Rely on DoNotPay Instead
If you're on a tight budget and can't pay a lawyer to help you create legal documents, file a claim in small claims court, or handle stalking and harassment, DoNotPay has a solution for you.
Our app will help you create various documents, including child travel consent forms and complaint letters for a problematic neighbor.
Are you a victim of a crime and need help applying for reimbursement of your crime-related expenses? You can sign up for DoNotPay and allow us to handle your crime victims compensation on your behalf.
DoNotPay can also connect you with an online notary and enable you to get your documents notarized from the comfort of your home.