Live Free: How to Stop Gambling Addiction 
Recent statistics reveal that approximately 2.6 percent of the US adult population or 10 million people, have a severe gambling problem. Gambling addiction is harmful to a person's psychological and physical health. People with this addiction often experience depression, distress, intestinal disorder, migraines, and feelings of despondency and helplessness.
Quitting gambling is never easy, but you don't have to do it alone. DoNotPay can help contact casinos on your behalf and request you to be placed in their "banned list." Once you are put on the list, you won't participate in any of the games or win money from the casino.
What Is a "Banned List"?
A banned list is a self-exclusion program where a person with gambling concerns excludes themselves from:
Commercial gambling venues
Personal gambling events, such as poker nights
Online platforms where legalized gambling occurs
Almost all in-person and state-regulated casinos are required by law to maintain a "voluntary self-exclusion list," which contains the names of people who are banned from participating in any casino's gambling activities. Most online casinos maintain this list as well, under their Responsible Gaming and Gambling policies.
How Do You File a Request to Join the "Banned List"?
Self-exclusion is a good way to help solve your gambling problem.
Venue Self-Exclusion
Most venue self-exclusion programs of clubs, hotels, and casinos require you to have an interview and sign a deed of self-exclusion.

The signed deed indicates the gambling venues and areas you will be excluded from.

By signing the deed, you commit not to enter the restricted gaming area and give staff permission to remove or prevent you from entering.

During the interview, your photograph is taken and made available to selected staff members of the nominated gaming venues who help enforce the self-exclusion program.

Online Self-Exclusion
For online sites, you can download and complete a self-exclusion application form from the sites and fill the required fields before submitting it. The online self-exclusion process can also be done with the help of software filtering products that try to block access to gambling websites. You can download gambling blocking software into all your devices to block access to thousands of gambling websites and apps worldwide.
Although the current venue self-exclusion methods to join the banned list are helpful, they involve several steps that could waste your valuable time.
The online self-exclusion option requires you to use third-party apps and software. Unfortunately, not all gambling block software available in the market is safe or reliable. Some could introduce security threats to your online environment.
Fortunately, DoNotPay can help streamline the process. We will leverage your state's gambling laws to file a request to be placed on the "banned list" for any casino, whether it is online or in-person.
How Long Can I Be Banned For?
When submitting the request for self-exclusion, you can ask to be excluded from gaming activities for a minimum length of either:
six months
twelve months
five years
or even a lifetime
Can I Request a Ban from Multiple States?
It is possible to request a ban from multiple locations. This means that you will be refused service at online and offline locations from which you are self-excluded in all the states you selected.
However, requesting a ban from several states can be a long and tedious process involving filling several forms and writing countless emails. DoNotPay can find every state's self-exclusion laws and reference them in your request.
How to Get Banned from Casinos Using DoNotPay
If you want to stop gambling but don't know where to start, DoNotPay has you covered in 6 easy steps:
1. Search Gambling Protection on DoNotPay.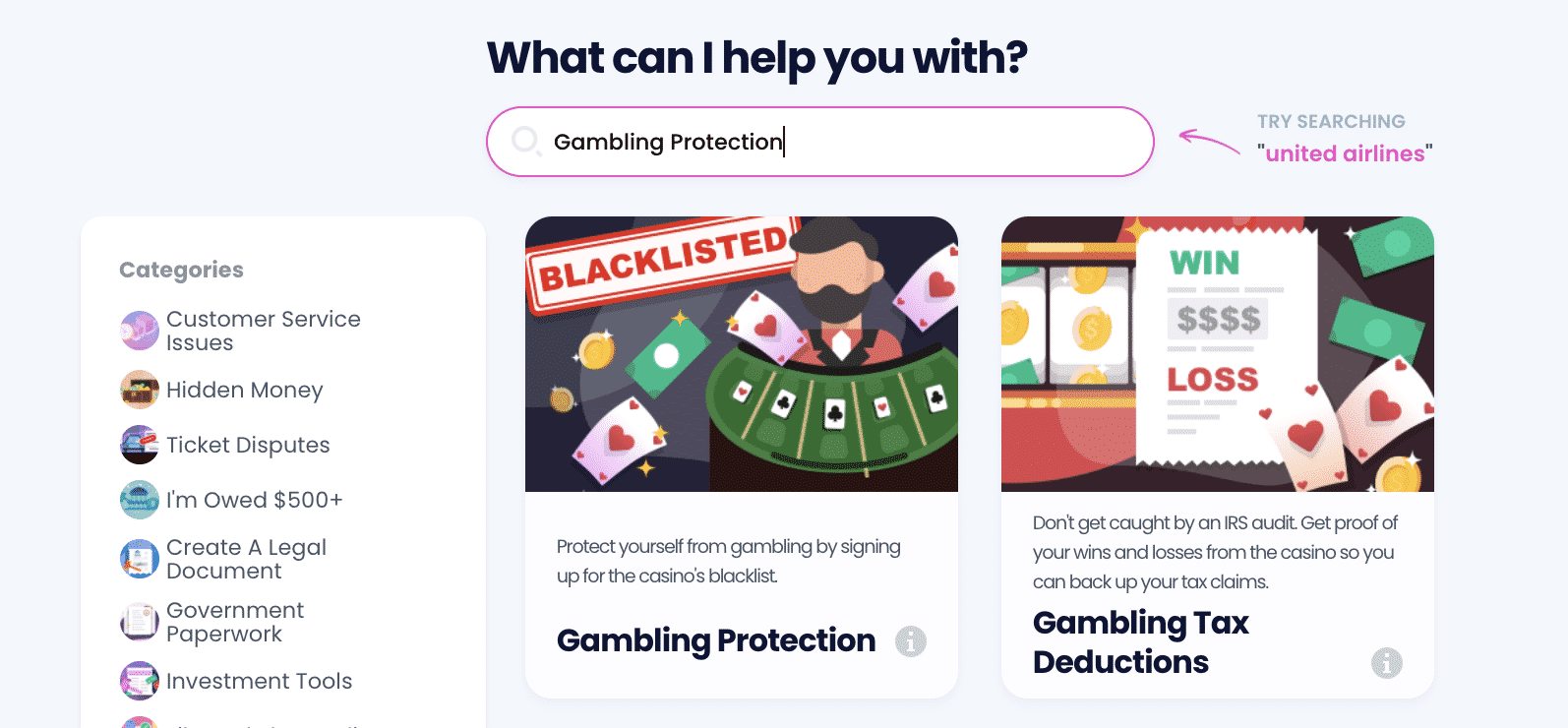 2. Enter the name of the casino and indicate whether it's online or in-person.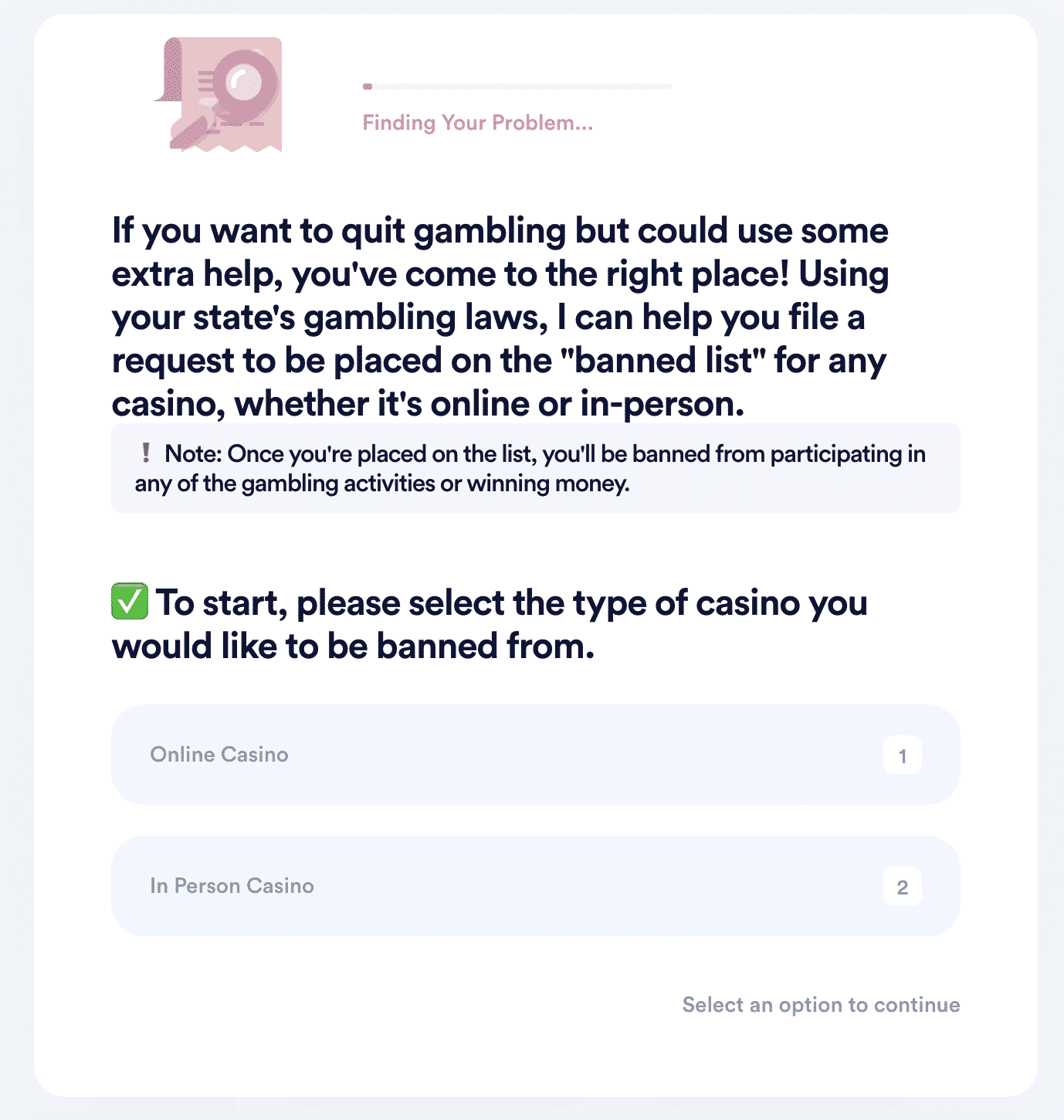 3. Tell us which state the casino is located in, or the state you're accessing the online casino from. DoNotPay will then find your state's self-exclusion laws and reference them in your request.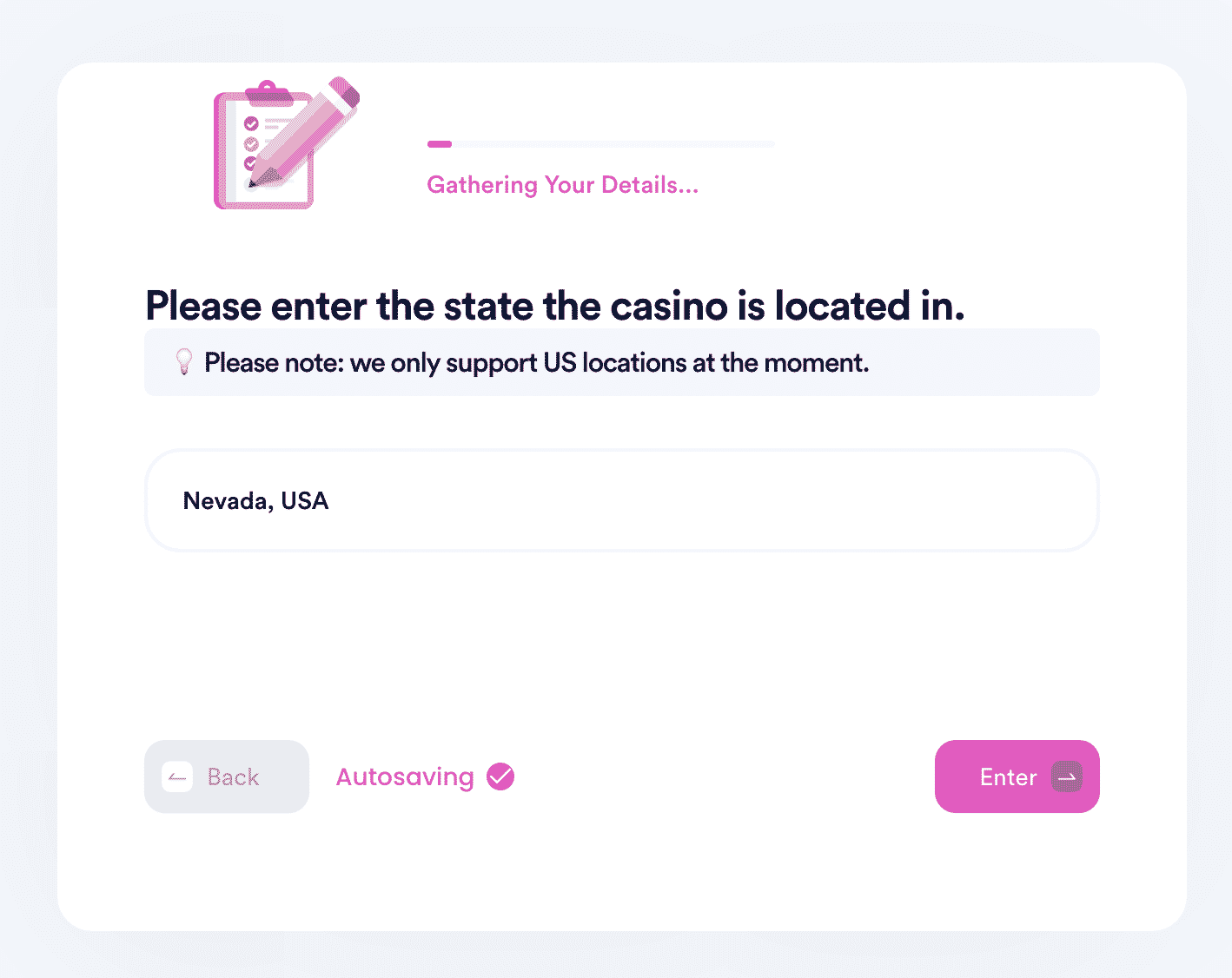 4. Select how long you want to be banned for (you can choose anywhere from 1 year to a lifetime!)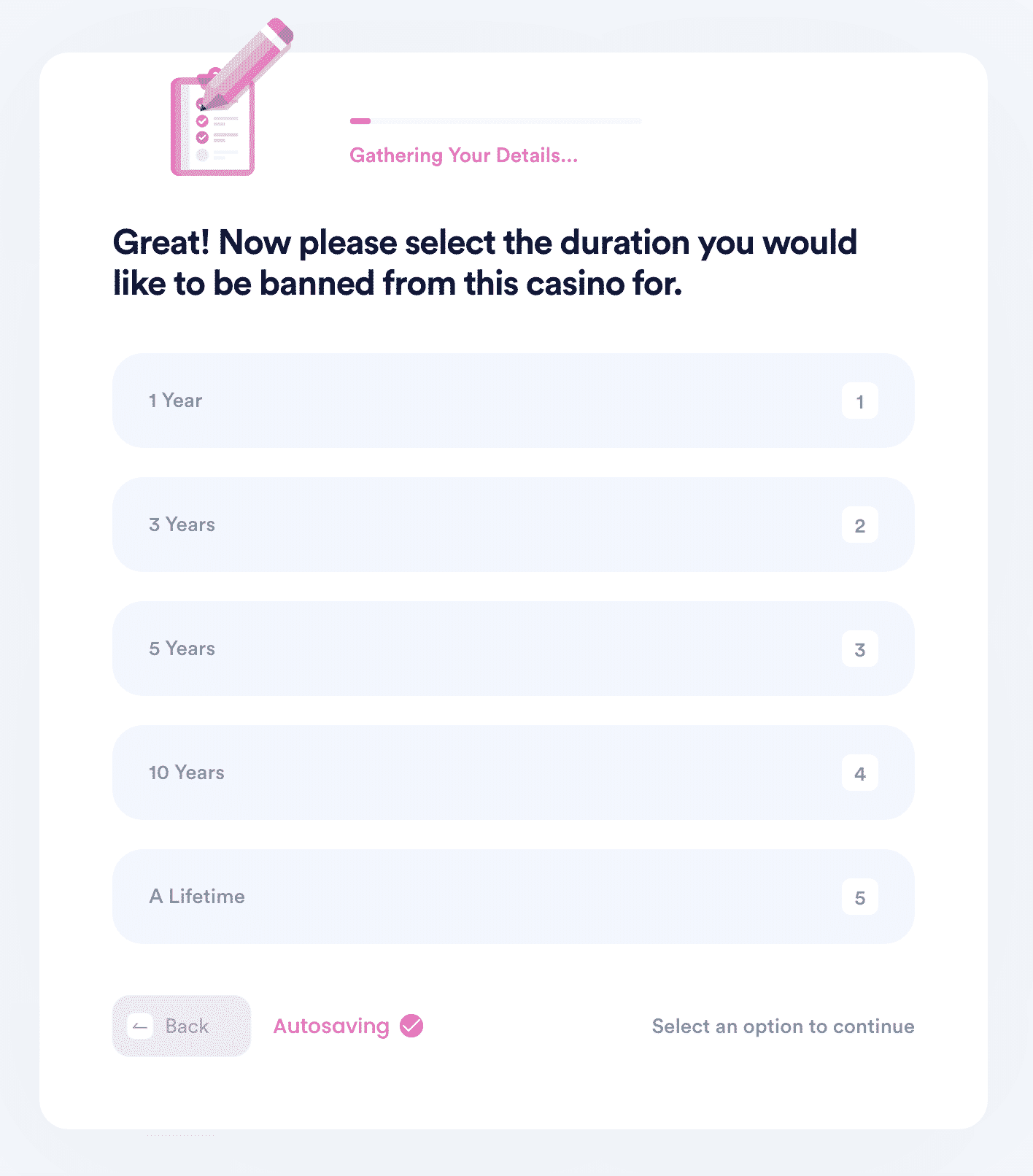 5. Answer a few of our chatbot questions so we can help the casino identify you or your online account. If you want to be banned from an in-person casino, it helps to provide information about your height, weight, race, and other identifying features.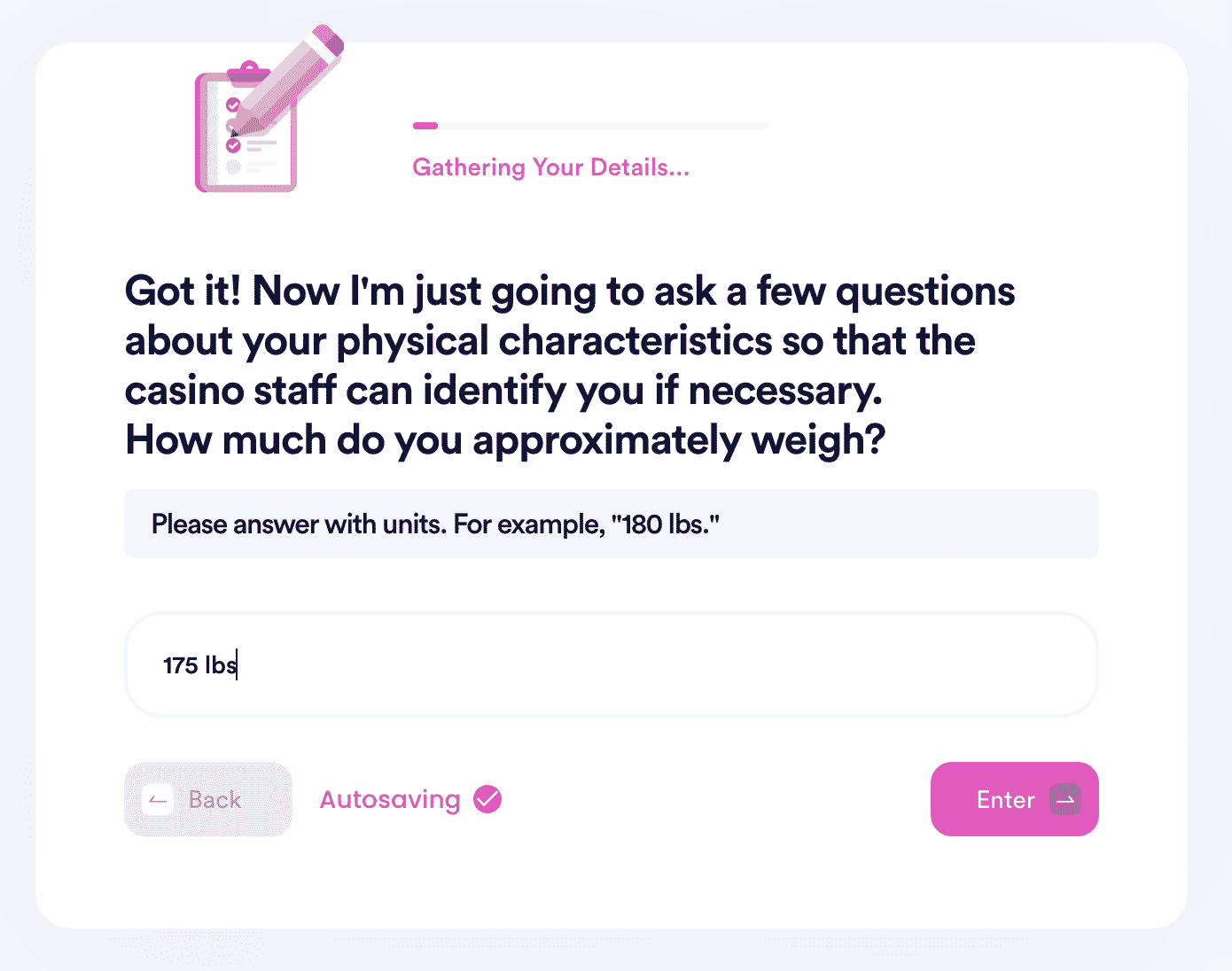 6. Choose whether you want us to email the request to the casino on your behalf. You can also choose to notarize your document to legally verify your identity.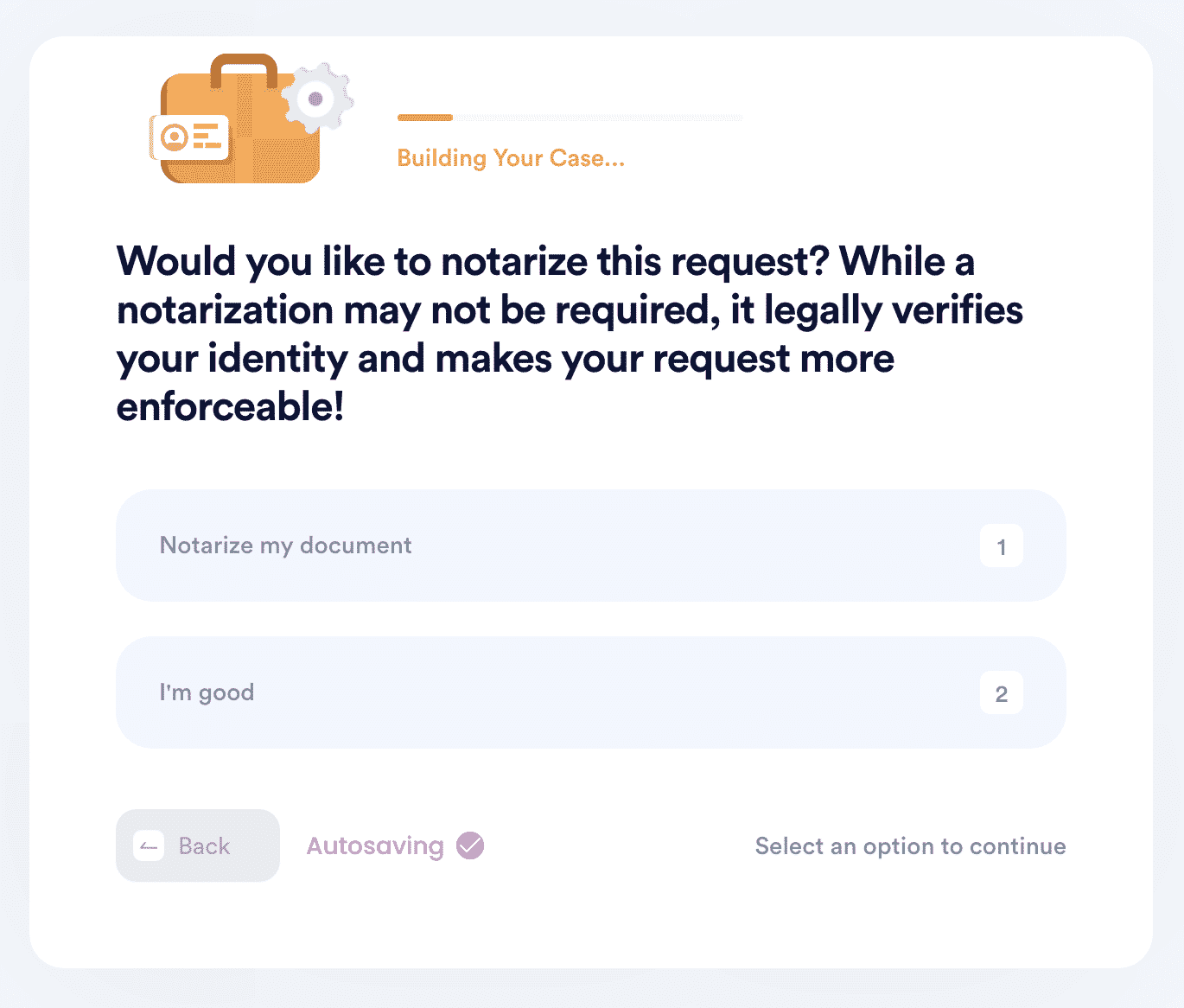 DoNotPay Can Help You Quit Gambling Forever
Gambling addiction is classified as a mental health disorder, meaning:
You've been diagnosed with a gambling addiction
It's challenging to quit, even if you want to
It is even harder to quit the vice when you're in it all alone.
Similar to other addictive disorders like substance abuse, people with gambling addictions can benefit from outside help. If you want to stop gambling, DoNotPay will draft a formal letter requesting you be placed on the self-exclusion list, which you can either deliver to the casino yourself or have DoNotPay email for you. If you choose the emailing option, you should receive confirmation from them via email. Contact us today to learn more.