Take Control of Your Life With DoNotPay's Tips on How To Stop Discrimination
Workplace discrimination is everywhere. Ranging from deliberate unfair treatment by your supervisor to seemingly innocuous jokes by colleagues, examples of discrimination can be found almost anywhere you look.
Whether you are a victim or merely a witness, DoNotPay gives you tips and advice on how to stop discrimination and take back control of your work environment.
What Forms Can Discrimination Take?
Discrimination means treating someone differently because of their:
In the workplace, discrimination can occur in many forms, the most common being:
Type of Discrimination

Explanation

De jure discrimination

De jure discrimination is the deliberate flouting of

anti-discrimination laws

through policies or practices set up by an employer. Examples of this can include:

Profiling or stereotyping in the hiring process

Wage discrimination

between genders or races in the workplace

De facto discrimination

De facto discrimination is a subtle and passive practice that allows discrimination to take place—sometimes in contravention of

company policies

—while officially not recognizing it. Common examples of this are:

Scheduling meal breaks at different times or in different canteens for factory floor workers and office staff, which leads to de facto segregation

Allowing disabled workers to apply for any position in the company but not providing disabled access to certain areas

Harassment

Harassment can take many forms, from inappropriate banter to outright bullying—the most common forms of harassment are:

Retaliation

Retaliation is the

most common reason for filing a charge of discrimination

in the U.S. It involves the deliberate victimization of an employee after they have complained about discrimination and can take the form of:

Changes or downgrades to job responsibilities

Exclusion or ostracizing of an employee

Unfair pressure

Bullying
Once you can recognize it in all its forms, you can take steps to prevent discrimination in the workplace.
What To Do if You Witness Discrimination
Discrimination in the workplace can only flourish if it is allowed to.
Even if you are not the victim, it is your duty to call out cases of discrimination—ignoring them gives the perpetrator tacit permission to continue.
Here's how to deal with discrimination if you witness it:
Confront the offender

Write the details down

Report the incident

Talk to colleagues
Confront the Offender
If you don't call the offender out as soon as possible, they will take your silence as approval.
You should try to avoid confrontational or violent behavior but should keep calm and state the facts: "I can see you are being discriminatory. That is illegal, and you need to stop immediately. I will be reporting this incident."
Write the Details Down
You should make a written record of the incident as soon as possible to avoid forgetting important details.
Report the Incident
You should inform your supervisor and your HR department immediately of any discrimination you witness, making sure that they log your report correctly.
Talk to Colleagues
Raising awareness of any discrimination is a powerful way to make sure it stops—inform your colleagues of what has happened and even consider going public, if necessary.
What if You're the Victim?
As a victim of discrimination, you may feel confused, threatened, and even intimidated—any of which could persuade you to ignore the discrimination and hope it goes away.
This will not have any effect—if anything, ignoring discrimination tends to reinforce it.
The law is, thankfully, on your side, so you can take action knowing that you are protected by legislation.
As a victim of discrimination, you should initially do the same as if you were a witness, namely:
Resist by confronting the offender

Make written notes

Report the incident

Insist on formal grievance proceedings
If these actions fail to get any results, your next step is to escalate the matter to a legal footing with the Equal Employment Opportunities Commission (EEOC). This is where !
What Does the EEOC Do?
The EEOC enforces federal anti-discrimination laws and is mandated to investigate any complaints it receives. Having investigated a complaint, the EEOC may:
Dismiss the case

Suggest mitigation or conciliation

Launch a

lawsuit

against your employer

Give you permission to seek

legal counsel

and start your own proceedings
Bear in mind that you can't start legal action against an employer without first going through the EEOC, so your first step is to file a complaint with the nearest EEOC office.
Your complaint—called a charge of discrimination—must contain as much detail as possible to help the EEOC in its investigation.
Can DoNotPay Help Me With the EEOC?
DoNotPay makes filing your charge of discrimination quick and easy—here's what you need to do: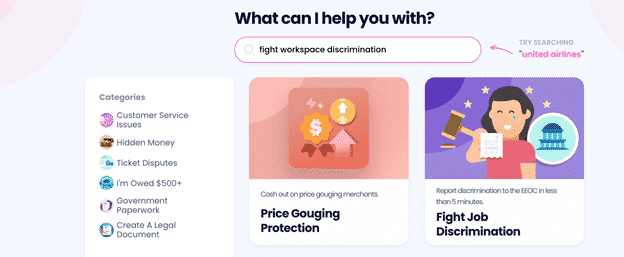 in your web browser

Search for our

Fight Workplace Discrimination

product

Follow the prompts and give us the details of your charge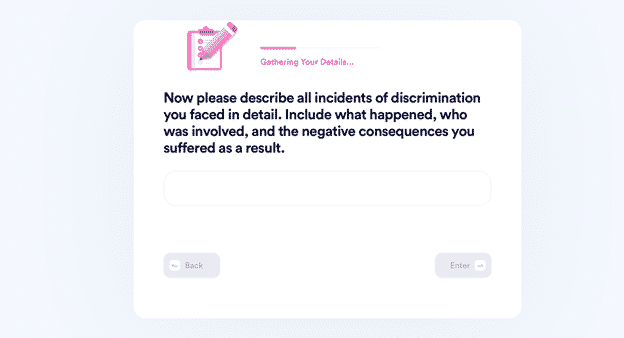 We will handle the rest by filing your complaint with the EEOC.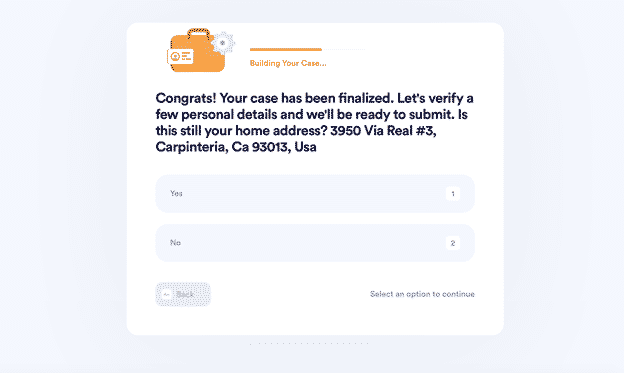 By doing this, you are taking back control of your work life and doing a lot to prevent discrimination in the workplace in general.
DoNotPay's Other Resources for the Victims of Discrimination
Fighting discriminatory bosses and colleagues is not the only item on DoNotPay's agenda. If your EEOC report doesn't work out, explore the option of suing the perpetrator in small claims court with our help.
Those who experience full-blown hate crimes can use our platform to file for crime victims compensation or deal with insurance claims. Lost a job because of discrimination? Use DoNotPay to get help with bills, reduce your property taxes, or find any unclaimed assets in your name.
We can also help you create numerous legal documents for personal, business, or real estate matters. You'll have a chance to fax your paperwork or find an online notary in the same app!
Use Our App To Right Other Wrongs
Injustice lurks around every corner, and DoNotPay won't have any of it. That's why we keep creating tools and services to help you fight back against all kinds of unfair treatment.
With our help, you'll be able to:
There's more where this came from because the good fight doesn't stop here.