How To Start a Divorce in Texas and Avoid Lengthy Procedures
Once you've decided to separate from your spouse in the Lone Star State, the question is how to start a divorce in Texas. Depending on your circumstances, you may have to settle in or out of court, although the second option is significantly cheaper and quicker because you usually don't have to hire a legal representative.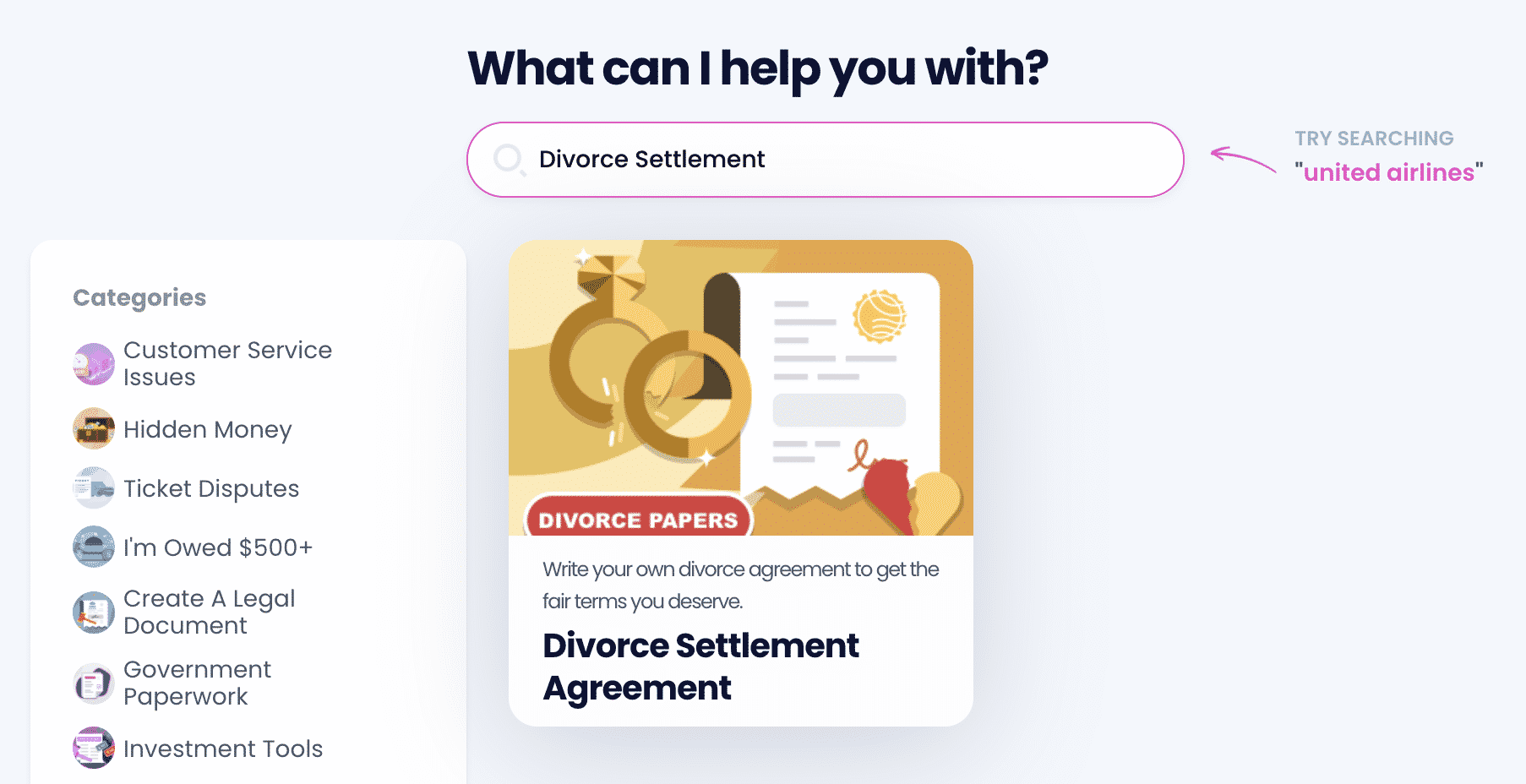 Should you and your partner manage to agree to uncontested marriage dissolution, DoNotPay—the world's first robot lawyer—can help you get the best marital settlement agreement. We also break down the divorce process to a tee to make it less stressful.
How To Start a Divorce in Texas—Everything You Should Know
Before filing for divorce in Texas, ensure that either you or your spouse have lived in:
The state for at least six months
The county where you start the divorce procedure for 90 days or more
Refer to the following table to learn the divorce details in various counties and cities in the Lone Star State:
Note that you can file a no-fault or fault-based divorce in Texas. The latter type requires proving your partner has wronged you during the marriage. In the case of no-fault divorces, stating irreconcilable differences as the reason is enough for the termination.
Reasons for Fault-Based Marriage Dissolution
Check out the reasons leading to fault-based divorce in Texas in the following list:
Felony
Cruelty
Adultery
Abandonment for one year or more
Mental institution confinement for three years, at least
In case you were the mistreated party in the marriage, you may have the advantage when the court decides who gets the:
Custody of marital children
Why Is a No-Fault Approach Better?
If you take a no-fault approach, you have two options:
Uncontested divorce, with you and your ex agreeing on the most important aspects of the divorce and post-marital terms. Although it requires some paperwork, it's a quick and low-cost option
Contested divorce is more complicated because spouses cannot find common ground regarding custody matters or property division. It usually entails hiring lawyers and going to court
If you have minor disagreements, consider divorce mediation to avoid high legal expenses related to the court process.
How To Apply for Divorce in Texas
Mandatory divorce papers may vary depending on the county, so check what you need to submit at your local court or the official government website. The following forms are always required:
Original Petition for Divorce, which includes the Summons
Citation (or waiver)
Service of Process Notice
Decree of Divorce
If you think your spouse may temper with your mutual property before you separate, Texas law allows you to ask for a Temporary Restraining Order. The order prevents both parties from moving and selling mutually acquired assets.
Does It Matter Who Files for Divorce First in Texas?
It usually doesn't matter which party files for divorce in Texas, and the judge has to take different factors into account to make a fair ruling. Both parties in divorce typically get half of the possessions acquired during the marriage.
How To Serve Divorce Papers
When you complete the paperwork, you should serve the divorce papers on your former partner. You must send copies of the separation documents to the respondent to sign. There are several ways to serve the papers in Texas, and the most common are:
Sheriff or constable service—In case you can't agree, you should choose this option, but it tends to be slow
Professional process server—The procedure is quicker than the sheriff service, but it's more expensive, too
Service by Publication—If the party filing the divorce can't get in touch with their spouse, they can publish the divorce notice in the newspapers. Keep in mind that this is the priciest option
How To Start a Divorce in Texas
When applying for divorce in Texas, you should pay attention to the following:
Note that you can file for divorce in TX while pregnant, but you must wait to give birth to finalize the procedure.
Draft Your Texas Divorce Settlement Agreement With DoNotPay
To make the endeavor simpler, quicker, and more affordable, use DoNotPay to create a divorce settlement agreement. Marriage dissolution is not cheap, even when you part ways on friendly terms and dodge going to court. We help you avoid unnecessary expenses while protecting your rights.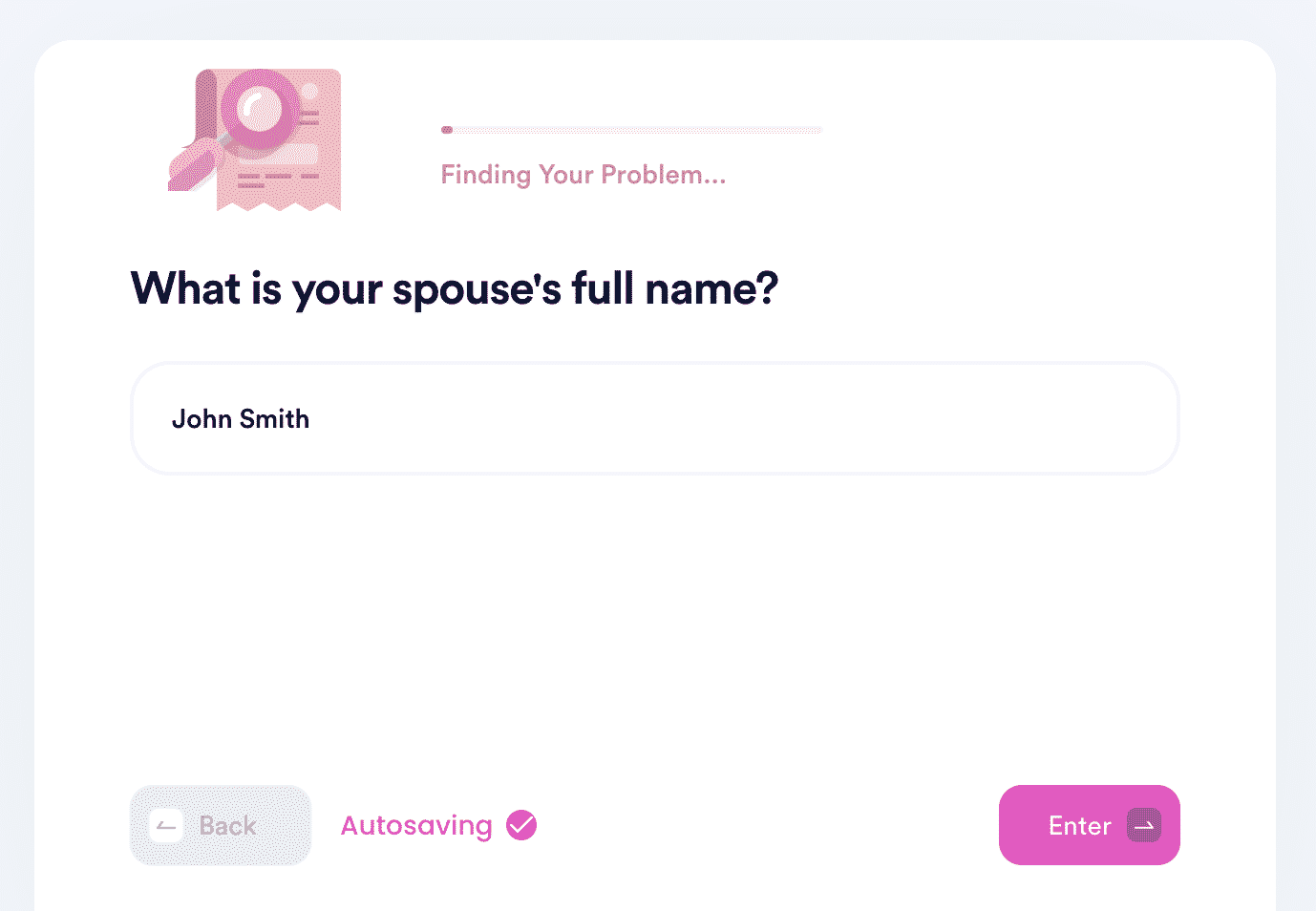 To generate this crucial document outlining the details of your post-divorce relationship, do the following:
Log on DoNotPay and choose the Divorce Settlement Agreement option
Answer our questions regarding your spouse and children
Tell us how you wish to allocate your assets and income
When you complete the form, DoNotPay generates a customized divorce settlement agreement. All that remains for you and your spouse is to sign and get the document notarized. DoNotPay will offer to connect you with an online notary, and you can complete the process in a video meeting.
DoNotPay Is the Best Solution for Your Bureaucratic Problems!
A wide range of handy features DoNotPay offers can assist you in resolving administrative issues without breaking a sweat! Our app provides the easiest way to:
Get What You're Owed in a Few Taps!
Shopping is fun, but retailing companies can sometimes be difficult to negotiate with, especially when things go wrong. With DoNotPay, you can reach their customer service without spending hours on hold and get a refund fuss-free! Should the merchant refuse to collaborate, we can help you get justice by suing them in small claims court.
Our app can also file an insurance or warranty claim in your name, request gift card cash back, or initiate returns for dissatisfying products.
If you want to check whether you have any unclaimed money in old bank accounts, using DoNotPay is the easiest way to do it!