How To Split a House in a Divorce—Find Out Here
Are you getting a divorce and wondering what will happen with your home? We will tell you all about the way your assets will be divided and help you determine how to split a house in a divorce.
Want to make sure your assets are divided fairly? Consider reaching an agreement on divorce-related matters with your spouse and filing for a friendly, uncontested divorce. Subscribe to DoNotPay and create a divorce settlement agreement that will help you avoid courts and expensive lawyers.
How Is Property Split in a Divorce?
The division of your property in a divorce will depend on the state where you live:
Community property state

Equitable distribution state
Check out the table below for more details:
Community Property States
Equitable Distribution States

Community property is any marital property that you and your spouse acquired during your marriage. This includes earnings, the property bought with those earnings, and debts incurred. This property will be divided equally. When it comes to separate property (anything purchased before marriage and inheritance or gifts), both you and your spouse get to keep it

Equitable distribution means that all property is divided fairly or equitably. When deciding who gets the house, the judge will consider the following matters:

Earnings of each spouse
Financial needs of both parties
Age and health of each partner
How Is a House Divided in a Divorce?
Divorce laws regarding property division differ from state to state. DoNotPay has guides on various states, including:
If you and your spouse need to split your marital home, you have three options in most states:
Sell the house and split the equity
Buy out the other spouse
Defer the sale until later
Selling the House and Splitting the Equity
If your house is marital property, you can sell it and divide the proceeds equitably.
Once you retire the mortgage debt and pay taxes and other sale-related costs, you're free to divide the remaining money equally. You should do the following before you sell it:
Get a home appraisal
Consult with your divorce attorneys if you have them
Talk to a real estate agent
Buying Out the Other Spouse
If you are the parent who got custody of the kids, you'll probably want to buy out your partner. A buyout can take time, with both you and your spouse keeping an interest in the house for a while.
You will lay out all the terms of the buyout in your divorce settlement agreement.
If you are the spouse who is buying the house and you don't have enough money, you can take out a loan or give up other marital property that's worth as much as your spouse's share of the house.
Deferring the Sale Until Later
Due to the constant change in the real estate market, you and your partner can wait until your house is worth more and sell it then.
If you and your spouse owe more than what your house is worth, selling it wouldn't be practical.
Another reason why you might want to keep the house for some time is because of children. Maybe you want to wait until your children finish school and then sell the house.
The Advantages of an Uncontested Divorce
Filing for an uncontested divorce enables you to decide how you want to split the house instead of letting the court decide. If you work together with your spouse on all terms of your divorce, you can reach a perfect compromise without involving lawyers.
Don't be afraid to attend mediation sessions if you can't see eye to eye on everything. While you'll have to spend some money on mediation sessions, this option is still more affordable than letting your case end up in court.
An uncontested divorce is a cost-effective option since you and your spouse will avoid court hearings and pricey lawyers by agreeing on all aspects in advance.
Once you reach a compromise, you should spell out the terms of your divorce in a document called a divorce settlement agreement. Here are some of the matters that this document should cover:
The division of assets
The proper allocation of debts
Where Can You Get a Divorce Settlement Agreement?
If you don't want to write the divorce settlement agreement by yourself, you can consider one of the following options:
Engaging a lawyer—If you decide to get a lawyer to write you a divorce settlement agreement, you can be sure that you will spend a lot of money
Downloading an online template—You can probably find all the divorce paperwork you need online, including a template for a divorce settlement agreement. The only downside is that all those templates are generic, and they won't be tailored to your case
Using DoNotPay—Creating a divorce settlement agreement with DoNotPay will save you both time and money. With our help, you can create a well-written document that will include all the relevant details
Use DoNotPay To Get a Perfect Divorce Settlement Agreement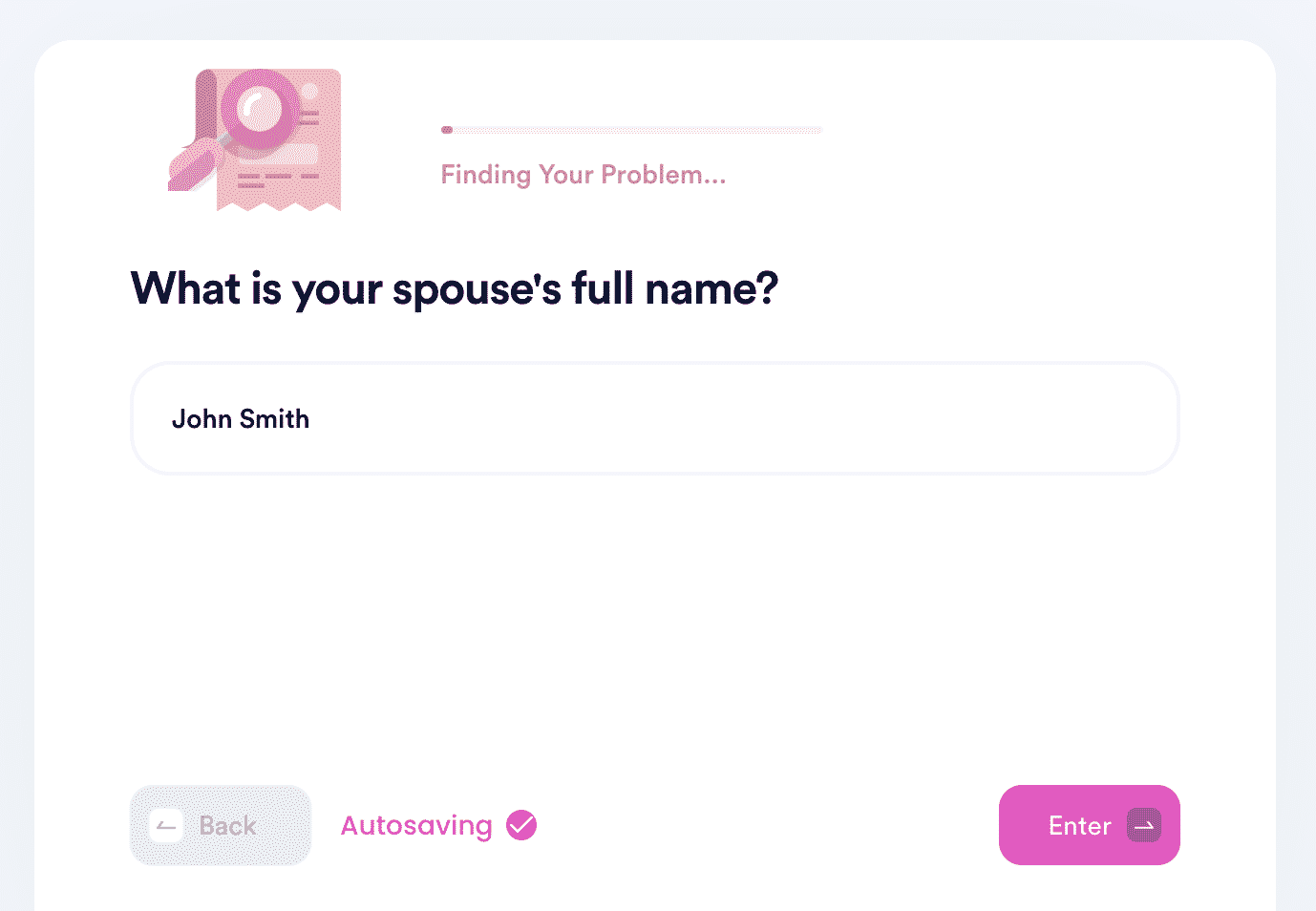 Once you and your spouse decide how you want to split the house, you can use DoNotPay to spell out all the terms that you agreed upon. All you need to do is sign up for DoNotPay and follow the steps below:
Enter Divorce Settlement Agreement into our search box
Provide all the necessary information
Tell us whether you need a notary
We will generate your custom-made document that follows the laws of your state in seconds. The only thing that's left to do is for you and your spouse to sign it.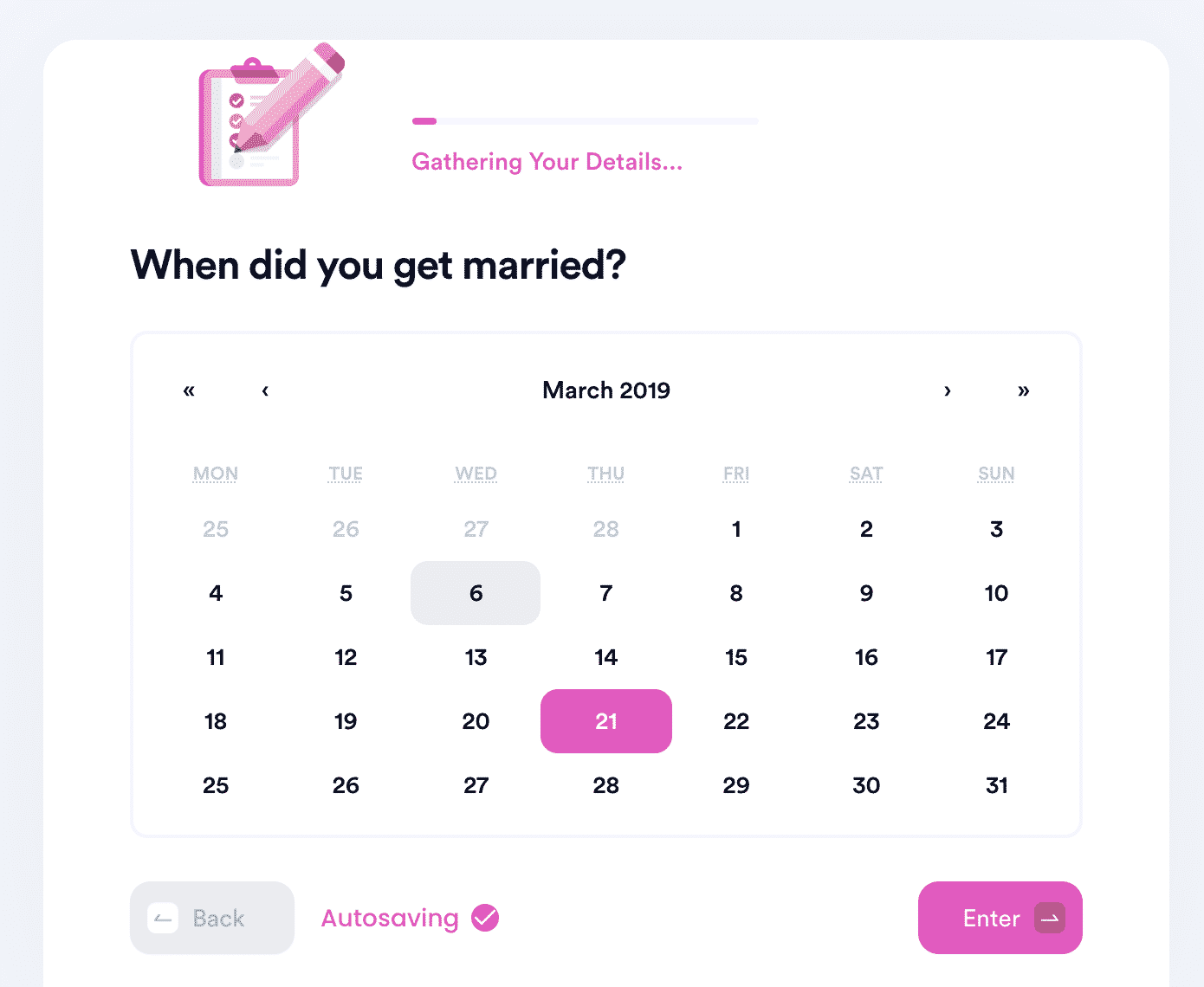 If you want to learn more about divorces, visit our comprehensive learning center. We will answer any questions you might have, including:
DoNotPay's Vast Collection of Features Keeps Expanding
Determined to simplify bureaucratic procedures and help you with various daunting items on your to-do list, we created DoNotPay—the world's first robot lawyer! With us, you can:
Streamline Different Tasks by Using DoNotPay's Practical Features
Are you looking for an efficient way to gain back your unclaimed money or get a refund from a company? Do it with DoNotPay without lifting a finger! Our app provides excellent money-saving features that will increase your budget and make all unnecessary expenses disappear.
We can assist you in terminating unwanted subscriptions, recovering your unused gift card funds, reducing your bills, and requesting late delivery refunds. You don't even need to hire lawyers to write a financial aid appeal letter, an HR complaint, or a child travel consent form in your stead—our app can do all this!