Find Out How To Sign as a Power of Attorney Agent ASAP!
One of the duties of a power of attorney (POA) agent is to sign legal documents in the principal's name. Signing as an attorney-in-fact is not nearly as simple as it sounds. You can't just sign both of your names and call it a day—there are certain procedures that every POA agent should follow to make their signature valid. If this sounds complicated already, don't worry—DoNotPay has some useful tips!
We provide a step-by-step guide and examples to show you how to sign as a power of attorney agent correctly.
Register for DoNotPay, and tackle various administrative issues head-on!
Who Can Sign as a Power of Attorney Agent?
To act, make decisions, and sign legal documents in someone's name are tasks that come with great responsibility. Not anyone should be able to do it, and not anyone can. The only people who can sign documents in the principal's name are individuals named in the power of attorney documents as agents or attorneys-in-fact.
The principal's spouse can sign as a power of attorney only if they're appointed as an agent in the POA document. If not, the power of attorney overrides the spouse's rights in most cases.
A person can have more than one power of attorney agent. If that's the case, you should check whether you are:
Concurrent agents
A successor agent
The relationship with other attorneys-in-fact will determine which one of you should sign the principal's legal documents.
How To Sign Documents as a Power of Attorney Agent—A Step-by-Step Guide
Signing documents as someone's power of attorney agent can be a demanding and overwhelming task. To ensure you're doing it right and that the signature is valid, you should follow our guide. You can find the steps and details in the table below:
Steps
Details
Bring your ID and POA document
Whether you've already registered a copy of a document with the institution (bank, credit card agency, or government institution) or not, when signing a document as a POA agent, you have to bring the:

Original POA document
Government-issued photo identification

Decide on the preferred signature format
Agencies and financial institutions usually require a fixed signature format for individuals who sign as attorneys-in-fact. You should contact the institution in question to check whether it has a preferred signature format and what it looks like. If not, you should use the standard format
Write the principal's signature
You should sign as the principal first. This will indicate you are acting in their name, not your own. Keep in mind that you have to use the principal's full legal name—you can check the principal's signature on other paperwork in the institution and copy the format
Write your own signature
Write your full name below the principal's and add "by" in front of it to express you're acting as a power of attorney agent
State your authority as a POA agent
Below the principal's and your signature, you need to express that you're acting as their agent. You can do that by adding one of the following terms:

Power of Attorney
POA
Attorney-in-Fact

Not stating that you're signing on the principal's behalf can lead to the document's invalidation and even civil or criminal lawsuits
Power of Attorney Signature Example
If you're not sure what your signature as a POA agent should look like, we'll provide some examples. Let's say your name is John Smith, and you have the authority to act on behalf of your friend, Alice Clark. Proper ways to sign as a power of attorney agent include the following:
"Alice Clark, by John Smith under power of attorney"
"Alice Clark, by John Smith under POA"
"John Smith, attorney-in-fact for Alice Clark"
Can a Power of Attorney Agent Sign Checks?
Yes, signing checks is one of many duties of a power of attorney agent. It is not different from signing other documents. If you need to put your POA agent's signature on a check, you should consult the steps and examples we mentioned above.
Need a Power of Attorney Document? DoNotPay Will Draft It for You!
Preparing for an uneventful future is becoming more popular than ever, and it includes creating powers of attorney. Out of the many POA types, a durable power of attorney is the most popular one, and DoNotPay can make it for you in a heartbeat!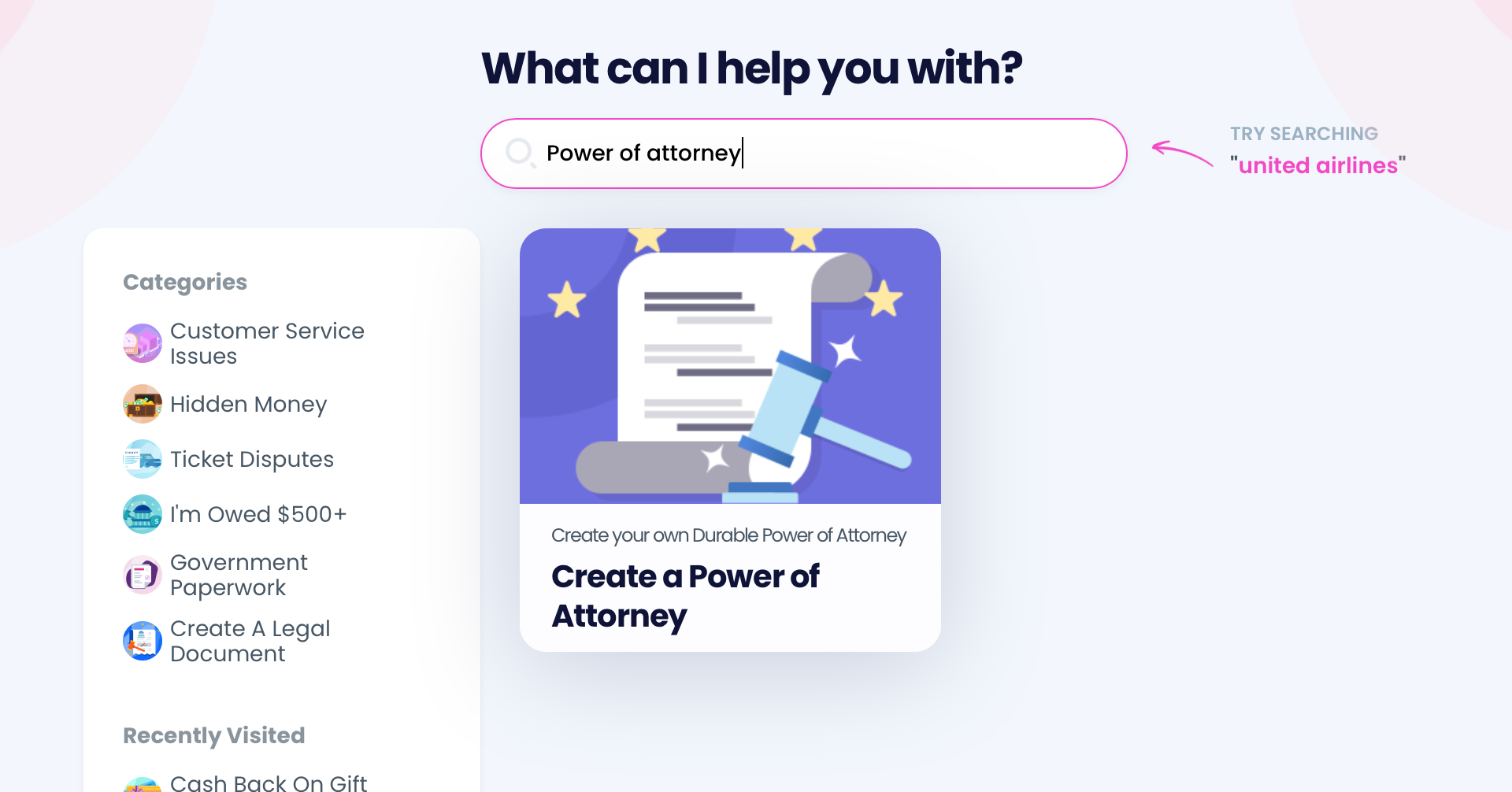 Here's all you have to do:
Choose the Power of Attorney feature
Fill out our brief questionnaire
You will receive a personalized power of attorney letter, along with two notices for the principal and the agent.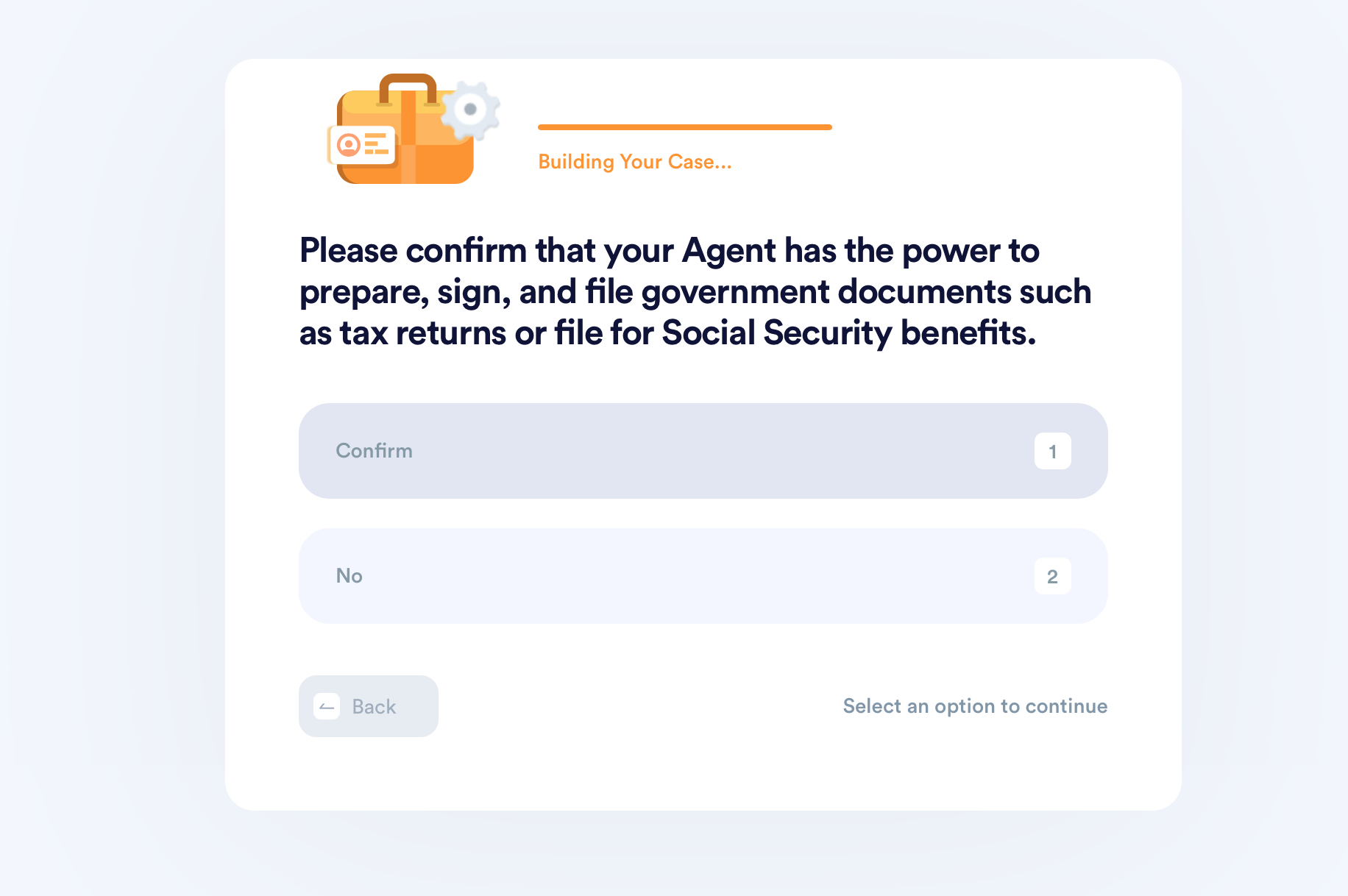 Depending on your state requirements, you might need to sign your power of attorney before a notary. If that's the case, you should specify it in the questionnaire, and we'll connect you with one promptly.
Check the following table to see all the benefits of using DoNotPay for POA-related issues:
Use DoNotPay To:
Find Answers to POA-Related Questions
Learn About Different Types of POA
Draft Durable POAs in Your State
From Government Tests Preparation to Copyright Protection
Whether you are getting ready for your driving test or wish to protect your creative work, DoNotPay has something in store for you.
We can help you handle some serious tasks—like suing someone in small claims court or reporting workplace discrimination—or deal with more mundane activities, such as getting that leftover money from your used gift cards.
The best part is that your DoNotPay subscription gives you access to all our services, be it online fax or virtual credit cards!
Good Things Come in Small Packages
Siri and Google Assistant are great in their own right, but their skills leave a lot to be desired when it comes to the practicalities of our daily lives. DoNotPay is an app, a true pocket-sized assistant that has the power and the know-how to help you deal with navigating bureaucracy and fighting for your rights efficiently.
Our platform, accessible from your phone or computer, is brimming with products that will help you: