How to Set Up a Living Trust
Living trusts are becoming a widely accepted estate planning tool. It helps ensure that your property and beneficiaries can avoid probate. In this article, we will walk you through the process of how to set up a living trust and how to use the DoNotPay robot lawyer to help you draft one.mi
What is a Living Trust?
A living trust is an estate planning fund that can legally own a person's assets while he/she is still alive. Similar to other trust funds, a living trust also indicates how the assets will be distributed among beneficiaries. A trustee will be appointed to manage the allocation of properties later on. There are two types of living trusts:
Type
Description

Revocable trust

This is the most common type of living trust sometimes referred to as a revocable living trust. It allows the grantor to amend and cancel the trust at any time without limit. 

Irrevocable trust

An irrevocable trust does not allow for changes and cancellations once the grantor signs it. Although there are very isolated cases where a judge can decide whether the changes can be made, these require very specific circumstances. A revocable trust

automatically becomes irrevocable

when the grantor passes away. 
Benefits of a Living Trust Over a Will
Deciding between a living trust vs a will depends on your personal preferences and your estate planning goals. However, having a "pour-over" will to support a living trust is a smart move. This type of will directs any properties that are not included in the living trust should be moved to the trust when the grantor passes away. Take note that a "pour-over will" will still need to undergo probate.
A living trust lets you avoid the lengthy and costly process of probate. Probate delays the distribution of the assets and may potentially cut down on the beneficiaries' inheritance.  There is no need to undergo probate with a living trust as a trustee automatically allocates the assets according to the trust's instructions.

Not only can a living trust protect you from probate, but it can also protect those who wish to contest the asset distribution. Although a living trust is more expensive to set up than a will, the former allows you to save money and avoid a hassle in the long run.
Must-Dos Before Preparing a Living Trust
When preparing a living trust, gathering the necessary information is a good first step if you don't know where to start. Because your living trust will be one of the most crucial documents you'll ever draft in your lifetime, you should make necessary preparations before writing one. Here are some of the things that you must do when preparing to draft a living trust:
List all your valuable assets to get a clear picture of your entire estate. This could include tangible items such as real estate, automobiles, and jewelry, and intangible ones like stocks, bonds, and life insurance policies.

Prepare all the paperwork for your assets such as title, deeds, Stock certificate, and life insurance policy. This will be important when you fund the trust by transferring the assets.

Plan the beneficiaries which could include family, friends, or charities. Take note that beneficiaries on insurance policies or savings accounts may conflict with the living trust. 

Choose a successor trustee. With a living trust, you may appoint yourself as a trustee so you continue to take control of the assets while you are still alive. Your successor trustee will take over your debts and asset distribution upon death.

Use a "pour-over will" to choose a guardian for your minor children. The "pour over" can also take care of any assets acquired between the time that you have signed the trust and before death. 
How to Make Your Own Living Trust
Living trusts aren't as complicated as they seem in practice. They provide many benefits such as avoiding probate, setting up property management, taking complete control of your estate, and many others. Here are the steps you need to make a living trust:
Determine whether you need an individual trust, a

joint living trust

, or two individual trusts for each spouse.

List the properties you want to move to the trust which we recommend to include high-value items that will otherwise go through probate.

Name your beneficiaries and which property they will inherit.

Choose a successor trustee who will take care of the asset distribution and

taxes

after you have died. 

Choose a property guardian to manage the minor children's inheritance.

Sign your trust in front of a notary public.

Store your trust documents in a safe place and leave instructions to your successor trustee on how to access them when the time comes.
Get A Revocable Living Trust in with DoNotPay
Hiring an attorney to draft a living trust costs around $2,000 and the amount increases to $8,000 for joint living trusts. Nonetheless, you can also make use of online living trust forms that you can simply download and fill out. However, be wary of some forms that do not use legally accepted language. That is where DoNotPay can help. Our AI lawyer helps users to draft a living trust in just a few clicks. Using DoNotPay, you will need to:
Log-in to

DoNotPay

Head over to the Revocable Living Trust product

Enter the name and address of your trustees and living children

Enter the location where the document will be notarized

Enter the details of your beneficiaries.

Enter details of your assets and properties
That is all you need to do to get your very own revocable trust with DoNotPay! How short was that?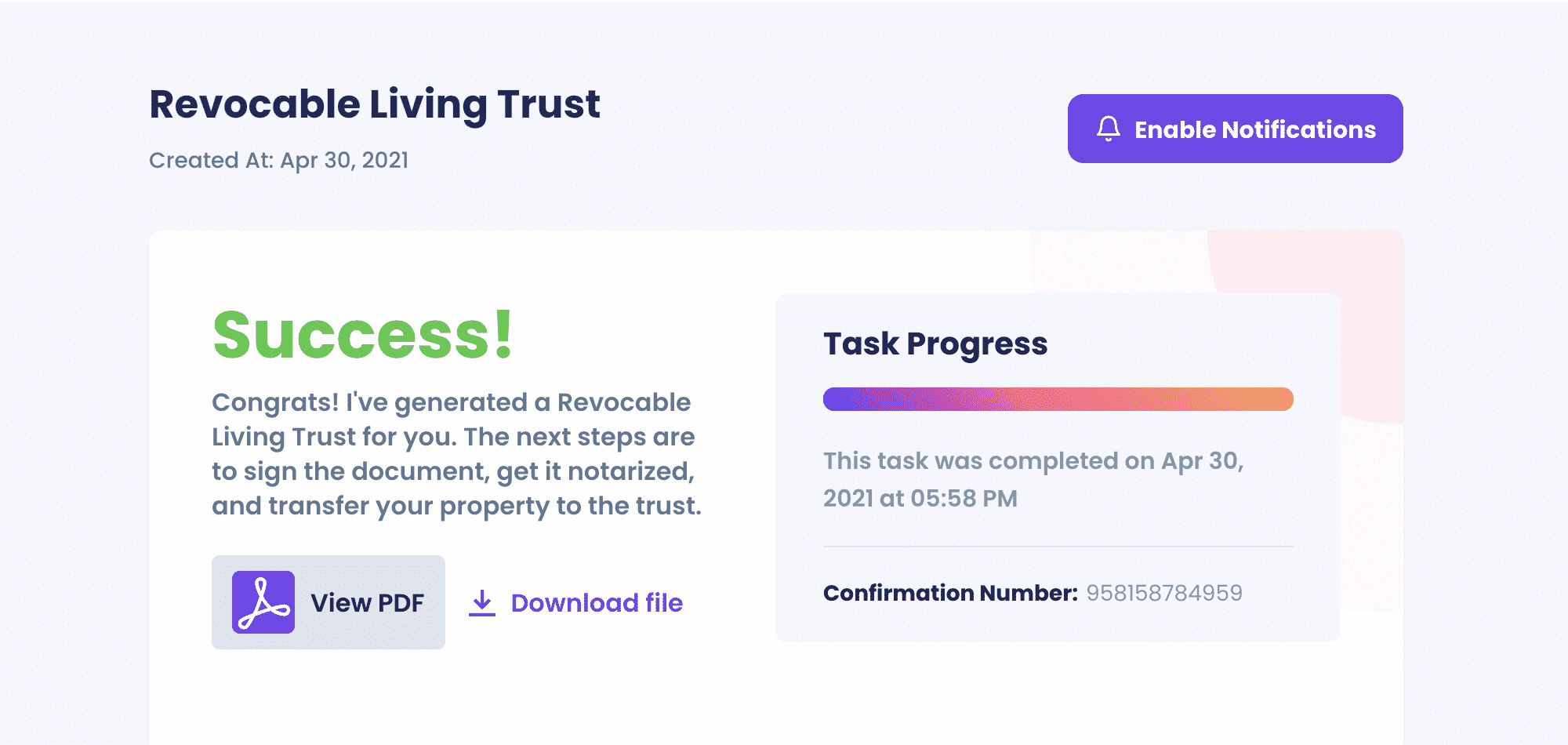 We help you draft a living trust in these states:
DoNotPay Can Do More