Are you wondering how to save money on bills? DoNotPay has the answer
According to a Federal Reserve study, 20% of Americans struggle to pay their current monthly bills. The same study also shows that 30% of Americans don't have a stable income every month, so it comes as no surprise that so many people need help with paying the basic monthly expenses. Are you, too, among those people? 
Be it the electricity, water, or phone billing statement that's giving you a headache, you are not alone—DoNotPay is here to help you lower your expenses and save money on bills every month. 
DoNotPay can help you save money on bills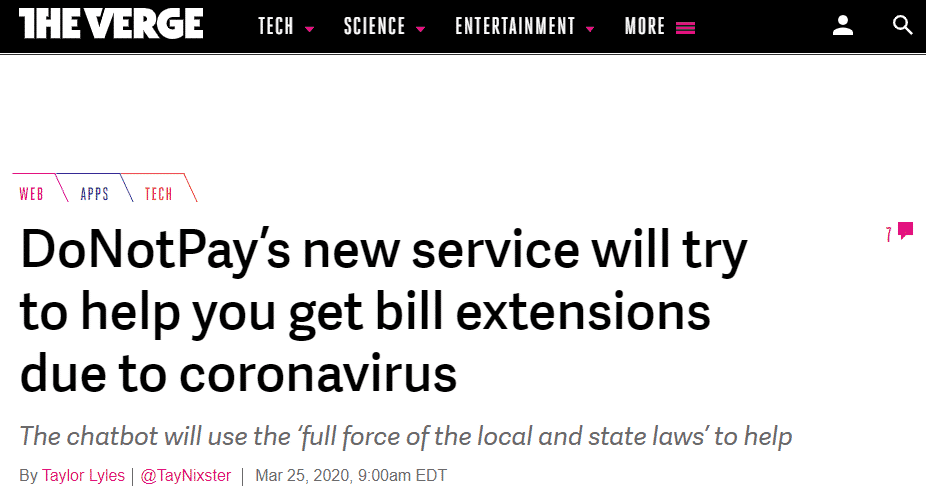 DoNotPay has a quick solution for any issue you might have with your monthly expenses. If you're looking for ways to reduce bills, our app is the most efficient option to choose. Plus, it's free of charge. When you rely on DoNotPay to help you save money on bills, our app does most of the work. All you need to do is the following:
Download DoNotPay app 

Create an account and log in via the

web browser

Tell us which bills you are struggling with 

Give us some details explaining why you're looking for help 

Provide your personal information (name, surname, address, email, phone number, etc.)
After you take these steps, all that's left to do is to wait for our app to send a confirmation when the process is completed (up to 48 hours).
Learn how to understand different types of bills
When they look at the billing statements at the end of the month, most people don't even understand what they are looking at. Does the same thing happen to you? You just see the huge amount that's due. You feel dizzy just looking at those numbers, but you have no idea what exactly you are paying for. It's time to change that. Here are some basics to help you understand your bills.
How to understand water bills
Your water bill will include both water and sewage, so don't be surprised if you see both on one bill. Another thing to know is that sewer is usually not metered. You will be charged for sewage based on the amount of water you spend. 
Keep in mind that there are several different rates at which water is charged. These include the following:
Uniform rate

—it refers to a constant price charged per metered gallon of water used per year.

Declining block rate

—in this case, the price charged is lower for every succeeding block with the aim to subsidize large water consumers.

Increasing block rate

—this type of rate structure is designed to promote conservation, as the rate for every succeeding block is higher than for the previous one.

Seasonal rate

—it refers to the higher price charged during summer or some other peak demand period.

Water-budget rate

—in this case, consumers are charged at a different rate once the water consumed exceeds the previously determined budget. 
How to understand gas and electricity bills
When it comes to electricity, the most important thing to understand is what billing plan you're actually on. If you're on a monthly billing plan, you will be charged based on the kilowatt-hours used by your household throughout the billing cycle. When you're on a budget billing plan, your electricity provider assumes that you've spent the same as in that period the previous year, and they create a monthly average and charge you that amount.
Here are the average monthly gas and electricity bills in some of the most expensive US states:
| | | |
| --- | --- | --- |
| State | Average monthly gas bills | Average monthly electricity bill |
| Hawaii | $770 | $149.33 |
| Alabama | $547 | $142.55 |
| Connecticut | $1,184 | $139.97  |
| Maryland | $809 | $131.16 |
| Arizona | $419 | $128.40 |
| Florida | $399 | $126.44 |
| Georgia | $583 | $126.38 |
| Mississippi  | $470 | $125.38 |
| Virginia | $744 | $124,54 |
| Tennessee | $508 | $123.30 |
How to read medical bills
Understanding medical bills sometimes requires strenuous effort, especially when you have insurance. When you look at the summary of charges that your health provider sends you, things become even more complicated. In that case, it is of crucial importance that you ask for a detailed and itemized bill of everything you're being charged. 
A variety of codes that you are not familiar with are another confusing thing about medical bills. Here are some of the most common codes you can find and what they stand for:
HCPCS Level I/ CPT

—Healthcare Common Procedure Coding System/ Current Procedural Terminology

HCPCS Level II

(referring to medical supplies and equipment used)

ICD-10

—International Classification of Diseases

Revenue codes

(facility-specific)
How to understand your cable bill
Before you pay your huge cable bill, you should know what it might include. For instance, there is usually a place where all the extras are listed, so be sure to check if those are really the additional services that you might have asked for. 
Other than that, your cable bill should include the previous balance, the current payment received, as well as monthly and any other fees associated with this type of service. These should be listed under the account summary section. 
You should also be able to find your personal information and account number. These are the crucial items to check to be sure that you have received the right bill. 
How to read phone and Internet bill
When it comes to phone and Internet bills, many providers don't even send a paper bill, but only a text message as a quick reminder for you to pay it. The amount to be paid should be the same every month if you haven't changed the previously chosen package or plan. 
If you want to get a detailed statement with all the charges explained by items, you should contact your phone and Internet provider and ask for one. Having an itemized statement will allow you to check for potential errors, especially if you notice that the otherwise same amount is suddenly higher than usual.  
Always check for errors
If you haven't already, make sure you learn never to pay a bill before you check for potential errors. It often happens that there is some kind of a mistake on a bill, be it an honest mistake or a fraud to make you pay more than you owe. To be on the safe side, read through every bill you receive carefully so you can spot an error (if there is one).
Duplicate items are among the most common errors people find on their monthly bills. When you receive a bill that seems too expensive for what you know you've spent, check the statement to see if some of the services have been listed twice.
Another common scenario is that people are billed for a service they've never received. 
If you don't know how to analyze a bill by yourself, turn to a professional to do that for you. 
Consider negotiation as a way of reducing bills
If you're struggling with your household bills, don't forget that there's always room for some kind of negotiation. Depending on your situation, you may be eligible for some of these solutions:
A payment plan

A discount

Financial assistance
A payment plan
There are different payment plans offering you a chance to pay your bills in installments, which can be of great help when your income is not sufficient to cover the full amount. Contact your electricity, water, or any other provider to ask about payment programs they have to offer. If you're having trouble with your phone bill, consider switching to a more affordable plan.
A discount
Another possibility to take into account is asking for a discount. Depending on the type of bill you're struggling with, there might be different requirements you need to meet to qualify for a discount. Ask each provider company for more details to check how you fit into their discount schemes. 
Financial assistance
In case you are thinking about asking for financial assistance, you'll be happy to hear that there are quite a few organizations and programs offering financial aid to those in need. As soon as you realize that you're struggling to pay your bills, it's time to check what kind of financial aid program you qualify for. Some of the best organizations out there include the following:
| | |
| --- | --- |
| Organizations and programs | What they offer |
| | LIHEAP is a federal program that offers help to people coming from low-income families. To qualify for this program, you need to have proof that your income is not sufficient to cover your bills. Keep in mind that LIHEAP offers help with heating and cooling bills, but it does not cover water and sewage bills.  |
| | The Salvation Army can offer financial assistance for monthly bills and help with other basic needs, such as rent and housing and food. Their funding for utility bills is usually limited (especially for water bills), so families going through financial hardship are their top priority. |
| | If you need help with medical bills, Medicaid covers adults and children from low-income families, foster care children, people with disabilities, and the elderly. To qualify for the program, applicants need to belong to one of these categories and provide proof of low income.  |
If none of these work for you, you can always turn to a professional consumer rights advisor to help you save money on monthly household bills. Keep in mind, though, that the fastest and the most cost-efficient way to go about it is to rely on DoNotPay. 
Rely on DoNotPay to ask for an extension date for you

In addition to the previously mentioned negotiation options, people also often ask for an extension date. In case this sounds like the right solution for you, here's how you can ask for it:
Call customer support

Go there in person

Send an extension letter
If this is your first time in this type of situation, you're probably not even sure how to write an extension letter. The good news is that you won't have to do it now, either—DoNotPay can compose an extension letter for you. To help us do that, we just need you to do the following:
Log in to your DoNotPay account via a

web browser

Provide us with some details about your problem and why you need an extension date

Give us your personal information

Wait for up to 48 hours for DoNotPay to handle the matter  
Can you get a waiver on late fees for your monthly bills?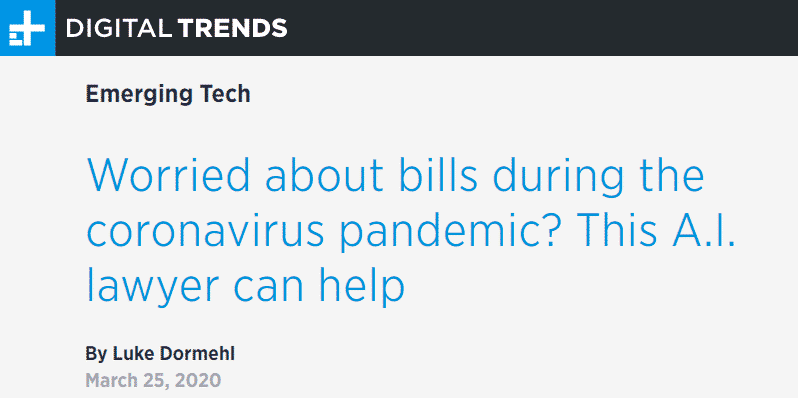 If asking for an extension letter doesn't work for you, you might want to consider asking for a waiver on late fees. To ask if you can get a waiver, you can do the following:
Go there in person

Send a waiver letter

Contact customer service reps

Turn to a financial advisor for help
We suppose that you're looking for the most affordable way to handle this. In that case, your safest option is DoNotPay. Our app can generate a waiver letter and send it to the provider in question on your behalf. We only need you to tell us a bit more about your situation, and on what grounds you're asking for a waiver so we can include that information in the letter. We will also need your name, email, and address. 
Is it a good idea to apply for a loan to pay off your monthly bills?
This is never a good idea. When bills start to pile up, you can easily fall into the trap and apply for a loan to settle the debts and get the peace of mind you're so desperate to find. But that's where the trap is. A loan will solve your current problem but, in the long run, you will just cause yourself even more trouble paying off the loan. Only when nothing else is possible should you begin to think about applying for a loan.
What happens if you use your credit card to pay your monthly bills?
Using your credit card is not as risky as applying for a loan, but it's still not the happiest solution, either. The trick here is that frequent use of credit cards for paying bills can damage your credit score. The same goes if you're paying huge bills. Before you use your credit card to pay off those piled up bills, make sure you consider some other options. It's better to ask for an extension date than to do something that will leave consequences in the long run, such as damaging your credit score.
What if you fail to pay your monthly bills?
Even if you don't pay your monthly bills, there's no need to start panicking. Having your bills piling up is not pleasant, but you shouldn't despair. If you don't pay your basic utilities, they probably won't even disconnect you. They will suspend the service if you owe money for your phone bill, though. Either way, one thing's for sure—your provider will do what has to be done to make you pay the bills.
In some cases, your provider may hire a debt collection agency to deal with your unpaid bills. For some bills, collection agencies have the right to take you to court to make you settle the debt. The best would be to avoid dealing with a collection agency at all, but in case you find yourself in this situation, you should be prepared:
Learn all about collection agencies and what they are allowed to do 

Never go up against a debt collector without a paper trail

Ask if you can pay off a part of your debt
Learn all about collection agencies and what they are allowed to do 
To be sure you don't fall into a trap, take some time to learn as much as you can about debt collectors. That way, you'll know what you have to do when they ask and what you don't. For instance, if you owe some money for your water bill, don't believe the legal threats that easily— they cannot sue you without the water supplier's authorization.
Never go up against a debt collector without a paper trail
Some collection agencies might try to add more money to the real amount you owe. They might try, but they won't succeed in that endeavor if you have a paper trail showing exactly how much you owe and what you've already paid. That's why you should always keep a record of everything that has to do with your bills and, more importantly, your debt. 
Ask if you can pay off a part of your debt
Before you let a collection agency take you to court, make sure you offer to pay at least a part of your debt. They won't necessarily accept this offer, but it doesn't hurt to ask, right?
Let DoNotPay help you with other bureaucratic issues
In addition to the help that we provide for your monthly bills, we can also give you a hand with unfair traffic tickets, small claims court lawsuits, and so much more. Here are some other issues where DoNotPay can save the day:
Disputing your traffic tickets

Fighting speeding tickets