Filing a Petition—How To Revive a Dead Trademark
When you become a small business owner, administration awaits every step of the way. From opening up and getting a trade name to protecting your brand and trademarks, you will always need to be on your toes.
Once you file a trademark, it can last forever, but you need to renew it periodically—otherwise, it will become dead or inactive.
In this article, we will show you how to revive a dead trademark and walk you through the necessary steps. We will also introduce DoNotPay—a quicker, more efficient way to register your trademark.
What Is a Trademark?
A trademark can be any part of your product or brand that helps identify your goods, and it allows customers to make a distinction between you and your competitors. You can use trademarks for products—services have service marks, while intellectual property, such as art, falls under copyright laws.
A trademark can be about any particular part of your product or brand, including:
Sound
Movements
Label
Packaging
Color scheme
Signature
Figuring out whether you need a trademark or not is a matter of your personal choice, but getting one will help you avoid any potential infringement. It will also allow you to:
Sue anyone who copies your goods or creation
Prove you have ownership rights
Receive protection on an international level
Stop infringing products from leaving or entering the United States
What Is a Dead Trademark?
A trademark can receive a dead or abandoned status. In that case, it no longer carries legal protection and cannot serve as proof in court. Trademarks can become dead for several reasons, as shown in the following table:
| Reason for Going Dead | Description |
| --- | --- |
| The application doesn't become a registration | The application can fail to become a registration if it doesn't meet all the requirements or is too similar to an already registered trademark. Sometimes, it becomes abandoned if the person filing for it does not go through with the process or fails to submit a required piece of paperwork on time |
| Trademark expiry | According to trademark laws, a trademark lasts for ten years, but you can renew it unlimited times. If your trademark is in its first term, you need to apply for renewal between the fifth and the sixth year (later, it moves between the ninth and the tenth) |
| A third party petitions to cancel the trademark | Someone can petition to cancel your trademark if you have not used it for at least three years or it has become a generic term, such as Kleenex or aspirin |
| Licensing issues | You can license your trademark to other businesses, but you must ensure the product matches the quality and description, as the trademark demands. A court can punish you based on companies you licensed to |
| Incomplete transferring | You can sell your trademark to someone else, but you must sell your products as well since the trademark is there to represent the product. Without the sale of products, the transfer of the trademark is incomplete, and it will die |
How To Revive a Dead Trademark
Reviving a dead trademark is possible if you can prove that the abandonment was unintentional. To do so, you will need to make a petition to revive an abandoned trademark application.
You must submit the petition within 60 days of the date the Notice of Abandonment was issued—not received. The deadline extends to six months if you can prove you never received the Notice.
A successful petition consists of:
How To Obtain a Trademark
Registering a trademark is not an easy task. The USPTO asks for various pieces of information and will turn down applications if they lack even the tiniest of details. For instance, you will need to know what trademark classes describe your business best, whether there already is a similar mark, and what costs you need to cover.
If you are inexperienced in dealing with trademark forms and the USPTO procedures, you will likely leave something out and get your application denied.
This is why many business owners opt to pay for a trademark attorney, which can add thousands of dollars to the bill. There is an inexpensive alternative, though—DoNotPay.
When you , you will receive help from the first-ever robot lawyer, and we will ask you about all the necessary information, so you can rest assured your application will be error-free.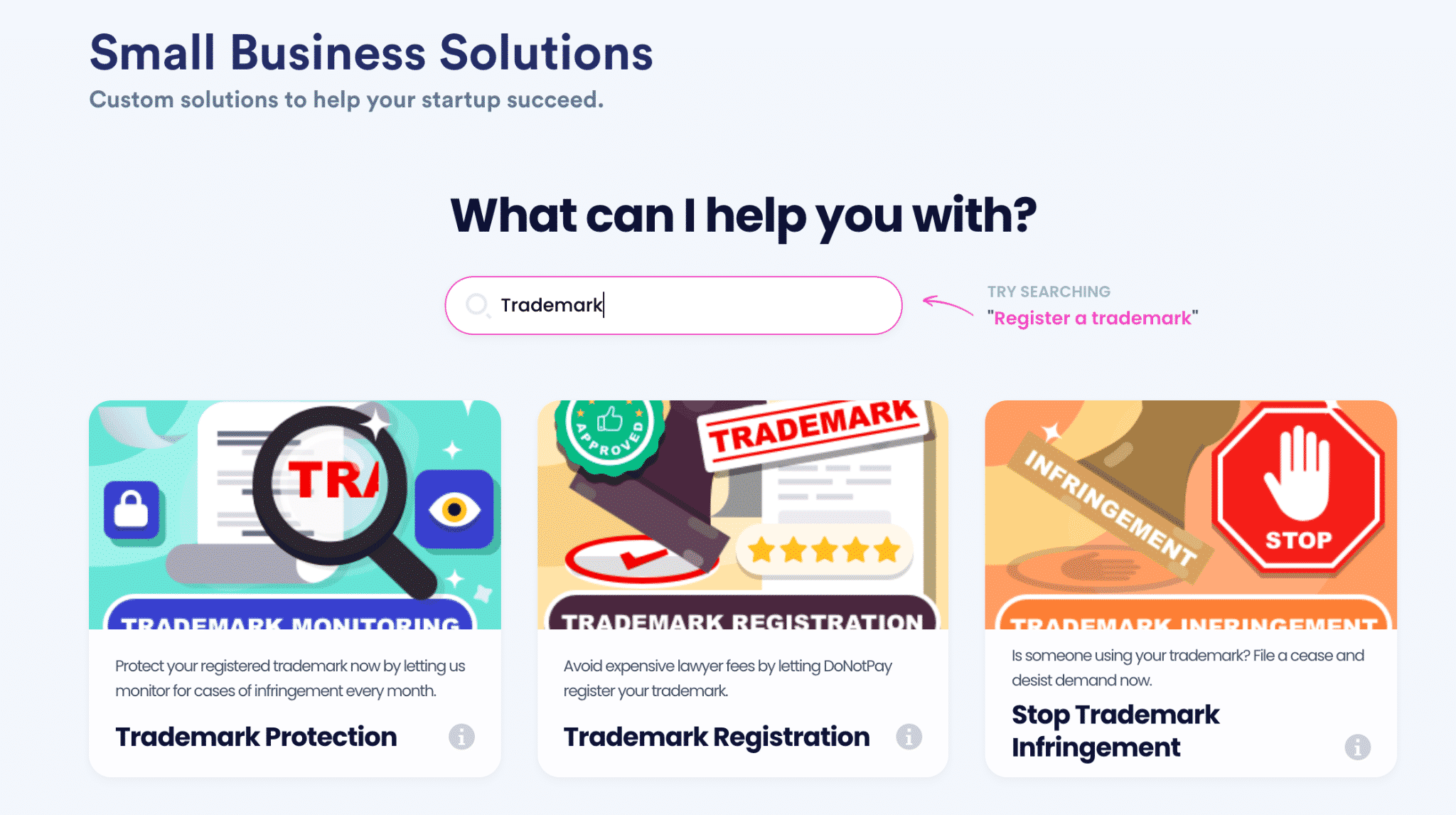 Filing a Trademark With DoNotPay—How It Works
With DoNotPay, you will receive professional attorney service at a low cost.
We will research the USPTO database to make sure your idea doesn't clash with an existing trademark. Then, we will ask you a set of questions to receive information for your application and generate the form for you to review and e-sign.
All you need to do is:
using any browser
Choose the Trademark Registration feature
Answer a few questions
Pay the necessary application fees to the USPTO
Let DoNotPay Help You With Boring Administrative Tasks While You Focus on Becoming a Business Mogul!
DoNotPay can assist you in dealing with a number of business-related tasks. We have developed a plethora of simple-to-use products that make running a business much easier and less stressful.
Do you need help registering your business name as a trademark? We have got you covered! Not sure how to write a convincing letter to request a small business loan? DoNotPay helps with that, too!
Use our app to get a perfectly generated chargeback rebuttal document, formally request payment from clients who breach the contract, and find out how your employees can file 83(b) election forms in a matter of clicks!
Check Out Our Other Nifty Products!
That is not all DoNotPay has to offer. Our awesome tools will make tedious administrative tasks easier to manage so you can concentrate on your business instead of wasting time waiting in lines and filling out forms. Rely on DoNotPay to:
Take care of DMCA agent registration and Privacy Shield program self-certification
Make sure no one else is using your trademark
Get rid of fake online reviews that harm your business reputation
Manage Employer Number Identification (EIN) registration
Enjoy the convenience of faxing and mailing from the comfort of your home or office