How to Respond to a Cease and Desist Letter
Defamation is a civil wrong that happens when an individual makes false and harmful statements about another individual or third party, causing harm to their reputation. There are two types of defamation: "libel" references a statement that has been written or posted online, and "slander" is a spoken and unrecorded form of defamation.
In order to establish a defamation claim, libel or slander must have been published in some way, resulting in egregious difficulties concerning the subject's reputation, future, and even physical or mental health. In response to this crime, the first step for many is to choose to send a "cease and desist" letter, telling an individual making defamatory claims to cease before further legal action is taken. Learn more about defamation and how to understand how to respond to a defamatory claim, below.
Defining Defamation
Slander versus libel
Inherently, the two elements of defamation are slander and libel:
Libel can also be recognized by the fact that it leaves a permanent record, like an instant message, radio or TV broadcast, newspaper article, or website posting
Slander does not typically leave a permanent record, rather, it can be as simple as a spoken statement or a hand gesture
Identifying and honing in on the type of defamation that occurred is the first method to proving any defamation claim or solidifying whether you can send a cease and desist letter.
What isn't considered defamation?
In sum, proving defamation seems like a clearly methodical process, but in reality, different legal clauses prevent claims from being identified as slander or libel, including:
Opinion
Opinions cannot be defamatory. Defamation is a false statement that claims to be true.
If a statement is not identified as an opinion, you may be able to sue for slander or libel.
Freedom of speech
With concerns to the First Amendment, any individual has a right to not be subjected to falsehoods that impugn their character or morality.
To summarize the facts of the First Amendment, defamation is not illegal per-say by legal terms. Defamation is merely a pretense of the legal system to afford damages to people who have been maimed by freedom of speech.
False light
A false light claim surfaces when a defamatory statement about an individual is publicized, making the implication that the improper statement is true when it is not.
False light is rectified to "protect the plaintiff's mental and emotional well-being" rather than their reputational damages, which defamation protects.
Disparagement
Disparagement strives to cater towards the financial and economic interests of the plaintiff or their products.
Defamation acts to protect personal interests as well as moral endeavors, but disparagement covers more extra-personal boundaries, like property enterprise and monetary assets.
You've Received a Cease and Desist Letter, Now What?
If you've received a cease and desist letter, your initial reaction might be to retain legal representation — however, this is not entirely necessary. Below, see a comprehensive guide concerning how you should act if you've been accused of defamation.
Do not panic or immediately retain counsel
A cease and desist letter merely asks you to stop engaging in the defamatory behavior that you've allegedly been a part of, and is not a charge nor an invitation to court intervention — you can easily settle this outside of court.
Do not forget the deadline

In most cases, cease and desist letters include a response deadline — set by the sender, but flexible in nature.
If you understand the terms and ask for more time, the sender can typically wait for you to audit your response.
Failure to respond before the deadline even if you need more time can be regarded as ignoring the letter.

Do not ignore it

Ignoring a letter may requisite further legal actions to be taken against you.
If the situation escalates and you end up before a judge, it is always a good sign to show that you've responded and respected deadlines before.

Ask for help
If the cease and desist letter was unforeseen and you've unsure of the circumstances, seek clarification and advice.
What Are Your Options?
If you've received a cease and desist letter, you are able to evaluate the circumstances and choose from the following options:
Comply with the demands – If you evaluate your rights and decide to comply with the conditions in the letter, you will usually end the scenario with the sender foregoing any further legal action against you.
Ignore the letter – If you ignore the letter, you will likely have one of two outcomes; firstly, the sender will not engage further with you (unlikely). Secondly, the sender will engage at an escalated legal capacitation with you.
Negotiate – If you decide to negotiate the terms of the letter, you risk escalation or even legal reprimands. The act of negotiating can be interpreted as "ignoring" or "non-compliance" so it is best to abide by the terms of the letter for the greater good.
Access DoNotPay's Cease and Desist Services
DoNotPay is a fast and convenient solution! The cease and desist letter drafts will detail the information about the case, demand retraction, warn against future statements, and will request that the accused abides by state legislation.
All you need to do is:
1. Look for the Defamation Demand Letters service on .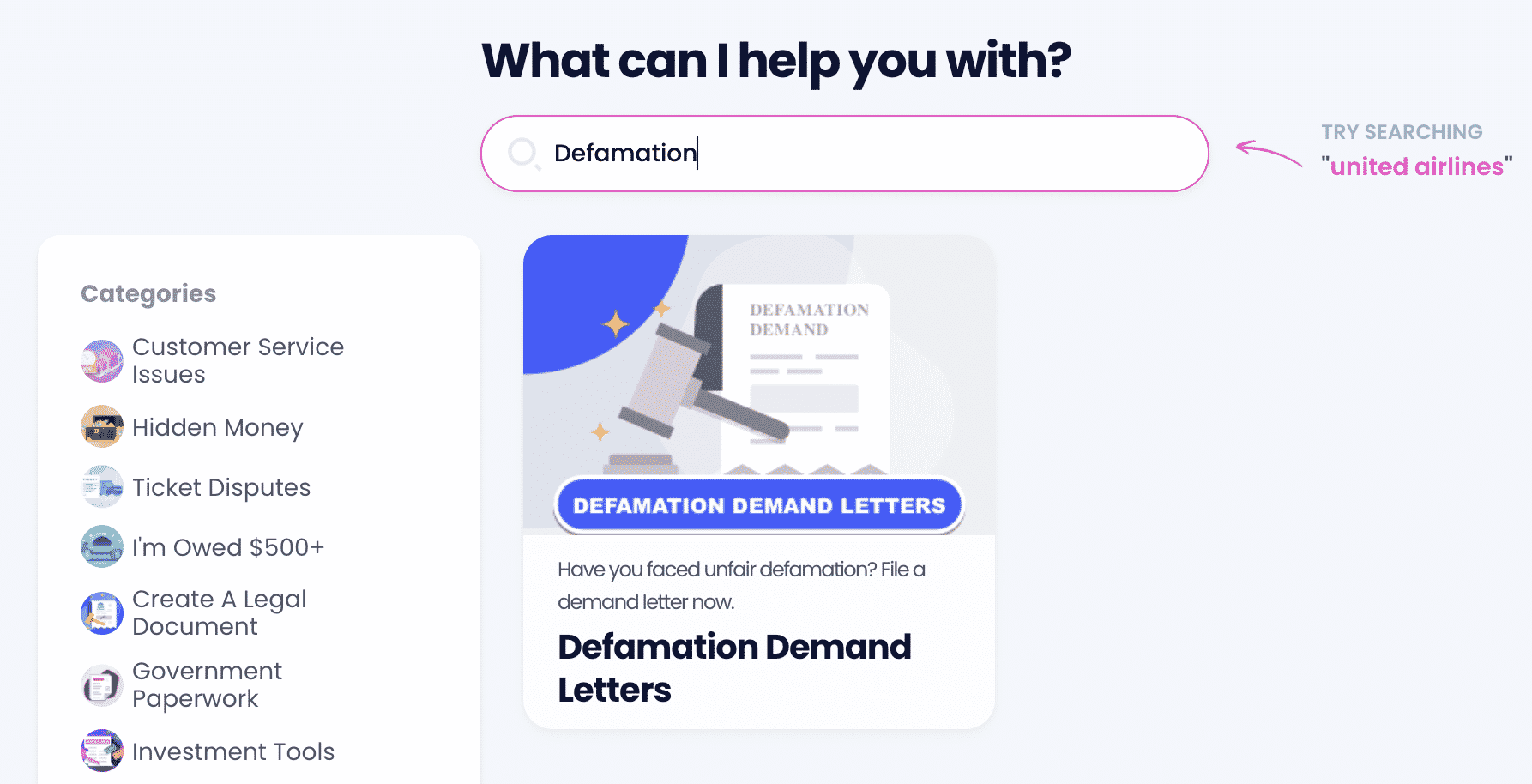 2. Tell us about your situation:
Were the statements slander or libel?
What were the statements?
Why are they false or misleading?
What consequences have you suffered as a result of these statements?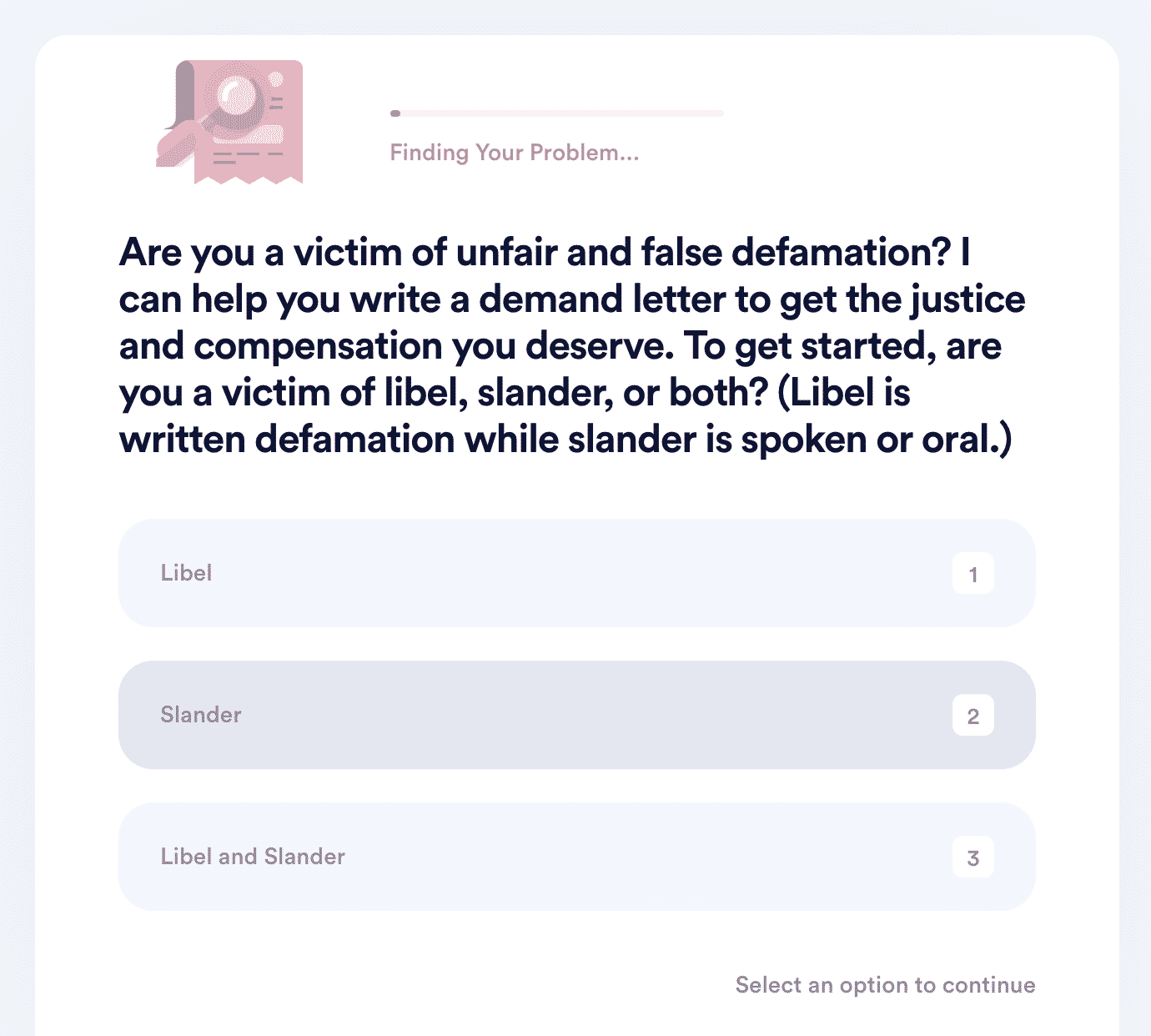 3. Based on your location, DoNotPay will immediately generate a formal demand letter on your behalf, with the most relevant state legislation regarding defamation.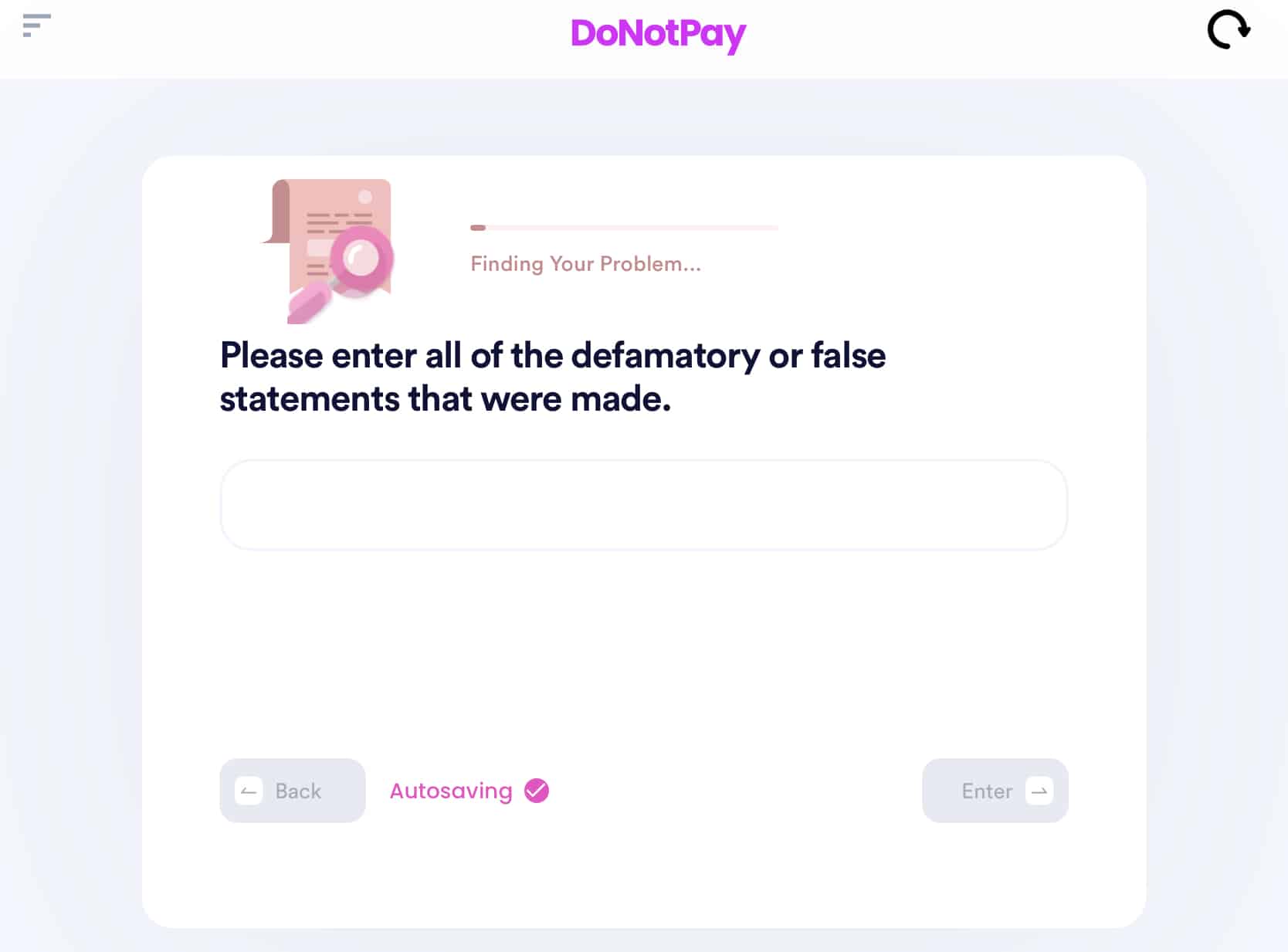 That's it! You can expect precise advice to your cause, in minutes!
What Else Can DoNotPay Do?
DoNotPay can cancel your subscriptions, find tax exemptions, appeal your parking tickets, and so much more with just a few clicks! Here are some other things the robot lawyer can do: