How to Report Bullying at Work 
Approximately 30% of US workers are being bullied at work. The figure is even bigger if accounting for those who fail to report bullying incidents in the workplace.
If you are being bullied at work, it will leave you feeling inferior and questioning your significance to your team. This article will go over the definition of workplace bullying, how you should deal with it, and how DoNotPay can help you report bullying anonymously to HR.
What is Workplace Bullying?
According to WorkplaceBullying.org, bullying in the work environment is defined as repetitive, harmful, and abusive treatment by employee(s) that is targeted to another employee. Such conduct can include verbal abuse, harassment, intimidation, and humiliation, or a combination of these actions.
Generally, bullies display acts such as:
Verbal abuse - demeaning comments, inappropriate remarks, gossip, direct insults, and curse words. 

Physical attack - bodily harm, property harm, infliction of all sorts

Personal threat - threats about the safety of one's life and his or her loved ones, or one's general safety outside of work

Humiliation - hypocrisy, manipulation, and unnecessary criticism

Other intentional and repetitive acts that hinder one's performance and mental, physical, and emotional well-being
Bullying in the workplace can be:
Being a victim of bullying can leave serious impacts on your overall health. If you encounter workplace bullying, you may experience the following:
Shock

Fear of the workplace

Dwindling confidence and vulnerability

Frustration

Anger and Helplessness

Insomnia

Stress

Loss of concentration

Dwindling motivation and work output
Every reputable employer would demand that you report incidents of bullying because they realize how much of a negative impact it can have on the workforce - even if you are being bullying by your boss. If left unresolved, bullying can lead to reduced corporate image, poor customer confidence, increased employee turnover and more.
What Should You Do When Bullied?
If you are facing a situation where you have become a subject of unwarranted physical, systematic, or verbal attacks, these are some of the things you should do:
When you experience bullying...

You should

Try to keep calm

Walk away from the scene if possible

Confront the bully yourself or in the company of your manager, your HR, or a respected colleague, and tell them that you no longer find their acts comfortable

Make your stand and your expectations clear to your bully

Keep dates, facts, and a comprehensive record of bullying accounts

Officially

report acts of bullying

to your

HR

or

Manager

You should never

Overreact or match acts of bullying with disproportionate acts

Make racist remarks

Engage in any activity that may make your workplace unsafe for customers and/or colleagues
How to Report Bullying at Work
Once you have determined that you are facing workplace bullying, the next step is to report it. You can report bullying as a direct victim or as a witness to the act. Here are the steps to follow:
Read the organization's handbook:

Not many employees remember to read their organization's handbook. This document typically contains guidelines on the steps to follow in dealing with all kinds of discrimination and harassment in the workplace. You should refer to your company's handbook to determine what next action should be taken next.

Confront your bully

: You should also take the step to have a constructive dialogue with your bully. Do not do this in an emotional manner or in a way that suggests you as weak, helpless, and begging for mercy. Rather, share with the bully how his or her actions bring you discomfort and how you hope they can respect you. You may do this by yourself or in the company of a manager or colleagues you trust.

Write a formal complaint to your HR:

This is the most important step to take. If the workplace bullying continues, you must let your HR know about the unfavorable work conditions your bully has created for you and how he or she affect your productivity. 
Keep in mind that HR may be more willing to give urgent action to your case if they can establish a relationship between your complaint and how it affects the performance or threatens the existence of the business altogether. This means you will need to put together a well-structured complaint letter to your HR. You will most likely know how much success your efforts yield by the attitude of the bully after his or her actions have been reported.
Other things you can do while reporting a bully are to try to keep a positive attitude, maintain a healthy social lifestyle outside your workplace to regain your confidence, and prevent overthinking which may lead to insomnia, depression, or even suicide. 
Reporting Bullying at Work With DoNotPay
If you would prefer to stay anonymous when reaching out to HR, DoNotPay that help you prepare your complaint and mail it in. To use DoNotPay, simply:
1. Go to DoNotPay and select the Anonymous HR Complaint product.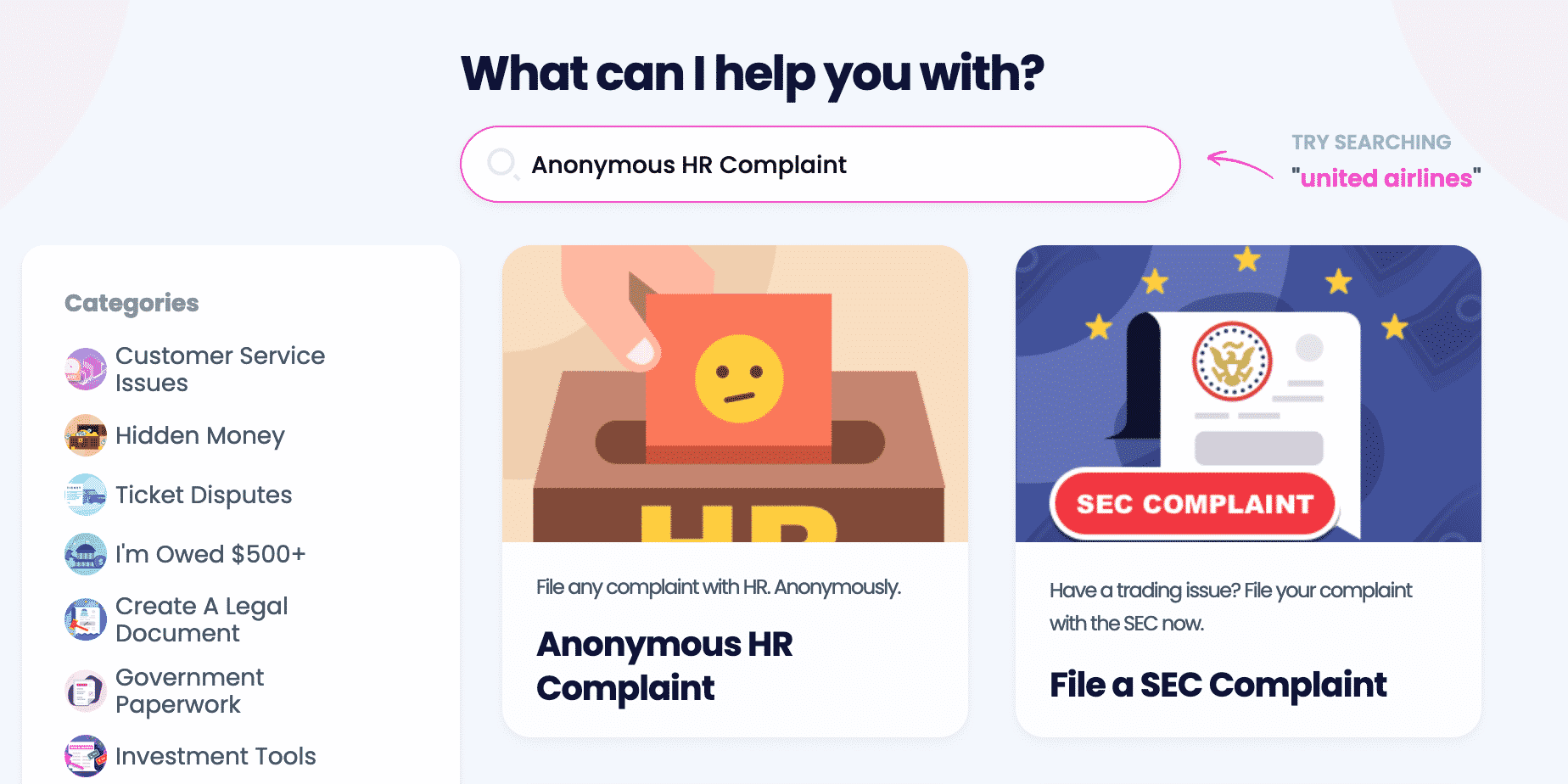 2. Provide us with the name of the company you work for.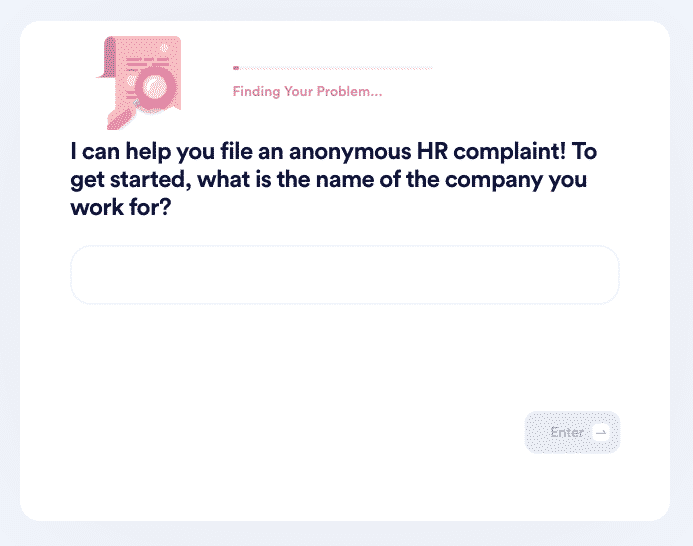 3. Give us details about the bullying experienced at work.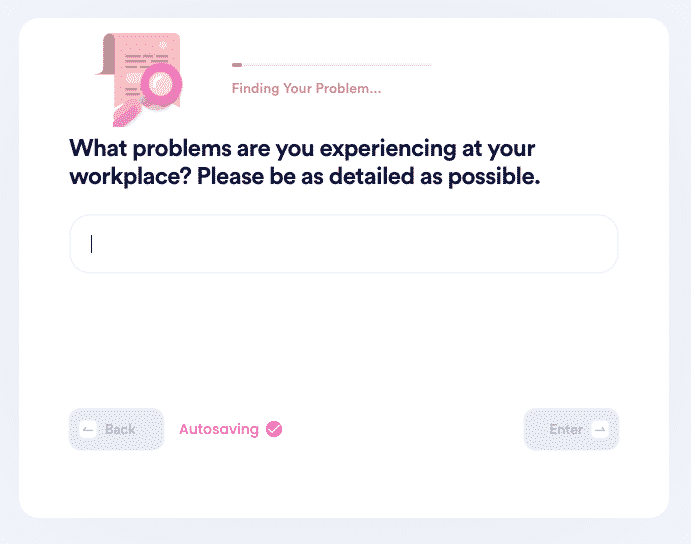 We'll also give you the option to have us mail the complaint to your HR department. DoNotPay ensures your complaint is delivered quickly and anonymously. As a further step, you can also file discrimination complaints to the EEOC through DoNotPay.
DoNotPay Helps You with More