How to Report Animal Abuse In Florida Quickly
Animal abuse is a heinous crime. Domestic animals depend on their humans to make sure that they are fed and cared for. However, some irresponsible pet owners don't take that responsibility as seriously as they should. At this point, it's up to caring citizens to take action.
If you witness animal abuse and are compelled to act, it can be hard to know where to begin to report the abuse to the proper authorities. DoNotPay can help you report animal abuse in Florida as well as in other cities across the US.
Is Animal Abuse a Crime?
According to the Animal Legal Defense Fund, the vast majority of animal protection laws are enacted at the state level. There are a few federal animal protection legislation as well. Additionally, several towns and counties have animal protection regulations.
At the federal level, the Animal Welfare Act, or AWA, is the major federal animal protection statute, having been signed into law in 1966. The AWA primarily affects animals held in zoos and labs as well as animals raised and sold commercially, such as those in puppy mills.
Most lower-level crimes are policed by state and local authorities. A felony animal cruelty statute now exists in each of the 50 states. Cruelty is defined by each state, as are the consequences of committing cruelty.
Animal Abuse Regulations in Florida
In the state of Florida, it is a crime to abuse an animal. As set forth in Florida statute 828.12(1), it is a crime to:
Unnecessarily overload, overdrive, torment, deprive of food and water or shelter;
Unnecessarily mutilate or kill any animal; or
Carry in or upon any vehicle any animal in a cruel or inhumane manner. (For example, in the back of the truck in the cold rain.)
How to Report Animal Abuse in Florida
How and where to report abuse in the state of Florida will be different for each county. In some counties, animal-related issues are handled by the sheriff's office. In others, there are animal control departments that handle complaints of abuse.
Listed below are some agencies in Florida for reporting animal abuse.
Wildlife animal abuse should be reported to the Florida Fish and Wildlife Conservation Commission at (888) 404-3922.
How to Report Animal Abuse in Florida on Your Own
Once you have determined where to report the abuse, you will need to contact the agency. You will need to have important information so that the authorities can proceed with the investigation, such as:
time and place you witnessed the abuse
what you witnessed
who were the parties involved, if known
a description of the party as well as the animal in question, and
any photos or evidence
You will likely need to provide them with your own information in case more information is needed. As you can see, there is a fair amount of work involved in reporting the abuse.
Next Steps for Reporting Animal Abuse in Florida if You Can't Do It Yourself
With the help of DoNotPay, you can get the process started easily and effectively.
Here's how you can use DoNotPay to report animal cruelty:
1. Search "Report Animal Abuse" on DoNotPay, and select the associated tool.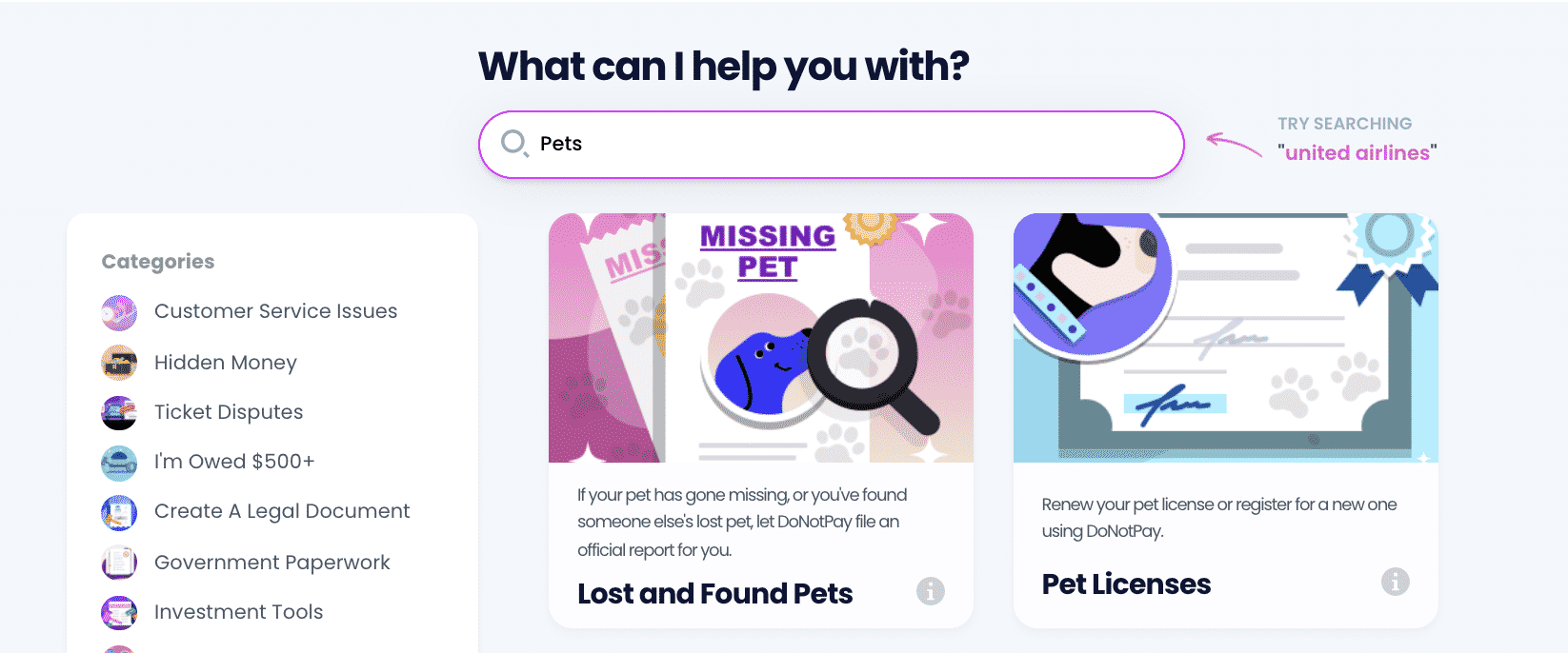 2. Then following the prompts, report the time, location, and exact detail to the best of your knowledge of the situation that has led you to believe there is animal cruelty afoot.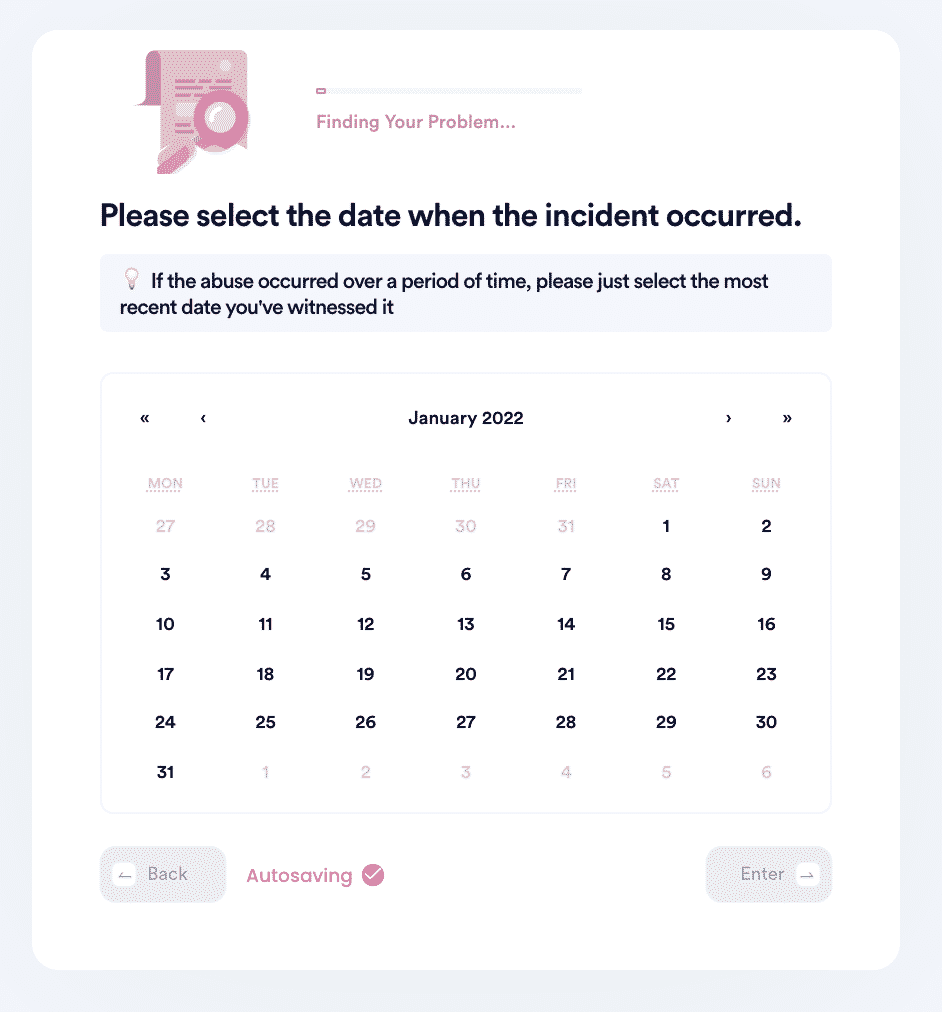 3. Upload an image to build your case and include your contact information for the authorities to get back to you about your report.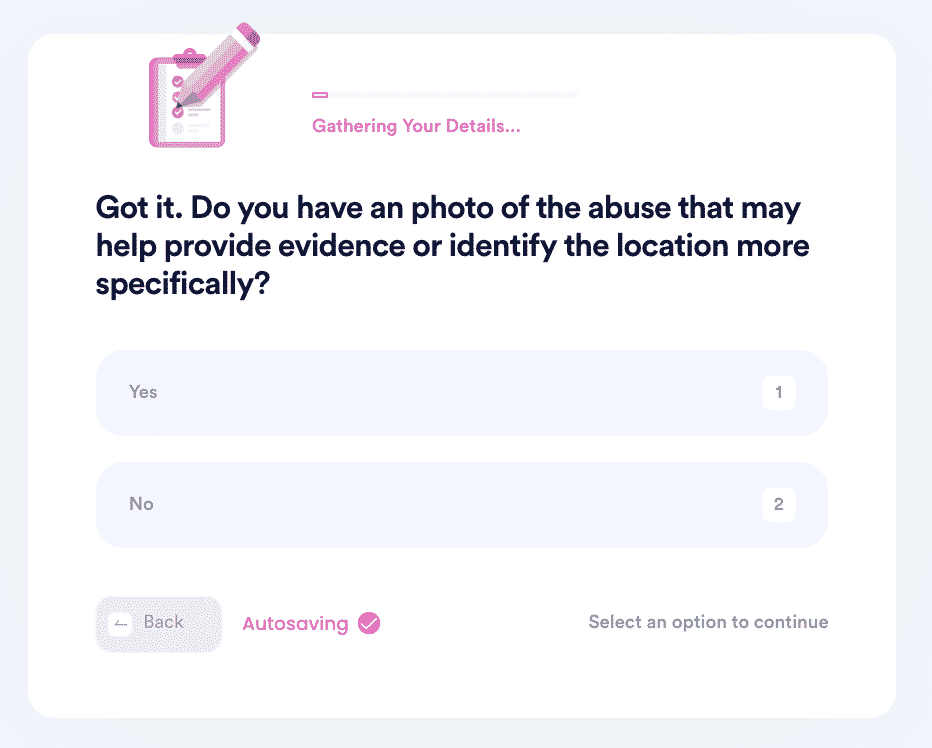 And that's it! DoNotPay will file the report on your behalf, getting animals out of harm's way.
Why Use DoNotPay to Report Animal Abuse In Florida
Here are three reasons you should use DoNotPay in reporting animal abuse in Florida.
DoNotPay is:
Fast—You don't have to spend hours trying to report the abuse.
Easy—You don't have to struggle to fill out tedious forms or keep track of all the steps involved in reporting the abuse.
Successful—You can rest assured knowing we'll make the best case for you.
DoNotPay Works Across All States With the Click of a Button
DoNotPay can not only help you report abuse in Florida, but we can also help in other states and cities as well, including Texas, Los Angeles, and New York City.
More DoNotPay Products for Pets
In addition to reporting animal abuse, DoNotPay can help with:
Lost and Found Pets
Pet Custody Agreement
Pet Licenses
What Else Can DoNotPay Do?
DoNotPay doesn't just work with pet-related problems, we can help with other issues as well such as:
Animals require our care and protection. It is our responsibility as a society to nurture them and make sure that they are treated well. Let DoNotPay help you make a difference in an animal's life and keep them safe and happy.