How to Report a Bad Landlord In Ohio the Easy Way
For every great landlord, there are hundreds of horrible ones. Therefore, tenants must take extra care when choosing their next rental apartment. While cost, location, and the size of your home are among the top factors to consider when choosing a rental space, you should also keep in mind that you are committing to a long-term relationship with your landlord. It is, therefore, very important to make this decision wisely.
Some common problems tenants face with their landlord include: the landlord failing to return the security deposit, eviction without notice, and delayed returning of the deposit, just to mention a few. A complaint should be filed against a landlord who exhibits such kinds of behavior.  But knowing  and dealing with a bad landlord by yourself can be quite complicated. With DoNotPay, however, reporting a bad landlord is not only easier but is also more convenient and less frustrating.
Eviction Laws in Ohio
In case a tenant breaks any rules documented in the lease clause of the premises, the landlord has the authority to issue an eviction notice. However, in Ohio, landlords have to follow some set rules and procedures for evicting such a tenant. If your landlord doesn't, you have every right to , even during an eviction.
Here's what to expect from an eviction in Ohio:
The landlord is required by law to give tenants a three-day notice to vacate the premises, or risk facing eviction proceedings. During the three-day window, the landlord is prohibited from accepting any rent payments.
In the event the three days lapse and the tenant has not vacated, the landlord must then file an official complaint with the local Municipal Court. This marks the start of the eviction lawsuit, and the tenant is served with a copy of the complaint and summons. The summons will have a date and time for the hearing. The tenant must present themselves physically if they wish to challenge the eviction notice.
During the hearing, the judge will listen to both cases and make a final decision, ruling in favor of, or against, the eviction notice.
If your landlord doesn't follow this process and instead tries to evict you immediately or puts you in danger during the eviction process, report them with help from DoNotPay.
Reasons to Be Evicted
Reasons that lead to someone being evicted are mostly because the tenant has violated some of the rules documented in the lease clause of the premises. Here are some common events that may lead to eviction:
Delayed rent payments: Most landlords have set a period in which you should pay your rent dues, in which case, it is usually the first week of the month. However, as stated in the law, the tenant will only be evicted if the rent is not paid within 30 days.
Causing disturbance to the neighbors: A landlord has the right to evict a tenant who is a nuisance to neighbors. Whether it's playing loud music or disposing of piles of rubbish in an inappropriate place, the landlord has the right to evict you after cautioning you on multiple occasions.
Damages to the premises: Damages such as paint peeling off and stains on the wall are common, and in most cases cannot lead to your eviction. However, intentional damage like drilling holes through walls can prompt the landlord to evict a tenant.
What Are My Rights as a Tenant in Ohio State?
According to Ohio Landlord Tenant Law as indicated in Ohio Revised Codes (ORC), Title 53, Chapter 5321, Landlords and Tenants, the tenant has the following rights:
A tenant has a right to running water and electricity. The heating and ventilation systems must also be in perfect order.
A landlord cannot evict tenants as and when they wish. A 24-hour written notice should be issued if the landlord intends to do so.
The tenant has the right not to pay any rent arrears until the landlord has ensured major repairs have been done. The tenant, however, is required to pay an equal amount as that of the rent to a Municipal Court in Ohio. The Court is responsible for holding these funds until the issue is solved.
If your landlord violates these rights, DoNotPay can help you report them to the authorities properly.
How to Report a Bad Landlord in Ohio by Yourself
Whenever you experience any disturbing issues with your landlord, the first step to take usually involves talking the matter out in an attempt to resolve the issue. You can choose to do so by talking with the landlord physically, by phone, or by email. If your concerns are not addressed even after making the landlord aware of them, you have these options:
| | |
| --- | --- |
| Make a Formal Complaint | This can be done by writing an official letter to your landlord in which your problem(s) are clearly stated. You should also propose mitigation measures in your letter. |
| Complain to the Ohio Council | This is the next step to take if making a formal complaint to your landlord does not work. You should write a letter to the Ohio Council. Make sure you clearly explain what your problem is, as well as the steps you have taken in an attempt to solve the issue. |
| Complain to HUD | You can also place your complaint to the U.S Department of Housing and Urban Development if you live in federal resident houses. |
But these methods take time and may not get you the results you need. Instead of taking the risk of wasting your time, use DoNotPay to report your bad landlord.
Next Steps for Reporting a Bad Landlord in Ohio If You Can't Do It Yourself
Reporting a bad landlord by yourself is not easy. It is not only mentally draining, but also time-wasting and costly.  The good news, however, is that you will not have to experience these frustrations when you use DoNotPay. DoNotPay will help you with just a few clicks.
How DoNotPay Can Help You Deal with a Bad Landlord
DoNotPay is here to help you deal with your landlord disputes on your behalf. Our Landlord Protection product can help you:
Get back your security deposits
Learn about your state's eviction laws and what protections apply in your case
Resolve disputes regarding repairs with your landlord
Resolve disputes with roommates by filing demand letters or going through small claims court
Break your lease early
In addition to helping you report a bad landlord in Ohio, DoNotPay can:
How to Break a Lease in Ohio using DoNotPay
If you want to break a lease in Ohio but don't know where to start, DoNotPay has you covered in 4 easy steps:
1. Search for and open the Landlord Protection product on DoNotPay.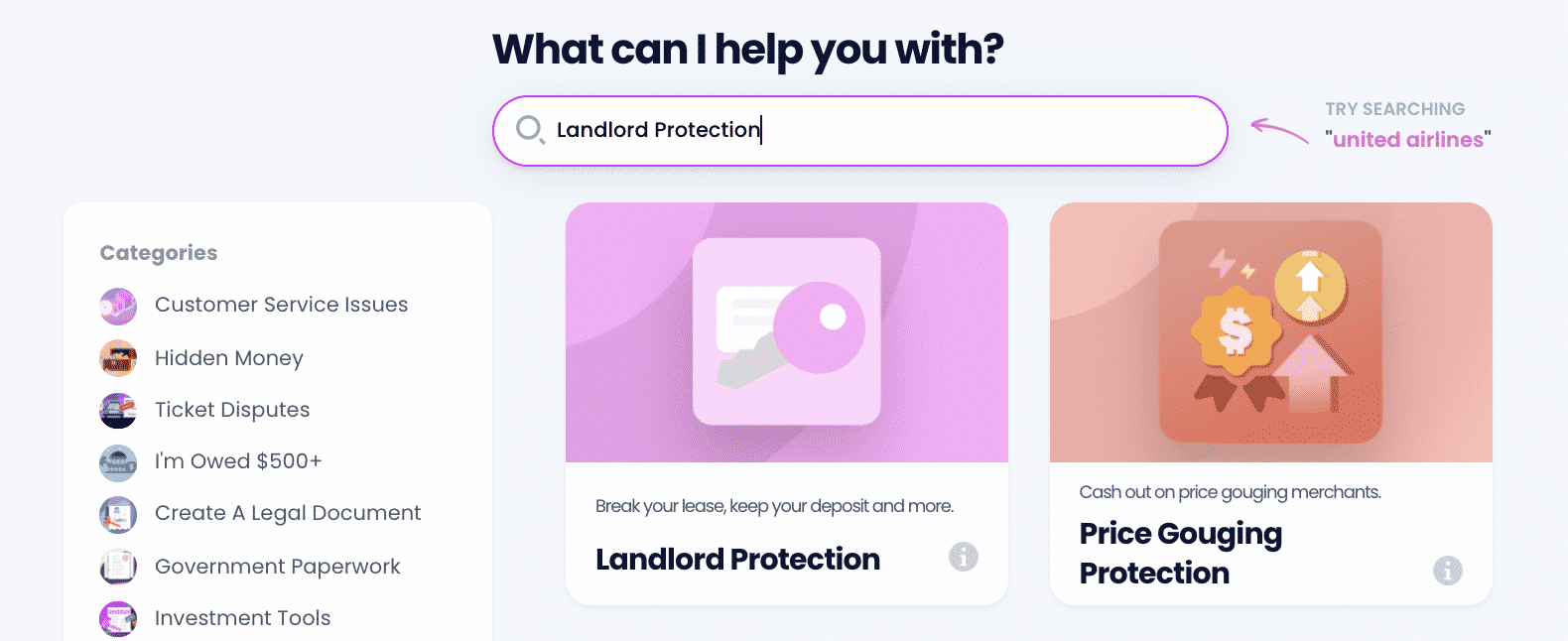 2. Select which issue applies to you.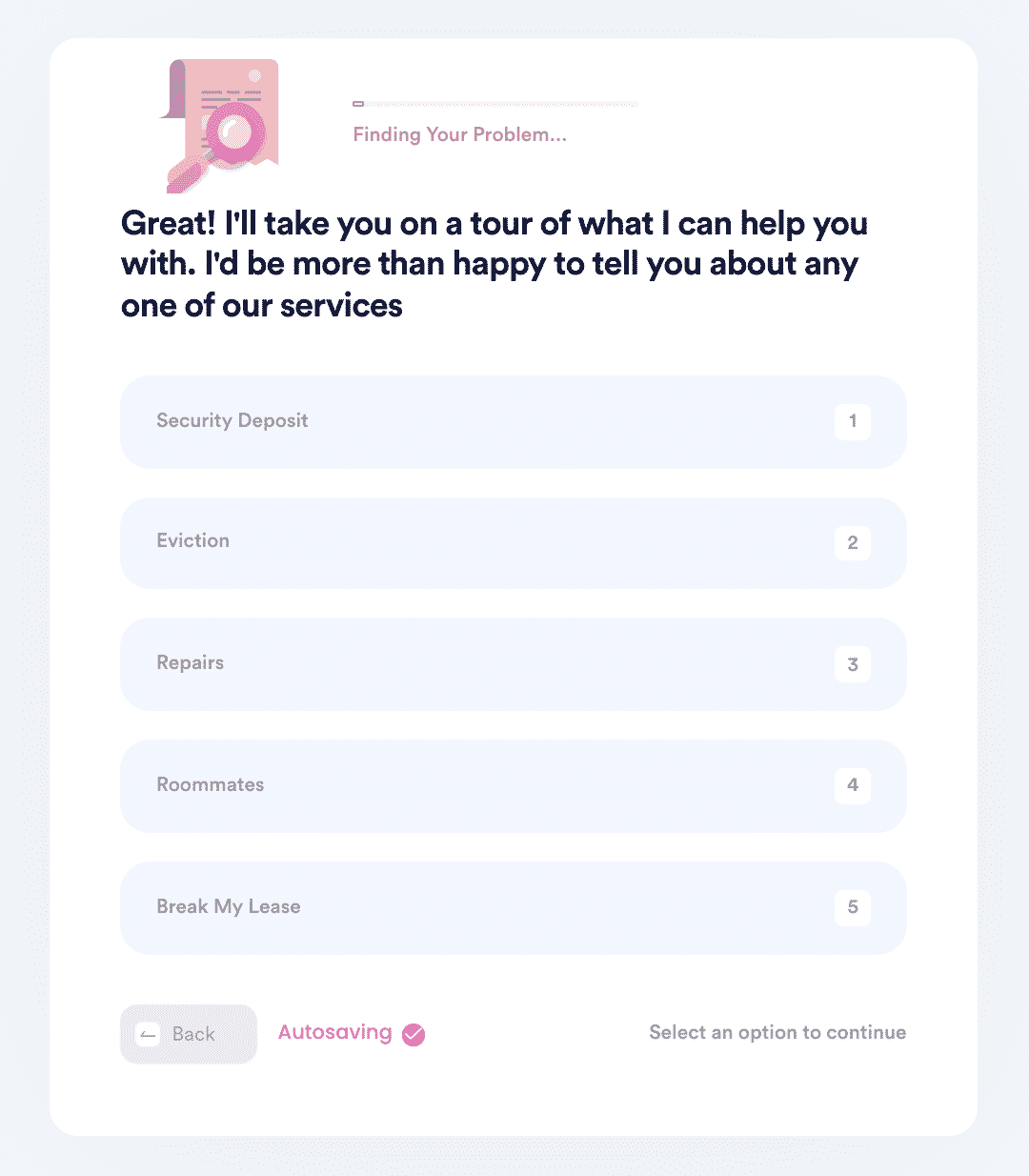 3. Answer a simple set of questions so our chatbot can collect the necessary information to create your demand letter.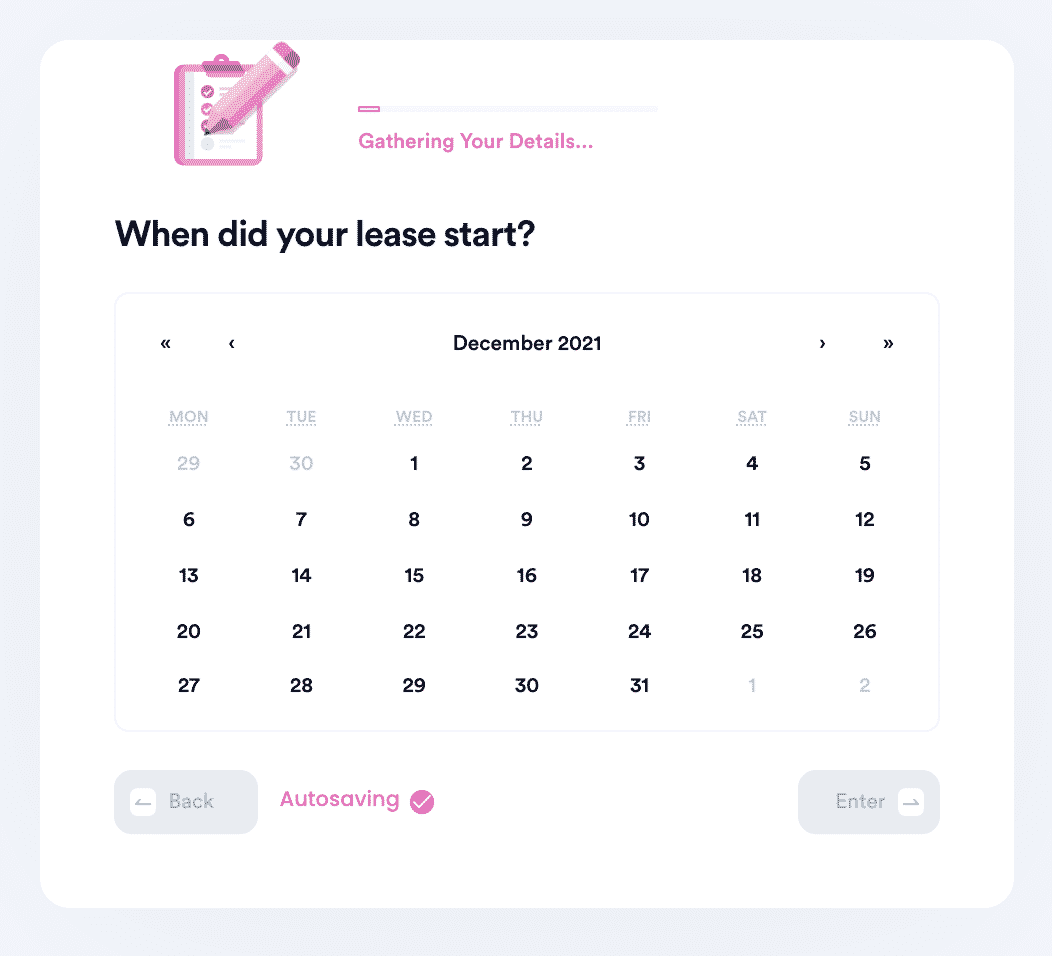 4. Choose whether you want DoNotPay to send the demand letter to your landlord or roommate on your behalf. If you already tried sending a demand letter and it didn't work, we can help you start the small claims court process.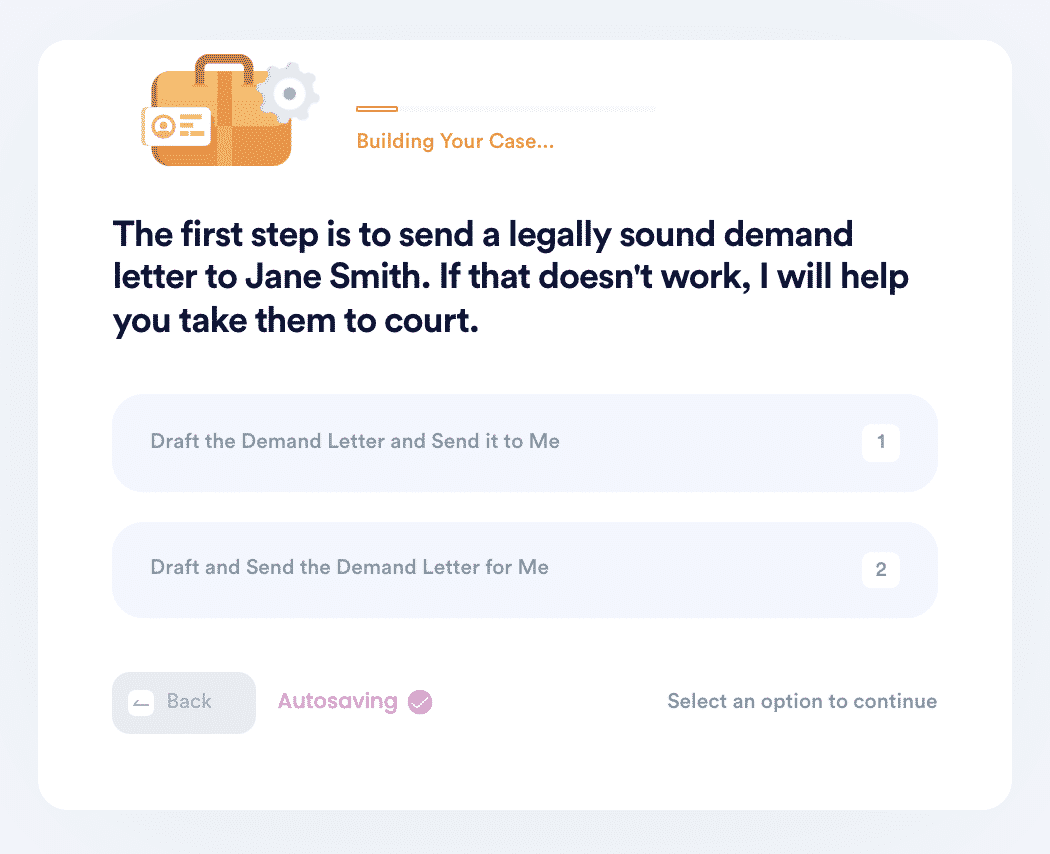 What Else Can DoNotPay Do?
In addition to reporting a bad landlord, DoNotPay can also assist you with:
Don't hesitate. Use  today to report a bad landlord.