The Ultimate Tips on How To Renew a Trademark With the USPTO
Filing the name, logo, slogan, or any other memorable element of your small business as a trademark is the best decision you can make to save it from infringement. Despite the high protection level the trademark registration brings, it doesn't protect the asset indefinitely. You must renew your registration regularly according to the rules proposed by the U.S. Patent and Trademark Office (USPTO).
Do you need a few tips on how to renew a trademark without unnecessary complications? If so, this guide is the best source to learn from! We also reveal how to simplify a trademark application and file it in record time .
USPTO Trademark Renewal in Brief
Unlike copyrights, trademarks and service marks registered with the USPTO do not last forever automatically. As per the trademark protection law, they remain active only if you renew them within a specified period after registration. To do so, you must meet the following requirements:
The protected trademark must be used for commercial purposes—Exceptions are rare, and you must have a solid reason for not using the mark to be excused from this rule
You must prepare several supporting documents and submit them at regular intervals to maintain the registration—Their purpose is to show that you don't plan to stop using the trademark in the upcoming period
The renewal and other post-registration fees must be paid on time
What Documents Do You Need To Submit To Renew a Trademark Registration?
To help you understand what documentation you should prepare and when, we created a simple overview of the mandatory renewal process in the table below:
Required Documents
Period

Declaration of Use/Excusable Non-Use (section 8 or 71 if the trademark is protected under the Madrid protocol)
Optional Declaration of Incontestability (section 15)

During the fifth year of the registered trademark ownership

Declaration of Use/Excusable Non-Use (section 8 or 71 if the trademark is protected under the Madrid protocol)
Application for Renewal (section 9)

During the ninth year of the registered trademark ownership

Subsequent Declaration of Use/Excusable Non-Use (section 8 or 71 if the trademark is protected under the Madrid protocol)
Subsequent Application for Renewal (section 9)

Every ten years after the registration date (19th, 29th, etc.)
What Is a Trademark Renewal Fee?
The total amount you must pay for trademark renewal equals the sum of the individual fees for each form you must complete. Here is a table showing the separate fees:
| Document/Form | Price |
| --- | --- |
| Declaration of Use/Excusable Non-Use | $225 per class ($100 per class within the six-month grace period) |
| Declaration of Use/Excusable Non-Use for the Madrid protocol | $225 per class ($100 per class within the six-month grace period) |
| Application for Renewal | $300 per class ($100 per class within the six-month grace period) |
| Declaration of Incontestability | $200 |
What Does the Renewal of Trademark Registration Entail?
Once you submit all required renewal documents, the USPTO will assign them to a post-registration trademark examiner for review. They will need a couple of months to analyze the documentation. Depending on the results, the agency can issue:
Office action—if the documents you have submitted are not acceptable
Regular Notice of Renewal, Notice of Acceptance, or Notice of Acknowledgement—if the forms under sections 8, 9, 15, or/and 71 are acceptable
Updated registration certificate stating all the changes made in your trademark status—if your amendment request under section 7 gets accepted
You can check whether the changes have been recorded with the USPTO via the Trademark Status and Document Retrieval (TSDR) software.
Use DoNotPay for a Painless and Error-Free Trademark Registration
Registering a trademark may seem like a simple form completion, but it is much more than that. Apart from ensuring the originality of your mark, you must fill out each application section with correct info and determine the appropriate class of your goods and services. Even the smallest mistake can cause the USPTO to deny your request.
Luckily, DoNotPay has come up with an ideal solution for this issue! Our app will:
Detect potential similar trademarks by conducting a USPTO search
Fill out the application form in your stead
Send the form to the agency right away
To have us complete your trademark application form, do the following:
and search for Trademark Registration
Pick the class and type of your trademark and describe it further
Answer a few of our chatbot's questions about your business
Verify that you have paid the required registration fee
Once all the steps are completed, our app will generate a tracking code to help you monitor the status of your application. We will also provide the agency with your contact details so it can inform you about the outcome as soon as possible.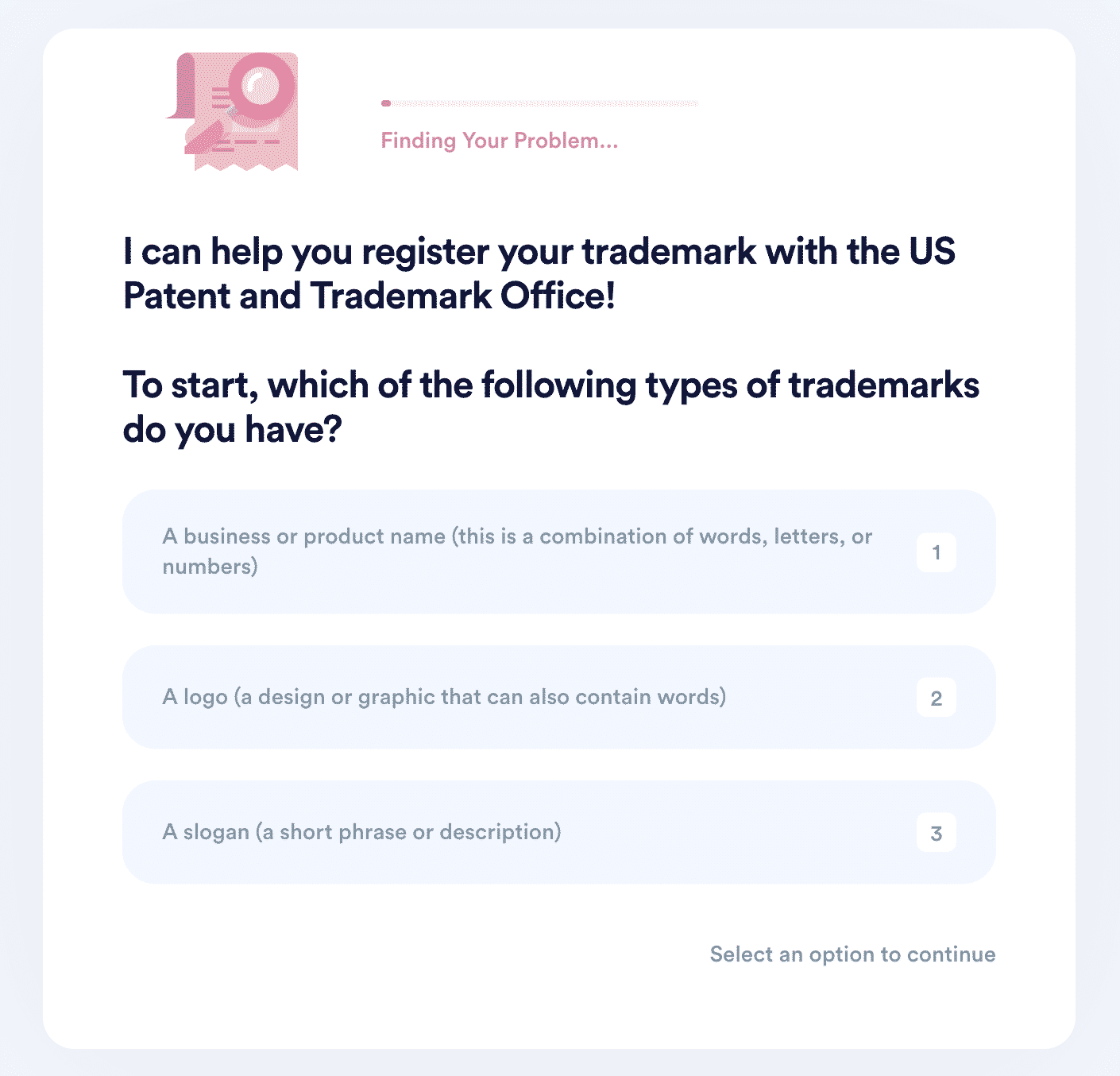 More Problems? We Offer More Solutions
Running a business also calls for various registration processes. Our app can show you the ropes on the following:
Employer Identification Number (EIN) registration
Privacy Shield program self-certification
DMCA agent registration
Do your employees need to submit 83(b) election forms to the IRS? We can help you:
Generate them
Distribute them
File them automatically
No Need To Tighten Your Belt With DoNotPay by Your Side
Handling finances in business can be a burden. There are many unforeseen costs, fees, and even fines. This is where the world's first robot lawyer swoops in!
Take a look at which DoNotPay's products can manage your issues:
| Problem | DoNotPay's Features |
| --- | --- |
| A client breached the contract and refused to pay | Client Breach of Contract |
| Another business copied your brand or used your slogan | Trademark Protection |
| A client initiated the chargeback process for no reason | Fight Chargebacks |
| You need more funds to keep your business afloat or grow it | Business Loan Request Letter |
| People posted bad reviews online that are fake, incorrect, or hateful | Remove Negative Reviews |
All the above-mentioned instances can make you lose money. Luckily, you can rely on our app to nip the issue in the bud.
We can also help you save money by providing you with free faxing and mailing services. No need to waste time or money on post office visits or fax machine purchases.