How To Register a Trademark in California—Can DoNotPay Help?
Once your small business starts to grow, you will attract attention from your competitors. They might want to create a product or service that is similar or identical to yours and make a profit off your customers.
To prevent this from happening, you can register a trademark and protect your brand or goods from being copied. Trademarks can work on a state, national, or international level. If you are looking to get legal protection only within the State of California, you can do so.
In this article, we will show you how to register a trademark in California and explain how the application form works. We will also introduce DoNotPay—a cheaper, more efficient alternative to a trademark attorney.
Trademark—What Is That?
When you come up with a successful idea for a product or service, you will attract customers who will associate your name with what you offer and will develop an emotional tie to it. This way, they become loyal consumers who want to buy your products repeatedly.
If a competitor notices your success, they can copy your product or present themselves in a way that can confuse customers into believing they are buying from your brand. The only way to protect yourself from such infringement is to obtain a trademark or copyright.
A trademark gives you proof of ownership that you can use to sue companies that copy your products. As long as the trademark is active, you will have legal grounds to protect what you own. You will also be able to stop them from importing or exporting infringing goods.
If you decide to get a trademark, you can obtain one for your brand or product in its entirety, but you can also pick a specific element of it. For instance, you can take out a trademark for:
How To Register a Trademark in California
When you decide to register a trademark in California, you will receive state-level protection of your brand or product. While national trademarks go through the United States Patent and Trademark Office (USPTO), the Secretary of State handles the California trademark registration process.
You can file a trademark request in one of the following ways:
Visit the Secretary of State office in person in Sacramento
Send the necessary documents via mail to 1500 11th Street, Sacramento, California 95814
Register for DoNotPay and have our app do everything for you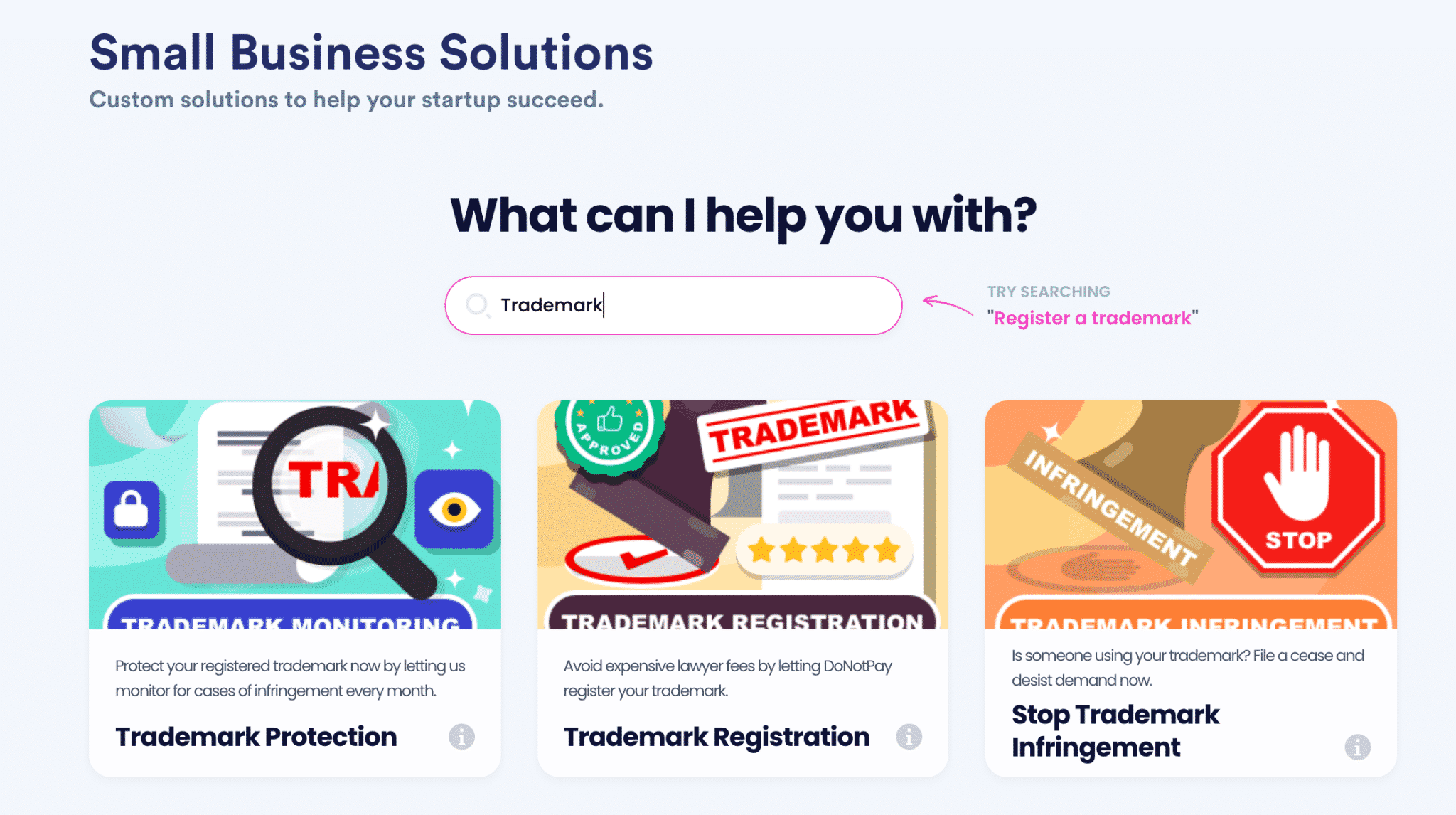 When it comes to trademark requirements, California accepts only applications for trademarks that are already in use. You will need to provide valid proof of use—the office will not review applications with intent to use forms.
Apart from the proof of use, your application form also needs to include:
Details about the owner of the mark
Information about your company
Application fee per trademark class
Declaration of accuracy (a wilfully inaccurate application can result in a fine of up to $10,000)
Reasons for refusal if you have previously unsuccessfully applied with the USPTO
Doing Research Before Going Ahead With the California State Trademark Application
You should do a clearance search on already-existing trademarks before you begin the process of getting a registered trademark. This way, you can save yourself time and money and find out whether a similar trademark already exists.
The Secretary of State (as well as the USPTO) will deny any application that is similar to registered trademarks based on:
Appearance
Relatedness
Sound
Commercial impression
To conduct a thorough search, you need experience—especially for phonetically similar trademarks. The best way to go about it is to hire an attorney, but that will increase the cost of getting a trademark significantly. You can to do the search for you.
Bear in mind that you should also research the USPTO's database to avoid infringement on a trademark with federal protection.
Why Go Through California Trademark Registration?
If you want to get federal or international protection, you will need to file a request with the USPTO. If you want to get protection only within the State of California, you can register with the Secretary of State. The state-level protection is cheaper, but it means that companies from other states can use a similar trademark elsewhere.
Even though you may not have federal protection, you can avoid being sued by someone else with a priority date. The date shows when you applied for the trademark and will help you prove that your idea was original.
Check out the following table to see some differences between getting a state trademark and filing with the USPTO:
Trademarks in California
USPTO Trademarks

A fee of $70 per class
State-level protection
Proof of use necessary
Accepts cannabis-related trademarks
Cannot use the ® symbol

A fee of $250–$350 per class
Federal and international protection
Accepts intent to use applications
Accepts only applications within available classes
Can use the ® symbol
How To Register a Trademark in California Using DoNotPay
Getting a trademark is a complicated process that requires doing thorough searches and providing extensive information. This is why many company owners choose to pay for professional help, but attorneys come with extortionate fees.
DoNotPay can give you the help of a professional lawyer without adding hundreds or thousands of dollars to your bill. Our app will do the clearance search and make sure your application form consists of all the required information.
All you need to do is:
Select the Trademark Registration product
Answer a few questions from our chatbot
Pay the trademark class fees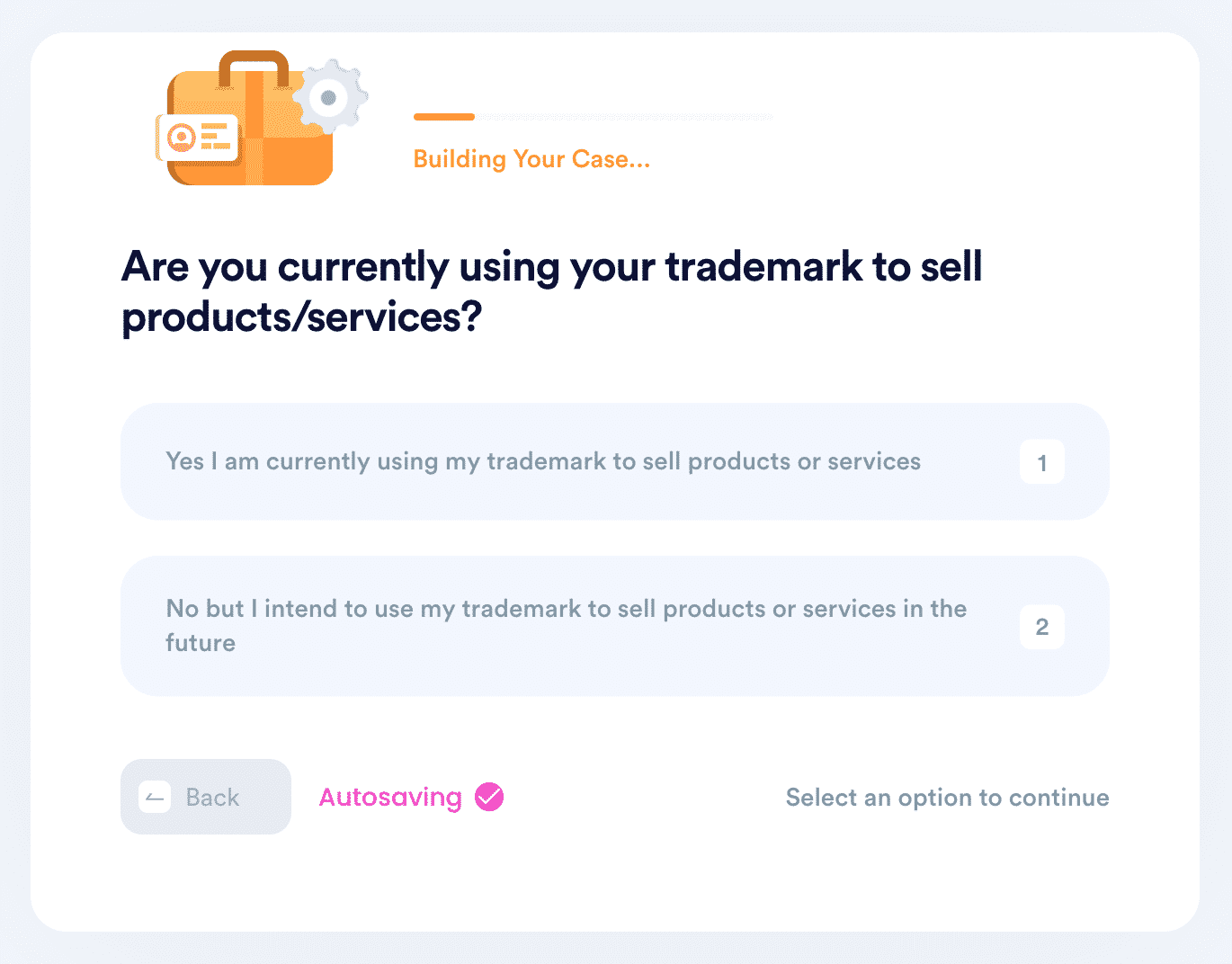 Take Care of Pesky Business-Related Procedures Effortlessly!
As a business owner, you are bound to deal with various complex processes. Luckily, DoNotPay can help you handle most of those procedures stress-free. Do you need to register your business name as a trademark, file the self-certification request with the Privacy Shield program, or report illegitimate and inappropriate negative reviews? Our app enables you to do it within minutes.
That is not all we can do for you! With our nifty products, you can make the filing of 83(b) election forms a breeze and take care of DMCA agent and Employer Identification Number (EIN) registration in no time.
Need a solution that will facilitate correspondence with your business associates or clients? DoNotPay has the right faxing and mailing product for you!
Don't Spend a Small Fortune on Lawyers—Draft Various Documents With DoNotPay's Help
Drafting legal documents does not have to be complicated or expensive. DoNotPay has a variety of tools that you can use to get a:
Letter requesting a loan for your small business
Cease and desist demand regarding your trademark (if someone tries to use your business name, logo, or slogan)
Formal demand letter requesting a client to pay for your services
Personalized chargeback rebuttal document based on the:

Chargeback reason
Chargeback code
Service you offer