How To Register a Trademark in Arizona—DoNotPay Breaks It Down
Are you curious about how to register a trademark in Arizona? It is a critical step in any growing business' development.
Registering a trademark in the state of Arizona entitles you to valuable protection, keeping your brand secure from unauthorized use by your competitors. The application process can be time-consuming and expensive, which is why it is so important to know what you are getting into. Alternatively, you can outsource the paperwork to .
What Is a Trademark in Arizona?
Arizona state law defines a trademark as any word, name, symbol, or device (or any combination of these items) adopted and used by a person to identify goods produced or sold by that person and distinguish them from goods made or sold by others. You can register any of the following assets as a trademark:
It is crucial to understand how this concept differs from other similar legal classifications:
Trade name—different from a legal business name and used to distinguish a company from a personal name or to prevent from infringing on another registered trade name
Service mark—used for services instead of goods
Copyright—used to protect works of creation (such as novels, screenplays, music pieces, etc.)
Why Bother With Arizona Trademark Registration?
Although not required to do so, many businesses file trademark applications to establish and protect their brand. If another entity adopts any part of your trademarked brand, you can sue them for infringement.
How To File Your Arizona Trademark Application Form
The Arizona Secretary of State's Office only allows one method of filing. If you need assistance in the process, you can turn to DoNotPay because we can help you register your trademark on the federal level and protect your brand across the U.S.
| Filing Method | Yes/No |
| --- | --- |
| DoNotPay | Yes |
| Online | Yes |
| By mail | No |
| In person | No |
How To Register a Trademark in Arizona
Register your Arizona trademark by following these steps:
Confirm that your trademark does not infringe on others registered in the state of Arizona
Open an application using the Arizona Secretary of State's online portal
Fill in the required information
Specify which class your goods fall under
Upload an example of your trademark
Submit your application
Trademark applications generally process within 2–3 weeks. Your trademark will remain valid for ten years or as long as you continue to renew it.
How Are State and Federal Trademarks Different?
State trademarks only protect your established brand within state borders. Registering your trademark at the state level in Arizona makes it available for public scrutiny, which will ensure it does not conflict with another mark already in use.
In theory, if your business becomes prolific in Arizona and a competing brand begins operating in a neighboring state, like California, they could infringe on your brand without being liable for legal damages.
While a state trademark may suffice at a particular time, you should consider filing at the federal level because your brand will probably continue to grow.
How To File a Federal Trademark Application
Federal trademarks are managed by the United States Patent and Trademark Office (USPTO). Consult their database to ensure your brand does not infringe on another on file.
The USPTO only allows online trademark registration. You can initiate the application process by following these steps:
Go to the Trademark Electronic Application System (TEAS)
Log in to or create an account for TEAS
Start a new application for your specific trademark class
Fill in the requisite information about your brand
Submit the application
How Much Does It Cost To File an Arizona Trademark Application?
You will need to budget for two essential expenses in this process:
Nonrefundable government fees
Legal assistance
You must pay a filing fee to submit your application and may need to pay additional costs to expedite the process:
| Filing Service | Fee |
| --- | --- |
| Trade name | $10 |
| Trademark | $15 |
| Expedited processing | $25 |
Beyond the Secretary of State Office's costs, you may also need a trademark lawyer to facilitate the application procedure. The last thing you want is a minor mistake resulting in a denied registration.
Failure to complete the application correctly or pay the specific charge to which you are subject can jeopardize the viability of the process. That's why businesses often hire legal experts. Doing so can be very expensive—on average, Arizona lawyers charge $450/hour.
DoNotPay Streamlines the Trademark Application Procedure
Opting for a nationwide trademark offers complete protection of your brand, and the process is not complicated if you . Our AI-powered robot lawyer streamlines mundane administrative procedures.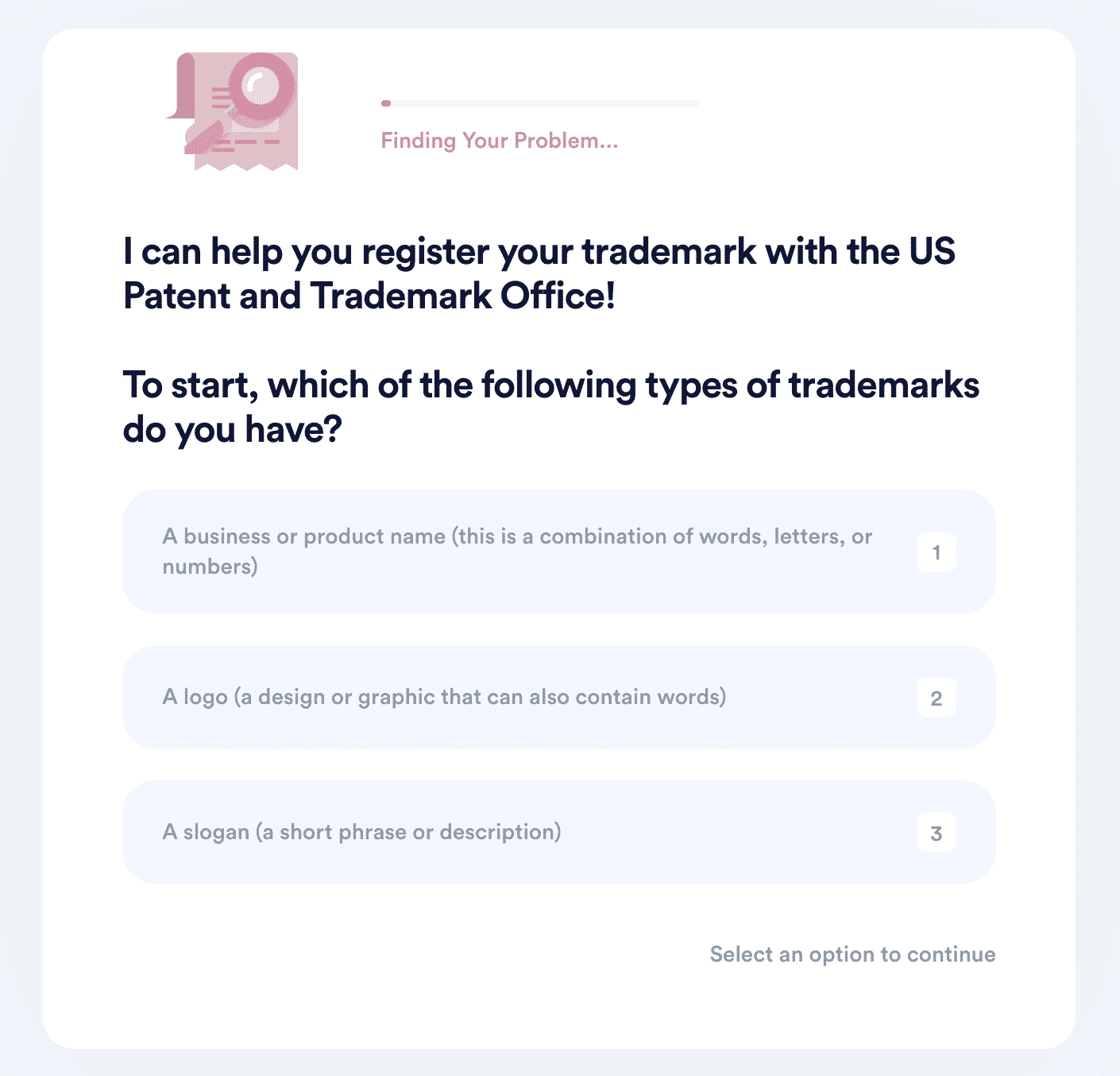 Our Trademark Registration tool will:
Disclose the required information
Submit the application
Facilitate review and signing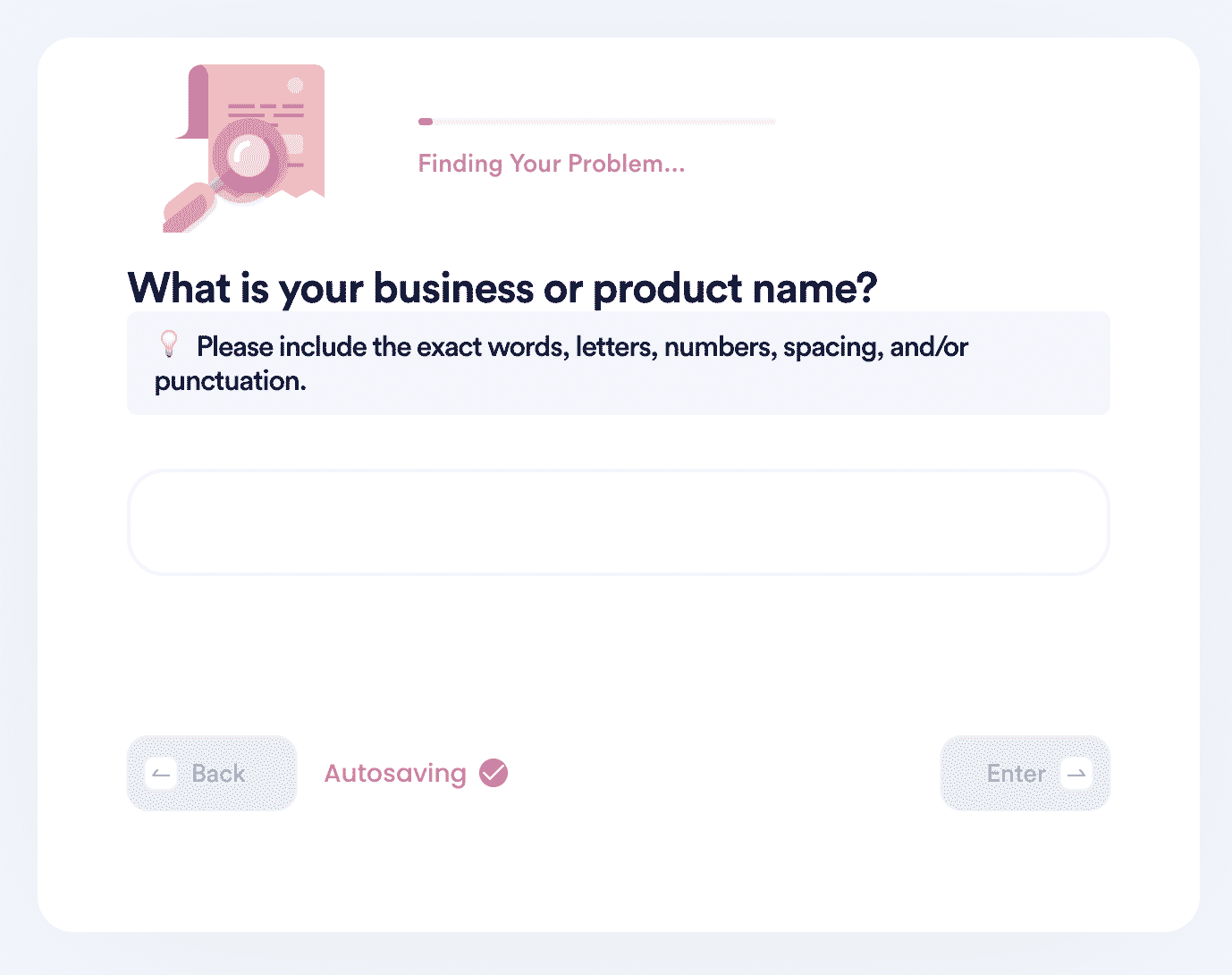 After submitting your application, we will provide an application tracking number and pass your contact info to the USPTO for further communication. All you have to do is:
Subscribe to DoNotPay
Open our Trademark Registration product
Describe your trademark and answer our chatbot's questions
Cover the filing costs
DoNotPay Offers More Help for Your Business
Running a small business is no small feat. When you're drowning in red tape, DoNotPay is here to lend a helping hand. Whether you need to register your trademark or protect it later on, we have got it covered. With our help, you will keep your logo, slogan, and business name safe.
Are you also yet to register for an Employer Identification Number (EIN)? Not to worry—our app can file the IRS SS-4 form in a few clicks. With the world's first robot lawyer at your fingertips, you will also be able to create your 83(b) election forms with ease—ready for your employees to sign them right away.
In case you are struggling financially, we can assist you with a business loan application.
Communication Has Never Been Easier With Our App
Keeping up with clients can be challenging, especially if each has a preferred method of communication. Luckily, our multifunctional app makes it easy to both fax and mail contracts, letters, and documents.
You can also count on our assistance when you need to:
Fight fake negative reviews online
Deal with a client regarding a breach of contract
Dispute fraudulent chargebacks
Thanks to DoNotPay, there is no need for back-and-forth communication. We will handle the necessary demand letters and forward them on your behalf.
We can also help you manage your DMCA agent registration and Privacy Shield program self-certification.