Learn
How To Reduce Property Tax in California
With DoNotPay
Living the easy life in California is a dream for many, but it comes at a price—property prices are the second-highest in the U.S., with a median home value of $540,000.
Although salaries tend to be higher in California than elsewhere, you are still likely to face a price/earnings (PE) ratio of 6.9 compared to 4.1 in the rest of the country. In simple terms, it will take you 6.9 years to earn the price of your home in California, as opposed to 4.1 years elsewhere.
As any homeowner knows, your property also comes with an annual property tax burden. Thankfully, California is one of the states with low property tax, with an overage effective tax rate of 0.73%. Compared to the national average of 1.07%, you are getting off lightly, but the high housing costs mean that you will still be hit with a significant cash drain once a year.
DoNotPay is an expert at helping people reduce their property tax, and we can advise you on how to lower your property taxes in California.
How Does California Calculate Property Tax?
Property tax in California is administered by each of the 58 counties and overseen by the California Board of Equalization. It is normally payable in two installments each year.
Your property tax bill is calculated by multiplying the assessed value of your home by the county's tax rate. Here's how each element works:
Assessed property value

Tax rate
Assessed Property Value
Each county assesses your property by looking at sales data for similar-sized real estate in your area and adjusting your property's market value accordingly.
House prices in California are rising by between 7% and 8% a year, and county assessors re-appraise your property annually, so you are going to be hit with a property tax increase regularly.
Your home is also likely to face reassessment if you make any significant additions or improvements to it. County assessors automatically receive copies of any building plans you have drawn up and will view the construction of a swimming pool or the renovation of a bathroom as a value-adding factor.
Tax Rate
The property tax rate is calculated based on the funding needs of the county. Property tax revenue is used to fund services such as:
Police

Fire departments

Schooling

Road maintenance

Public recreation facilities
California sets a general tax rate that caps property taxes at 1% of a property's value. Additional voter-approved charges, known as Mello-Roos taxes, can be levied to finance specific projects in designated areas.
When Do You Get Your Property Tax Bill in California?
California has a fiscal year of July 1 to June 30, and billing cycles are fixed from year to year, the only variations being due to public holidays. Your California property tax deadlines are as follows:
| | |
| --- | --- |
| Date | Event |
| January 1 | The first day of the property tax exemption claim period |
| February 1 | The second property tax installment due (delinquent after April 10) |
| February 15 | The last day of the property tax exemption claim period |
| April 1 | The final date for applications for the disabled veteran property tax exemption |
| June 30 | Fiscal year end |
| July 2 | The first day of the lodging period for assessment appeals |
| September 20 | Assessment appeal hearings begin |
| November 1 | The first property tax installment due (delinquent after December 10) |
| November 30 | The last day of the lodging period for assessment appeals |
Failure to pay your property taxes on time can have serious consequences, up to and including the forfeiture of your home.
Applying for a Property Tax Exemption in California
California offers several property tax exemptions that can significantly reduce your annual property tax bill. The available exemptions are:
Homeowners' property tax exemption

Senior tax exemption

Veterans' property tax exemption and disabled veterans' exemption

Disability property tax exemption

Parent/child and grandparent/grandchild property tax exemption
Homeowners' Exemption
All homeowners who use their property as their primary residence can apply for a property tax exemption of up to $7,000 off the assessed value.
Senior Tax Credit
If you are a homeowner over 65 who is using their property as their primary residence, you may be eligible for senior citizens' credit on your property tax. You may also be able to transfer your current home's assessed value to a similar replacement property, thereby avoiding any reassessment.
Veterans' Exemption
As a single veteran with no more than $5,000 in assets, a married one with a maximum of $10,000, or the surviving un-remarried spouse of a veteran, you may be eligible for an exemption of up to $4,000 off the value of your property. Higher write-offs are available if you are a certified disabled veteran.
Disability Tax Exemption
California residents who are disabled can transfer the assessed value of their current home to a new property of equal or lesser value, meaning they can avoid a potentially higher reassessment. If you make alterations to your existing property to make it more accessible for you, you can also write these off against the assessed value of your property.
Parent/Child and Grandparent/Grandchild Property Tax Exemption
Transfers of property between parents and children or grandparents and grandchildren (if the parents have died) are exempt from property reassessment, so you can negate the effect of any major increases in the value of your property. 
Assessed values in California can only be raised by a maximum of 2% each year. If property prices have risen by 7%, avoiding reassessment can mean a significant saving in property tax.
Appealing the Assessed Value of Your Property in California
With sharply-rising property prices throughout California, mistakes may be made in assessing the value of your property.
If you feel that the value your county has placed on your home is too high, you can lodge a property assessment appeal.
Appealing your assessed value is a time-consuming process, but if you are successful, you can significantly reduce your property tax burden and set a precedent for years to come.
Whichever route you choose, DoNotPay is your go-to resource for property tax reductions in California.
DoNotPay Can Help Reduce Your Property Tax in California
DoNotPay is here to help when it comes to property tax reductions, and we offer a property guide that gives you customized advice.
The app features two sections:
Property tax exemptions

, with information on the opportunities in your area and how to apply

Property tax appeals

, including help on how to deal with assessors and lodge an appeal
Where Can You Get DoNotPay's Property Guide?
Our guide is easy to get by following these steps:
Navigate to DoNotPay in your

web browser

and sign up

Look for our

Property Tax

feature

Give us the information we need

Let us create your customized guide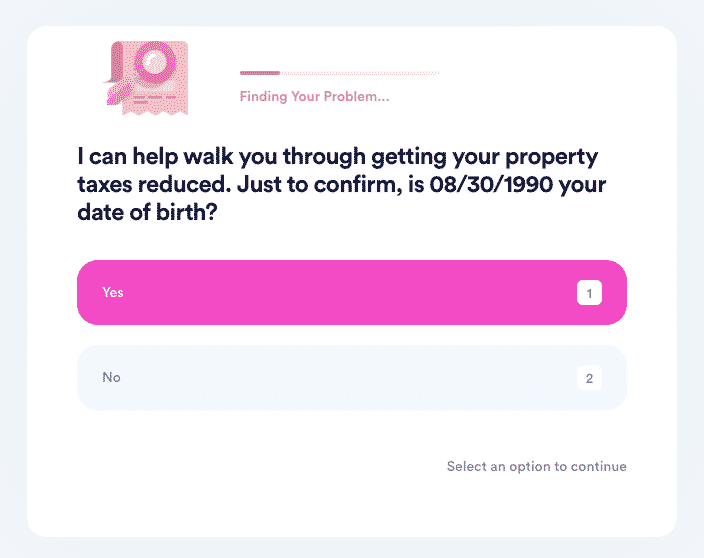 Any Other Tips From DoNotPay?
DoNotPay is going to help you pay your property taxes in no time!
Simple tips to make your property tax bill as fair and manageable as possible are:
| | |
| --- | --- |
| Tip | Explanation |
| Avoid renovations or improvements | Any additions, renovations, or improvements to your home will be noticed by the county assessor and may increase your property's assessed value |
| Check your bill | Mistakes can happen, so check whether all the details on your bill are correct |
| Work with the assessor | Accompany the assessor when your property is appraised to make sure all the relevant facts are noted |
DoNotPay Breaks Down Communication Barriers
Communication and new technologies walk hand in hand, and DoNotPay can smooth out any bumps on that road. On our platform, you can find useful tools for avoiding phishing emails and text messages, sending faxes online, stopping annoying robocalls, or signing up for new services without phone verification.
Contacting customer support is no party, but DoNotPay can make the process so much easier, whether you need to request a refund, demand compensation for a canceled flight, or file a warranty claim.
You can even use our platform for locating your loved ones in prison and sending them letters the proper way!
Can Your Virtual Assistant Do This?
Hey, Siri! Make me ready for my upcoming small claims court appearance. No luck? OK, Google! Prepare a DMCA notice for that website that uses my photos without authorization. Still nothing?
DoNotPay is the virtual assistant that won't back away from issues that require legal expertise. Our lawyer bots work around the clock to get you due date extensions for utility bills, reduce your property taxes, or stop stalking and harassment before it gets ugly.
The world's first robot lawyer will provide assistance even with securing compensation for victims of crime!