How To Purchase a Trademark With Zero Worries—A Complete Guide
Many small business owners do not have enough time to create a new business name, logo, or slogan—or enough money to pay someone to do it for them. Instead of filing a new trademark, you can always buy an existing one. How difficult can purchasing a trademark be? Our easy-to-follow guide offers useful tips on how to purchase a trademark with zero stress. Apart from providing a thorough explanation of the purchase procedure, we will show you the quickest way to file any trademark on a federal level effortlessly!
Is It Possible To Purchase a Trademark?
According to the law, if you need a trademark that already has an owner, you can purchase it via trademark assignment. This procedure is also known as trademark transfer and represents a common solution when a business gets sold to another person or company. It can also serve for getting an existing asset if you cannot create your own for any reason.
Is Trademark Assignment the Same as Trademark Licensing?
The terms "trademark assignment" and "trademark licensing" are not synonyms.
In trademark licensing, the owner of the trademark allows another person or company a restricted use of the mark. The restrictions may include:
Limited period of time
Specific purpose—for particular goods or products
Predetermined area
The licensee must also pay a specific royalty fee to use the asset.
When it comes to trademark assignment, the trademark owner transfers rights to another business or person automatically. The assignee can use the transferred asset and the existing trademark owner's reputation for selling their own goods and services.
How To Buy a Trademark via a Trademark Assignment
The trademark assignment process consists of two phases:
Composing and signing a trademark assignment agreement
Registering the ownership changes with the U.S. Patent and Trademark Office (USPTO)
The table below contains details about both parts of the procedure:
Step
Details
Signing a trademark assignment agreement
A trademark assignment agreement is a document with which the original trademark owner transfers you the right to use the business asset in question. It should contain the following provisions:

Introduction—including the identification of both parties and the purpose of the contract
Recitals—a simple statement that confirms the assignor wants to transfer their ownership to the assignee
Description of the assigned property—including:

Duration—whether it was renewed and when
Trademark type

Consideration—the amount the assignee should pay to start using the trademark
Assignor's and assignee's representation and warranties
No early assignment clause
No further use of marks clause
No implied waiver clause
Indemnification section
Governing laws
Signatures of both parties

Changing ownership with USPTO
Once you sign the agreement with the trademark assignor, you should register the changes with the USPTO. You can do it online via the Electronic Trademark Assignment System (ETAS). All you need to do is complete the e-form and wait for the information to get updated
Can You Purchase a Dead or Abandoned Trademark?
Yes, you can. If buying an existing registered trademark seems too pricey or complicated, you can always consider the ones that are not active anymore. A trademark is dead when the owner does not use it for three years in a row and is abandoned if they don't use it at all.
The best way to find such assets is to run a USPTO search by setting the desired filters and criteria. You can:
Run trademark checks yourself by using the Trademark Electronic Search System (TESS) on the official USPTO website
Hire an attorney to help you conduct the search and file a trademark application
to have our app check the USPTO database
Let DoNotPay File a Seamless Trademark Application in Your Name
The trademark application process with the USPTO entails various complicated steps. Confusing instructions and a lack of accurate info in your application form may lead to rejection, meaning you'll have to go through the entire process all over again. To skip the inconvenience, let our app file an application on your behalf in a few clicks!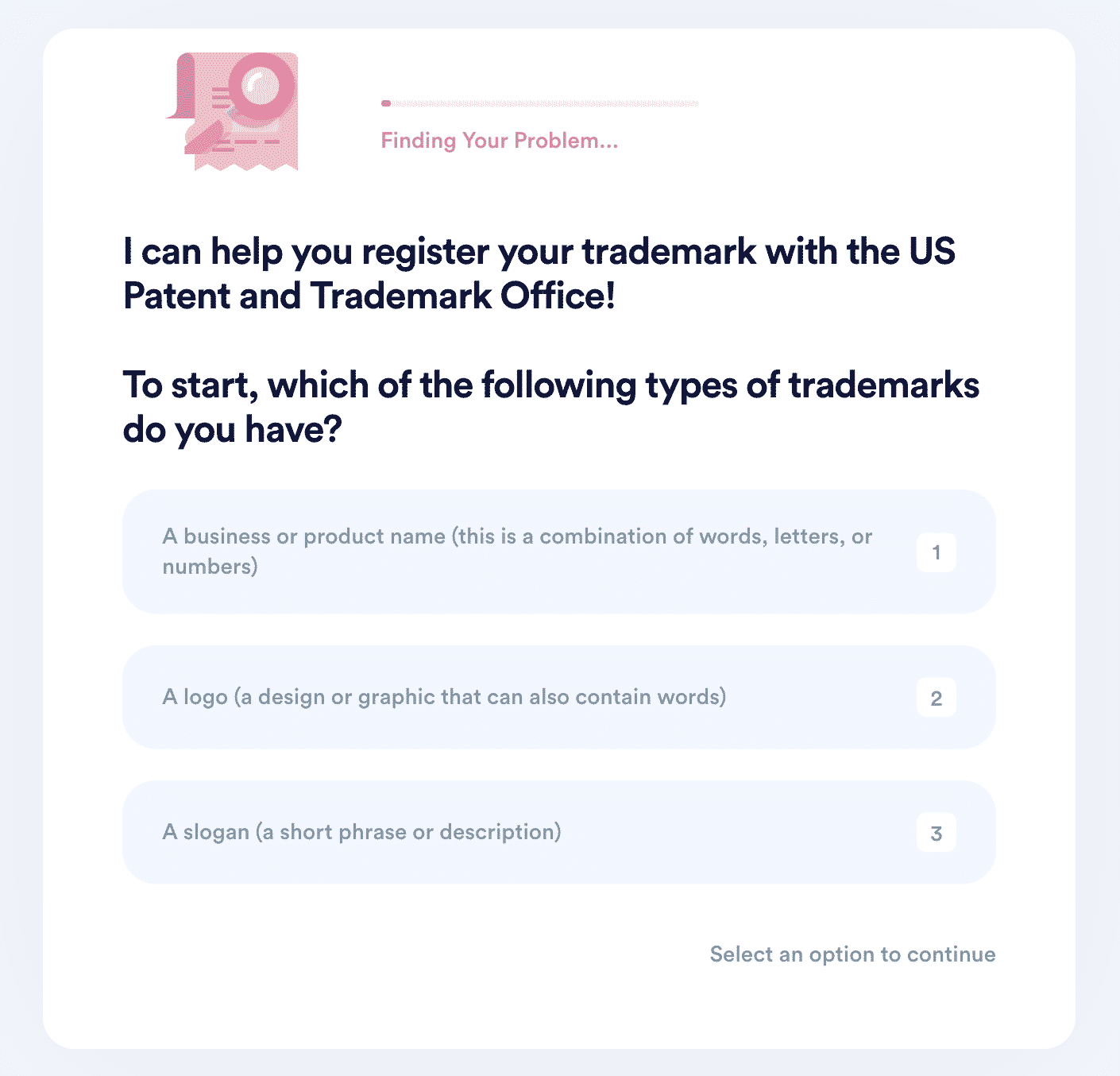 The secret lies in an easy-to-use chatbot mechanism that collects the necessary details about your trademark. Once you answer a few simple questions, our app will perform a USPTO trademark search and check if your idea is eligible for registration. If it is, we will complete and forward the application form to the right hands!
Here is how to get our help:
and look for the Trademark Registration product
Tell us what type of asset you want to trademark
Choose the trademark class and disclose more info about the idea you want to register
Pay the trademark filing fee
Are you wondering what the difference between copyrights, service marks, and trademarks is? Do you want to know how registering your assets can protect them from infringement or what requirements you must meet to apply for a trademark? Wait no more—discover other guides in DoNotPay's learning base and get all the answers you need!
More Problems? We Offer More Solutions
Running a business also calls for various registration processes. Our app can show you the ropes on the following:
Employer Identification Number (EIN) registration
Privacy Shield program self-certification
DMCA agent registration
Do your employees need to submit 83(b) election forms to the IRS? We can help you:
Generate them
Distribute them
File them automatically
No Need To Tighten Your Belt With DoNotPay by Your Side
Handling finances in business can be a burden. There are many unforeseen costs, fees, and even fines. This is where the world's first robot lawyer swoops in!
Take a look at which DoNotPay's products can manage your issues:
| Problem | DoNotPay's Features |
| --- | --- |
| A client breached the contract and refused to pay | Client Breach of Contract |
| Another business copied your brand or used your slogan | Trademark Protection |
| A client initiated the chargeback process for no reason | Fight Chargebacks |
| You need more funds to keep your business afloat or grow it | Business Loan Request Letter |
| People posted bad reviews online that are fake, incorrect, or hateful | Remove Negative Reviews |
All the above-mentioned instances can make you lose money. Luckily, you can rely on our app to nip the issue in the bud.
We can also help you save money by providing you with free faxing and mailing services. No need to waste time or money on post office visits or fax machine purchases.