How to Publish a Book on Amazon and Make Money
If you've always dreamed of writing a book but have had a hard time finding a publisher to accept your work, you're definitely not alone. Many publishing houses are reticent to work with new authors who lack vast social media followings or other forms of celebrity. For a novice, selling an unsolicited manuscript can be downright impossible. Fortunately, you can learn and make money. In the digital age, self-publishing is all the rage. With Amazon, you'll have access to millions of potential buyers, and you can market your work at virtually no cost.
Publishing on Amazon is just one way to make money on your computer. With DoNotPay, you can learn how to use mobile apps to make money, how to make money on your mobile phone, how to use Robinhood, Coinbase, and other platforms to play the stock market, and more. There are countless ways to make money on the Internet, and DoNotPay has detailed information on them all.
What Publishing a Book on Amazon Means
Self-publishing is the go-to publishing method for authors who want to reach audiences and make money for their written work but who haven't yet sparked the interest of traditional book publishers or who aren't willing to pitch their stories in the traditional way. A great strategy is learning . With Amazon, you can easily:
Upload your book.
Distribute it.
Track your sales.
Build your reputation as an author.
Book publishing on Amazon is done through Amazon Kindle Publishing. With Amazon Kindle Publishing, you have the option of creating a digital book, a paperback or a hardback. Best of all, once your project is complete, you can make your work available to Amazon's worldwide audience within just minutes. This means:
You don't have to pitch your idea to major or independent publishing houses and wait for a response.
There's no risk of having your work rejected.
You can get started as an author even if you lack experience, celebrity, or a massive social media following.
How to Use Amazon Kindle Publishing
There are two options in Amazon Kindle Publishing:
Amazon Kindle Publishing or Kindle Direct Publishing (KDP)
Amazon Kindle Publishing Select or Kindle Direct Publishing Select (KDPS)
With KDP, you don't have to spend any money out of pocket. KDP will pay you a 70 percent commission on all of your sales. On average, the KDP publishing process takes about 5 minutes. Once complete, your book will be live and available for purchase within just 24 to 48 hours. This is non-exclusive publishing through Amazon. When you use KDP, you have the option of selling your book on your own website, on other bookselling platforms, and as part of a subscription-based service.
Conversely, Amazon KDPS is for authors who wish to sell their books exclusively on Amazon. KDPS will pay you 100 percent of all royalties. However, you will not have the option of working with other publishing platforms or generating revenue from your books via any other means.
How to Get Started
If you intend to use Amazon to make a little extra money on the weekend or during your spare time, it's best to start by researching the market. This way, you can target topics that are generating the greatest amount of interest among Amazon book buyers. Once you've spotted the niche that you'll be writing in, decide whether to use KDP or KDPS publishing services. Then determine whether you want to release your book as a digital work only or as a paperback.
When your manuscript is ready, visit the Amazon Kindle Publishing platform and log in. You will then need to:
Enter your book details
Upload your book and preview it.
Set your preferred pricing.
Establish the publishing rights.
Order proof copies of your book.
Amazon Kindle Publishing has a wealth of tips and tools that you can use as you work through this process. Moreover, if you have questions or run into any problems, you can contact Amazon Kindle Publishing via its contact page.
Tips to Make Money Publishing a Book on Amazon
Given just how easy it is to publish a book using the Amazon Kindle Publishing service, there are countless authors uploading new manuscripts each month. To optimize your earnings on this platform, you'll need to know how to compete. Follow these four steps to increase your sales:
| | |
| --- | --- |
| Choose Great Cover Art | The old adage about never judging a book by its cover is definitely worth remembering when choosing a book that you want to read. However, as someone who's hoping to sell a book, your cover art is one of the most important visual tools that you have at your disposal. You want professional-looking cover art that accurately conveys the nature and content of your work. Given that publishing your book on Amazon can be done for free, it's a good idea to set a little cash aside for hiring a seasoned artist to design your book cover. |
| Hire a Professional Editor | It's also a good idea to hire a professional editor. Even though you're self-publishing, this doesn't have to be an entirely self-managed project. An experienced editor can help you clean up your manuscript before it goes live to produce a polished work that's easy and enjoyable to read. There are even editing services for self-publishing authors that will assist with book formatting. |
| Write a Knock-Out Book Description | In addition to your book's cover art, the description that you write will be used by prospective buyers to learn more about its content. If you hire a professional book editing and formatting company, you can get help crafting this all-important marketing text. |
| Solicit Reviews From Recognized Authors | Before publishing your book on Amazon, share your story with as many people in the literary field as you can. If you have published authors or major book, magazine, or newspaper editors in your network, ask these individuals to review your work. Published reviews that can be included on the book jacket and within your marketing materials will help you garner more attention. |
Use DoNotPay to Find the Perfect Way to Earn Money Online
DoNotPay can certainly help you learn However, if you're in a tight spot and want to make some money on the side today, DoNotPay can help with that, as well. With DoNotPay, you'll find a variety of ways to leverage the power of the Internet to improve your financial situation, including:
Finding missing money that's registered in your name
Donating your blood plasma
Taking part in clinical trials
Getting free birthday gifts
With opportunities like these, you can take care of your immediate cash flow issues. Here's how to get started:
1. Log-in to DoNotPay and head over to the Make Money Online product.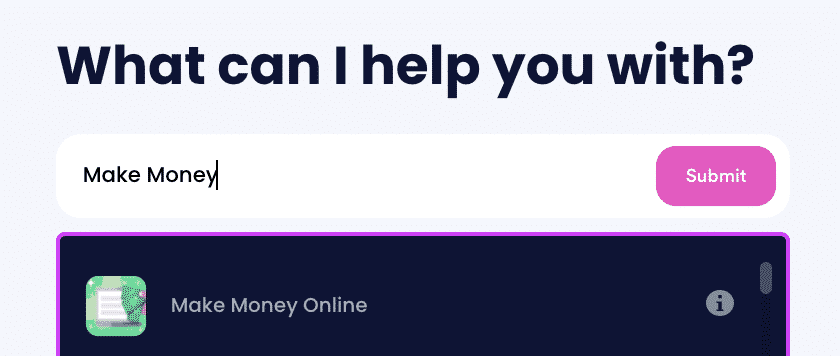 2. Select which option you're interested in from our list.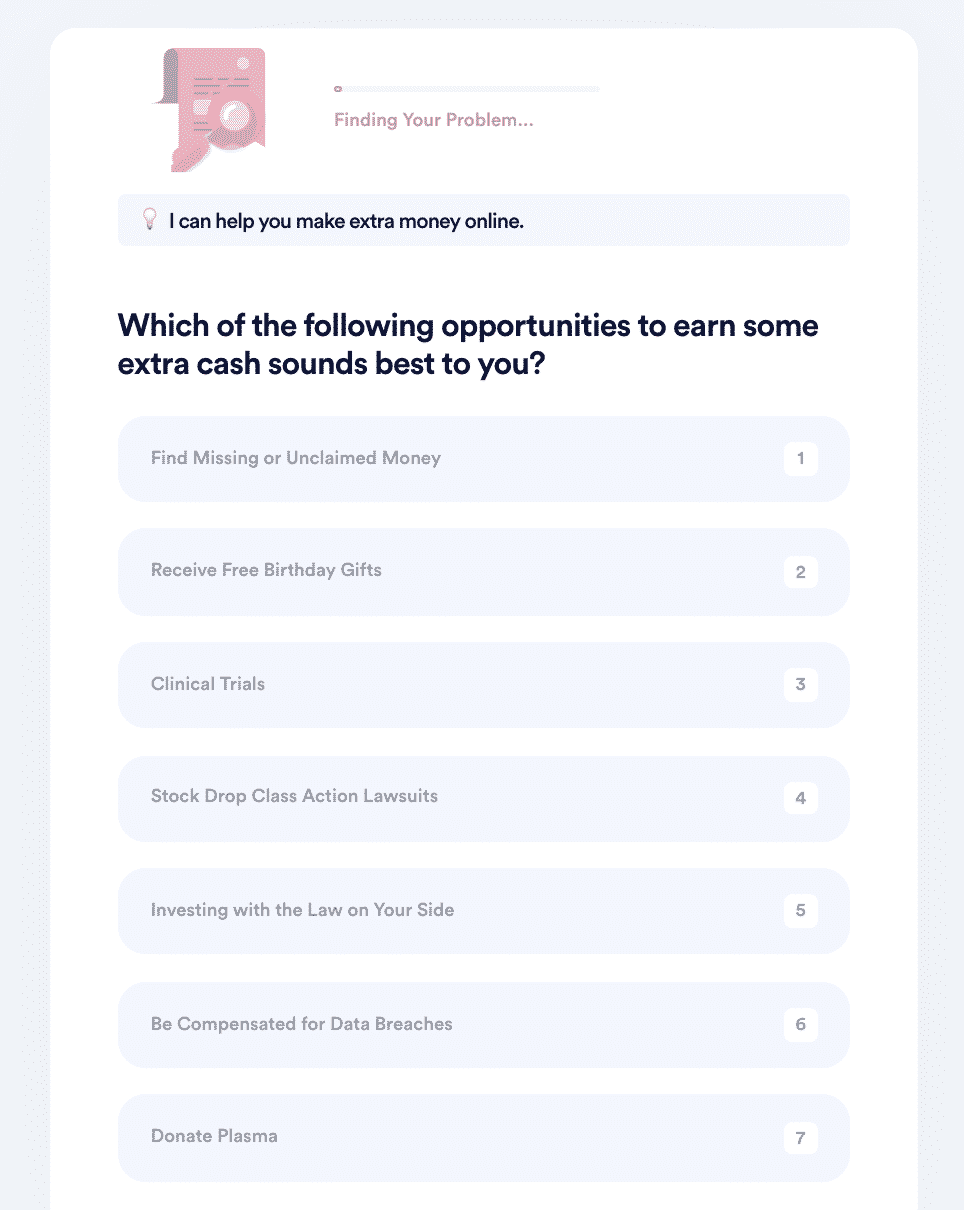 3. Complete the chatbot to start earning extra cash!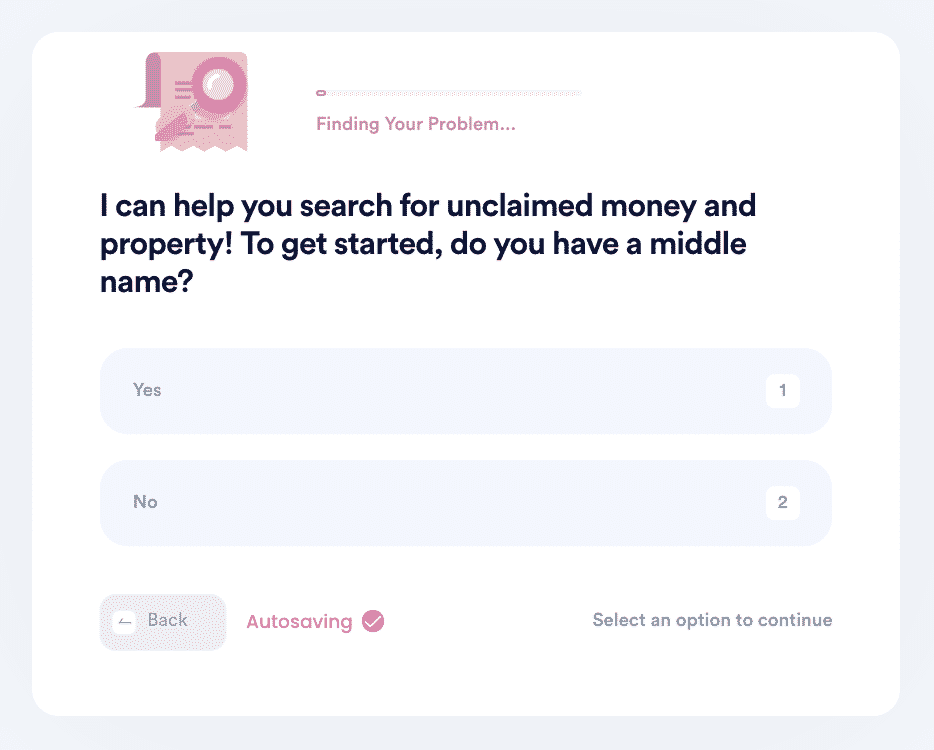 And that's it! You're now ready to get started making money.
Other Things DoNotPay Can Help You Accomplish
In fact, DoNotPay can help you tackle a number of important tasks, save money, and find many other income-generating opportunities. With DoNotPay, you can:
Subscribe to DoNotPay now to get started.