Learn
How To Prove Age Discrimination in the Workplace
At age 40 or over, you have skills, knowledge, and experience in your job.
If you find yourself being passed over for new opportunities or overlooked for promotion, you may be experiencing age discrimination.
Workplace discrimination of any sort is illegal, but it is your responsibility to prove that it is taking place. Here is DoNotPay's advice on how to prove age discrimination in the workplace.
What Is Age Discrimination?
Age discrimination refers to different treatment by your employer based on your age. The treatment you experience could include:
Changes to your job responsibilities

Sidelining from previously-held functions

Refusal of permission to attend training courses

Termination
You may also be subjected to more subtle forms of ageism that are discriminatory—most commonly, these involve harassment or exclusion from social situations.
How Common Is Age Discrimination?
According to an American Association of Retired Persons (AARP) study in 2018, over 60% of employees aged 45 and over experienced or witnessed age discrimination at work.
The Equal Employment Opportunities Commission (EEOC) received 14,183 complaints of age discrimination in 2020—suggesting that many cases are going unreported. Of the complaints received, the EEOC only filed and resolved 35 lawsuits, generating $3.1 million in compensation.
The bottom line is that 21% of the EEOC's charges of discrimination are based on age discrimination, but the Commission only generates 3% of its compensation by resolving age-related cases.
Why Is Age Discrimination at Work Such a Problem?
Many decisions about whether to employ or promote someone are made in private—employers are rarely forthcoming about why they choose one employee over another.
If you accuse your employer of age discrimination, you must prove your case on the balance of probability. This means that you must have enough hard evidence for a court to decide in your favor.
The law relating to age discrimination at work is the Age Discrimination in Employment Act of 1967 (ADEA). The main points this act covers are:
Legal Area
Explanation

Hiring

An employer is not allowed to refuse employment to a candidate because of their age

Promotion

Employees over 40 must be given the same promotion and advancement opportunities as younger employees

Discharge

A company cannot require an employee over 40 to perform different functions to younger colleagues based on their age

Compensation and

wage discrimination

Employees over 40 must be offered the same remuneration and compensation terms as younger employees

Terms, conditions, and privileges

A company is prohibited from employing separate criteria for the terms, conditions, or privileges of employment for employees over 40
While the ADEA is strong in principle, a court may require you to prove that you would have got a job or promotion but for your age—meaning that being 40 or over was the only reason you were not given an opportunity.
How To Prove Age Discrimination Cases
Your best course of action is to collect enough evidence of age discrimination in your workplace to convince the EEOC, a court, or a discrimination lawyer that your employer is guilty.
This means you need to:
Keep a diary

Report every incident to HR

Check your company's

anti-discrimination policy

Look for other examples among your colleagues
Keep a Diary
You should record every incident of age discrimination in detail, no matter how small. Even a casual remark—such as "Ok, Boomer"—should be noted down as it may build your case for systemic ageism within your organization.
Your diary should record:
Every incident of ageism or age-related discrimination

The date and approximate time it occurred

The name of the perpetrator

The details of any witnesses
The more incidents you can point to, the more convincing your allegation will appear.
Report Every Incident to HR
At the risk of being labeled a troublemaker, you should make sure every occurrence of age discrimination is reported to HR and logged as an official grievance—you should not allow HR to get away with downplaying or sidelining your reports.
Check Your Company's Discrimination Policy
Your company should have a written policy against discrimination in the workplace based on:
The policy should comply with federal anti-discrimination laws and may even list examples of workplace behavior that constitute a breach of policy. This could be valuable information for you to prove your case.
Look for Other Examples Among Your Colleagues
If your employer is practicing systemic age discrimination, the chances are that you are not the only victim. Look for other victims in the organization because a complaint brought simultaneously by multiple plaintiffs will be more convincing.
Get Expert Help From the EEOC
The EEOC's job is to investigate claims of workplace discrimination of all types—with the resources to launch a full-scale inquiry, it may be your greatest ally.
Once you have collected your evidence, you should lodge a complaint—called a charge of discrimination—with the EEOC.
The EEOC is mandated to:
Inform your employer of the charge

Investigate your allegations

Launch legal action

Give you permission to sue
If your evidence is strong—and confirmed by other cases against your employer—the EEOC has the knowledge and experience with employment discrimination cases to offer you the best support.
Dealing with the EEOC can be complicated, but DoNotPay can help you start the process with a few clicks!
What Can DoNotPay Do To Help?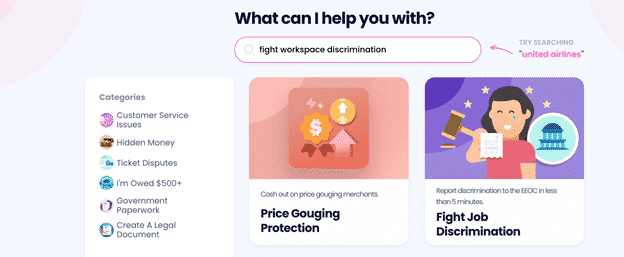 DoNotPay can help you file your charge of discrimination in a flash—here's how:
Search for our

Fight Workplace Discrimination

feature

Follow the prompts and give us the details of your charge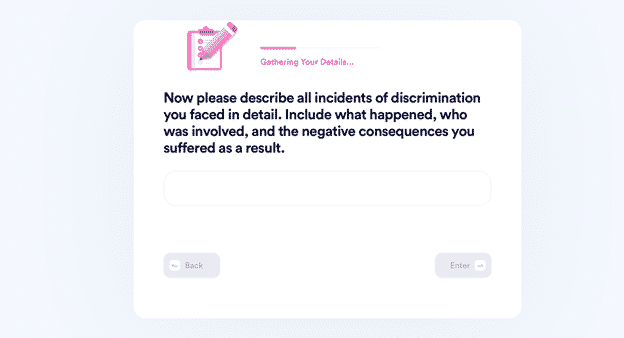 That's all you need to do—the EEOC will be in touch to talk through your next steps.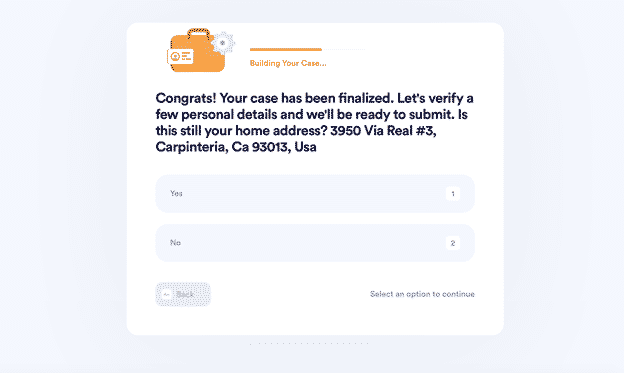 DoNotPay's Other Resources for the Victims of Discrimination
Fighting discriminatory bosses and colleagues is not the only item on DoNotPay's agenda. If your EEOC report doesn't work out, explore the option of suing the perpetrator in small claims court with our help.
Those who experience full-blown hate crimes can use our platform to file for crime victims compensation or deal with insurance claims. Lost a job because of discrimination? Use DoNotPay to get help with bills, reduce your property taxes, or find any unclaimed assets in your name. 
We can also help you create numerous legal documents for personal, business, or real estate matters. You'll have a chance to fax your paperwork or find an online notary in the same app!
Use Our App To Right Other Wrongs
Injustice lurks around every corner, and DoNotPay won't have any of it. That's why we keep creating tools and services to help you fight back against all kinds of unfair treatment. 
With our help, you'll be able to:
There's more where this came from because the good fight doesn't stop here.