Tips on How To Protect Yourself in a Divorce
If you're not certain whether you'll be able to go through either a difficult or friendly divorce, you might want to make sure you've got all aspects covered before the process starts.
The first thing you should get familiar with is how to protect yourself in a divorce. You should also understand what's legally acceptable and advisable to do when filing for divorce or being served with divorce papers.
DoNotPay provides all the info and a handy tool to help you draft your divorce settlement agreement efficiently.
Protecting Yourself in a Divorce When You Have Children
If you and your spouse have children under the age of 18, you need to ensure they are taken care of and protected. Try to minimize their stress during the divorce process, which will also reduce your own.
You should negotiate with your spouse about custody, support, and visitation matters since reaching an out-of-court settlement—especially during an uncontested divorce—is the least expensive and time-consuming process.
Here's what you should do in case you've got children:
Stay in the family home if possible—Keep in mind that moving out suddenly or too soon could affect your custody matters during the divorce. To reduce tensions, you could negotiate to time-share the home until the divorce and custody issues are finalized
Don't let your spouse leave with your children—You and your spouse have equal rights to your children, so you shouldn't allow him or her to take your children away until the custody, visitation, and support issues are settled
How To Protect Yourself in a Divorce—Domestic Violence
In case your spouse commits domestic violence against you or your children, you need to notify the police as soon as possible. Here are some steps you could take:
Ask for a police officer to come to your home
File a report
Get ahold of your lawyer
Seek a restraining order to prevent further acts of domestic violence
Contact the National Domestic Violence Hotline at 1-800-799-7233
Be Careful What Documents You're Signing During the Divorce Process
You should be cautious about signing anything, be it the divorce papers or any preliminary agreements. Keep in mind that these documents might be disadvantageous to you in property, custody, or other divorce aspects.
Signing something you're not familiar with might lead to unnecessarily expensive legal services and complex litigation. If you and your spouse are not on good terms and you're afraid he or she might want to harm you, you should consult an experienced divorce attorney.
Protect Yourself in a Divorce Financially
To make sure you're financially protected during the divorce, you should consider doing the following:
How To Protect Yourself in a Divorce Financially
Extra Information
Gather papers
You should locate and collect personal records, including your:

Birth certificate
Diplomas
Personal documents

Gather and make copies of your jointly-owned records, such as:

Titles
Deeds
Tax returns
Bank statements
Real estate records

Cancel jointly-owned cards
If you don't cancel the cards you jointly own, you will both be responsible for all incurred debts. Before you cancel the credit cards, you should inform your spouse of your intent
Record all home property
You may video record all your marital property together with your spouse by:

Pulling items out
Opening drawers
Recording the contents of your home
Turning on the date function in the video

The video could be evidence in case some items disappear from your family home during the divorce

Secure valuable personal property
You should store any valuable personal items in a safe place during the divorce. If possible, you should discuss this with your spouse first.

Keep in mind that you can only do this with your personal property and not with:

Community property
Possessions you and your spouse share

Cut expenses
You and your spouse should agree on reducing costs during the divorce. Consider canceling unnecessary utilities, including:

Cable TV
Additional phone lines
Try To Agree on All Divorce Issues
You will decrease the divorce cost and time significantly if you and your spouse can negotiate and agree on all important aspects of your post-divorce life. In this case, you might even avoid:
Finalizing the divorce online is also an option in case of amicable divorces. If you need assistance, you should:
DoNotPay Is the Right Way To Draft a Divorce Settlement Agreement
When going through an uncontested divorce, you can deal with lots of tasks yourself and with the assistance of our efficient AI-powered app.
DoNotPay has all the info regarding relevant state laws and regulations and will help you create your divorce settlement agreement smoothly.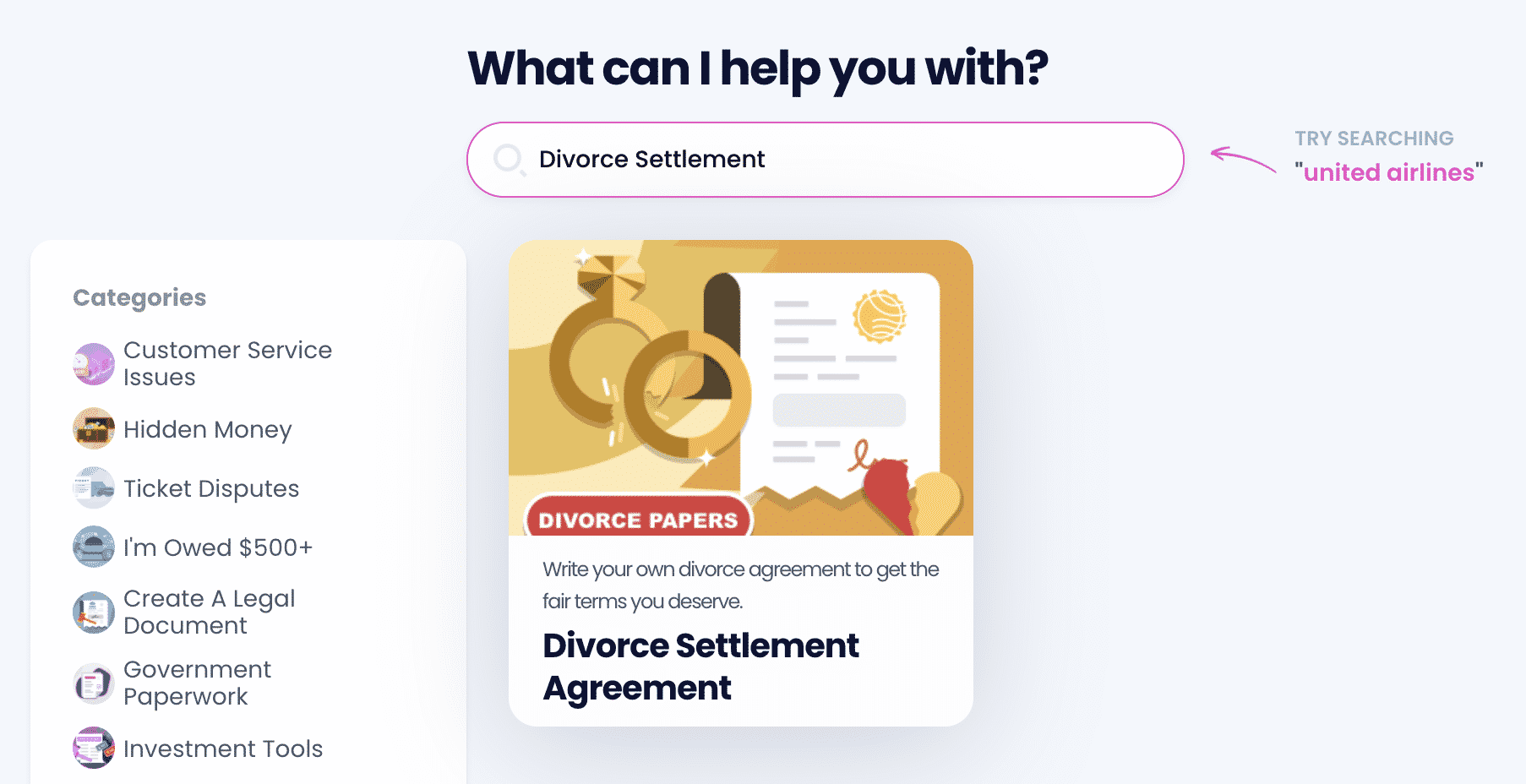 Once you've agreed on all matters with your spouse, subscribe to DoNotPay and:
Navigate to the Divorce Settlement Agreement product
Provide answers to the chatbot's questions
Enter data about your income, assets, and debts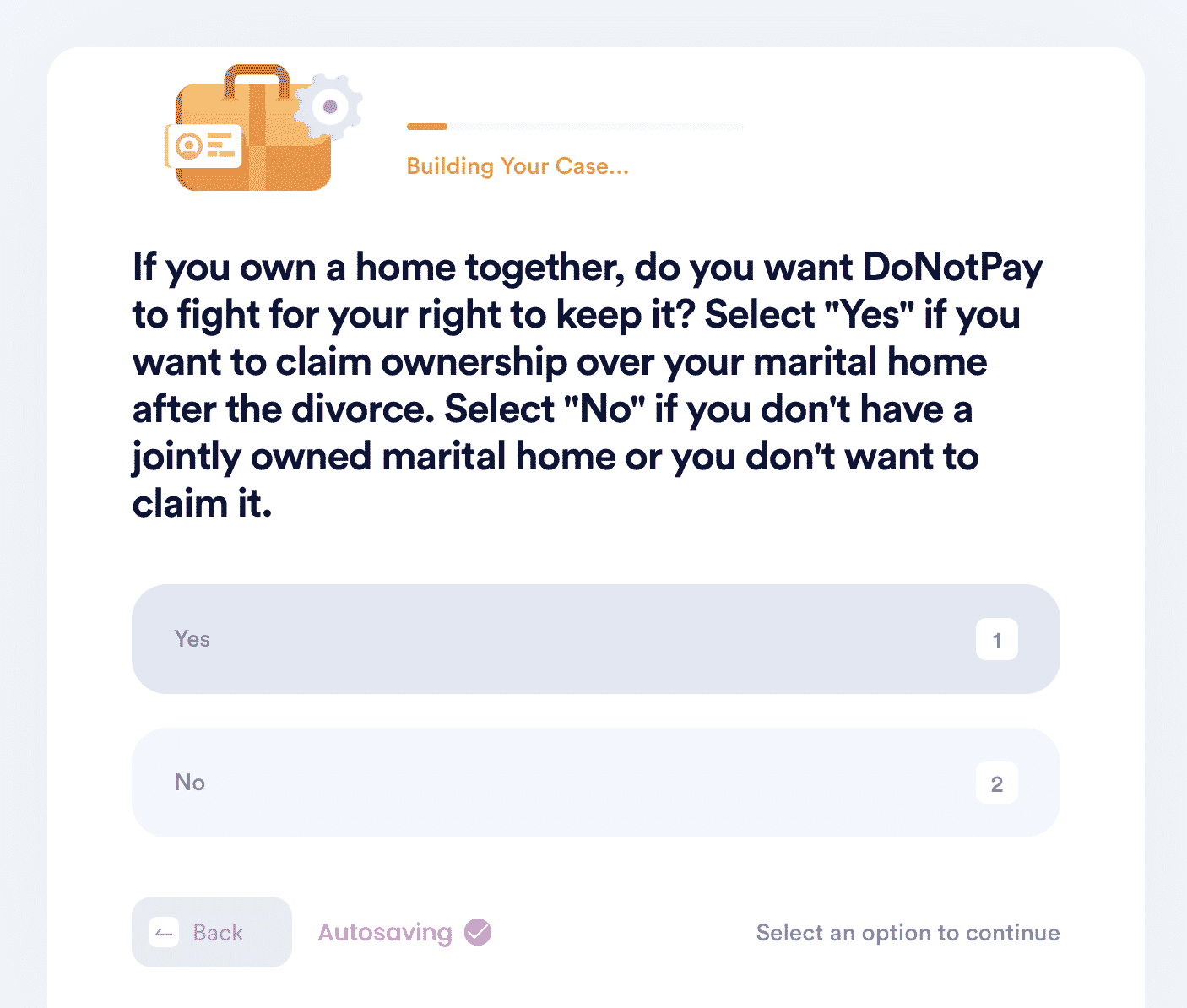 We use your information to generate a document tailored to your specific situation. If you need to get the agreement notarized, keep in mind that DoNotPay can connect you with an online notary public. The notaries we cooperate with provide their services 24/7 via a live audio-video call.
Find Answers to Lots of Divorce-Related Questions
If you've got additional questions about the divorce process, you can rely on DoNotPay for answers. Here are a few guides you might find helpful:
Work Smarter, Not Harder!
Although there are certain tasks that are a pain but can't be avoided, such as paying your property taxes, you don't have to do them the hard way. There is always a way to make the overbearing bureaucratic procedures a bit easier. DoNotPay can find a loophole and help you cut through the red tape!
Reducing your property taxes is only one in the sea of tasks our app will make super easy to do! You can also use DoNotPay to:
Explore DoNotPay's Other Neat Features
DoNotPay offers a plethora of useful products to make your day-to-day life easier and enjoyable! Consult the list below to see what you can do using our app: