How To Prepare for Jury Duty—All You Need To Know
Jury trials are an important pillar of U.S. society and are also a mandatory civic duty. You will face penalties if you don't show up, so instead of making up excuses, you should focus on getting ready for your jury duty.
This article will show you how to prepare for jury duty and what will be expected of you. We'll also explain how DoNotPay can help you notify your employer about jury duty and secure time off without any repercussions.
How To Prepare for Jury Duty
When you get called for jury duty, you should show up in court at the date and time specified on the summons.
Before the first day arrives, employed jurors should send their employers a notice in advance. While the law protects you from getting fired or demoted, you should still request leave to handle the whole ordeal smoothly, especially if the judge expects the case to last for some time.
If you don't know what the best way to notify your employer is, you can register for DoNotPay and let us handle it for you.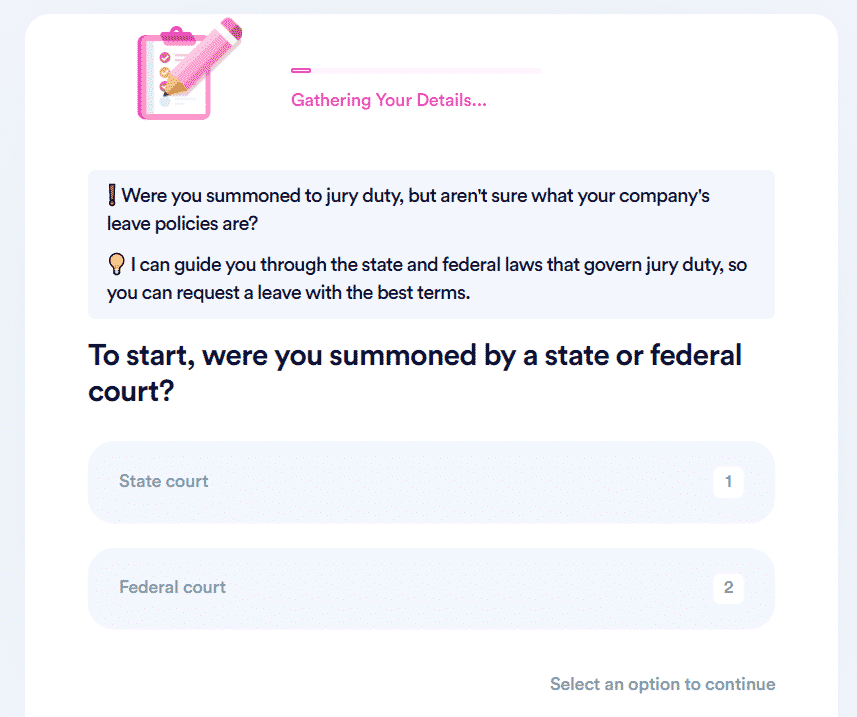 Dress formally and turn your cellphone off when you arrive in court. You'll watch an instructional video on jury duty. Then, the judge will greet you, explain what they expect of you, and select a foreperson (in some cases, jurors can choose among themselves).
The foreperson is in charge of jury deliberation. If you get chosen, you'll need to make sure each juror gets an equal opportunity to speak their mind.
The Court Is in Session
Before the proceedings begin, all jurors will need to get sworn in by taking a solemn oath to try impartially and fairly. While the trial is in motion, you will need to:
Show up for each court session on time
Sit in the same seat
Not discuss the case with anyone
Listen carefully to every question and answer
Follow the law
Every trial has eight stages:
Lawyers give their opening statements
Plaintiff produces evidence and calls witnesses
Defendant tries to disprove the plaintiff's claim with their witnesses and evidence
Plaintiff rebuts defendant's claims
Lawyers give their closing arguments
The judge charges the jury as to the law
Jurors deliberate
The jury reaches a verdict
Juror Responsibilities
As a juror, you don't need to have any legal knowledge or background—the judge will instruct you on the law of a particular case. What you need to do is show:
No conflict of interest
Honesty
Objectivity
Good judgment
The court and lawyers will test you on that by asking you various questions.
It's important to know that the jury is not the one who decides on a sentence—that is for the judge. As a juror, all you need to do is determine whether the defendant is guilty or innocent on each charge. The extent of a potential punishment shouldn't be a factor in your deliberation.
In federal courts, criminal cases demand that all 12 jurors agree on the verdict before the judge can pass a sentence.
Jury Duty Pay
Whether you will receive compensation for your duty depends on the court and your state. Federal courts pay $50 per day. You can find links to information about state-court pay in the following table:
How To Prepare for Jury Duty Leave With DoNotPay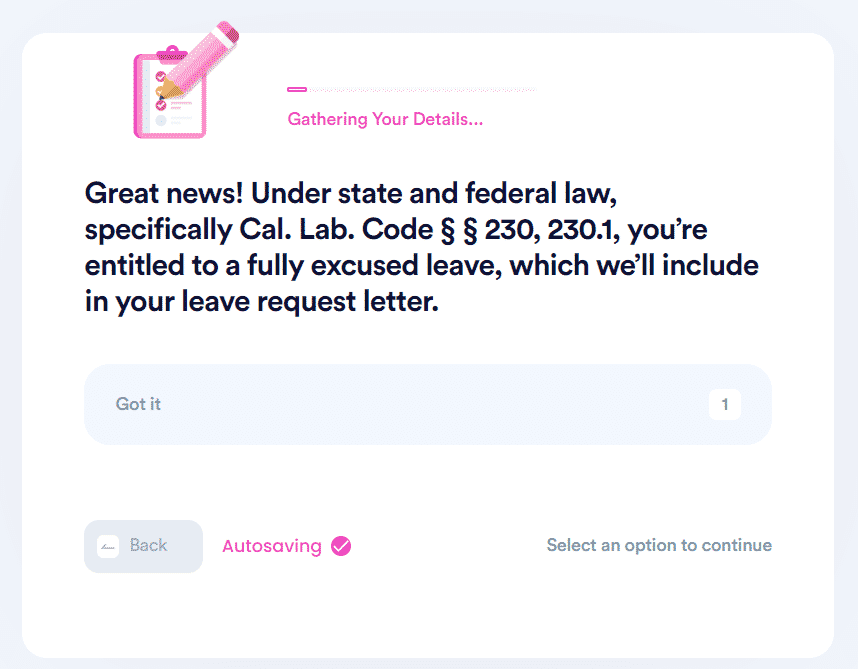 Employers are not big fans of jury duty, especially when their employees keep getting summoned. Still, the law requires them to let employees leave on jury duty without any repercussions.
Most people don't know about this law, which is why they succumb to their employer's threats and ignore jury duty. If you submit an advance notice, there's nothing the employer can do to stop you.
DoNotPay can help you draft a professional leave request letter—our app will use the details you provide and call upon the state law that handles your rights while on jury duty.
All you need to do is the following:
Select the Request Jury Duty Leave feature
Answer a few questions
Upload a photo of your jury summons
Solved Your Issue? Check Out More of Our Product Range
DoNotPay's forte is its versatility—you can use the app to resolve any problem of legal or bureaucratic nature!
As soon as you subscribe to our platform, you'll be able to:
Our App Helps You Both Save and Earn Money
Want to get more familiar with our extensive product range? Check out how, for one low monthly fee, we can help you both save and earn money by: