How To Obtain a Power of Attorney in Three Quick Steps
Wondering how to obtain a power of attorney without spending hours writing it yourself? We got you covered! Once you sign up for DoNotPay, we'll draw up your POA document in a few minutes!
What Is a Power of Attorney?
A power of attorney is a legal document that allows a principal to transfer certain powers to a trusted agent and give him or her the ability to make decisions on the principal's behalf. Some POA documents are effective immediately, and others become effective once the principal is incapacitated. The common POA types are:
You can obtain a power of attorney by writing it yourself or by using our app to draft one in your stead easily. If you choose to draw it up on your own, you have to make sure to do it in accordance with your state's laws and legal protocols.
How Do I Get a Power of Attorney for My Mother?
How demanding the process of getting a power of attorney for your parent will be depends on their mental and physical state. If your mother is in good health, getting her a POA document shouldn't be difficult. You have to:
Discuss what type of POA document would suit your needs the best
Agree on the specific powers that will be included in the document
State the parties clearly, including the principal (your mother) and the agent (you)
Create a written POA document and sign it before two witnesses and a notary, which is the legal protocol in most states
In case the principal is already incapacitated, you will most likely have to take a different approach and file for guardianship or conservatorship instead.
The Power of Attorney Process Explained
If you want to create a power of attorney document on your own, these are the steps that the procedure normally requires:
Steps
Explanation
Writing the required sections
Include the following sections for your POA document to be valid:

Names—Both the principal's and the agent's
The effective date—The date of the POA agreement going into effect
Details about the agent—The contact info and their address
The POA type—An explanation of the POA agreement type
Instructions for the agent—Any instructions the agent should follow in the principal's absence

Including a broad description of the powers to be transferred
State the powers the principal wants to transfer to the agent clearly to avoid any confusion or misunderstandings later on
Signing the document
Sign the document before a notary public and two witnesses. That is the legal protocol for most states, but you can research the laws for your state specifically to be on the safe side
How Long Does It Take To Get a Power of Attorney?
The time period for getting a power of attorney depends on how you decide to get it. If you are writing one on your own, it will probably take longer since you have to make sure you're doing it in accordance with your state's legislation. You will likely have to hire a lawyer to review your document, which only prolongs the process.
If you're looking for an easier way to get your POA document, DoNotPay got your back! Why waste hours or days writing the POA by yourself when you can have our app draft one in your stead instantly?
How To Obtain a Power of Attorney With DoNotPay in Less Than Five Minutes
DoNotPay steps in to help you draft your power of attorney document in no time! You won't have to waste money on lawyers, and you can save time and effort by letting our app do most of the work! All you need to do is complete the following instructions to get started:
Choose the powers you want us to include
Provide the required info
Our app will draw up your POA document instantly, and all that's left is for you and the other party to read the notices and provide your signatures! You can also avoid visiting a notary public in person and choose to get your document notarized with DoNotPay instead.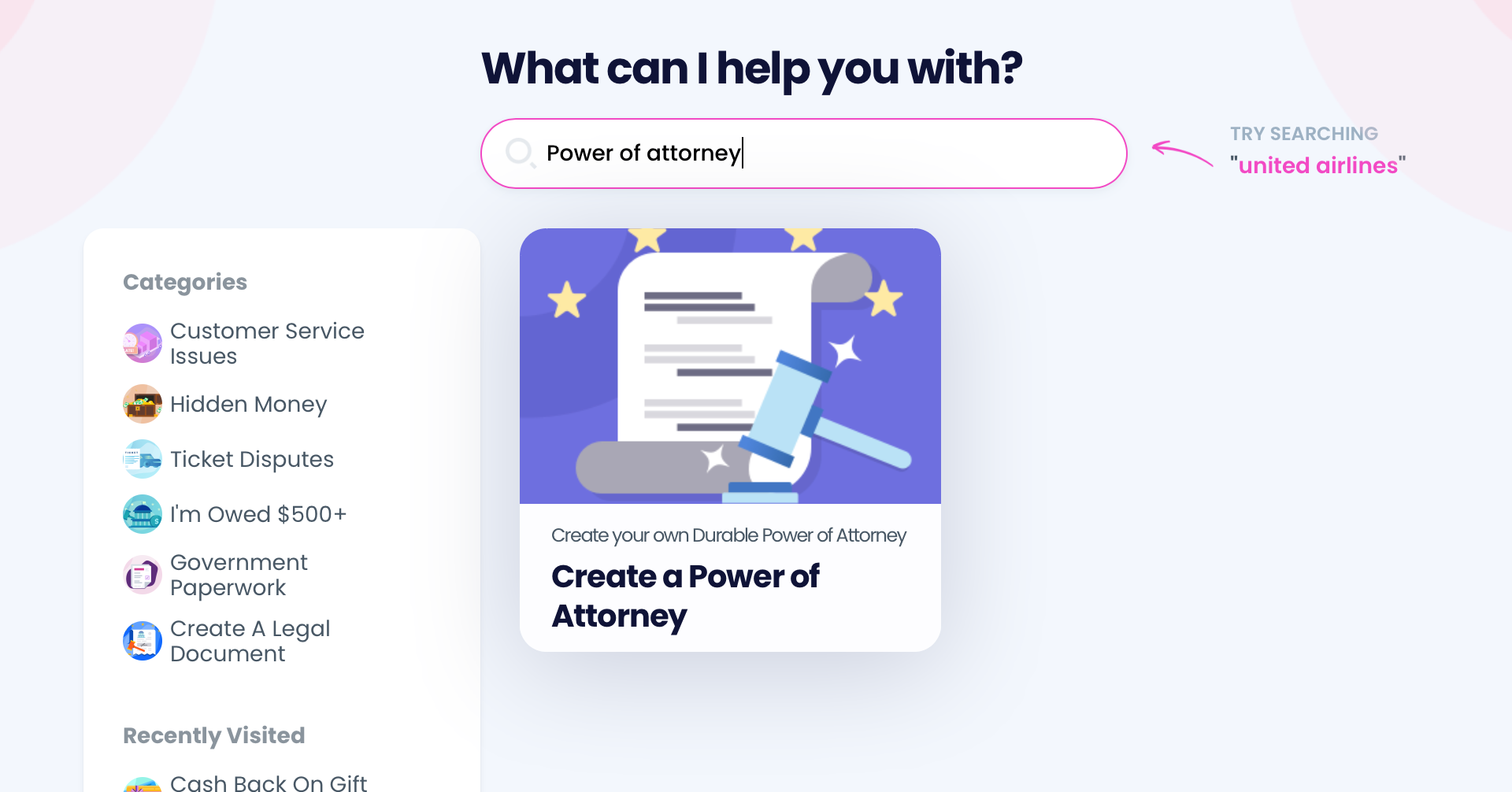 Showing you how to obtain a power of attorney isn't all we can help you with! We can provide you with any POA-related info you need! Explore our app's database by checking out the list below:
Communication Troubles? Say No More!
Yes, communication is the key, and DoNotPay vows to provide you with the best, most convenient methods to relay or protect your message—whether it's correspondence with your business partner or a loved one who's serving time.
Check out what you get by using our platform:
Use DoNotPay for a Better Shopping Experience
If you have a tendency to shop till you drop, some issues with purchases are bound to happen. Customer rights and satisfaction is what DoNotPay is passionate about.
With your subscription, you will be able to: