How To Make a Living Will Without a Lawyer Easily
If you wish to leave clear instructions on how you want to be treated in end-of-life situations, you will need to create a living will. This is an important document that needs to be drawn up with care and precision to make sure it is valid. Use DoNotPay to make a living will without a lawyer and save some money!
Essential Information About a Living Will and Advance Directive
A living will is a legal document that is often a section of another more broad document called advance health care directive. In some states, it is treated as a separate part, while in others, you need to create it alongside a medical power of attorney (medical POA).
A living will is used to state your wishes on what medical treatments you want or don't want when you can no longer communicate. It is used in situations when you:
Are in a persistent vegetative state
Develop a terminal or irreversible disease
Have an end-stage condition that makes you require physical dependency, such as Alzheimer's
When Does a Living Will Go Into Effect?
A living will goes into effect when your physician determines you have any of the required conditions.
How To Make a Living Will Without a Lawyer—Available Options
Since a living will deals with life-and-death matters, you need to make sure it is made correctly. A lawyer would be able to draw up a living will easily, but their fees are sky-high. You need to take the cost as well as the end result into consideration.
Take a look at the table below to see other options for creating this legal document:
Create a Living Will By
Explanation
Making the document on your own
You can opt to make a living will on your own, but note that this is not a good idea. Consider that:

If you lack sufficient legal knowledge, you will only waste your time and energy during the process
Online generic forms will not be of much help, and you will end up with an invalid document

Using DoNotPay
You can kill two birds with one stone by using DoNotPay—get a well-written document and save your money
Creating a Living Will Is Easy With DoNotPay's Help
DoNotPay is at your service for providing you with an airtight living will. Our app will make sure to include all the relevant information in the document and make it valid. We will tailor the document to your needs and requirements, unlike the forms you can come across online.
There are only a few steps you need to take:
Select our Advance Health Care Directive product
Name your health care agent and choose the powers you wish to transfer to them (if you decide to have one)
Type in the names of the people who will witness you sign the document
DoNotPay has all the information you need about advance directives, whether it is referred to as a health care proxy or medical POA. We can let you know how the two documents differ as well.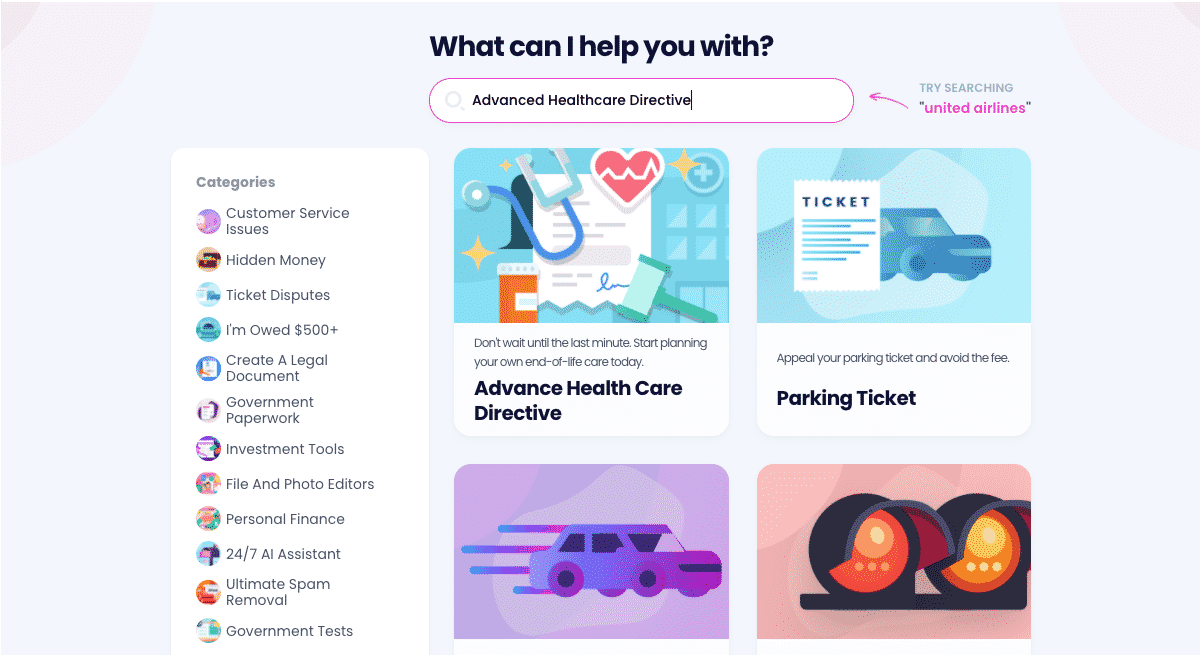 How To Make a Living Will Legally Binding
Most states require you to have your living will signed and witnessed by two individuals. You only need to make sure that they are not:
Your doctor
An employee working in the health care facility you are being treated at
If your state requires it, you might need to have the living will notarized as well. In this situation, you can count on DoNotPay to help you find an online notary and handle the task easily.
Skip the Bureaucratic Hurdles With Our Help
If your unfinished tasks are piling up each day, we can help save you time and energy. Let DoNotPay do the heavy lifting and complete the following for you:
| Bureaucracy | Spam and Harassment |
| --- | --- |
| | |
In one fell swoop, our app will draft legal documents, fax them online, and get them notarized. In case you need to request a college fee waiver, find unclaimed money, file a FOIA request, or contest parking tickets, you can count on DoNotPay's help.
We Offer Even More Ways To Assist You
Once you sign up for DoNotPay, there aren't many problems that we can't solve for you. Take a look at the table below to get an idea of what we can help you with: