How To Make a Contract
the Easy Way
Figuring out what to include and what to leave out when drafting contracts and legal documents can be super stressful. People generally don't have extensive (or even basic) legal knowledge, so it makes sense that dealing with contracts isn't a fun experience for many.
We will happily take these annoyances off your back by teaching you how to make a contract in an easy and care-free way! From the lease agreement to the bill of sale— got you covered!
What Is a Contract, and Why Do I Need It?
Contracts are used as formal and legally binding agreements on a number of occasions. They have to be signed between at least two parties. Contracts should outline the duties, obligations, rights, terms, and conditions of each party.
You need a contract to avoid any misunderstandings or issues with the law. When you have a legal agreement to lean on, you don't have to stress how to resolve potential problems. Everything will be clearly stated in the contract, and the document will include a solution to every issue if drafted correctly.
How To Make a Contract Agreement
and What To Include
Making a contract agreement is time consuming and requires too much work. Even if you organize well and find valuable information on what your contract should encompass, you will still have to put in too much effort to make one. 
DoNotPay can make this experience a lot easier by drafting the document in your stead, so you should consider doing it the easy way.
If you end up deciding that you still want to create a contract on your own, we'll help you by listing and explaining some of the most important items that should be incorporated into your contract agreement. Check them out below:
Details of the parties

Payment info

Confidential information

Insurance obligations

Duties and responsibilities

Details of the service
Details of the Parties
State the details of each party involved in the contract. The details should include names, addresses, and any other relevant info about the parties depending on the type of contract you are making.
Payment Info
You should elaborate on the payment details so that there aren't any misunderstandings with other parties. The payment details should include:
Payment method

Payment timing

Expenses involved
Confidential Information
Make sure to state that no confidential information may be leaked by another party. Decide on the type of information that is confidential and ensure that all parties involved agree not to share that info with anyone.
Insurance Obligations
Insurance is one of the most important items in your agreement, and you have to make sure to specify insurance obligations for every. Not every contract requires insurance, but having one saves you if any unfortunate events ensue.
Duties and Responsibilities
Assign the duties and obligations for everyone entering the agreement. If you state and define the scope of work for everyone, it is less likely someone will get confused or not know what to do in a given situation.
Details of the Service
In this section, you should include all the information about the work and results you expect to achieve. Specify where the work will be conducted and specific start and end dates.
To conclude your agreement, specify the end date of your agreement and state whether premature termination is possible. If the contract can be terminated before the end date, say what the consequences are and how to terminate it.
Tips on Drafting a Good Contract
Making sure that your contract is as good as it can be will save you from any confusion and make it easier for everyone to understand the agreement. Here are some useful tips on how to make your contract stronger:
| | |
| --- | --- |
| Tips | What To Do |
| Keeping It Simple | Try not to use complicated terms in your agreement but rather go for the clear, short, and understandable sentences |
| Specifying All the Details | Don't be vague on the details in any of the sections you include. Make sure to specify everything clearly |
| Keeping It Confidential | Explain the confidentiality of your agreement to help the parties involved understand why they are not allowed to disclose certain info |
DoNotPay Can Help You Draft Countless Contracts and Legal Docs!
Creating contracts on your own is a nightmare—it's complicated and time-consuming. It often requires lots of research, and figuring out what legal terms to include is especially difficult when you have no idea what they mean. Luckily, you can avoid any of those inconveniences and have your documents drafted easily and efficiently with DoNotPay! We draft legal documents based on the information you provide in a few minutes! All you should do is hop on any and load DoNotPay. Once you do that, follow the next two steps, and we will have your contract ready in a jiffy:
Give us the name of the contract that you need

Supply the required info regarding your document
That's all it takes! Once you complete the last step, you will gain access to your contract. Have all the parties involved sign it, and your contract-making journey will be over!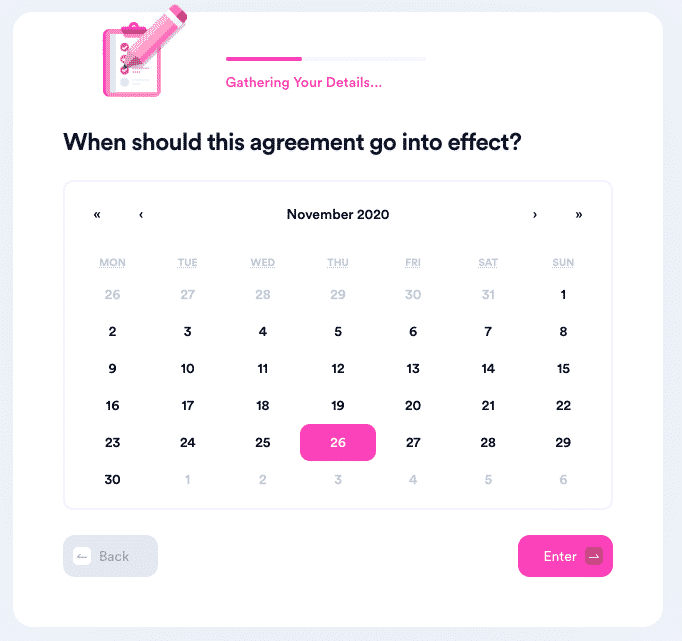 Use our app to draft any of the following contracts with ease:
General Business Contract

Intent To Purchase Real Estate

Estoppel Certificate

Quitclaim Deed

General Affidavit

Promissory Note
Enjoy Services Worry-Free With DoNotPay
Do you want to try out a new service but are worried about being charged if you forget to cancel it before it ends?
With DoNotPay, you can sign up for free trials without worrying about auto-charges. Our virtual credit card makes sure you enjoy your trial run of the service and prevents any company from taking money out of your real account.
This free-trial card also protects you from email spam because it generates an alternate email address for the free trial sign up.
If you want to keep your phone number private and deter robocallers and text spammers, use DoNotPay's Burner Phone feature when subscribing to services.
In case the company does charge you, initiate a chargeback on your credit card transactions instantly with our app.
Discover DoNotPay's Amazing Features
DoNotPay is a virtual lawyer app that can take over annoying bureaucratic tasks from you.
We can cover anything you may need help with—dealing with customer service reps, booking appointments with the DMV, securing refunds and compensation from airlines, disputing your parking tickets, or getting you an extension on bill payments.
Our app can help you draft any legal document in minutes or access public records from state and federal databases.